Abstract
USP14 is a major regulator of the proteasome and one of three proteasome-associated deubiquitinating enzymes1,2,3,4,5,6,7,8,9. Its effects on protein turnover are substrate-specific, for unknown reasons. We report that USP14 shows a marked preference for ubiquitin–cyclin B conjugates that carry more than one ubiquitin modification or chain. This specificity is conserved from yeast to humans and is independent of chain linkage type. USP14 has been thought to cleave single ubiquitin groups from the distal tip of a chain, but we find that it removes chains from cyclin B en bloc, proceeding until a single chain remains. The suppression of degradation by USP14's catalytic activity reflects its capacity to act on a millisecond time scale, before the proteasome can initiate degradation of the substrate. In addition, single-molecule studies showed that the dwell time of ubiquitin conjugates at the proteasome was reduced by USP14-dependent deubiquitination. In summary, the specificity of the proteasome can be regulated by rapid ubiquitin chain removal, which resolves substrates based on a novel aspect of ubiquitin conjugate architecture.
Relevant articles
Open Access articles citing this article.
Chao Tang

,

Meiyuan Jin

…

Qiang Xu

Experimental & Molecular Medicine Open Access 18 January 2023

Dongni Shi

,

Xianqiu Wu

…

Wenting Liao

Nature Communications Open Access 26 September 2022

Shuwen Zhang

,

Shitao Zou

…

Youdong Mao

Nature Open Access 27 April 2022
Access options
Subscribe to this journal
Receive 51 print issues and online access
$199.00 per year
only $3.90 per issue
Rent or buy this article
Prices vary by article type
from$1.95
to$39.95
Prices may be subject to local taxes which are calculated during checkout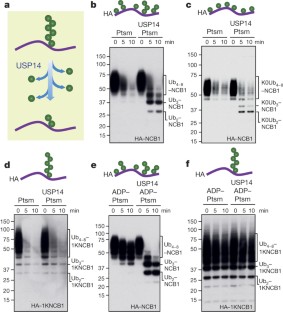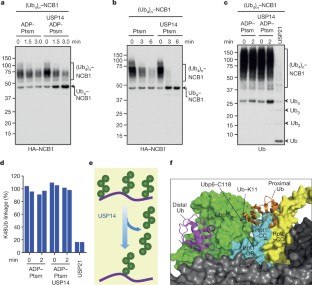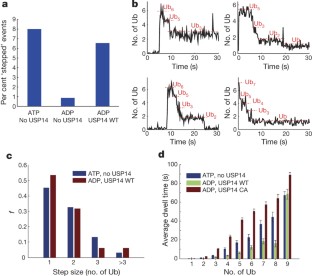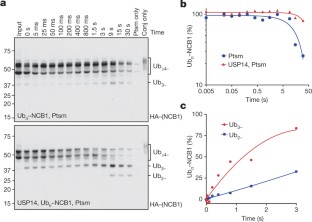 References
Hanna, J. et al. Deubiquitinating enzyme Ubp6 functions noncatalytically to delay proteasomal degradation. Cell 127, 99–111 (2006)

Hanna, J., Meides, A., Zhang, D. & Finley, D. A ubiquitin stress response induces altered proteasome composition. Cell 129, 747–759 (2007)

Lee, B. H. et al. Enhancement of proteasome activity by a small-molecule inhibitor of USP14. Nature 467, 179–184 (2010)

Peth, A., Besche, H. C. & Goldberg, A. L. Ubiquitinated proteins activate the proteasome by binding to Usp14/Ubp6, which causes 20S gate opening. Mol. Cell 36, 794–804 (2009)

Aufderheide, A. et al. Structural characterization of the interaction of Ubp6 with the 26S proteasome. Proc. Natl Acad. Sci. USA 112, 8626–8631 (2015)

Bashore, C. et al. Ubp6 deubiquitinase controls conformational dynamics and substrate degradation of the 26S proteasome. Nature Struct. Mol. Biol . 22, 712–719 (2015)

Leggett, D. S. et al. Multiple associated proteins regulate proteasome structure and function. Mol. Cell 10, 495–507 (2002)

Homma, T. et al. Ubiquitin-specific protease 14 modulates degradation of cellular prion protein. Sci. Rep. 5, 11028 (2015)

Hu, M. et al. Structure and mechanisms of the proteasome-associated deubiquitinating enzyme USP14. EMBO J. 24, 3747–3756 (2005)

Finley, D., Chen, X. & Walters, K. J. Gates, channels, and switches: elements of the proteasome machine. Trends Biochem. Sci. 41, 77–93 (2016)

Kirkpatrick, D. S. et al. Quantitative analysis of in vitro ubiquitinated cyclin B1 reveals complex chain topology. Nature Cell Biol. 8, 700–710 (2006)

Dimova, N. V. et al. APC/C-mediated multiple monoubiquitylation provides an alternative degradation signal for cyclin B1. Nature Cell Biol. 14, 168–176 (2012)

Jin, L., Williamson, A., Banerjee, S., Philipp, I. & Rape, M. Mechanism of ubiquitin-chain formation by the human anaphase-promoting complex. Cell 133, 653–665 (2008)

Thrower, J. S., Hoffman, L., Rechsteiner, M. & Pickart, C. M. Recognition of the polyubiquitin proteolytic signal. EMBO J. 19, 94–102 (2000)

Lu, Y., Lee, B. H., King, R. W., Finley, D. & Kirschner, M. W. Substrate degradation by the proteasome: a single-molecule kinetic analysis. Science 348, 1250834 (2015)

Mansour, W. et al. Disassembly of Lys11 and mixed linkage polyubiquitin conjugates provides insights into function of proteasomal deubiquitinases Rpn11 and Ubp6. J. Biol. Chem. 290, 4688–4704 (2015)

Vaden, J. H. et al. Ubiquitin-specific protease 14 regulates c-Jun N-terminal kinase signaling at the neuromuscular junction. Mol. Neurodegener. 10, 3 (2015)

Xu, D. et al. Phosphorylation and activation of ubiquitin-specific protease-14 by Akt regulates the ubiquitin-proteasome system. eLife 4, e10510 (2015)

Verma, R. et al. Role of Rpn11 metalloprotease in deubiquitination and degradation by the 26S proteasome. Science 298, 611–615 (2002)

Yao, T. & Cohen, R. E. A cryptic protease couples deubiquitination and degradation by the proteasome. Nature 419, 403–407 (2002)

Kim, W. et al. Systematic and quantitative assessment of the ubiquitin-modified proteome. Mol. Cell 44, 325–340 (2011)

Kravtsova-Ivantsiv, Y., Cohen, S. & Ciechanover, A. Modification by single ubiquitin moieties rather than polyubiquitination is sufficient for proteasomal processing of the p105 NF-κB precursor. Adv. Exp. Med. Biol. 691, 95–106 (2011)

Haglund, K. et al. Multiple monoubiquitination of RTKs is sufficient for their endocytosis and degradation. Nature Cell Biol. 5, 461–466 (2003)

Pathare, G. R. et al. Crystal structure of the proteasomal deubiquitylation module Rpn8-Rpn11. Proc. Natl Acad. Sci. USA 111, 2984–2989 (2014)

Worden, E. J., Padovani, C. & Martin, A. Structure of the Rpn11-Rpn8 dimer reveals mechanisms of substrate deubiquitination during proteasomal degradation. Nature Struct. Mol. Biol . 21, 220–227 (2014)

Cox, C. J. et al. The regions of securin and cyclin B proteins recognized by the ubiquitination machinery are natively unfolded. FEBS Lett. 527, 303–308 (2002)

Krude, T., Jackman, M., Pines, J. & Laskey, R. A. Cyclin/Cdk-dependent initiation of DNA replication in a human cell-free system. Cell 88, 109–119 (1997)

Huttlin, E. L. et al. A tissue-specific atlas of mouse protein phosphorylation and expression. Cell 143, 1174–1189 (2010)

Paulo, J. A., Gaun, A. & Gygi, S. P. Global analysis of protein expression and phosphorylation levels in nicotine-treated pancreatic stellate cells. J. Proteome Res. 14, 4246–4256 (2015)
Acknowledgements
We are indebted to J. Paulo for expert assistance with mass spectrometry. We thank J. Hanna and Y. Ye for comments on the manuscript, N. Dimova for NCB1 constructs, Y. Ye for USP21 protein, Y. Saeki for PY-Sic1 clones, J. Yuan for USP14 plasmids, and R.P. Fisher and E. Winter for full-length cyclin B1 baculoviruses. This study was supported by NIH grant R01GM5660052 (to D.F.), NIH grant R37-GM043601 (to D.F.), NIH grant R01GM66492-9 (to R.W.K.), NIH grant 5R01GM039023-26 (to M. W. Kirschner), and a grant from the Rainwater Foundation to D.F.
Ethics declarations
Competing interests
USP14 assays and inhibitors of the IU1 and IU2 series are under patent (held by B.-H.L, R.W.K. and D.F.).
Extended data figures and tables
Supplementary information
About this article
Cite this article
Lee, BH., Lu, Y., Prado, M. et al. USP14 deubiquitinates proteasome-bound substrates that are ubiquitinated at multiple sites. Nature 532, 398–401 (2016). https://doi.org/10.1038/nature17433
Received:

Accepted:

Published:

Issue Date:

DOI: https://doi.org/10.1038/nature17433
Comments
By submitting a comment you agree to abide by our Terms and Community Guidelines. If you find something abusive or that does not comply with our terms or guidelines please flag it as inappropriate.