Abstract
Developmental disabilities, including attention-deficit hyperactivity disorder (ADHD), intellectual disability (ID), and autism spectrum disorders (ASD), affect one in six children in the USA. Recently, gene mutations in patched domain containing 1 (PTCHD1) have been found in ~1% of patients with ID and ASD. Individuals with PTCHD1 deletion show symptoms of ADHD, sleep disruption, hypotonia, aggression, ASD, and ID. Although PTCHD1 is probably critical for normal development, the connection between its deletion and the ensuing behavioural defects is poorly understood. Here we report that during early post-natal development, mouse Ptchd1 is selectively expressed in the thalamic reticular nucleus (TRN), a group of GABAergic neurons that regulate thalamocortical transmission, sleep rhythms, and attention. Ptchd1 deletion attenuates TRN activity through mechanisms involving small conductance calcium-dependent potassium currents (SK). TRN-restricted deletion of Ptchd1 leads to attention deficits and hyperactivity, both of which are rescued by pharmacological augmentation of SK channel activity. Global Ptchd1 deletion recapitulates learning impairment, hyper-aggression, and motor defects, all of which are insensitive to SK pharmacological targeting and not found in the TRN-restricted deletion mouse. This study maps clinically relevant behavioural phenotypes onto TRN dysfunction in a human disease model, while also identifying molecular and circuit targets for intervention.
Relevant articles
Open Access articles citing this article.
Frhan I. Alanazi

,

Suneil K. Kalia

…

William D. Hutchison

npj Parkinson's Disease Open Access 27 March 2023

Nóra Hádinger

,

Emília Bősz

…

László Acsády

Nature Neuroscience Open Access 22 December 2022

Corinne El Khoueiry

,

Jan-Harry Cabungcal

…

Pascal Steullet

Molecular Psychiatry Open Access 25 January 2022
Access options
Subscribe to this journal
Receive 51 print issues and online access
$199.00 per year
only $3.90 per issue
Rent or buy this article
Prices vary by article type
from$1.95
to$39.95
Prices may be subject to local taxes which are calculated during checkout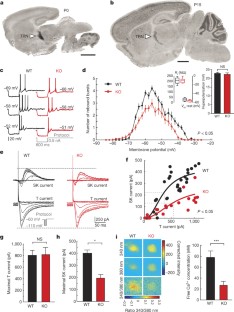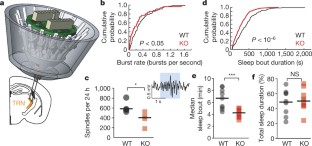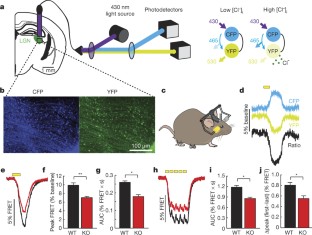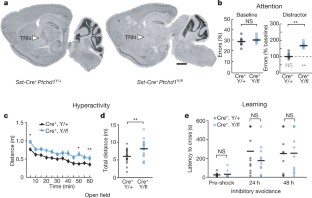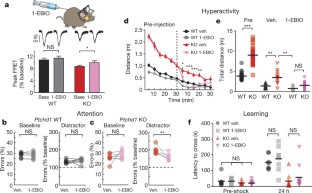 References
Coe, B. P., Girirajan, S. & Eichler, E. E. The genetic variability and commonality of neurodevelopmental disease. Am. J. Med. Genet. C. Semin. Med. Genet. 160C, 118–129 (2012)

Coe, B. P., Girirajan, S. & Eichler, E. E. A genetic model for neurodevelopmental disease. Curr. Opin. Neurobiol. 22, 829–836 (2012)

Zhou, Y. et al. Mice with Shank3 mutations associated with ASD and schizophrenia display both shared and distinct defects. Neuron 89, 147–162 (2016)

Cristino, A. S. et al. Neurodevelopmental and neuropsychiatric disorders represent an interconnected molecular system. Mol. Psychiatry 19, 294–301 (2014)

Noor, A. et al. Disruption at the PTCHD1 locus on Xp22.11 in Autism spectrum disorder and intellectual disability. Sci. Transl. Med. 2, 49ra68 (2010)

Pinto, D. et al. Functional impact of global rare copy number variation in autism spectrum disorders. Nature 466, 368–372 (2010)

Whibley, A. C. et al. Fine-scale survey of X chromosome copy number variants and indels underlying intellectual disability. Am. J. Hum. Genet. 87, 173–188 (2010)

Marshall, C. R. et al. Structural variation of chromosomes in autism spectrum disorder. Am. J. Hum. Genet. 82, 477–488 (2008)

Filges, I. et al. Deletion in Xp22.11: PTCHD1 is a candidate gene for X-linked intellectual disability with or without autism. Clin. Genet. 79, 79–85 (2011)

Torrico, B. et al.Contribution of common and rare variants of the PTCHD1 gene to autism spectrum disorders and intellectual disability. Eur. J. Hum. Genet. 23, 1694–1701 (2015)

Chaudhry, A. et al. Phenotypic spectrum associated with PTCHD1 deletions and truncating mutations includes intellectual disability and autism spectrum disorder. Clin. Genet. 88, 224–233 (2015)

Halassa, M. M. et al. State-dependent architecture of thalamic reticular subnetworks. Cell 158, 808–821 (2014)

Wimmer, R. D. et al. Thalamic control of sensory selection in divided attention. Nature 526, 705–709 (2015)

Pinault, D. The thalamic reticular nucleus: structure, function and concept. Brain Res. Brain Res. Rev. 46, 1–31 (2004)

Guillery, R. W., Feig, S. L. & Lozsadi, D. A. Paying attention to the thalamic reticular nucleus. Trends Neurosci. 21, 28–32 (1998)

Halassa, M. M. et al. Selective optical drive of thalamic reticular nucleus generates thalamic bursts and cortical spindles. Nature Neurosci. 14, 1118–1120 (2011)

Barthó, P. et al. Ongoing network state controls the length of sleep spindles via inhibitory activity. Neuron 82, 1367–1379 (2014)

von Krosigk, M., Bal, T. & McCormick, D. A. Cellular mechanisms of a synchronized oscillation in the thalamus. Science 261, 361–364 (1993)

Marlinski, V., Sirota, M. G. & Beloozerova, I. N. Differential gating of thalamocortical signals by reticular nucleus of thalamus during locomotion. J. Neurosci. 32, 15823–15836 (2012)

Erlij, D. et al. Dopamine D4 receptor stimulation in GABAergic projections of the globus pallidus to the reticular thalamic nucleus and the substantia nigra reticulata of the rat decreases locomotor activity. Neuropharmacology 62, 1111–1118 (2012)

McAlonan, K., Cavanaugh, J. & Wurtz, R. H. Guarding the gateway to cortex with attention in visual thalamus. Nature 456, 391–394 (2008)

Zhong, Y. et al. Comprehensive analysis of patched domain-containing genes reveals a unique evolutionary pattern. Genet. Mol. Res. 13, 7318–7331 (2014)

Goodrich, L. V. et al. Altered neural cell fates and medulloblastoma in mouse patched mutants. Science 277, 1109–1113 (1997)

Rohatgi, R., Milenkovic, L. & Scott, M. P. Patched1 regulates hedgehog signaling at the primary cilium. Science 317, 372–376 (2007)

Jasper, H. Diffuse projection systems: the integrative action of the thalamic reticular system. Electroencephalogr. Clin. Neurophysiol. 1, 405–419 (1949)

Cueni, L. et al. T-type Ca2+ channels, SK2 channels and SERCAs gate sleep-related oscillations in thalamic dendrites. Nature Neurosci. 11, 683–692 (2008)

Jahnsen, H. & Llinas, R. Voltage-dependent burst-to-tonic switching of thalamic cell activity: an in vitro study. Arch. Ital. Biol. 122, 73–82 (1984)

Astori, S. et al. The Ca(V)3.3 calcium channel is the major sleep spindle pacemaker in thalamus. Proc. Natl Acad. Sci. USA 108, 13823–13828 (2011)

Huguenard, J. R. & Prince, D. A. A novel T-type current underlies prolonged Ca(2+)-dependent burst firing in GABAergic neurons of rat thalamic reticular nucleus. J. Neurosci. 12, 3804 –3817 (1992)

Ying, S. W. & Goldstein, P. A. Propofol-block of SK channels in reticular thalamic neurons enhances GABAergic inhibition in relay neurons. J. Neurophysiol. 93, 1935–1948 (2005)

Coulon, P. et al. Burst discharges in neurons of the thalamic reticular nucleus are shaped by calcium-induced calcium release. Cell Calcium 46, 333–346 (2009)

Brunetti, P. M. et al. Design and fabrication of ultralight weight, adjustable multi-electrode probes for electrophysiological recordings in mice. J. Vis. Exp . 91, e51675 (2014)

Ferrarelli, F. et al. Reduced sleep spindle activity in schizophrenia patients. Am. J. Psychiatry 164, 483–492 (2007)

Limoges, E. et al. Atypical sleep architecture and the autism phenotype. Brain 128, 1049–1061 (2005)

Dang-Vu, T. T. et al. Spontaneous brain rhythms predict sleep stability in the face of noise. Curr. Biol. 20, R626–R627 (2010)

Wimmer, R. D. et al. Sustaining Sleep Spindles through Enhanced SK2-Channel Activity Consolidates Sleep and Elevates Arousal Threshold. J. Neurosci. 32, 13917–13928 (2012)

Grimley, J. S. et al. Visualization of synaptic inhibition with an optogenetic sensor developed by cell-free protein engineering automation. J. Neurosci. 33, 16297–16309 (2013)

Remington, A. et al. Selective attention and perceptual load in autism spectrum disorder. Psychol. Sci. 20, 1388–1393 (2009)

Sachs, G. S. et al. Comorbidity of attention deficit hyperactivity disorder with early- and late-onset bipolar disorder. Am. J. Psychiatry 157, 466–468 (2000)

Leyfer, O. T. et al. Comorbid psychiatric disorders in children with autism: interview development and rates of disorders. J. Autism Dev. Disord. 36, 849–861 (2006)

Won, H. et al. GIT1 is associated with ADHD in humans and ADHD-like behaviors in mice. Nature Med. 17, 566–572 (2011)

Spencer, T. et al. Efficacy of a mixed amphetamine salts compound in adults with attention-deficit/hyperactivity disorder. Arch. Gen. Psychiatry 58, 775–782 (2001)

Curzon, P., Rustay, N. R. & Browman, K. E. In Methods of Behavior Analysis in Neuroscience 2nd edn (ed. Buccafusco, J. J. ) Ch. 2 (Boca Raton, 2009)

Nestler, E. J. & Hyman, S. E. Animal models of neuropsychiatric disorders. Nature Neurosci. 13, 1161–1169 (2010)

Meyer, A. H. et al. In vivo labeling of parvalbumin-positive interneurons and analysis of electrical coupling in identified neurons. J. Neurosci. 22, 7055–7064 (2002)

Graybiel, A. M. & Elde, R. P. Somatostatin-like immunoreactivity characterizes neurons of the nucleus reticularis thalami in the cat and monkey. J. Neurosci. 3, 1308–1321 (1983)

Taniguchi, H. et al. A resource of Cre driver lines for genetic targeting of GABAergic neurons in cerebral cortex. Neuron 71, 995–1013 (2011)

Chen, Z. et al. Thalamic circuit mechanisms link sensory processing in sleep and attention. Front. in Neural Circuits http://dx.doi.org/10.3389/fncir.2015.00083 (2015)

Zikopoulos, B. & Barbas, H. Pathways for emotions and attention converge on the thalamic reticular nucleus in primates. J. Neurosci. 32, 5338–5350 (2012)

Fisher, S. P. et al. Rapid assessment of sleep-wake behavior in mice. J. Biol. Rhythms 27, 48–58 (2012)
Acknowledgements
We thank R. Tang for insightful discussion during the initiation of the project, H. Wang, T. Dalia, E. Kwan, H. Zaniewski for technical support, and J. Vincent for insightful discussion. We thank J. Petravicz and T. Emery from the Sur laboratory for assistance with Ca2+ imaging and A. Heynen from the Bear laboratory for technical advice on the inhibitory avoidance task. We thank all members of the Feng laboratory for their help and support. We thank M. Ball and J. Ball for their insight and inspiration throughout this project. We also thank S.F. Lin and R. Buxton for their support of this research. This work was supported by a grant from Simons Foundation Autism Research Initiative (SFARI Award ID: 307913) to G.F. and M.M.H., NIH grants to G.F. (NIH/NIMH, R01MH097104) and M.M.H. (R01MH107680), and funds from the Poitras Center for Affective Disorders Research and the Stanley Center for Psychiatric Research at the Broad Institute of MIT and Harvard to G.F. M.M.H. is additionally supported by the Brain and Behavior, Sloan, Klingenstein and Feldstein Foundations. M.F.W. is supported by an NIH Ruth L. Kirschstein National Research Service Award (FMH098641A). R.D.W. is supported by the Swiss National Science Foundation.
Ethics declarations
Competing interests
The authors declare no competing financial interests.
Extended data figures and tables
Supplementary information
This file contains Supplementary Figure 1 and Supplementary Tables 1-3. (PDF 512 kb)
About this article
Cite this article
Wells, M., Wimmer, R., Schmitt, L. et al. Thalamic reticular impairment underlies attention deficit in Ptchd1Y/− mice. Nature 532, 58–63 (2016). https://doi.org/10.1038/nature17427
Received:

Accepted:

Published:

Issue Date:

DOI: https://doi.org/10.1038/nature17427
Comments
By submitting a comment you agree to abide by our Terms and Community Guidelines. If you find something abusive or that does not comply with our terms or guidelines please flag it as inappropriate.