Abstract
Primary cilia are solitary, generally non-motile, hair-like protrusions that extend from the surface of cells between cell divisions. Their antenna-like structure leads naturally to the assumption that they sense the surrounding environment, the most common hypothesis being sensation of mechanical force through calcium-permeable ion channels within the cilium1. This Ca2+-responsive mechanosensor hypothesis for primary cilia has been invoked to explain a large range of biological responses, from control of left–right axis determination in embryonic development to adult progression of polycystic kidney disease and some cancers2,3. Here we report the complete lack of mechanically induced calcium increases in primary cilia, in tissues upon which this hypothesis has been based. We developed a transgenic mouse, Arl13b–mCherry–GECO1.2, expressing a ratiometric genetically encoded calcium indicator in all primary cilia. We then measured responses to flow in primary cilia of cultured kidney epithelial cells, kidney thick ascending tubules, crown cells of the embryonic node, kinocilia of inner ear hair cells, and several cell lines. Cilia-specific Ca2+ influxes were not observed in physiological or even highly supraphysiological levels of fluid flow. We conclude that mechanosensation, if it originates in primary cilia, is not via calcium signalling.
Access options
Subscribe to Journal
Get full journal access for 1 year
$199.00
only $3.90 per issue
All prices are NET prices.
VAT will be added later in the checkout.
Tax calculation will be finalised during checkout.
Rent or Buy article
Get time limited or full article access on ReadCube.
from$8.99
All prices are NET prices.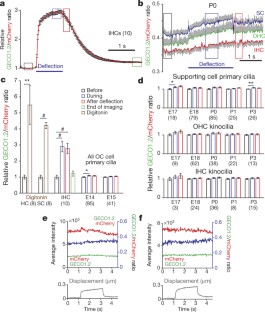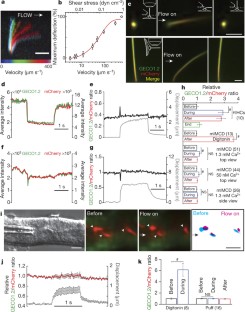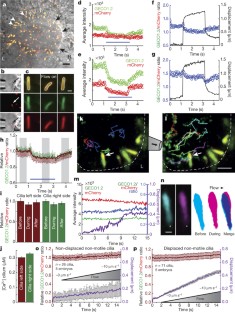 References
1

Zimmerman, K. & Yoder, B. K. Snapshot: sensing and signaling by cilia. Cell 161, 692–2.e1 (2015)

2

Hamada, H. Role of physical forces in embryonic development. Semin. Cell Dev. Biol. 47–48, 88–91 (2015)

3

Nauli, S. M. et al. Polycystins 1 and 2 mediate mechanosensation in the primary cilium of kidney cells. Nature Genet. 33, 129–137 (2003)

4

Corey, D. P. & Hudspeth, A. J. Ionic basis of the receptor potential in a vertebrate hair cell. Nature 281, 675–677 (1979)

5

Corey, D. P. & Hudspeth, A. J. Response latency of vertebrate hair cells. Biophys. J. 26, 499–506 (1979)

6

Sellick, P. M., Patuzzi, R. & Johnstone, B. M. Measurement of basilar membrane motion in the guinea pig using the Mössbauer technique. J. Acoust. Soc. Am. 72, 131–141 (1982)

7

Beurg, M., Fettiplace, R., Nam, J. H. & Ricci, A. J. Localization of inner hair cell mechanotransducer channels using high-speed calcium imaging. Nature Neurosci. 12, 553–558 (2009)

8

Kindt, K. S., Finch, G. & Nicolson, T. Kinocilia mediate mechanosensitivity in developing zebrafish hair cells. Dev. Cell 23, 329–341 (2012)

9

Praetorius, H. A. & Spring, K. R. Bending the MDCK cell primary cilium increases intracellular calcium. J. Membr. Biol. 184, 71–79 (2001)

10

Weinstein, A. M. A mathematical model of rat ascending Henle limb. III. Tubular function. Am. J. Physiol. Renal Physiol. 298, F543–F556 (2010)

11

Schwartz, E. A., Leonard, M. L., Bizios, R. & Bowser, S. S. Analysis and modeling of the primary cilium bending response to fluid shear. Am. J. Physiol. 272, F132–F138 (1997)

12

Young, Y. N., Downs, M. & Jacobs, C. R. Dynamics of the primary cilium in shear flow. Biophys. J. 103, 629–639 (2012)

13

AbouAlaiwi, W. A. et al. Ciliary polycystin-2 is a mechanosensitive calcium channel involved in nitric oxide signaling cascades. Circ. Res. 104, 860–869 (2009)

14

Jin, X. et al. Cilioplasm is a cellular compartment for calcium signaling in response to mechanical and chemical stimuli. Cell. Mol. Life Sci. 71, 2165–2178 (2014)

15

Su, S. et al. Genetically encoded calcium indicator illuminates calcium dynamics in primary cilia. Nature Methods 10, 1105–1107 (2013)

16

Lee, K. L. et al. The primary cilium functions as a mechanical and calcium signaling nexus. Cilia 4, 7 (2015)

17

Delling, M., DeCaen, P. G., Doerner, J. F., Febvay, S. & Clapham, D. E. Primary cilia are specialized calcium signalling organelles. Nature 504, 311–314 (2013)

18

O'Connor, A. K. et al. An inducible CiliaGFP mouse model for in vivo visualization and analysis of cilia in live tissue. Cilia 2, 8 (2013)

19

Lee, J. D. & Anderson, K. V. Morphogenesis of the node and notochord: the cellular basis for the establishment and maintenance of left-right asymmetry in the mouse. Dev. Dyn. 237, 3464–3476 (2008)

20

Okada, Y., Takeda, S., Tanaka, Y., Izpisúa Belmonte, J. C. & Hirokawa, N. Mechanism of nodal flow: a conserved symmetry breaking event in left-right axis determination. Cell 121, 633–644 (2005)

21

Nonaka, S. et al. Randomization of left-right asymmetry due to loss of nodal cilia generating leftward flow of extraembryonic fluid in mice lacking KIF3B motor protein. Cell 95, 829–837 (1998)

22

Nonaka, S., Shiratori, H., Saijoh, Y. & Hamada, H. Determination of left–right patterning of the mouse embryo by artificial nodal flow. Nature 418, 96–99 (2002)

23

Yoshiba, S. et al. Cilia at the node of mouse embryos sense fluid flow for left-right determination via Pkd2. Science 338, 226–231 (2012)

24

McGrath, J., Somlo, S., Makova, S., Tian, X. & Brueckner, M. Two populations of node monocilia initiate left-right asymmetry in the mouse. Cell 114, 61–73 (2003)

25

Tanaka, Y., Okada, Y. & Hirokawa, N. FGF-induced vesicular release of Sonic hedgehog and retinoic acid in leftward nodal flow is critical for left–right determination. Nature 435, 172–177 (2005)

26

Okada, Y. et al. Abnormal nodal flow precedes situs inversus in iv and inv mice. Mol. Cell 4, 459–468 (1999)

27

Xiao, R. & Xu, X. Z. Mechanosensitive channels: in touch with Piezo. Curr. Biol. 20, R936–R938 (2010)

28

Connelly, T. et al. G protein-coupled odorant receptors underlie mechanosensitivity in mammalian olfactory sensory neurons. Proc. Natl Acad. Sci. USA 112, 590–595 (2015)

29

Iskratsch, T., Wolfenson, H. & Sheetz, M. P. Appreciating force and shape — the rise of mechanotransduction in cell biology. Nature Rev. Mol. Cell Biol. 15, 825–833 (2014)

30

Ma, M., Tian, X., Igarashi, P., Pazour, G. J. & Somlo, S. Loss of cilia suppresses cyst growth in genetic models of autosomal dominant polycystic kidney disease. Nature Genet. 45, 1004–1012 (2013)

31

Faust, D. et al. Culturing primary rat inner medullary collecting duct cells. J. Vis. Exp. 76, 50366 (2013)

32

Palmer, L. G. & Frindt, G. Gating of Na channels in the rat cortical collecting tubule: effects of voltage and membrane stretch. J. Gen. Physiol. 107, 35–45 (1996)

33

Takao, D. et al. Asymmetric distribution of dynamic calcium signals in the node of mouse embryo during left-right axis formation. Dev. Biol. 376, 23–30 (2013)

34

Downs, K. M. & Davies, T. Staging of gastrulating mouse embryos by morphological landmarks in the dissecting microscope. Development 118, 1255–1266 (1993)

35

Yoshiba, S. & Hamada, H. Roles of cilia, fluid flow, and Ca2+ signaling in breaking of left-right symmetry. Trends Genet. 30, 10–17 (2014)

36

Zhao, Y. et al. An expanded palette of genetically encoded Ca2+ indicators. Science 333, 1888–1891 (2011)

37

Spatz, J. M. et al. The Wnt inhibitor sclerostin is up-regulated by mechanical unloading in osteocytes in vitro. J. Biol. Chem. 290, 16744–16758 (2015)

38

Xiao, Z. et al. Cilia-like structures and polycystin-1 in osteoblasts/osteocytes and associated abnormalities in skeletogenesis and Runx2 expression. J. Biol. Chem. 281, 30884–30895 (2006)

39

Indzhykulian, A. A. et al. Molecular remodeling of tip links underlies mechanosensory regeneration in auditory hair cells. PLoS Biol. 11, e1001583 (2013)

40

DeCaen, P. G., Delling, M., Vien, T. N. & Clapham, D. E. Direct recording and molecular identification of the calcium channel of primary cilia. Nature 504, 315–318 (2013)

41

Nagasawa, H., Miyamoto, M. & Fujimoto, M. [Reproductivity in inbred strains of mice and project for their efficient production (author's translation)]. Jikken Dobutsu 22, 119–126 (1973)

42

Yuan, S., Zhao, L., Brueckner, M. & Sun, Z. Intraciliary calcium oscillations initiate vertebrate left-right asymmetry. Curr. Biol. 25, 556–567 (2015)

43

Tian, L. et al. Imaging neural activity in worms, flies and mice with improved GCaMP calcium indicators. Nature Methods 6, 875–881 (2009)

44

Nagai, T., Yamada, S., Tominaga, T., Ichikawa, M. & Miyawaki, A. Expanded dynamic range of fluorescent indicators for Ca2+ by circularly permuted yellow fluorescent proteins. Proc. Natl Acad. Sci. USA 101, 10554–10559 (2004)

45

Chen, T. W. et al. Ultrasensitive fluorescent proteins for imaging neuronal activity. Nature 499, 295–300 (2013)
Acknowledgements
We thank the Mouse Gene Manipulation Facility of the Boston Children's Hospital Intellectual and Developmental Disabilities Research Center (IDDRC; NIHP30-HD 18655), National Institutes of Health (NIH) 5R01 DC000304 to D.P.C., and the Kaplan Family for financial support to M.D. We thank J. Rivera, J. Angelo, J. Mager and K. Tremblay for help with developmental staging of mouse embryos, L. Palmer and G. Frindt for teaching M.D. the kidney tubule dissection, A. Weinstein for discussions of fluid velocities in kidney tubules, W. Fowle for access to the scanning electron microscopy facility, R. Stepanyan and J. Shen for help with statistics, and members of the Clapham and Corey laboratories for advice and discussion. We thank H. Zeng for the Ai95 mouse line, L. Bonewald for the MLO-Y4-cell line, P. Divieti Pajevic and J. Spatz for the Ocy454 cell line, and T. Indzhykulian for support. D.E.C. and D.P.C. are Investigators of the Howard Hughes Medical Institute.
Ethics declarations
Competing interests
The authors declare no competing financial interests.
Extended data figures and tables
Supplementary information
About this article
Cite this article
Delling, M., Indzhykulian, A., Liu, X. et al. Primary cilia are not calcium-responsive mechanosensors. Nature 531, 656–660 (2016). https://doi.org/10.1038/nature17426
Received:

Accepted:

Published:

Issue Date:
Comments
By submitting a comment you agree to abide by our Terms and Community Guidelines. If you find something abusive or that does not comply with our terms or guidelines please flag it as inappropriate.