Abstract
New World monkeys (platyrrhines) are a diverse part of modern tropical ecosystems in North and South America, yet their early evolutionary history in the tropics is largely unknown. Molecular divergence estimates suggest that primates arrived in tropical Central America, the southern-most extent of the North American landmass, with several dispersals from South America starting with the emergence of the Isthmus of Panama 3–4 million years ago (Ma)1. The complete absence of primate fossils from Central America has, however, limited our understanding of their history in the New World. Here we present the first description of a fossil monkey recovered from the North American landmass, the oldest known crown platyrrhine, from a precisely dated 20.9-Ma layer in the Las Cascadas Formation in the Panama Canal Basin, Panama. This discovery suggests that family-level diversification of extant New World monkeys occurred in the tropics, with new divergence estimates for Cebidae between 22 and 25 Ma, and provides the oldest fossil evidence for mammalian interchange between South and North America. The timing is consistent with recent tectonic reconstructions2,3 of a relatively narrow Central American Seaway in the early Miocene epoch, coincident with over-water dispersals inferred for many other groups of animals and plants4. Discovery of an early Miocene primate in Panama provides evidence for a circum-Caribbean tropical distribution of New World monkeys by this time, with ocean barriers not wholly restricting their northward movements, requiring a complex set of ecological factors to explain their absence in well-sampled similarly aged localities at higher latitudes of North America.
Relevant articles
Open Access articles citing this article.
David M. Buchs

,

Derek Irving

…

Stewart D. Redwood

Scientific Reports Open Access 05 February 2019

Donna Lisa De-Silva

,

Luísa L. Mota

…

Marianne Elias

Scientific Reports Open Access 07 April 2017
Access options
Subscribe to Journal
Get full journal access for 1 year
$199.00
only $3.90 per issue
All prices are NET prices.
VAT will be added later in the checkout.
Tax calculation will be finalised during checkout.
Buy article
Get time limited or full article access on ReadCube.
$32.00
All prices are NET prices.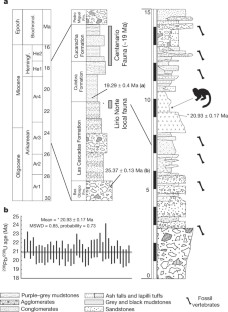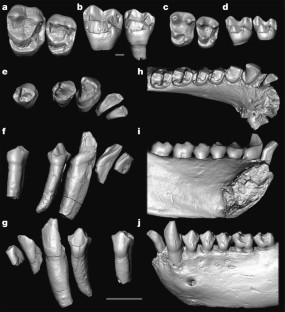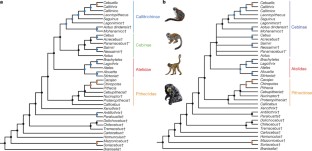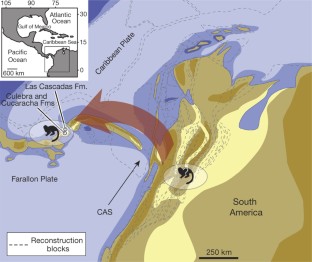 References
Kay, R. F. Biogeography in deep time—what do phylogenetics, geology, and paleoclimate tell us about early platyrrhine evolution? Mol. Phylogenet. Evol. 82, 358–374 (2015)

Farris, D. W. et al. Fracturing of the Panamanian Isthmus during initial collision with South America. Geology 39, 1007–1010 (2011)

Montes, C. et al. Evidence for middle Eocene and younger land emergence in central Panama: implications for Isthmus closure. Geol. Soc. Am. Bull. 124, 780–799 (2012)

Bacon, C. D. et al. Biological evidence supports an early and complex emergence of the Isthmus of Panama. Proc. Natl Acad. Sci. USA 112, 6110–6115 (2015)

MacFadden, B. J. Extinct mammalian biodiversity of the ancient New World tropics. Trends Ecol. Evol. 21, 157–165 (2006)

Rincon, A. F., Bloch, J. I., Suarez, C., MacFadden, B. J. & Jaramillo, C. A. New floridatragulines (Mammalia, Camelidae) from the early Miocene Las Cascadas Formation, Panama. J. Vertebr. Paleontol. 32, 456–475 (2012)

Rincon, A. F., Bloch, J. I., Macfadden, B. J. & Jaramillo, C. A. First Central American record of Anthracotheriidae (Mammalia, Bothriodontinae) from the early Miocene of Panama. J. Vertebr. Paleontol. 33, 421–433 (2013)

Rincon, A. F., Bloch, J. I., Macfadden, B. J. & Jaramillo, C. A. New early Miocene protoceratids (Mammalia, Artiodactyla) from Panama. J. Verteb. Paleontol . http://dx.doi.org/10.1080/02724634.2015.970688 (2015)

Wood, A. R. & Ridgwell, N. M. The first Central American chalicothere (Mammalia, Perissodactyla) and the paleobiogeographic implications for small-bodied schizotheriines. J. Vertebr. Paleontol . 35, e923893 (2015)

MacFadden, B. J. et al. Temporal calibration and biochronology of the Centenario Fauna, early Miocene of Panama. J. Geol. 122, 113–135 (2014)

Kirby, M. X., Jones, D. S. & MacFadden, B. J. Lower Miocene stratigraphy along the Panama Canal and its bearing on the Central American Peninsula. PLoS One 3, e2791 (2008)

Woodburne, M. O. The Great American Biotic Interchange: dispersals, tectonics, climate, sea level and holding pens. J. Mamm. Evol. 17, 245–264 (2010)

Albright, L. B., III et al. Revised chronostratigraphy and biostratigraphy of the John Day Formation (Turtle Cove and Kimberly Members), Oregon, with implications for updated calibration of the Arikareean North American land mammal age. J. Geol. 116, 211–237 (2008)

Tedford, R. H. et al. in Late Cretaceous and Cenozoic Mammals of North America: Biostratigraphy and Geochronology 169–231 (Columbia Univ. Press, 2004)

MacFadden, B. J. Chronology of Cenozoic primate localities in South America. J. Hum. Evol. 19, 7–21 (1990)

Bond, M. et al. Eocene primates of South America and the African origins of New World monkeys. Nature 520, 538–541 (2015)

Kay, R. F. New World monkey origins. Science 347, 1068–1069 (2015)

Jameson Kiesling, N. M., Yi, S. V., Xu, K., Gianluca Sperone, F. & Wildman, D. E. The tempo and mode of New World monkey evolution and biogeography in the context of phylogenomic analysis. Mol. Phylogenet. Evol. 82, 386–399 (2015)

Houle, A. The origin of platyrrhines: an evaluation of the Antarctic scenario and the floating island model. Am. J. Phys. Anthropol. 109, 541–559 (1999)

Springer, M. S. et al. Macroevolutionary dynamics and historical biogeography of primate diversification inferred from a species supermatrix. PLoS ONE 7, e49521 (2012)

Perelman, P. et al. A molecular phylogeny of living primates. PLoS Genet. 7, e1001342 (2011)

Cooke, S. B., Rosenberger, A. L. & Turvey, S. An extinct monkey from Haiti and the origins of the Greater Antillean primates. Proc. Natl Acad. Sci. USA 108, 2699–2704 (2011)

Rosenberger, A. L. Platyrrhines, PAUP, parallelism, and the Long Lineage Hypothesis: a reply to Kay et al. (2008). J. Hum. Evol. 59, 214–217 (2010)

MacPhee, R. D., Iturralde-Vinent, M. A. & Gaffney, E. S. Domo de Zaza, an early Miocene vertebrate locality in south-central Cuba, with notes on the tectonic evolution of Puerto Rico and the Mona Passage. Am. Mus. Novit. 3394, 1–42 (2003)

Dunn, R. E. et al. A new chronology for middle Eocene–early Miocene South American Land Mammal Ages. Geol. Soc. Am. Bull. 125, 539–555 (2013)

Rosenberger, A., Tejedor, M., Cooke, S. & Pekar, S. in South American Primates Developments in Primatology: Progress and Prospects (eds Garber, P. A., Estrada, A., Bicca-Marques, J. C., Heymann, E. W. & Strier, K. B. ) Ch. 4, 69–113 (Springer, 2009)

Jaramillo, C. et al. Palynological Record of the Last 20 Million Years in Panama. Ch. 8, 134–251 (Missouri Botanical Garden Press, 2014)

Rooney, T. O., Franceschi, P. & Hall, C. M. Water-saturated magmas in the Panama Canal region: a precursor to adakite-like magma generation? Contrib. Mineral. Petrol. 161, 373–388 (2011)

Black, L. P. et al. The application of SHRIMP to Phanerozoic geochronology; a critical appraisal of four zircon standards. Chem. Geol. 200, 171–188 (2003)

Montes, C. et al. Arc-continent collision and orocline formation: closing of the Central American seaway. J. Geophys. Res. 117, B4 (2012)
Acknowledgements
We thank M. Silcox, D. Boyer, G. Gunnell, S. Chester, P. Morse, E. Sargis, D. Steadman, E. Kowalski, Z. Randall, A. Rosenberger, J. Krigbaum and D. Daegling for advice and discussion, R. Kay and L. Marivaux for reviews that significantly improved the quality of the manuscript, D. Byerley and G. Maccracken for finding primate fossils in Panama, M. Droulliard for assistance with geochronology laboratory and fieldwork, R. Kay, P. Holroyd and D. Reed for access to comparative specimens, J. Bourque for fossil preparation, D. Byerley for artwork associated with Fig. 3, D. Boyer for facilitating access to the Duke University SMIF microCT facility, and D. Boyer, G. Yapuncich and J. Thostenson for help acquiring and processing microCT scan data (funded in part by National Science Foundation (NSF) BCS 1304045 to D. Boyer and E. St Clair, and BCS 0851272 to R. Kay). We thank O. Moskalenko, M. Gitzendanner and D. Reed for assistance with the high-performance computing resources at the University of Florida. We thank the Autoridad del Canal de Panama (ACP) and the Ministerio de Comercio e Industria (MICI) for logistical support and access to the Panama Canal Zone. Part of this manuscript was written when J.I.B. was supported as an Edward P. Bass Distinguished Visiting Environmental Scholar in the Yale Institute for Biospheric Studies (YIBS). The NSF (PIRE project 0966884), Smithsonian Tropical Research Institute Paleobiology Fund, and the Florida Museum of Natural History funded this research. This is University of Florida Contribution to Paleobiology 782.
Ethics declarations
Competing interests
The authors declare no competing financial interests.
Extended data figures and tables
Supplementary information
About this article
Cite this article
Bloch, J., Woodruff, E., Wood, A. et al. First North American fossil monkey and early Miocene tropical biotic interchange. Nature 533, 243–246 (2016). https://doi.org/10.1038/nature17415
Received:

Accepted:

Published:

Issue Date:

DOI: https://doi.org/10.1038/nature17415
Comments
By submitting a comment you agree to abide by our Terms and Community Guidelines. If you find something abusive or that does not comply with our terms or guidelines please flag it as inappropriate.