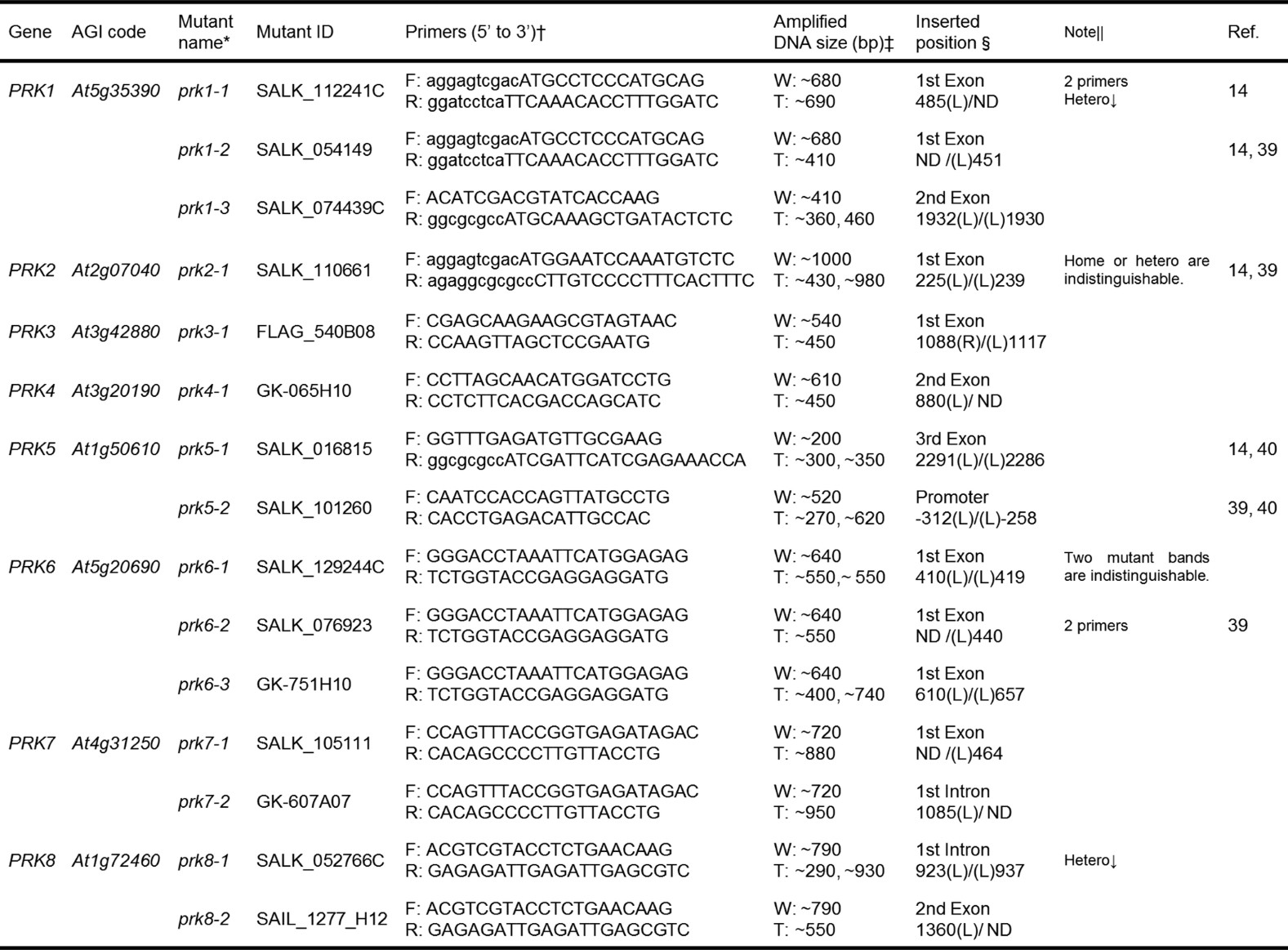 *Except for prk1-1, prk1-2, prk2-1, prk5-1 and prk5-2, mutant names were assigned in this study.
†Forward (F) and reverse (R) primers were designed in the up- and downstream regions of T-DNA insertion. Lowercase letters are additional nucleotides for the purposes of cloning.
The primers for T-DNA borders are 5′-ATTTTGCCGATTTCGGAAC-3′ (LBb1.3) for SALK, 5′-AACGTCCGCAATGTGTTATTAAGTTGTC-3′ for SAIL, 5′-CCCATTTGGACGTGAATGTAGAC-3′ for GABI-Kat (GK), and 5′-CTGATACCAGACGTTGCCCGCATAA-3′ (Tag3) for Flag.
‡Approximate sizes of wild-type (W) and mutant (T) bands, which were amplified by genomic PCR with 3 or 2 primers (for prk1-1 and prk6-2), are shown. Genomic PCR with 3 primers was performed using forward, reverse and T-DNA primers in one reaction. Genomic PCR with 2 primers was performed using forward and reverse primers (for wild-type) and forward or reverse and T-DNA primers (for T-DNA) in two separate reactions.
§The inserted positions were determined by sequencing of genomic PCR products. The numbers indicate genomic nucleotide positions connected to T-DNA or non-genomic sequences. L or R in parentheses shows which border is inserted at the end. ND, not determined (for example, 485(L)/ND means that the four-hundred-and-eight-fifth nucleotide in the genomic sequence is connected to the T-DNA left border, and the junction of another side of the T-DNA was not determined).
||Hetero↓: Heterozygous mutants in these alleles had aborted pollen grains and showed semi-sterility, probably owing to genomic rearrangements, although homozygous mutants in these alleles were normal.