Abstract
Neoplastic pancreatic epithelial cells are believed to die through caspase 8-dependent apoptotic cell death, and chemotherapy is thought to promote tumour apoptosis1. Conversely, cancer cells often disrupt apoptosis to survive2,3. Another type of programmed cell death is necroptosis (programmed necrosis), but its role in pancreatic ductal adenocarcinoma (PDA) is unclear. There are many potential inducers of necroptosis in PDA, including ligation of tumour necrosis factor receptor 1 (TNFR1), CD95, TNF-related apoptosis-inducing ligand (TRAIL) receptors, Toll-like receptors, reactive oxygen species, and chemotherapeutic drugs4,5. Here we report that the principal components of the necrosome, receptor-interacting protein (RIP)1 and RIP3, are highly expressed in PDA and are further upregulated by the chemotherapy drug gemcitabine. Blockade of the necrosome in vitro promoted cancer cell proliferation and induced an aggressive oncogenic phenotype. By contrast, in vivo deletion of RIP3 or inhibition of RIP1 protected against oncogenic progression in mice and was associated with the development of a highly immunogenic myeloid and T cell infiltrate. The immune-suppressive tumour microenvironment associated with intact RIP1/RIP3 signalling depended in part on necroptosis-induced expression of the chemokine attractant CXCL1, and CXCL1 blockade protected against PDA. Moreover, cytoplasmic SAP130 (a subunit of the histone deacetylase complex) was expressed in PDA in a RIP1/RIP3-dependent manner, and Mincle—its cognate receptor—was upregulated in tumour-infiltrating myeloid cells. Ligation of Mincle by SAP130 promoted oncogenesis, whereas deletion of Mincle protected against oncogenesis and phenocopied the immunogenic reprogramming of the tumour microenvironment that was induced by RIP3 deletion. Cellular depletion suggested that whereas inhibitory macrophages promote tumorigenesis in PDA, they lose their immune-suppressive effects when RIP3 or Mincle is deleted. Accordingly, T cells, which are not protective against PDA progression in mice with intact RIP3 or Mincle signalling, are reprogrammed into indispensable mediators of anti-tumour immunity in the absence of RIP3 or Mincle. Our work describes parallel networks of necroptosis-induced CXCL1 and Mincle signalling that promote macrophage-induced adaptive immune suppression and thereby enable PDA progression.
Relevant articles
Open Access articles citing this article.
Wenqin Luo

,

Wenqiang Xiang

…

Guoxiang Cai

Journal of Translational Medicine Open Access 19 May 2022

Sofie Martens

,

Nozomi Takahashi

…

Peter Vandenabeele

Cell Death & Disease Open Access 14 April 2022

Kaori Oka

,

Shusuke Fujioka

…

Kyoko Miura

Communications Biology Open Access 30 March 2022
Access options
Subscribe to Journal
Get full journal access for 1 year
$199.00
only $3.90 per issue
All prices are NET prices.
VAT will be added later in the checkout.
Tax calculation will be finalised during checkout.
Buy article
Get time limited or full article access on ReadCube.
$32.00
All prices are NET prices.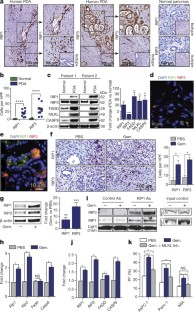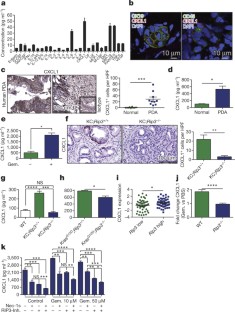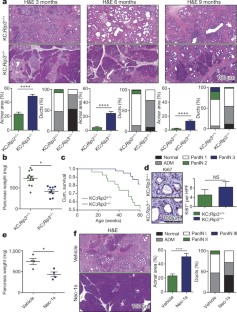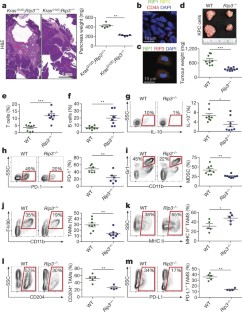 References
Johnstone, R. W., Ruefli, A. A. & Lowe, S. W. Apoptosis: a link between cancer genetics and chemotherapy. Cell 108, 153–164 (2002)

Fernald, K. & Kurokawa, M. Evading apoptosis in cancer. Trends Cell Biol. 23, 620–633 (2013)

Lowe, S. W. & Lin, A. W. Apoptosis in cancer. Carcinogenesis 21, 485–495 (2000)

Holler, N. et al. Fas triggers an alternative, caspase-8-independent cell death pathway using the kinase RIP as effector molecule. Nature Immunol. 1, 489–495 (2000)

Vanden Berghe, T., Linkermann, A., Jouan-Lanhouet, S., Walczak, H. & Vandenabeele, P. Regulated necrosis: the expanding network of non-apoptotic cell death pathways. Nature Rev. Mol. Cell Biol. 15, 135–147 (2014)

Vandenabeele, P., Galluzzi, L., Vanden Berghe, T. & Kroemer, G. Molecular mechanisms of necroptosis: an ordered cellular explosion. Nature Rev. Mol. Cell Biol. 11, 700–714 (2010)

Nagy, A. et al. Copy number of cancer genes predict tumor grade and survival of pancreatic cancer patients. Anticancer Res. 21, 1321–1325 (2001)

Plath, T. et al. Overexpression of pRB in human pancreatic carcinoma cells: function in chemotherapy-induced apoptosis. J. Natl. Cancer Inst. 94, 129–142 (2002)

Rosty, C. et al. p16 Inactivation in pancreatic intraepithelial neoplasias (PanINs) arising in patients with chronic pancreatitis. Am. J. Surg. Pathol. 27, 1495–1501 (2003)

Takahashi, H. et al. Simultaneous knock-down of Bcl-xL and Mcl-1 induces apoptosis through Bax activation in pancreatic cancer cells. Biochim. Biophys. Acta 1833, 2980–2987 (2013)

Ochi, A. et al. Toll-like receptor 7 regulates pancreatic carcinogenesis in mice and humans. J. Clin. Invest. 122, 4118–4129 (2012)

He, S. et al. Receptor interacting protein kinase-3 determines cellular necrotic response to TNF-α. Cell 137, 1100–1111 (2009)

Yatim, N. et al. RIPK1 and NF-κB signaling in dying cells determines cross-priming of CD8+ T cells. Science 350, 328–334 (2015)

Connolly, M. K. et al. Distinct populations of metastases-enabling myeloid cells expand in the liver of mice harboring invasive and preinvasive intra-abdominal tumor. J. Leukoc. Biol. 87, 713–725 (2010)

Acharyya, S. et al. A CXCL1 paracrine network links cancer chemoresistance and metastasis. Cell 150, 165–178 (2012)

Yamasaki, S. et al. Mincle is an ITAM-coupled activating receptor that senses damaged cells. Nature Immunol. 9, 1179–1188 (2008)

Wells, C. A. et al. The macrophage-inducible C-type lectin, mincle, is an essential component of the innate immune response to Candida albicans. J. Immunol. 180, 7404–7413 (2008)

Newton, K., Sun, X. & Dixit, V. M. Kinase RIP3 is dispensable for normal NF-κBs, signaling by the B-cell and T-cell receptors, tumor necrosis factor receptor 1, and Toll-like receptors 2 and 4. Mol. Cell. Biol. 24, 1464–1469 (2004)

Hingorani, S. R. et al. Preinvasive and invasive ductal pancreatic cancer and its early detection in the mouse. Cancer Cell 4, 437–450 (2003)

Hingorani, S. R. et al. Trp53R172H and KrasG12D cooperate to promote chromosomal instability and widely metastatic pancreatic ductal adenocarcinoma in mice. Cancer Cell 7, 469–483 (2005)

Zambirinis, C. P. et al. TLR9 ligation in pancreatic stellate cells promotes tumorigenesis. J. Exp. Med. 212, 2077–2094 (2015)

Pylayeva-Gupta, Y., Lee, K. E., Hajdu, C. H., Miller, G. & Bar-Sagi, D. Oncogenic Kras-induced GM-CSF production promotes the development of pancreatic neoplasia. Cancer Cell 21, 836–847 (2012)

Bedrosian, A. S. et al. Dendritic cells promote pancreatic viability in mice with acute pancreatitis. Gastroenterology 141, 1915–1926 (2011)

Ochi, A. et al. MyD88 inhibition amplifies dendritic cell capacity to promote pancreatic carcinogenesis via Th2 cells. J. Exp. Med. 209, 1671–1687 (2012)

Hruban, R. H. et al. Pancreatic intraepithelial neoplasia: a new nomenclature and classification system for pancreatic duct lesions. Am. J. Surg. Pathol. 25, 579–586 (2001)

Kent, W. J. et al. The human genome browser at UCSC. Genome Res. 12, 996–1006 (2002)
Acknowledgements
This work was supported by grants from the German Research Foundation (L.S.), the National Pancreas Foundation (C.P.Z.), the Pancreatic Cancer Action Network (G.M.), the Lustgarten Foundation (G.M.), and National Institute of Health Awards CA155649 (G.M.), CA168611 (G.M.), and CA193111 (G.M., A.T.-H.). We thank the New York University Langone Medical Center (NYU LMC) Histopathology Core Facility, the NYU LMC Flow Cytometry Core Facility, the NYU LMC Microscopy Core Facility, and the NYU LMC BioRepository Center, each supported in part by the Cancer Center Support Grant P30CA016087 and by grant UL1 TR000038 from the National Center for the Advancement of Translational Science (NCATS).
Ethics declarations
Competing interests
The authors declare no competing financial interests.
Extended data figures and tables
Supplementary information
This file shows the original gels for western blots for Figures 1c, 1g, 1i and Extended Data Figures 1, 5, 6. (PDF 927 kb)
About this article
Cite this article
Seifert, L., Werba, G., Tiwari, S. et al. The necrosome promotes pancreatic oncogenesis via CXCL1 and Mincle-induced immune suppression. Nature 532, 245–249 (2016). https://doi.org/10.1038/nature17403
Received:

Accepted:

Published:

Issue Date:

DOI: https://doi.org/10.1038/nature17403
Comments
By submitting a comment you agree to abide by our Terms and Community Guidelines. If you find something abusive or that does not comply with our terms or guidelines please flag it as inappropriate.