Abstract
A marked bias towards risk aversion has been observed in nearly every species tested1,2,3,4. A minority of individuals, however, instead seem to prefer risk (repeatedly choosing uncertain large rewards over certain but smaller rewards), and even risk-averse individuals sometimes opt for riskier alternatives2,5. It is not known how neural activity underlies such important shifts in decision-making—either as a stable trait across individuals or at the level of variability within individuals. Here we describe a model of risk-preference in rats, in which stable individual differences, trial-by-trial choices, and responses to pharmacological agents all parallel human behaviour. By combining new genetic targeting strategies with optical recording of neural activity during behaviour in this model, we identify relevant temporally specific signals from a genetically and anatomically defined population of neurons. This activity occurred within dopamine receptor type-2 (D2R)-expressing cells in the nucleus accumbens (NAc), signalled unfavourable outcomes from the recent past at a time appropriate for influencing subsequent decisions, and also predicted subsequent choices made. Having uncovered this naturally occurring neural correlate of risk selection, we then mimicked the temporally specific signal with optogenetic control during decision-making and demonstrated its causal effect in driving risk-preference. Specifically, risk-preferring rats could be instantaneously converted to risk-averse rats with precisely timed phasic stimulation of NAc D2R cells. These findings suggest that individual differences in risk-preference, as well as real-time risky decision-making, can be largely explained by the encoding in D2R-expressing NAc cells of prior unfavourable outcomes during decision-making.
Relevant articles
Open Access articles citing this article.
Felicity Gore

,

Melissa Hernandez

…

Karl Deisseroth

Nature Neuroscience Open Access 17 August 2023

Tadaaki Nishioka

,

Suthinee Attachaipanich

…

Takatoshi Hikida

Nature Communications Open Access 21 April 2023

Rizaldy C. Zapata

,

Dinghong Zhang

…

Olivia Osborn

Molecular Psychiatry Open Access 10 February 2023
Access options
Subscribe to this journal
Receive 51 print issues and online access
$199.00 per year
only $3.90 per issue
Rent or buy this article
Prices vary by article type
from$1.95
to$39.95
Prices may be subject to local taxes which are calculated during checkout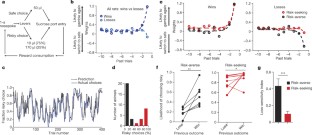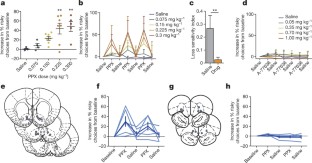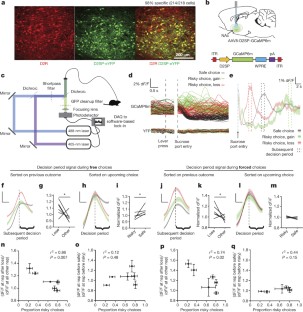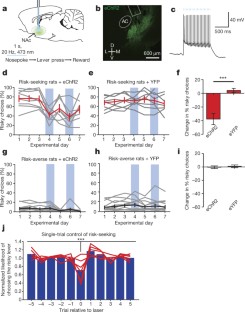 References
Barkan, C. P. L. A Field test of risk-sensitive foraging in black-capped chickadees (Parus Atricapillus). Ecology 71, 391–400 (1990)

Kahneman, D. & Tversky, A. Prospect theory: an analysis of decision under risk. Econometrica 47, 263–291 (1979)

Caraco, T., Martindale, S. & Whittam, T. S. An empirical demonstration of risk-sensitive foraging preferences. Anim. Behav. 28, 820–830 (1980)

Real, L. A. Uncertainty and pollinator–plant interactions: the foraging behavior of bees and wasps on artificial flowers. Ecology 62, 20–26 (1981)

Markowitz, H. Portfolio Selection. J. Finance 7, 77–91 (1952)

Schultz, W. et al. Explicit neural signals reflecting reward uncertainty. Philos. Trans. R. Soc. B Biol. Sci . 363, 3801–3811 (2008)

St Onge, J. R. & Floresco, S. B. Dopaminergic modulation of risk-based decision making. Neuropsychopharmacology 34, 681–697 (2009)

Nasrallah, N. A. et al. Risk preference following adolescent alcohol use is associated with corrupted encoding of costs but not rewards by mesolimbic dopamine. Proc. Natl Acad. Sci. USA 108, 5466–5471 (2011)

Knutson, B., Wimmer, G. E., Kuhnen, C. M. & Winkielman, P. Nucleus accumbens activation mediates the influence of reward cues on financial risk taking. Neuroreport 19, 509–513 (2008)

Tom, S. M., Fox, C. R., Trepel, C. & Poldrack, R. A. The neural basis of loss aversion in decision-making under risk. Science 315, 515–518 (2007)

Winstanley, C. A., Theobald, D. E. H., Dalley, J. W. & Robbins, T. W. Interactions between serotonin and dopamine in the control of impulsive choice in rats: therapeutic implications for impulse control disorders. Neuropsychopharmacology 30, 669–682 (2005)

Bechara, A., Damasio, A. R., Damasio, H. & Anderson, S. W. Insensitivity to future consequences following damage to human prefrontal cortex. Cognition 50, 7–15 (1994)

Clark, L. et al. Differential effects of insular and ventromedial prefrontal cortex lesions on risky decision-making. Brain 131, 1311–1322 (2008)

St Onge, J. R., Abhari, H. & Floresco, S. B. Dissociable contributions by prefrontal D1 and D2 receptors to risk-based decision making. J. Neurosci. 31, 8625–8633 (2011)

Bechara, A., Damasio, H. & Damasio, A. R. Emotion, decision making and the orbitofrontal cortex. Cereb. Cortex 10, 295–307 (2000)

O'Neill, M. & Schultz, W. Coding of reward risk by orbitofrontal neurons is mostly distinct from coding of reward value. Neuron 68, 789–800 (2010)

Stopper, C. M., Tse, M. T. L., Montes, D. R., Wiedman, C. R. & Floresco, S. B. Overriding phasic dopamine signals redirects action selection during risk/reward decision making. Neuron 84, 177–189 (2014)

Hayden, B. Y. & Platt, M. L. Gambling for Gatorade: risk-sensitive decision making for fluid rewards in humans. Anim. Cogn. 12, 201–207 (2009)

Niv, Y., Edlund, J. A., Dayan, P. & O'Doherty, J. P. Neural prediction errors reveal a risk-sensitive reinforcement-learning process in the human brain. J. Neurosci. 32, 551–562 (2012)

Dodd, M. L. et al. Pathological gambling caused by drugs used to treat parkinson disease. Arch. Neurol. 62, 1377–1381 (2005)

Frank, M. J., Seeberger, L. C. & O'Reilly, R. C. By carrot or by stick: cognitive reinforcement learning in parkinsonism. Science 306, 1940–1943 (2004)

van Eimeren, T. et al. Dopamine agonists diminish value sensitivity of the orbitofrontal cortex: a trigger for pathological gambling in Parkinson's disease? Neuropsychopharmacoly 34, 2758–2766 (2009)

Kebabian, J. W. et al. A-77636: a potent and selective dopamine D1 receptor agonist with antiparkinsonian activity in marmosets. Eur. J. Pharmacol. 229, 203–209 (1992)

Dreyer, J. K., Herrik, K. F., Berg, R. W. & Hounsgaard, J. D. Influence of phasic and tonic dopamine release on receptor activation. J. Neurosci. 30, 14273–14283 (2010)

Porter-Stransky, K. A., Seiler, J. L., Day, J. J. & Aragona, B. J. Development of behavioral preferences for the optimal choice following unexpected reward omission is mediated by a reduction of D2-like receptor tone in the nucleus accumbens. Eur. J. Neurosci. 38, 2572–2588 (2013)

Chen, T.-W. et al. Ultrasensitive fluorescent proteins for imaging neuronal activity. Nature 499, 295–300 (2013)

Gunaydin, L. A. et al. Natural Neural projection dynamics underlying social behavior. Cell 157, 1535–1551 (2014)

Lerner, T. N. et al. Intact-brain analyses reveal distinct information carried by SNc dopamine subcircuits. Cell 162, 635–647 (2015)

Gradinaru, V. et al. Molecular and cellular approaches for diversifying and extending optogenetics. Cell 141, 154–165 (2010)

Tai, L.-H., Lee, A. M., Benavidez, N., Bonci, A. & Wilbrecht, L. Transient stimulation of distinct subpopulations of striatal neurons mimics changes in action value. Nature Neurosci. 15, 1281–1289 (2012)

Kepecs, A., Uchida, N., Zariwala, H. A. & Mainen, Z. F. Neural correlates, computation and behavioural impact of decision confidence. Nature 455, 227–231 (2008)

Kopec, C. D., Erlich, J. C., Brunton, B. W., Deisseroth, K. & Brody, C. D. Cortical and subcortical contributions to short-term memory for orienting movements. Neuron 88, 367–377 (2015)

Witten, I. B. et al. Recombinase-driver rat lines: tools, techniques, and optogenetic application to dopamine-mediated reinforcement. Neuron 72, 721–733 (2011)

Minowa, T., Minowa, M. T. & Mouradian, M. M. Analysis of the promoter region of the rat D2 dopamine receptor gene. Biochemistry 31, 8389–8396 (1992)

Leong, J. K., Pestilli, F., Wu, C. C., Samanez-Larkin, G. R. & Knutson, B. White-matter tract connecting anterior insula to nucleus accumbens correlates with reduced preference for positively skewed gambles. Neuron 89, 63–69 (2016)
Acknowledgements
We would like to thank R. Malenka and K. Shenoy for advice on experimental design; A. Andalman for advice on analysis; P. Kalanithi for advice in general; E. Ferenczi, C. Földy, G. Panagiotakos, M. Bennett, A. Bryant, C. Beinat, and M. Palner for preliminary data collection and training in experimental techniques; S. Pak and C. Delacruz for administrative support; and the entire Deisseroth laboratory and Stanford University Neurosciences Program for training and support. All viruses were packaged at the Stanford Viral and Vector Core. K.A.Z. was supported by the NSF Graduate Research Fellowship Program, by the Stanford Neurosciences Program NIH Training Grant, and by an NRSA Predoctoral Fellowship from NIDA (1F31MH105151-01). T.N.L. was supported by a Stanford Dean's Postdoctoral Fellowship and by an NRSA Postdoctoral Fellowship (1F32MH105053-01). B.K. was supported by a Stanford Neuroscience Institute Big Ideas Grant. K.D. was supported by NIMH, NIDA, NSF, the Wiegers Family Fund, the Nancy and James Grosfeld Foundation, the H.L. Snyder Medical Foundation, the Samuel and Betsy Reeves Fund, and the US Army Research Laboratory and Defense Advanced Research Projects Agency (Cooperative Agreement Number W911NF-14-2-0013); nothing in this material represents official views or policies of our funders. All clones and resources are freely available (http://optogenetics.org, http://clarityresourcecenter.org).
Ethics declarations
Competing interests
The authors declare no competing financial interests.
Extended data figures and tables
About this article
Cite this article
Zalocusky, K., Ramakrishnan, C., Lerner, T. et al. Nucleus accumbens D2R cells signal prior outcomes and control risky decision-making. Nature 531, 642–646 (2016). https://doi.org/10.1038/nature17400
Received:

Accepted:

Published:

Issue Date:

DOI: https://doi.org/10.1038/nature17400
Comments
By submitting a comment you agree to abide by our Terms and Community Guidelines. If you find something abusive or that does not comply with our terms or guidelines please flag it as inappropriate.