Abstract
Brown and beige adipose tissues can dissipate chemical energy as heat through thermogenic respiration, which requires uncoupling protein 1 (UCP1)1,2. Thermogenesis from these adipocytes can combat obesity and diabetes3, encouraging investigation of factors that control UCP1-dependent respiration in vivo. Here we show that acutely activated thermogenesis in brown adipose tissue is defined by a substantial increase in levels of mitochondrial reactive oxygen species (ROS). Remarkably, this process supports in vivo thermogenesis, as pharmacological depletion of mitochondrial ROS results in hypothermia upon cold exposure, and inhibits UCP1-dependent increases in whole-body energy expenditure. We further establish that thermogenic ROS alter the redox status of cysteine thiols in brown adipose tissue to drive increased respiration, and that Cys253 of UCP1 is a key target. UCP1 Cys253 is sulfenylated during thermogenesis, while mutation of this site desensitizes the purine-nucleotide-inhibited state of the carrier to adrenergic activation and uncoupling. These studies identify mitochondrial ROS induction in brown adipose tissue as a mechanism that supports UCP1-dependent thermogenesis and whole-body energy expenditure, which opens the way to improved therapeutic strategies for combating metabolic disorders.
This is a preview of subscription content
Access options
Subscribe to Journal
Get full journal access for 1 year
$199.00
only $3.90 per issue
All prices are NET prices.
VAT will be added later in the checkout.
Tax calculation will be finalised during checkout.
Buy article
Get time limited or full article access on ReadCube.
$32.00
All prices are NET prices.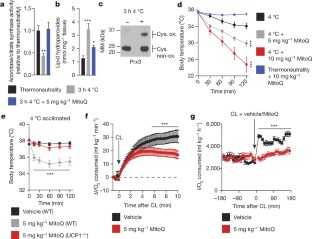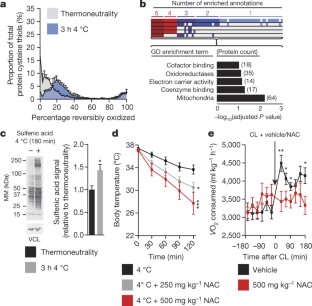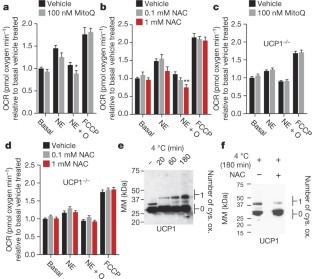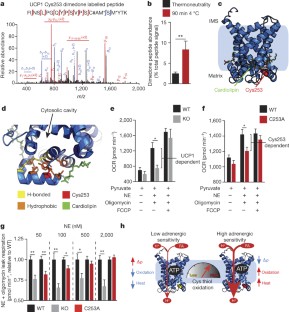 References
Nicholls, D. G. The physiological regulation of uncoupling proteins. Biochim. Biophys. Acta 1757, 459–466 (2006)

Divakaruni, A. S. & Brand, M. D. The regulation and physiology of mitochondrial proton leak. Physiology 26, 192–205 (2011)

Yoneshiro, T. et al. Recruited brown adipose tissue as an antiobesity agent in humans. J. Clin. Invest. 123, 3404–3408 (2013)

Wu, J. et al. Beige adipocytes are a distinct type of thermogenic fat cell in mouse and human. Cell 150, 366–376 (2012)

Cox, A. G., Peskin, A. V., Paton, L. N., Winterbourn, C. C. & Hampton, M. B. Redox potential and peroxide reactivity of human peroxiredoxin 3. Biochemistry 48, 6495–6501 (2009)

Rodriguez-Cuenca, S. et al. Consequences of long-term oral administration of the mitochondria-targeted antioxidant MitoQ to wild-type mice. Free Radic. Biol. Med. 48, 161–172 (2010)

Cannon, B. & Nedergaard, J. Nonshivering thermogenesis and its adequate measurement in metabolic studies. J. Exp. Biol. 214, 242–253 (2011)

Ukropec, J., Anunciado, R. P., Ravussin, Y., Hulver, M. W. & Kozak, L. P. UCP1-independent thermogenesis in white adipose tissue of cold-acclimated Ucp1−/− mice. J. Biol. Chem. 281, 31894–31908 (2006)

Himms-Hagen, J. et al. Effect of CL-316,243, a thermogenic beta 3-agonist, on energy balance and brown and white adipose tissues in rats. Am. J. Physiol. 266, R1371–R1382 (1994)

Collins, Y. et al. Mitochondrial redox signalling at a glance. J. Cell Sci. 125, 801–806 (2012)

Seo, Y. H. & Carroll, K. S. Profiling protein thiol oxidation in tumor cells using sulfenic acid-specific antibodies. Proc. Natl Acad. Sci. USA 106, 16163–16168 (2009)

Finkel, T. From sulfenylation to sulfhydration: what a thiolate needs to tolerate. Sci. Signal. 5, pe10 (2012)

Atkuri, K. R., Mantovani, J. J., Herzenberg, L. A. & Herzenberg, L. A. N-Acetylcysteine—a safe antidote for cysteine/glutathione deficiency. Curr. Opin. Pharmacol. 7, 355–359 (2007)

Wikstrom, J. D. et al. Hormone-induced mitochondrial fission is utilized by brown adipocytes as an amplification pathway for energy expenditure. EMBO J. 33, 418–436 (2014)

Li, Y., Fromme, T., Schweizer, S., Schöttl, T. & Klingenspor, M. Taking control over intracellular fatty acid levels is essential for the analysis of thermogenic function in cultured primary brown and brite/beige adipocytes. EMBO Rep. 15, 1069–1076 (2014)

Requejo, R. et al. Measuring mitochondrial protein thiol redox state. Methods Enzymol. 474, 123–147 (2010)

Martínez-Acedo, P., Gupta, V. & Carroll, K. S. Proteomic analysis of peptides tagged with dimedone and related probes. J. Mass Spectrom. 49, 257–265 (2014)

Nelson, K. J. et al. Use of dimedone-based chemical probes for sulfenic acid detection methods to visualize and identify labeled proteins. Methods Enzymol. 473, 95–115 (2010)

Pebay-Peyroula, E. et al. Structure of mitochondrial ADP/ATP carrier in complex with carboxyatractyloside. Nature 426, 39–44 (2003)

Fedorenko, A., Lishko, P. V. & Kirichok, Y. Mechanism of fatty-acid-dependent UCP1 uncoupling in brown fat mitochondria. Cell 151, 400–413 (2012)

Lee, Y., Willers, C., Kunji, E. R. & Crichton, P. G. Uncoupling protein 1 binds one nucleotide per monomer and is stabilized by tightly bound cardiolipin. Proc. Natl Acad. Sci. USA 112, 6973–6978 (2015)

Ruprecht, J. J. et al. Structures of yeast mitochondrial ADP/ATP carriers support a domain-based alternating-access transport mechanism. Proc. Natl Acad. Sci. USA 111, E426–E434 (2014)

Modrianský, M., Murdza-Inglis, D. L., Patel, H. V., Freeman, K. B. & Garlid, K. D. Identification by site-directed mutagenesis of three arginines in uncoupling protein that are essential for nucleotide binding and inhibition. J. Biol. Chem. 272, 24759–24762 (1997)

Divakaruni, A. S., Humphrey, D. M. & Brand, M. D. Fatty acids change the conformation of uncoupling protein 1 (UCP1). J. Biol. Chem. 287, 36845–36853 (2012)

Arechaga, I. et al. Cysteine residues are not essential for uncoupling protein function. Biochem. J. 296, 693–700 (1993)

Echtay, K. S. et al. Superoxide activates mitochondrial uncoupling proteins. Nature 415, 96–99 (2002)

Silva, J. P. et al. SOD2 overexpression: enhanced mitochondrial tolerance but absence of effect on UCP activity. EMBO J. 24, 4061–4070 (2005)

Mailloux, R. J., Adjeitey, C. N., Xuan, J. Y. & Harper, M. E. Crucial yet divergent roles of mitochondrial redox state in skeletal muscle vs. brown adipose tissue energetics. FASEB J. 26, 363–375 (2012)

Stuart, J. A., Harper, J. A., Brindle, K. M., Jekabsons, M. B. & Brand, M. D. A mitochondrial uncoupling artifact can be caused by expression of uncoupling protein 1 in yeast. Biochem. J. 356, 779–789 (2001)

Malingriaux, E. A. et al. Fatty acids are key in 4-hydroxy-2-nonenal-mediated activation of uncoupling proteins 1 and 2. PLoS ONE 8, e77786 (2013)

Gospodarska, E., Nowialis, P. & Kozak, L. P. Mitochondrial turnover: a phenotype distinguishing brown adipocytes from interscapular brown adipose tissue and white adipose tissue. J. Biol. Chem. 290, 8243–8255 (2015)

Hodges, M. R. et al. Defects in breathing and thermoregulation in mice with near-complete absence of central serotonin neurons. J. Neurosci. 28, 2495–2505 (2008)

Chouchani, E. T. et al. Ischaemic accumulation of succinate controls reperfusion injury through mitochondrial ROS. Nature 515, 431–435 (2014)

Srere, P. A. Controls of citrate synthase activity. Life Sci. 15, 1695–1710 (1974)

Hurd, T. R. et al. Inactivation of pyruvate dehydrogenase kinase 2 by mitochondrial reactive oxygen species. J. Biol. Chem. 287, 35153–35160 (2012)

Townsend, M. K. et al. Reproducibility of metabolomic profiles among men and women in 2 large cohort studies. Clin. Chem. 59, 1657–1667 (2013)

Huang, D. W., Sherman, B. T. & Lempicki, R. A. Systematic and integrative analysis of large gene lists using DAVID bioinformatics resources. Nature Protocols 4, 44–57 (2008)

Klomsiri, C. et al. Use of dimedone-based chemical probes for sulfenic acid detection evaluation of conditions affecting probe incorporation into redox-sensitive proteins. Methods Enzymol. 473, 77–94 (2010)

Kazak, L. et al. A creatine-driven substrate cycle enhances energy expenditure and thermogenesis in beige fat. Cell 163, 643–655 (2015)

Eng, J. K., McCormack, A. L. & Yates, J. R. An approach to correlate tandem mass spectral data of peptides with amino acid sequences in a protein database. J. Am. Soc. Mass Spectrom. 5, 976–989 (1994)

Elias, J. E. & Gygi, S. P. Target-decoy search strategy for increased confidence in large-scale protein identifications by mass spectrometry. Nature Methods 4, 207–214 (2007)

Huttlin, E. L. et al. A tissue-specific atlas of mouse protein phosphorylation and expression. Cell 143, 1174–1189 (2010)

McAlister, G. C. et al. MultiNotch MS3 enables accurate, sensitive, and multiplexed detection of differential expression across cancer cell line proteomes. Anal. Chem. 86, 7150–7158 (2014)

Kir, S. et al. Tumour-derived PTH-related protein triggers adipose tissue browning and cancer cachexia. Nature 513, 100–104 (2014)

Edgar, R. C. MUSCLE: multiple sequence alignment with high accuracy and high throughput. Nucleic Acids Res. 32, 1792–1797 (2004)

Waterhouse, A. M., Procter, J. B., Martin, D. M., Clamp, M. & Barton, G. J. Jalview Version 2—a multiple sequence alignment editor and analysis workbench. Bioinformatics 25, 1189–1191 (2009)

Crichton, P. G. et al. Trends in thermostability provide information on the nature of substrate, inhibitor, and lipid interactions with mitochondrial carriers. J. Biol. Chem. 290, 8206–8217 (2015)

Davidson, S. M., Yellon, D. & Duchen, M. R. Assessing mitochondrial potential, calcium, and redox state in isolated mammalian cells using confocal microscopy. Methods Mol. Biol. 372, 421–430 (2007)

Held, J. M. et al. Targeted quantitation of site-specific cysteine oxidation in endogenous proteins using a differential alkylation and multiple reaction monitoring mass spectrometry approach. Mol. Cell. Proteom. 9, 1400–1410 (2010)

Reisz, J. A., Bechtold, E., King, S. B., Poole, L. B. & Furdui, C. M. Thiol-blocking electrophiles interfere with labeling and detection of protein sulfenic acids. FEBS J. 280, 6150–6161 (2013)
Acknowledgements
Supported by the JPB Foundation and National Institutes of Health (DK031405) to B.M.S. and by grants from Human Frontiers Science Program (to E.T.C.) and the Canadian Institutes for Health Research (to L.K.). We acknowledge M. Murphy, Y. Kirichok, and A. Bertholet for many discussions. We also thank M. Murphy for providing MitoQ.
Ethics declarations
Competing interests
The authors declare no competing financial interests.
Extended data figures and tables
Supplementary information
This file contains Supplementary Figures 1-3, which contain the uncropped scans with size markers indications for Figures 1-3 and Extended Data Figure 3 (1); Extended Data Figure 4 (2) and Extended Data Figure 6 (3). (PDF 512 kb)
This file contains the MS2 spectra of all UCP1 cysteine, containing peptides identified in the dimedone-MS experiments in either their unmodified (NEM alkylated form) or dimedone alkylated form. (PDF 3085 kb)
Iodo-TMT data file including summary of all identified proteins and peptides, those identified as substantially redox sensitive during thermogenesis, and pathway analysis. (XLSX 148 kb)
About this article
Cite this article
Chouchani, E., Kazak, L., Jedrychowski, M. et al. Mitochondrial ROS regulate thermogenic energy expenditure and sulfenylation of UCP1. Nature 532, 112–116 (2016). https://doi.org/10.1038/nature17399
Received:

Accepted:

Published:

Issue Date:

DOI: https://doi.org/10.1038/nature17399
Comments
By submitting a comment you agree to abide by our Terms and Community Guidelines. If you find something abusive or that does not comply with our terms or guidelines please flag it as inappropriate.