Abstract
The evolution of novel cell types led to the emergence of new tissues and organs during the diversification of animals1. The origin of the chondrocyte, the cell type that synthesizes cartilage matrix, was central to the evolution of the vertebrate endoskeleton. Cartilage-like tissues also exist outside the vertebrates, although their relationship to vertebrate cartilage is enigmatic. Here we show that protostome and deuterostome cartilage share structural and chemical properties, and that the mechanisms of cartilage development are extensively conserved—from induction of chondroprogenitor cells by Hedgehog and β-catenin signalling, to chondrocyte differentiation and matrix synthesis by SoxE and SoxD regulation of clade A fibrillar collagen (ColA) genes—suggesting that the chondrogenic gene regulatory network evolved in the common ancestor of Bilateria. These results reveal deep homology of the genetic program for cartilage development in Bilateria and suggest that activation of this ancient core chondrogenic network underlies the parallel evolution of cartilage tissues in Ecdysozoa, Lophotrochozoa and Deuterostomia.
Access options
Subscribe to Journal
Get full journal access for 1 year
$199.00
only $3.90 per issue
All prices are NET prices.
VAT will be added later in the checkout.
Tax calculation will be finalised during checkout.
Rent or Buy article
Get time limited or full article access on ReadCube.
from$8.99
All prices are NET prices.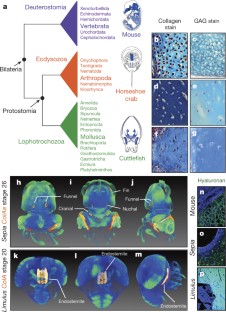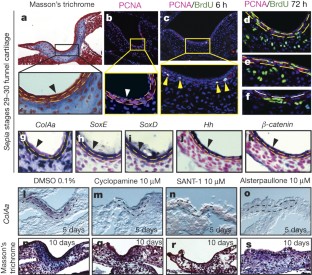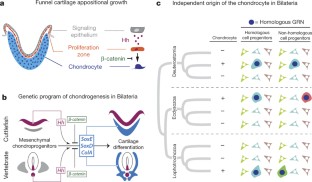 References
1

Arendt, D. The evolution of cell types in animals: emerging principles from molecular studies. Nature Rev. Genet. 9, 868–882 (2008)

2

Gans, C. & Northcutt, R. G. Neural crest and the origin of vertebrates: a new head. Science 220, 268–273 (1983)

3

Meulemans, D. & Bronner-Fraser, M. Insights from amphioxus into the evolution of vertebrate cartilage. PLoS ONE 2, e787 (2007)

4

Person, P. & Philpott, D. E. The nature and significance of invertebrate cartilages. Biol. Rev. Camb. Phil. Soc. 44, 1–16 (1969)

5

Zhang, G., Eames, B. F. & Cohn, M. J. Chapter 2. Evolution of vertebrate cartilage development. Curr. Top. Dev. Biol. 86, 15–42 (2009)

6

Schaffer, J. in Handbuch der mikroskopischen Anatomie des Menschen Vol. 2 (2) (ed. W von Möllendorf ) 1–390 (Springer, 1930)

7

Cowden, R. R. A histochemical study of chondroid tissue in Limulus and Octopus . Histochemie 9, 149–163 (1967)

8

Hall, B. K. & Gillis, J. A. Incremental evolution of the neural crest, neural crest cells and neural crest-derived skeletal tissues. J. Anat. 222, 19–31 (2013)

9

Cole, A. G. & Hall, B. K. Cartilage is a metazoan tissue; integrating data from nonvertebrate sources. Acta Zool. 85, 69–80 (2004)

10

Zhang, G. & Cohn, M. J. Hagfish and lancelet fibrillar collagens reveal that type II collagen-based cartilage evolved in stem vertebrates. Proc. Natl Acad. Sci. USA 103, 16829–16833 (2006)

11

Cole, A. G. & Hall, B. K. The nature and significance of invertebrate cartilages revisited: distribution and histology of cartilage and cartilage-like tissues within the Metazoa. Zoology 107, 261–273 (2004)

12

Roughley, P. J. The structure and function of cartilage proteoglycans. Eur. Cell. Mater. 12, 92–101 (2006)

13

Matsumoto, K. et al. Conditional inactivation of Has2 reveals a crucial role for hyaluronan in skeletal growth, patterning, chondrocyte maturation and joint formation in the developing limb. Development 136, 2825–2835 (2009)

14

Volpi, N. & Maccari, F. Purification and characterization of hyaluronic acid from the mollusc bivalve Mytilus galloprovincialis . Biochimie 85, 619–625 (2003)

15

DeAngelis, P. L. Evolution of glycosaminoglycans and their glycosyltransferases: implications for the extracellular matrices of animals and the capsules of pathogenic bacteria. Anat. Rec. 268, 317–326 (2002)

16

Zeng, L., Kempf, H., Murtaugh, L. C., Sato, M. E. & Lassar, A. B. Shh establishes an Nkx3.2/Sox9 autoregulatory loop that is maintained by BMP signals to induce somitic chondrogenesis. Genes Dev. 16, 1990–2005 (2002)

17

Abzhanov, A. & Tabin, C. J. Shh and Fgf8 act synergistically to drive cartilage outgrowth during cranial development. Dev. Biol. 273, 134–148 (2004)

18

Kronenberg, H. M. Developmental regulation of the growth plate. Nature 423, 332–336 (2003)

19

Akiyama, H., Chaboissier, M. C., Martin, J. F., Schedl, A. & de Crombrugghe, B. The transcription factor Sox9 has essential roles in successive steps of the chondrocyte differentiation pathway and is required for expression of Sox5 and Sox6. Genes Dev. 16, 2813–2828 (2002)

20

Smits, P. et al. The transcription factors L-Sox5 and Sox6 are essential for cartilage formation. Dev. Cell 1, 277–290 (2001)

21

Lefebvre, V., Li, P. & de Crombrugghe, B. A new long form of Sox5 (L-Sox5), Sox6 and Sox9 are coexpressed in chondrogenesis and cooperatively activate the type II collagen gene. EMBO J. 17, 5718–5733 (1998)

22

Hill, T. P., Später, D., Taketo, M. M., Birchmeier, W. & Hartmann, C. Canonical Wnt/β-catenin signaling prevents osteoblasts from differentiating into chondrocytes. Dev. Cell 8, 727–738 (2005)

23

Day, T. F., Guo, X., Garrett-Beal, L. & Yang, Y. Wnt/β-catenin signaling in mesenchymal progenitors controls osteoblast and chondrocyte differentiation during vertebrate skeletogenesis. Dev. Cell 8, 739–750 (2005)

24

Akiyama, H. et al. Interactions between Sox9 and β-catenin control chondrocyte differentiation. Genes Dev. 18, 1072–1087 (2004)

25

Lefebvre, V. et al. A 47-bp sequence of the first intron of the mouse proα1(II) collagen gene is sufficient to direct chondrocyte expression. Ann. NY Acad. Sci. 785, 284–287 (1996)

26

St-Jacques, B., Hammerschmidt, M. & McMahon, A. P. Indian hedgehog signaling regulates proliferation and differentiation of chondrocytes and is essential for bone formation. Genes Dev. 13, 2072–2086 (1999)

27

Grimaldi, A. et al. A hedgehog homolog is involved in muscle formation and organization of Sepia officinalis (Mollusca) mantle. Dev. Dynam. 237, 659–671 (2008)

28

Broun, M., Gee, L., Reinhardt, B. & Bode, H. R. Formation of the head organizer in hydra involves the canonical Wnt pathway. Development 132, 2907–2916 (2005)

29

Lauri, A. et al. Development of the annelid axochord: insights into notochord evolution. Science 345, 1365–1368 (2014)

30

Rychel, A. L. & Swalla, B. J. Development and evolution of chordate cartilage. J. Exp. Zool. B 308, 325–335 (2007)

31

Lemaire, J. Table de developpement embryonnaire de Sepia officinalis. L. (mollusque cephalopode). Bull. Soc. Zool. Fr. 95, 773–782 (1970)

32

Sekiguchi, K., Yamamichi, Y. & Costlow, J. D. Horseshoe crab developmental studies I. Normal embryonic development of Limulus polyphemus compared with Tachypleus tridentatus . Prog. Clin. Biol. Res. 81, 53–73 (1982)

33

Blackburn, D. C. et al. Isolation and expression of Pax6 and atonal homologues in the American horseshoe crab, Limulus polyphemus . Dev. Dynam. 237, 2209–2219 (2008)

34

Hall, B. K. Bones and Cartilage: Developmental and Evolutionary Skeletal Biology Ch. 4, 51–63 (Elsevier, 2005)

35

Sugahara, K. et al. Novel sulfated oligosaccharides containing 3-O-sulfated glucuronic acid from king crab cartilage chondroitin sulfate K. Unexpected degradation by chondroitinase ABC. J. Biol. Chem. 271, 26745–26754 (1996)

36

Kinoshita, A. et al. Novel tetrasaccharides isolated from squid cartilage chondroitin sulfate E contain unusual sulfated disaccharide units GlcA(3-O-sulfate)β1–3GalNAc(6-O-sulfate) or GlcA(3-O-sulfate)β1–3GalNAc. J. Biol. Chem. 272, 19656–19665 (1997)

37

Abzhanov, A. Darwin's finches: analysis of beak morphological changes during evolution. Cold Spring Harbor Protoc. 2009, emo119 (2009)

38

Quintana, L. & Sharpe, J. Preparation of mouse embryos for optical projection tomography imaging. Cold Spring Harb. Protoc. 2011, 664–669 (2011)

39

Quintana, L. & Sharpe, J. Optical projection tomography of vertebrate embryo development. Cold Spring Harb. Protoc. 2011, 586–594 (2011)

40

Edgar, R. C. MUSCLE: multiple sequence alignment with high accuracy and high throughput. Nucleic Acids Res. 32, 1792–1797 (2004)

41

Huelsenbeck, J. P. & Ronquist, F. MRBAYES: Bayesian inference of phylogenetic trees. Bioinformatics 17, 754–755 (2001)

42

Whelan, S. & Goldman, N. A general empirical model of protein evolution derived from multiple protein families using a maximum-likelihood approach. Mol. Biol. Evol. 18, 691–699 (2001)

43

Zhang, G., Miyamoto, M. M. & Cohn, M. J. Lamprey type II collagen and Sox9 reveal an ancient origin of the vertebrate collagenous skeleton. Proc. Natl Acad. Sci. USA 103, 3180–3185 (2006)

44

Lefebvre, V., Huang, W., Harley, V. R., Goodfellow, P. N. & de Crombrugghe, B. SOX9 is a potent activator of the chondrocyte-specific enhancer of the pro alpha1(II) collagen gene. Mol. Cell. Biol. 17, 2336–2346 (1997)
Acknowledgements
We thank B. Battelle and members of H. J. Brockmann's and David Julian's laboratories for Limulus eggs, N. Brown for sharing protocols and reagents, N. Patel and the Limulus genome consortium for access to sequence data, and M. Welten and F. Leal for assisting with optical projection tomography and luciferase assays, respectively. This project was supported by the Howard Hughes Medical Institute (to M.J.C.). O.A.T. was a Howard Hughes Medical Institute International Student Research Fellow.
Ethics declarations
Competing interests
The authors declare no competing financial interests.
Extended data figures and tables
Supplementary information
About this article
Cite this article
Tarazona, O., Slota, L., Lopez, D. et al. The genetic program for cartilage development has deep homology within Bilateria. Nature 533, 86–89 (2016). https://doi.org/10.1038/nature17398
Received:

Accepted:

Published:

Issue Date:
Comments
By submitting a comment you agree to abide by our Terms and Community Guidelines. If you find something abusive or that does not comply with our terms or guidelines please flag it as inappropriate.