Abstract
In bright light, cone-photoreceptors are active and colour vision derives from a comparison of signals in cones with different visual pigments. This comparison begins in the retina, where certain retinal ganglion cells have 'colour-opponent' visual responses—excited by light of one colour and suppressed by another colour1. In dim light, rod-photoreceptors are active, but colour vision is impossible because they all use the same visual pigment. Instead, the rod signals are thought to splice into retinal circuits at various points, in synergy with the cone signals2. Here we report a new circuit for colour vision that challenges these expectations. A genetically identified type of mouse retinal ganglion cell called JAMB (J-RGC)3, was found to have colour-opponent responses, OFF to ultraviolet (UV) light and ON to green light. Although the mouse retina contains a green-sensitive cone, the ON response instead originates in rods. Rods and cones both contribute to the response over several decades of light intensity. Remarkably, the rod signal in this circuit is antagonistic to that from cones. For rodents, this UV-green channel may play a role in social communication, as suggested by spectral measurements from the environment. In the human retina, all of the components for this circuit exist as well, and its function can explain certain experiences of colour in dim lights, such as a 'blue shift' in twilight. The discovery of this genetically defined pathway will enable new targeted studies of colour processing in the brain.
Relevant articles
Open Access articles citing this article.
Divyansh Gupta

,

Wiktor Młynarski

…

Maximilian Joesch

Nature Neuroscience Open Access 23 March 2023

M. Rizzi

,

K. Powell

…

R. R. Ali

Nature Communications Open Access 20 April 2022

I. Rhim

,

G. Coello-Reyes

&

I. Nauhaus

Scientific Reports Open Access 07 June 2021
Access options
Subscribe to this journal
Receive 51 print issues and online access
$199.00 per year
only $3.90 per issue
Rent or buy this article
Get just this article for as long as you need it
$39.95
Prices may be subject to local taxes which are calculated during checkout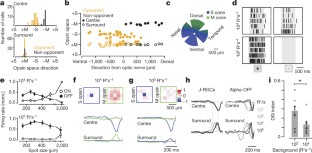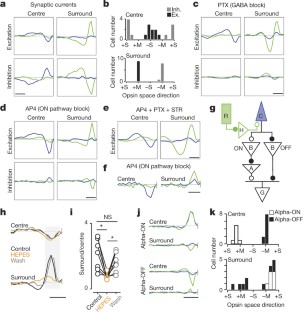 References
Solomon, S. G. & Lennie, P. The machinery of colour vision. Nature Rev. Neurosci. 8, 276–286 (2007)

Völgyi, B., Deans, M., Paul, D. & Bloomfield, S. Convergence and segregation of the multiple rod pathways in mammalian retina. J. Neurosci. 24, 11182–11192 (2004)

Kim, I.-J. J., Zhang, Y., Yamagata, M., Meister, M. & Sanes, J. R. Molecular identification of a retinal cell type that responds to upward motion. Nature 452, 478–482 (2008)

Baden, T. et al. A tale of two retinal domains: near-optimal sampling of achromatic contrasts in natural scenes through asymmetric photoreceptor distribution. Neuron 80, 1206–1217 (2013)

Chang, L., Breuninger, T. & Euler, T. Chromatic coding from cone-type unselective circuits in the mouse retina. Neuron 77, 559–571 (2013)

Wang, Y. V., Weick, M. & Demb, J. B. Spectral and temporal sensitivity of cone-mediated responses in mouse retinal ganglion cells. J. Neurosci. 31, 7670–7681 (2011)

Jacobs, G. H., Williams, G. A. & Fenwick, J. A. Influence of cone pigment coexpression on spectral sensitivity and color vision in the mouse. Vision Res. 44, 1615–1622 (2004)

Jacobs, G. H., Williams, G. A., Cahill, H. & Nathans, J. Emergence of novel color vision in mice engineered to express a human cone photopigment. Science 315, 1723–1725 (2007); comment 318, 196 (2007)

Naarendorp, F. et al. Dark light, rod saturation, and the absolute and incremental sensitivity of mouse cone vision. J. Neurosci. 30, 12495–12507 (2010)

Soucy, E., Wang, Y., Nirenberg, S., Nathans, J. & Meister, M. A novel signaling pathway from rod photoreceptors to ganglion cells in mammalian retina. Neuron 21, 481–493 (1998)

Williams, G. A., Daigle, K. A. & Jacobs, G. H. Rod and cone function in coneless mice. Vis. Neurosci. 22, 807–816 (2005)

Nikonov, S. S., Kholodenko, R., Lem, J. & Pugh, E. N. Jr Physiological features of the S- and M-cone photoreceptors of wild-type mice from single-cell recordings. J. Gen. Physiol. 127, 359–374 (2006)

Pang, J.-J., Gao, F. & Wu, S. M. Light-evoked excitatory and inhibitory synaptic inputs to ON and OFF alpha ganglion cells in the mouse retina. J. Neurosci. 23, 6063–6073 (2003)

Euler, T., Haverkamp, S., Schubert, T. & Baden, T. Retinal bipolar cells: elementary building blocks of vision. Nature Rev. Neurosci. 15, 507–519 (2014)

Thoreson, W. B. & Mangel, S. C. Lateral interactions in the outer retina. Prog. Retin. Eye Res. 31, 407–441 (2012)

Nelson, R., von Litzow, A., Kolb, H. & Gouras, P. Horizontal cells in cat retina with independent dendritic systems. Science 189, 137–139 (1975)

Trümpler, J. et al. Rod and cone contributions to horizontal cell light responses in the mouse retina. J. Neurosci. 28, 6818–6825 (2008)

Szikra, T. et al. Rods in daylight act as relay cells for cone-driven horizontal cell-mediated surround inhibition. Nature Neurosci. 17, 1728–1735 (2014)

Hirasawa, H. & Kaneko, A. pH changes in the invaginating synaptic cleft mediate feedback from horizontal cells to cone photoreceptors by modulating Ca2+ channels. J. Gen. Physiol. 122, 657–671 (2003)

Tsukamoto, Y., Morigiwa, K., Ueda, M. & Sterling, P. Microcircuits for night vision in mouse retina. J. Neurosci. 21, 8616–8623 (2001)

Nathan, J. et al. Scotopic and photopic visual thresholds and spatial and temporal discrimination evaluated by behavior of mice in a water maze. Photochem. Photobiol. 82, 1489–1494 (2006)

Daan, S. et al. Lab mice in the field: unorthodox daily activity and effects of a dysfunctional circadian clock allele. J. Biol. Rhythms 26, 118–129 (2011)

Sterratt, D. C., Lyngholm, D., Willshaw, D. J. & Thompson, I. D. Standard anatomical and visual space for the mouse retina: computational reconstruction and transformation of flattened retinae with the Retistruct package. PLoS Comput. Biol. 9, e1002921 (2013)

Tovée, M. J. Ultra-violet photoreceptors in the animal kingdom: their distribution and function. Trends Ecol. Evol. 10, 455–460 (1995)

Hurst, J. L. & Beynon, R. J. Scent wars: the chemobiology of competitive signalling in mice. Bioessays 26, 1288–1298 (2004)

Welch, J. F. Formation of urinating posts by house mice (Mus) held under restricted conditions. J. Mamm. 34, 502–503 (1953)

Mackintosh, J. H. Factors affecting recognition of territory boundaries by mice (Mus musculus). Anim. Behav. 21, 464–470 (1973)

Ahnelt, P. & Kolb, H. Horizontal cells and cone photoreceptors in human retina: a Golgi-electron microscopic study of spectral connectivity. J. Comp. Neurol. 343, 406–427 (1994)

Stabell, U. & Stabell, B. Mechanisms of chromatic rod vision in scotopic illumination. Vision Res. 34, 1019–1027 (1994)

Reitner, A. & Sharpe, L. T. Is colour vision possible with only rods and blue-sensitive cones. Nature 352, 798–800 (1991)

Chang, B. et al. Cone photoreceptor function loss-3, a novel mouse model of achromatopsia due to a mutation in Gnat2. Invest. Ophthalmol. Vis. Sci. 47, 5017–5021 (2006)

Govardovskii, V. I., Fyhrquist, N., Reuter, T., Kuzmin, D. G. & Donner, K. In search of the visual pigment template. Vis. Neurosci. 17, 509–528 (2000)

Carter-Dawson, L. D. & LaVail, M. M. Rods and cones in the mouse retina. I. Structural analysis using light and electron microscopy. J. Comp. Neurol. 188, 245–262 (1979)

Penn, J. S. & Williams, T. P. A new microspectrophotometric method for measuring absorbance of rat photoreceptors. Vision Res. 24, 1673–1676 (1984)

Henriksson, J. T., Bergmanson, J. P. & Walsh, J. E. Ultraviolet radiation transmittance of the mouse eye and its individual media components. Exp. Eye Res. 90, 382–387 (2010)
Acknowledgements
We thank E. Soucy and J. Greenwood for technical support, J. Cauceglia for providing the urine post samples, J. R. Sanes and E. Soucy for comments on the manuscript. This work was supported by grants to M.M. from the NIH and to M.J. from The International Human Frontier Science Program Organization.
Ethics declarations
Competing interests
The authors declare no competing financial interests.
Extended data figures and tables
About this article
Cite this article
Joesch, M., Meister, M. A neuronal circuit for colour vision based on rod–cone opponency. Nature 532, 236–239 (2016). https://doi.org/10.1038/nature17158
Received:

Accepted:

Published:

Issue Date:

DOI: https://doi.org/10.1038/nature17158
Comments
By submitting a comment you agree to abide by our Terms and Community Guidelines. If you find something abusive or that does not comply with our terms or guidelines please flag it as inappropriate.