Abstract
How does an animal know where it is when it stops moving? Hippocampal place cells fire at discrete locations as subjects traverse space, thereby providing an explicit neural code for current location during locomotion. In contrast, during awake immobility, the hippocampus is thought to be dominated by neural firing representing past and possible future experience. The question of whether and how the hippocampus constructs a representation of current location in the absence of locomotion has been unresolved. Here we report that a distinct population of hippocampal neurons, located in the CA2 subregion, signals current location during immobility, and does so in association with a previously unidentified hippocampus-wide network pattern. In addition, signalling of location persists into brief periods of desynchronization prevalent in slow-wave sleep. The hippocampus thus generates a distinct representation of current location during immobility, pointing to mnemonic processing specific to experience occurring in the absence of locomotion.
Access options
Subscribe to Journal
Get full journal access for 1 year
$199.00
only $3.90 per issue
All prices are NET prices.
VAT will be added later in the checkout.
Tax calculation will be finalised during checkout.
Rent or Buy article
Get time limited or full article access on ReadCube.
from$8.99
All prices are NET prices.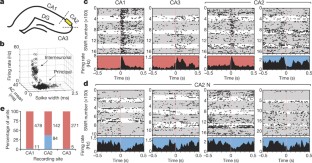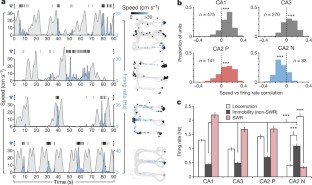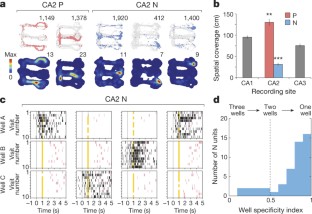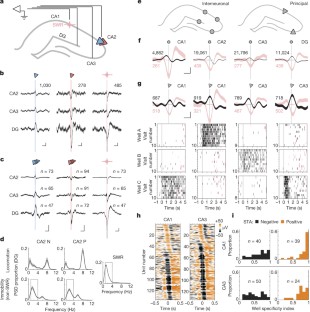 References
1

O'Keefe, J. & Nadel, L. The Hippocampus as a Cognitive Map (Oxford Univ. Press, 1978)

2

Wilson, M. A. & McNaughton, B. L. Dynamics of the hippocampal ensemble code for space. Science 261, 1055–1058 (1993)

3

Buzsáki, G. & Moser, E. I. Memory, navigation and theta rhythm in the hippocampal-entorhinal system. Nature Neurosci. 16, 130–138 (2013)

4

Eichenbaum, H. & Cohen, N. J. Can we reconcile the declarative memory and spatial navigation views on hippocampal function? Neuron 83, 764–770 (2014)

5

Eilam, D. & Golani, I. Home base behavior of rats (Rattus norvegicus) exploring a novel environment. Behav. Brain Res. 34, 199–211 (1989)

6

Wallace, D. G., Hamilton, D. A. & Whishaw, I. Q. Movement characteristics support a role for dead reckoning in organizing exploratory behavior. Anim. Cogn. 9, 219–228 (2006)

7

Bannerman, D. M. et al. Regional dissociations within the hippocampus—memory and anxiety. Neurosci. Biobehav. Rev. 28, 273–283 (2004)

8

Pentkowski, N. S., Blanchard, D. C., Lever, C., Litvin, Y. & Blanchard, R. J. Effects of lesions to the dorsal and ventral hippocampus on defensive behaviors in rats. Eur. J. Neurosci. 23, 2185–2196 (2006)

9

Maren, S., Phan, K. L. & Liberzon, I. The contextual brain: implications for fear conditioning, extinction and psychopathology. Nature Rev. Neurosci. 14, 417–428 (2013)

10

Christian, K. M. & Thompson, R. F. Neural substrates of eyeblink conditioning: acquisition and retention. Learn. Mem. 10, 427–455 (2003)

11

Takahashi, M., Lauwereyns, J., Sakurai, Y. & Tsukada, M. A code for spatial alternation during fixation in rat hippocampal CA1 neurons. J. Neurophysiol. 102, 556–567 (2009)

12

MacDonald, C. J., Carrow, S., Place, R. & Eichenbaum, H. Distinct hippocampal time cell sequences represent odor memories in immobilized rats. J. Neurosci. 33, 14607–14616 (2013)

13

Hattori, S., Chen, L., Weiss, C. & Disterhoft, J. F. Robust hippocampal responsivity during retrieval of consolidated associative memory. Hippocampus 25, 655–669 (2015)

14

Carr, M. F., Jadhav, S. P. & Frank, L. M. Hippocampal replay in the awake state: a potential substrate for memory consolidation and retrieval. Nature Neurosci. 14, 147–153 (2011)

15

Pfeiffer, B. E. & Foster, D. J. Hippocampal place-cell sequences depict future paths to remembered goals. Nature 497, 74–79 (2013)

16

Buzsáki, G., Horvath, Z., Urioste, R., Hetke, J. & Wise, K. High-frequency network oscillation in the hippocampus. Science 256, 1025–1027 (1992)

17

Buzsáki, G. Hippocampal sharp wave-ripple: a cognitive biomarker for episodic memory and planning. Hippocampus 10, 1073–1188 (2015)

18

Buzsáki, G., Leung, L. W. & Vanderwolf, C. H. Cellular bases of hippocampal EEG in the behaving rat. Brain Res. 6, 139–171 (1983)

19

Csicsvari, J., Hirase, H., Mamiya, A. & Buzsaki, G. Ensemble patterns of hippocampal CA3–CA1 neurons during sharp wave-associated population events. Neuron 28, 585–594 (2000)

20

Penttonen, M., Kamondi, A., Sik, A., Acsady, L. & Buzsaki, G. Feed-forward and feed-back activation of the dentate gyrus in vivo during dentate spikes and sharp wave bursts. Hippocampus 7, 437–450 (1997)

21

Karlsson, M. P. & Frank, L. M. Awake replay of remote experiences in the hippocampus. Nature Neurosci. 12, 913–918 (2009)

22

Davidson, T. J., Kloosterman, F. & Wilson, M. A. Hippocampal replay of extended experience. Neuron 63, 497–507 (2009)

23

Gupta, A. S., van der Meer, M. A., Touretzky, D. S. & Redish, A. D. Hippocampal replay is not a simple function of experience. Neuron 65, 695–705 (2010)

24

Kim, S. M. & Frank, L. M. Hippocampal lesions impair rapid learning of a continuous spatial alternation task. PLoS ONE 4, e5494 (2009)

25

McNaughton, B. L., Barnes, C. A. & O'Keefe, J. The contributions of position, direction, and velocity to single unit activity in the hippocampus of freely-moving rats. Exp. Brain Res. 52, 41–49 (1983)

26

Huxter, J., Burgess, N. & O'Keefe, J. Independent rate and temporal coding in hippocampal pyramidal cells. Nature 425, 828–832 (2003)

27

Zheng, C., Bieri, K. W., Trettel, S. G. & Colgin, L. L. The relationship between gamma frequency and running speed differs for slow and fast gamma rhythms in freely behaving rats. Hippocampus 25, 924–938 (2015)

28

Mankin, E. A., Diehl, G. W., Sparks, F. T., Leutgeb, S. & Leutgeb, J. K. Hippocampal CA2 activity patterns change over time to a larger extent than between spatial contexts. Neuron 85, 190–201 (2015)

29

Lu, L., Igarashi, K. M., Witter, M. P., Moser, E. I. & Moser, M. B. Topography of place maps along the CA3-to-CA2 axis of the hippocampus. Neuron 87, 1078–1092 (2015)

30

Lee, H., Wang, C., Deshmukh, S. S. & Knierim, J. J. Neural population evidence of functional heterogeneity along the CA3 transverse axis: pattern completion versus pattern separation. Neuron 87, 1093–1105 (2015)

31

Mizuseki, K., Sirota, A., Pastalkova, E. & Buzsaki, G. Theta oscillations provide temporal windows for local circuit computation in the entorhinal-hippocampal loop. Neuron 64, 267–280 (2009)

32

Buzsáki, G. Hippocampal sharp waves: their origin and significance. Brain Res. 398, 242–252 (1986)

33

Jarosiewicz, B., McNaughton, B. L. & Skaggs, W. E. Hippocampal population activity during the small-amplitude irregular activity state in the rat. J. Neurosci. 22, 1373–1384 (2002)

34

Vanderwolf, C. H. Hippocampal electrical activity and voluntary movement in the rat. Electroencephalogr. Clin. Neurophysiol. 26, 407–418 (1969)

35

Chevaleyre, V. & Siegelbaum, S. A. Strong CA2 pyramidal neuron synapses define a powerful disynaptic cortico-hippocampal loop. Neuron 66, 560–572 (2010)

36

Kohara, K. et al. Cell type-specific genetic and optogenetic tools reveal hippocampal CA2 circuits. Nature Neurosci. 17, 269–279 (2014)

37

Hitti, F. L. & Siegelbaum, S. A. The hippocampal CA2 region is essential for social memory. Nature 508, 88–92 (2014)

38

Foster, T. C., Castro, C. A. & McNaughton, B. L. Spatial selectivity of rat hippocampal neurons: dependence on preparedness for movement. Science 244, 1580–1582 (1989)

39

McNaughton, B. L., Battaglia, F. P., Jensen, O., Moser, E. I. & Moser, M. B. Path integration and the neural basis of the 'cognitive map'. Nature Rev. Neurosci. 7, 663–678 (2006)

40

Buzsáki, G. Theta rhythm of navigation: link between path integration and landmark navigation, episodic and semantic memory. Hippocampus 15, 827–840 (2005)

41

Watrous, A. J. et al. A comparative study of human and rat hippocampal low-frequency oscillations during spatial navigation. Hippocampus 23, 656–661 (2013)

42

Jutras, M. J., Fries, P. & Buffalo, E. A. Oscillatory activity in the monkey hippocampus during visual exploration and memory formation. Proc. Natl Acad. Sci. USA 110, 13144–13149 (2013)

43

Ulanovsky, N. & Moss, C. F. Hippocampal cellular and network activity in freely moving echolocating bats. Nature Neurosci. 10, 224–233 (2007)

44

Lee, A. K. & Wilson, M. A. Memory of sequential experience in the hippocampus during slow wave sleep. Neuron 36, 1183–1194 (2002)

45

Girardeau, G., Benchenane, K., Wiener, S. I., Buzsaki, G. & Zugaro, M. B. Selective suppression of hippocampal ripples impairs spatial memory. Nature Neurosci. 12, 1222–1223 (2009)

46

Ego-Stengel, V. & Wilson, M. A. Disruption of ripple-associated hippocampal activity during rest impairs spatial learning in the rat. Hippocampus 20, 1–10 (2010)

47

Dudek, S. M., Alexander, G. M. & Farris, S. Rediscovering area CA2: unique properties and functions. Nature Rev. Neurosci. 17, 89–102 (2016)

48

Rowland, D. C. et al. Transgenically targeted rabies virus demonstrates a major monosynaptic projection from hippocampal area CA2 to medial entorhinal layer II neurons. J. Neurosci. 33, 14889–14898 (2013)

49

Valero, M. et al. Determinants of different deep and superficial CA1 pyramidal cell dynamics during sharp-wave ripples. Nature Neurosci. 18, 1281–1290 (2015)

50

Lorente de Nó, R. Studies on the structure of the cerebral cortex. II. Continuation of the study of the ammonic system. Journal für Psychologie und Neurologie . 46, 113–177 (1934)

51

Gray, C. M., Maldonado, P. E., Wilson, M. & McNaughton, B. Tetrodes markedly improve the reliability and yield of multiple single-unit isolation from multi-unit recordings in cat striate cortex. J. Neurosci. Methods 63, 43–54 (1995)

52

Potter, G. B., et al. Generation of Cre-transgenic mice using Dlx1/Dlx2 enhancers and their characterization in GABAergic interneurons. Mol. Cell Neurosci. 40, 167–186 (2009)

53

Neunuebel, J. P. & Knierim, J. J. Spatial firing correlates of physiologically distinct cell types of the rat dentate gyrus. J. Neurosci. 32, 3848–3858 (2012)

54

Ishizuka, N., Cowan, W. M. & Amaral, D. G. A quantitative analysis of the dendritic organization of pyramidal cells in the rat hippocampus. J. Comp. Neurol. 362, 17–45 (1995)

55

Woodhams, P. L., Celio, M. R., Ulfig, N. & Witter, M. P. Morphological and functional correlates of borders in the entorhinal cortex and hippocampus. Hippocampus 3, 303–311 (1993)

56

Amaral, D. G. & Lavenex, P. in The Hippocampus Book (eds Andersen, P. et al. ) 37–114 (Oxford Univ. Press, 2007)

57

Cui, Z., Gerfen, C. R. & Young, W. S., III . Hypothalamic and other connections with dorsal CA2 area of the mouse hippocampus. J. Comp. Neurol. 521, 1844–1866 (2013)

58

Csicsvari, J., Hirase, H., Czurko, A., Mamiya, A. & Buzsaki, G. Fast network oscillations in the hippocampal CA1 region of the behaving rat. J. Neurosci . 19, RC20 (1999)

59

Ranck, J. B. Jr. Studies on single neurons in dorsal hippocampal formation and septum in unrestrained rats. I. Behavioral correlates and firing repertoires. Exp. Neurol. 41, 462–531 (1973)

60

Fox, S. E. & Ranck, J. B. Jr. Electrophysiological characteristics of hippocampal complex-spike cells and theta cells. Exp. Brain Res. 41, 399–410 (1981)

61

Skaggs, W. E. & McNaughton, B. L. Replay of neuronal firing sequences in rat hippocampus during sleep following spatial experience. Science 271, 1870–1873 (1996)

62

Csicsvari, J., Hirase, H., Czurko, A., Mamiya, A. & Buzsaki, G. Oscillatory coupling of hippocampal pyramidal cells and interneurons in the behaving rat. J. Neurosci. 19, 274–287 (1999)

63

Kemere, C., Carr, M. F., Karlsson, M. P. & Frank, L. M. Rapid and continuous modulation of hippocampal network state during exploration of new places. PLoS ONE 8, e73114 (2013)

64

Chen, Z., Resnik, E., McFarland, J. M., Sakmann, B. & Mehta, M. R. Speed controls the amplitude and timing of the hippocampal gamma rhythm. PLoS ONE 6, e21408 (2011)

65

Frank, L. M., Brown, E. N. & Wilson, M. Trajectory encoding in the hippocampus and entorhinal cortex. Neuron 27, 169–178 (2000)

66

Wood, E. R., Dudchenko, P. A., Robitsek, R. J. & Eichenbaum, H. Hippocampal neurons encode information about different types of memory episodes occurring in the same location. Neuron 27, 623–633 (2000)

67

Ito, H. T., Zhang, S. J., Witter, M. P., Moser, E. I. & Moser, M. B. A prefrontal-thalamo-hippocampal circuit for goal-directed spatial navigation. Nature 522, 50–55 (2015)

68

Lubenov, E. V. & Siapas, A. G. Hippocampal theta oscillations are travelling waves. Nature 459, 534–539 (2009)

69

Mizuseki, K., Diba, K., Pastalkova, E. & Buzsaki, G. Hippocampal CA1 pyramidal cells form functionally distinct sublayers. Nature Neurosci. 14, 1174–1181 (2011)

70

Jadhav, S. P., Kemere, C., German, P. W. & Frank, L. M. Awake hippocampal sharp-wave ripples support spatial memory. Science 336, 1454–1458 (2012)

71

Lee, S. E. et al. RGS14 is a natural suppressor of both synaptic plasticity in CA2 neurons and hippocampal-based learning and memory. Proc. Natl Acad. Sci. USA 107, 16994–16998 (2010)

72

Suzuki, S. S. & Smith, G. K. Spontaneous EEG spikes in the normal hippocampus. I. Behavioral correlates, laminar profiles and bilateral synchrony. Electroencephalogr. Clin. Neurophysiol. 67, 348–359 (1987)

73

Buzsáki, G. Two-stage model of memory trace formation: a role for "noisy" brain states. Neuroscience 31, 551–570 (1989)

74

Harris, K. D., Hirase, H., Leinekugel, X., Henze, D. A. & Buzsaki, G. Temporal interaction between single spikes and complex spike bursts in hippocampal pyramidal cells. Neuron 32, 141–149 (2001)

75

Mizuseki, K., Royer, S., Diba, K. & Buzsaki, G. Activity dynamics and behavioral correlates of CA3 and CA1 hippocampal pyramidal neurons. Hippocampus 22, 1659–1680 (2012)

76

Harvey, C. D., Collman, F., Dombeck, D. A. & Tank, D. W. Intracellular dynamics of hippocampal place cells during virtual navigation. Nature 461, 941–946 (2009)

77

Epsztein, J., Brecht, M. & Lee, A. K. Intracellular determinants of hippocampal CA1 place and silent cell activity in a novel environment. Neuron 70, 109–120 (2011)

78

Grienberger, C., Chen, X. & Konnerth, A. NMDA receptor-dependent multidendrite Ca(2+) spikes required for hippocampal burst firing in vivo. Neuron 81, 1274–1281 (2014)

79

Bittner, K. C. et al. Conjunctive input processing drives feature selectivity in hippocampal CA1 neurons. Nature Neurosci. 18, 1133–1142 (2015)

80

Klausberger, T. & Somogyi, P. Neuronal diversity and temporal dynamics: the unity of hippocampal circuit operations. Science 321, 53–57 (2008)

81

Diba, K., Amarasingham, A., Mizuseki, K. & Buzsaki, G. Millisecond timescale synchrony among hippocampal neurons. J. Neurosci. 34, 14984–14994 (2014)

82

Royer, S. et al. Control of timing, rate and bursts of hippocampal place cells by dendritic and somatic inhibition. Nature Neurosci. 15, 769–775 (2012)

83

Skaggs, W. E., McNaughton, B. L., Gothard, K. & Markus, E. in Advanced in Neural Information Processing Systems (eds Hanson, S., Cowan, J. D. & Giles, C. L. ) 1030–1037 (Morgan Kaufmann, 1993)
Acknowledgements
We thank G. Rothschild, D. Liu, J. Yu, S. Jadhav, E. Anderson, P. Sabes, C. Schreiner, M. Stryker, R. Knight, J. O'Doherty, E. Phillips, K. Kay, and B. Mensh for discussion and suggestions, and I. Grossrubatscher, C. Lykken, and S. Harris for technical assistance. This work was supported by the Howard Hughes Medical Institute, an NIH grant (R01 MH090188) and a McKnight Foundation Cognitive and Memory Disorders Award (L.M.F.). K.K. is supported by a Ruth L. Kirchstein National Research Service Award Fellowship (NIH/NIMH) and the UCSF Medical Scientist Training Program.
Ethics declarations
Competing interests
The authors declare no competing financial interests.
Extended data figures and tables
About this article
Cite this article
Kay, K., Sosa, M., Chung, J. et al. A hippocampal network for spatial coding during immobility and sleep. Nature 531, 185–190 (2016). https://doi.org/10.1038/nature17144
Received:

Accepted:

Published:

Issue Date:
Comments
By submitting a comment you agree to abide by our Terms and Community Guidelines. If you find something abusive or that does not comply with our terms or guidelines please flag it as inappropriate.