Abstract
Lung metastasis is the lethal determinant in many cancers1,2 and a number of lines of evidence point to monocytes and macrophages having key roles in its development3,4,5. Yet little is known about the immediate fate of incoming tumour cells as they colonize this tissue, and even less known about how they make first contact with the immune system. Primary tumours liberate circulating tumour cells (CTCs) into the blood and we have developed a stable intravital two-photon lung imaging model in mice6 for direct observation of the arrival of CTCs and subsequent host interaction. Here we show dynamic generation of tumour microparticles in shear flow in the capillaries within minutes of CTC entry. Rather than dispersing under flow, many of these microparticles remain attached to the lung vasculature or independently migrate along the inner walls of vessels. Using fluorescent lineage reporters and flow cytometry, we observed 'waves' of distinct myeloid cell subsets that load differentially and sequentially with this CTC-derived material. Many of these tumour-ingesting myeloid cells collectively accumulated in the lung interstitium along with the successful metastatic cells and, as previously understood, promote the development of successful metastases from surviving tumour cells3. Although the numbers of these cells rise globally in the lung with metastatic exposure and ingesting myeloid cells undergo phenotypic changes associated with microparticle ingestion, a consistently sparse population of resident conventional dendritic cells, among the last cells to interact with CTCs, confer anti-metastatic protection. This work reveals that CTC fragmentation generates immune-interacting intermediates, and defines a competitive relationship between phagocyte populations for tumour loading during metastatic cell seeding.
Access options
Subscribe to Journal
Get full journal access for 1 year
$199.00
only $3.90 per issue
All prices are NET prices.
VAT will be added later in the checkout.
Rent or Buy article
Get time limited or full article access on ReadCube.
from$8.99
All prices are NET prices.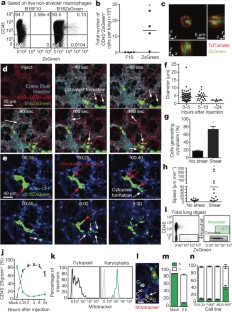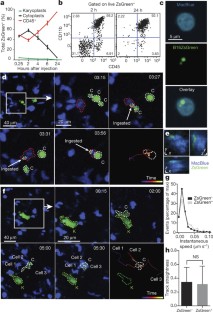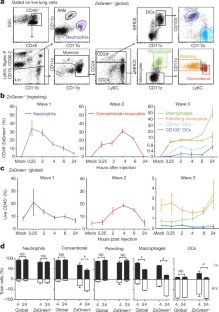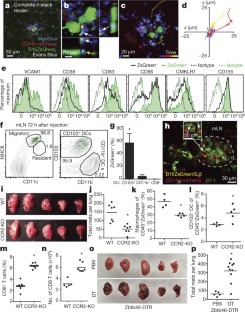 References
1

Nguyen, D. X., Bos, P. D. & Massague, J. Metastasis: from dissemination to organ-specific colonization. Nature Rev. Cancer 9, 274–284 (2009)

2

Kitamura, T., Qian, B. Z. & Pollard, J. W. Immune cell promotion of metastasis. Nature Rev. Immunol. 15, 73–86 (2015)

3

Qian, B. et al. A distinct macrophage population mediates metastatic breast cancer cell extravasation, establishment and growth. PLoS ONE 4, e6562 (2009)

4

Qian, B. Z. et al. CCL2 recruits inflammatory monocytes to facilitate breast-tumour metastasis. Nature 475, 222–225 (2011)

5

Kaplan, R. N. et al. VEGFR1-positive haematopoietic bone marrow progenitors initiate the pre-metastatic niche. Nature 438, 820–827 (2005)

6

Looney, M. R. et al. Stabilized imaging of immune surveillance in the mouse lung. Nature Methods 8, 91–96 (2011)

7

Peinado, H. et al. Melanoma exosomes educate bone marrow progenitor cells toward a pro-metastatic phenotype through MET. Nature Med. 18, 883–891 (2012)

8

Joyce, J. A. & Pollard, J. W. Microenvironmental regulation of metastasis. Nature Rev. Cancer 9, 239–252 (2009)

9

Raposo, G. & Stoorvogel, W. Extracellular vesicles: exosomes, microvesicles, and friends. J. Cell Biol. 200, 373–383 (2013)

10

Di Vizio, D. et al. Oncosome formation in prostate cancer: association with a region of frequent chromosomal deletion in metastatic disease. Cancer Res. 69, 5601–5609 (2009)

11

Mendoza, A. et al. Modeling metastasis biology and therapy in real time in the mouse lung. J. Clin. Invest. 120, 2979–2988 (2010)

12

Al-Mehdi, A. B. et al. Intravascular origin of metastasis from the proliferation of endothelium-attached tumor cells: a new model for metastasis. Nature Med. 6, 100–102 (2000)

13

Thornton, E. E. et al. Spatiotemporally separated antigen uptake by alveolar dendritic cells and airway presentation to T cells in the lung. J. Exp. Med. 209, 1183–1199 (2012)

14

Ovchinnikov, D. A. et al. Expression of Gal4-dependent transgenes in cells of the mononuclear phagocyte system labeled with enhanced cyan fluorescent protein using Csf1r-Gal4VP16/UAS-ECFP double-transgenic mice. J. Leukoc. Biol. 83, 430–433 (2008)

15

Anderson, K. G. et al. Intravascular staining for discrimination of vascular and tissue leukocytes. Nature Protocols 9, 209–222 (2014)

16

Jakubzick, C. et al. Minimal differentiation of classical monocytes as they survey steady-state tissues and transport antigen to lymph nodes. Immunity 39, 599–610 (2013)

17

Idoyaga, J. et al. Specialized role of migratory dendritic cells in peripheral tolerance induction. J. Clin. Invest. 123, 844–854 (2013)

18

Meredith, M. M. et al. Expression of the zinc finger transcription factor zDC (Zbtb46, Btbd4) defines the classical dendritic cell lineage. J. Exp. Med. 209, 1153–1165 (2012)

19

Broz, M. L. et al. Dissecting the tumor myeloid compartment reveals rare activating antigen-presenting cells critical for T cell immunity. Cancer Cell 26, 638–652 (2014)

20

Hadjantonakis, A. K., Macmaster, S. & Nagy, A. Embryonic stem cells and mice expressing different GFP variants for multiple non-invasive reporter usage within a single animal. BMC Biotechnol. 2, 11 (2002)

21

Khanna, K. M. et al. T cell and APC dynamics in situ control the outcome of vaccination. J. Immunol. 185, 239–252 (2010)

22

Boring, L. et al. Impaired monocyte migration and reduced type 1 (Th1) cytokine responses in C–C chemokine receptor 2 knockout mice. J. Clin. Invest. 100, 2552–2561 (1997)

23

Muzumdar, M. D., Tasic, B., Miyamichi, K., Li, L. & Luo, L. A global double-fluorescent Cre reporter mouse. Genesis 45, 593–605 (2007)

24

Moran, A. E. et al. T cell receptor signal strength in Treg and iNKT cell development demonstrated by a novel fluorescent reporter mouse. J. Exp. Med. 208, 1279–1289 (2011)

25

Stewart, T. J. & Abrams, S. I. Altered immune function during long-term host-tumor interactions can be modulated to retard autochthonous neoplastic growth. J. Immunol. 179, 2851–2859 (2007)

26

Acharyya, S. et al. A CXCL1 paracrine network links cancer chemoresistance and metastasis. Cell 150, 165–178 (2012)

27

Friedman, R. S., Jacobelli, J. & Krummel, M. F. Surface-bound chemokines capture and prime T cells for synapse formation. Nature Immunol. 7, 1101–1108 (2006)

28

Gérard, A. et al. Secondary T cell–T cell synaptic interactions drive the differentiation of protective CD8+ T cells. Nature Immunol. 14, 356–363 (2013)
Acknowledgements
We thank D. Hume for providing MacBlue mice; Z. Werb for providing MDA-MB231 GFP cells; J. Massegue and S. Abrams for providing PyMT-B cells; J. Cyster for providing us with CCR2-knockout mice. We would also like to thank E. Thornton for her initial work in developing lung intravital imaging. M. Werner for early technical assistance in this project. All members of the Krummel laboratory, BIDC, and M Koch for discussion, support, and guidance while developing this work. This work was supported in part by a Department of Defense post-doctoral fellowship to M.B.H. (W81XWH-13-1-0009) and NIH grants U54 CA163123, P01 HL024136 and R21CA167601.
Ethics declarations
Competing interests
The authors declare no competing financial interests.
Extended data figures and tables
Supplementary information
About this article
Cite this article
Headley, M., Bins, A., Nip, A. et al. Visualization of immediate immune responses to pioneer metastatic cells in the lung. Nature 531, 513–517 (2016). https://doi.org/10.1038/nature16985
Received:

Accepted:

Published:

Issue Date:
Comments
By submitting a comment you agree to abide by our Terms and Community Guidelines. If you find something abusive or that does not comply with our terms or guidelines please flag it as inappropriate.