Abstract
Identifying key molecules that launch regeneration has been a long-sought goal. Multiple regenerative animals show an initial wound-associated proliferative response that transits into sustained proliferation if a considerable portion of the body part has been removed1,2,3. In the axolotl, appendage amputation initiates a round of wound-associated cell cycle induction followed by continued proliferation that is dependent on nerve-derived signals4,5. A wound-associated molecule that triggers the initial proliferative response to launch regeneration has remained obscure. Here, using an expression cloning strategy followed by in vivo gain- and loss-of-function assays, we identified axolotl MARCKS-like protein (MLP) as an extracellularly released factor that induces the initial cell cycle response during axolotl appendage regeneration. The identification of a regeneration-initiating molecule opens the possibility of understanding how to elicit regeneration in other animals.
Relevant articles
Open Access articles citing this article.
Cell Regeneration Open Access 25 July 2023

Igor Kondrychyn

,

Douglas J. Kelly

…

Li-Kun Phng

Nature Communications Open Access 30 October 2020

Suxiang Lu

,

Qian Xiong

…

Shunping He

Proteome Science Open Access 20 November 2019
Access options
Subscribe to this journal
Receive 51 print issues and online access
$199.00 per year
only $3.90 per issue
Rent or buy this article
Prices vary by article type
from$1.95
to$39.95
Prices may be subject to local taxes which are calculated during checkout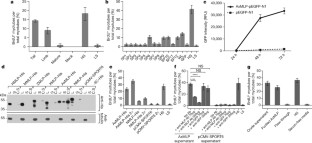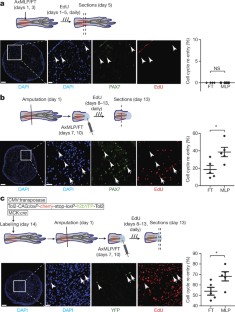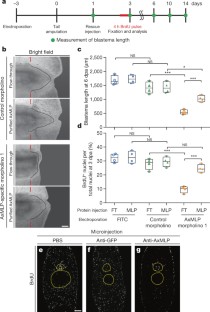 References
Wenemoser, D. & Reddien, P. W. Planarian regeneration involves distinct stem cell responses to wounds and tissue absence. Dev. Biol. 344, 979–991 (2010)

Knapp, D. et al. Comparative transcriptional profiling of the axolotl limb identifies a tripartite regeneration-specific gene program. PLoS ONE 8, e61352 (2013)

Tassava, R. A. & Mescher, A. L. The roles of injury, nerves, and the wound epidermis during the initiation of amphibian limb regeneration. Differentiation 4, 23–24 (1975)

Endo, T., Bryant, S. V. & Gardiner, D. M. A stepwise model system for limb regeneration. Dev. Biol. 270, 135–145 (2004)

Holtzer, S. The inductive activity of the spinal cord in urodele tail regeneration. J. Morphol. 99, 1–39 (1956)

Julius, D., MacDermott, A. B., Axel, R. & Jessell, T. M. Molecular characterization of a functional cDNA encoding the serotonin 1c receptor. Science 241, 558–564 (1988)

Yang, Y. C. et al. Human IL-3 (multi-CSF): identification by expression cloning of a novel hematopoietic growth factor related to murine IL-3. Cell 47, 3–10 (1986)

Tanaka, E. M., Gann, A. A., Gates, P. B. & Brockes, J. P. Newt myotubes reenter the cell cycle by phosphorylation of the retinoblastoma protein. J. Cell Biol. 136, 155–165 (1997)

Khattak, S. et al. Foamy virus for efficient gene transfer in regeneration studies. BMC Dev. Biol. 13, 17 (2013)

Khattak, S. et al. Germline transgenic methods for tracking cells and testing gene function during regeneration in the axolotl. Stem Cell Reports 1, 90–103 (2013)

Schnapp, E. & Tanaka, E. M. Quantitative evaluation of morpholino-mediated protein knockdown of GFP, MSX1, and PAX7 during tail regeneration in Ambystoma mexicanum. Dev. Dyn. 232, 162–170 (2005)

Gruber, C. E. Production of cDNA libraries by electroporation. Methods Mol. Biol. 47, 67–79 (1995)

Sundaram, M., Cook, H. W. & Byers, D. M. The MARCKS family of phospholipid binding proteins: regulation of phospholipase D and other cellular components. Biochem. Cell Biol. 82, 191–200 (2004)

Aderem, A. The MARCKS brothers: a family of protein kinase C substrates. Cell 71, 713–716 (1992)

Sandoval-Guzmán, T. et al. Fundamental differences in dedifferentiation and stem cell recruitment during skeletal muscle regeneration in two salamander species. Cell Stem Cell 14, 174–187 (2014)

Berg, D. A. et al. Efficient regeneration by activation of neurogenesis in homeostatically quiescent regions of the adult vertebrate brain. Development 137, 4127–4134 (2010)

Maden, M., Manwell, L. A. & Ormerod, B. K. Proliferation zones in the axolotl brain and regeneration of the telencephalon. Neural Dev. 8, 1 (2013)

Seykora, J. T., Myat, M. M., Allen, L. A., Ravetch, J. V. & Aderem, A. Molecular determinants of the myristoyl-electrostatic switch of MARCKS. J. Biol. Chem. 271, 18797–18802 (1996)

Rodrigo Albors, A. et al. Planar cell polarity-mediated induction of neural stem cell expansion during axolotl spinal cord regeneration. eLife 4, e10230 (2015)

Kragl, M. et al. Cells keep a memory of their tissue origin during axolotl limb regeneration. Nature 460, 60–65 (2009)

Sive, H. L., Grainger, R. M. & Harland, R. M. Early Development of Xenopus laevis: A Laboratory Manual (Cold Spring Harbor Laboratory, 2000)

Habermann, B. et al. An Ambystoma mexicanum EST sequencing project: analysis of 17,352 expressed sequence tags from embryonic and regenerating blastema cDNA libraries. Genome Biol. 5, R67 (2004)

Ferretti, P. & Brockes, J. P. Culture of newt cells from different tissues and their expression of a regeneration-associated antigen. J. Exp. Zool. 247, 77–91 (1988)

Lo, D. C., Allen, F. & Brockes, J. P. Reversal of muscle differentiation during urodele limb regeneration. Proc. Natl Acad. Sci. USA 90, 7230–7234 (1993)

Roensch, K., Tazaki, A., Chara, O. & Tanaka, E. M. Progressive specification rather than intercalation of segments during limb regeneration. Science 342, 1375–1379 (2013)

Zarzosa, A. et al. Axolotls with an under- or oversupply of neural crest can regulate the sizes of their dorsal root ganglia to normal levels. Dev. Biol. 394, 65–82 (2014)

Rodrigo-Albors, A. & Tanaka, E. M. in Salamanders in Regeneration Research: Methods and Protocols (eds Kumar, A. & Simon, A. ) 115–126 (Springer, 2015)
Acknowledgements
We thank A. Tazaki, Y. Taniguchi, I. Wagner, A. Rodrigo-Albors, D. Knapp, P. Murawala, B. Borgonovo and D. Drechsel for technical advice and important discussions; M. Schuez, A. Telzerow and Y. Taniguchi for assistance; B. Gruhl, A. Wagner, S. Mögel for animal care; and J. Currie, T. Sandoval-Guzman and E. Nacu for comments on the manuscript. E.M.T. was supported by a German Federal Ministry of Education and Research (BMBF) Biofutures grant, German Research Foundation (DFG) grant TA274/5-1, European Research Council Advanced Grant, Institutional funding from the Max Planck Institute of Molecular Cell Biology and Genetics (MPI-CBG), and the DFG Research Center for Regenerative Therapies Dresden (CRTD) and A.S. by the Swedish Research Council and Cancerfonden.
Ethics declarations
Competing interests
The authors declare no competing financial interests.
Extended data figures and tables
Supplementary information
About this article
Cite this article
Sugiura, T., Wang, H., Barsacchi, R. et al. MARCKS-like protein is an initiating molecule in axolotl appendage regeneration. Nature 531, 237–240 (2016). https://doi.org/10.1038/nature16974
Received:

Accepted:

Published:

Issue Date:

DOI: https://doi.org/10.1038/nature16974
Comments
By submitting a comment you agree to abide by our Terms and Community Guidelines. If you find something abusive or that does not comply with our terms or guidelines please flag it as inappropriate.