Abstract
The enteric nervous system (ENS) is the largest component of the autonomic nervous system, with neuron numbers surpassing those present in the spinal cord1. The ENS has been called the 'second brain'1 given its autonomy, remarkable neurotransmitter diversity and complex cytoarchitecture. Defects in ENS development are responsible for many human disorders including Hirschsprung disease (HSCR). HSCR is caused by the developmental failure of ENS progenitors to migrate into the gastrointestinal tract, particularly the distal colon2. Human ENS development remains poorly understood owing to the lack of an easily accessible model system. Here we demonstrate the efficient derivation and isolation of ENS progenitors from human pluripotent stem (PS) cells, and their further differentiation into functional enteric neurons. ENS precursors derived in vitro are capable of targeted migration in the developing chick embryo and extensive colonization of the adult mouse colon. The in vivo engraftment and migration of human PS-cell-derived ENS precursors rescue disease-related mortality in HSCR mice (Ednrbs-l/s-l), although the mechanism of action remains unclear. Finally, EDNRB-null mutant ENS precursors enable modelling of HSCR-related migration defects, and the identification of pepstatin A as a candidate therapeutic target. Our study establishes the first, to our knowledge, human PS-cell-based platform for the study of human ENS development, and presents cell- and drug-based strategies for the treatment of HSCR.
Access options
Subscribe to Journal
Get full journal access for 1 year
$199.00
only $3.90 per issue
All prices are NET prices.
VAT will be added later in the checkout.
Rent or Buy article
Get time limited or full article access on ReadCube.
from$8.99
All prices are NET prices.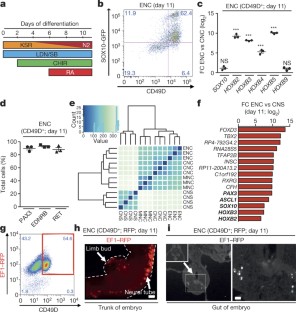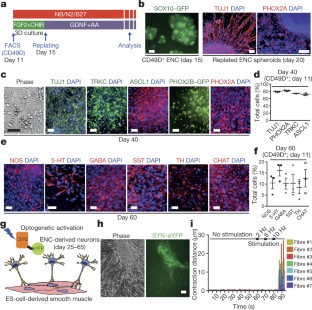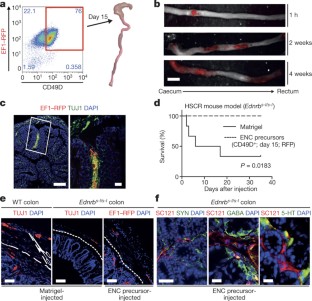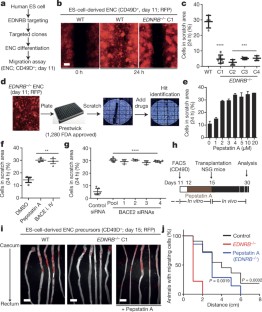 References
1

Gershon, M. The Second Brain - A Groundbreaking New Understanding of Nervous Disorders of the Stomach and Intestine (Harper Collins, 1999)

2

Heanue, T. A. & Pachnis, V. Enteric nervous system development and Hirschsprung's disease: advances in genetic and stem cell studies. Nature Rev. Neurosci. 8, 466–479 (2007)

3

Mica, Y., Lee, G., Chambers, S. M., Tomishima, M. J. & Studer, L. Modeling neural crest induction, melanocyte specification, and disease-related pigmentation defects in hESCs and patient-specific iPSCs. Cell Rep . 3, 1140–1152 (2013)

4

Chan, K. K. et al. Hoxb3 vagal neural crest-specific enhancer element for controlling enteric nervous system development. Dev. Dyn. 233, 473–483 (2005)

5

Fu, M., Lui, V. C., Sham, M. H., Cheung, A. N. & Tam, P. K. HOXB5 expression is spatially and temporarily regulated in human embryonic gut during neural crest cell colonization and differentiation of enteric neuroblasts. Dev. Dyn. 228, 1–10 (2003)

6

Wichterle, H., Lieberam, I., Porter, J. A. & Jessell, T. M. Directed differentiation of embryonic stem cells into motor neurons. Cell 110, 385–397 (2002)

7

Lee, G. et al. Modelling pathogenesis and treatment of familial dysautonomia using patient-specific iPSCs. Nature 461, 402–406 (2009)

8

Chalazonitis, A. et al. Neurotrophin-3 induces neural crest-derived cells from fetal rat gut to develop in vitro as neurons or glia. J. Neurosci. 14, 6571–6584 (1994)

9

Laflamme, M. A. et al. Cardiomyocytes derived from human embryonic stem cells in pro-survival factors enhance function of infarcted rat hearts. Nature Biotechnol. 25, 1015–1024 (2007)

10

Steinbeck, J. A. et al. Functional connectivity under optogenetic control allows modeling of human neuromuscular disease. Cell Stem Cell 18, 134–143 (2016)

11

Barthel, E. R. et al. Tissue engineering of the intestine in a murine model. J. Vis. Exp . 70, e4279 (2012)

12

Di Lorenzo, C., Solzi, G. F., Flores, A. F., Schwankovsky, L. & Hyman, P. E. Colonic motility after surgery for Hirschsprung's disease. Am. J. Gastroenterol. 95, 1759–1764 (2000)

13

Hotta, R., Natarajan, D., Burns, A. J. & Thapar, N. Stem cells for GI motility disorders. Curr. Opin. Pharmacol. 11, 617–623 (2011)

14

Schäfer, K. H., Micci, M. A. & Pasricha, P. J. Neural stem cell transplantation in the enteric nervous system: roadmaps and roadblocks. Neurogastroenterol. Motil. 21, 103–112 (2009)

15

Hotta, R. et al. Transplanted progenitors generate functional enteric neurons in the postnatal colon. J. Clin. Invest. 123, 1182–1191 (2013)

16

Gariepy, C. E., Cass, D. T. & Yanagisawa, M. Null mutation of endothelin receptor type B gene in spotting lethal rats causes aganglionic megacolon and white coat color. Proc. Natl Acad. Sci. USA 93, 867–872 (1996)

17

Kruger, G. M. et al. Temporally distinct requirements for endothelin receptor B in the generation and migration of gut neural crest stem cells. Neuron 40, 917–929 (2003)

18

Tam, P. K. & Garcia-Barcelo, M. Genetic basis of Hirschsprung's disease. Pediatr. Surg. Int. 25, 543–558 (2009)

19

Cong, L. et al. Multiplex genome engineering using CRISPR/Cas systems. Science 339, 819–823 (2013)

20

Chakravarti, A. Endothelin receptor-mediated signaling in hirschsprung disease. Hum. Mol. Genet. 5, 303–307 (1996)

21

Zhang, Y., Kim, T. H. & Niswander, L. Phactr4 regulates directional migration of enteric neural crest through PP1, integrin signaling, and cofilin activity. Genes Dev. 26, 69–81 (2012)

22

Yoshida, H. et al. Pepstatin A, an aspartic proteinase inhibitor, suppresses RANKL-induced osteoclast differentiation. J. Biochem. 139, 583–590 (2006)

23

Haas, H. A. Extending the search for folk personality constructs: the dimensionality of the personality-relevant proverb domain. J. Pers. Soc. Psychol. 82, 594–609 (2002)

24

Torii, T. et al. In vivo knockdown of ErbB3 in mice inhibits Schwann cell precursor migration. Biochem. Biophys. Res. Commun. 452, 782–788 (2014)

25

Wakatsuki, S., Araki, T. & Sehara-Fujisawa, A. Neuregulin-1/glial growth factor stimulates Schwann cell migration by inducing α5 β1 integrin-ErbB2-focal adhesion kinase complex formation. Genes Cells 19, 66–77 (2014)

26

Zeltner, N., Lafaille, F. G., Fattahi, F. & Studer, L. Feeder-free derivation of neural crest progenitor cells from human pluripotent stem cells. J. Vis. Exp . 87, e51609 (2014)

27

Hosoda, K. et al. Targeted and natural (piebald-lethal) mutations of endothelin-B receptor gene produce megacolon associated with spotted coat color in mice. Cell 79, 1267–1276 (1994)

28

Ran, F. A. et al. Double nicking by RNA-guided CRISPR Cas9 for enhanced genome editing specificity. Cell 154, 1380–1389 (2013)

29

Berthold, M. et al. in Data Analysis, Machine Learning and Applications Studies in Classification, Data Analysis, and Knowledge Organization (eds Preisach, C., Burkhardt, H., Schmidt-Thieme, L. & Decker, R. ) Ch. 38, 319–326 (Springer Berlin Heidelberg, 2008)

30

Dreser, N. et al. Grouping of histone deacetylase inhibitors and other toxicants disturbing neural crest migration by transcriptional profiling. Neurotoxicology 50, 56–70 (2015)

31

Chambers, S. M. et al. Highly efficient neural conversion of human ES and iPS cells by dual inhibition of SMAD signaling. Nature Biotechnol. 27, 275–280 (2009)
Acknowledgements
We thank K. Manova, M. Tomishima and A. Viale for technical assistance and G. Lee for human ES-cell-based PHOX2B–GFP reporter line. We are grateful for technical support provided by H. S. Ralph, K. Brodie and the MSKCC Flow Cytometry Core. We would also like to thank J.-F. Brunet for providing us with the PHOX2A antibody and P. Frykman for sharing their EDNRBtm1Ywa/FrykJ HSCR mouse strain. The work was supported by the Starr Foundation and by NYSTEM contract C026446 to L.S. and by P30 CA008748; by grant NS15547 from the NINDS to M.D.G. and by grants RN200946-1 and RN3-06425 from the California Institute for Regenerative Medicine (CIRM) to T.C.G; by TRI-SCI 2014-030 to L.S. and S.C., and by the New York Stem Cell Foundation (R-103) and NIDDK (DP2 DK098093-01) to S.C. S.C. is a New York Stem Cell Foundation – Robertson Investigator. J.A.S. was supported by a DFG fellowship. We would like to thank M. Tomishima and V. Tabar for comments on the manuscript.
Ethics declarations
Competing interests
The authors declare no competing financial interests.
Extended data figures and tables
Supplementary information
About this article
Cite this article
Fattahi, F., Steinbeck, J., Kriks, S. et al. Deriving human ENS lineages for cell therapy and drug discovery in Hirschsprung disease. Nature 531, 105–109 (2016). https://doi.org/10.1038/nature16951
Received:

Accepted:

Published:

Issue Date:
Comments
By submitting a comment you agree to abide by our Terms and Community Guidelines. If you find something abusive or that does not comply with our terms or guidelines please flag it as inappropriate.