Abstract
In multiple sclerosis, brain-reactive T cells invade the central nervous system (CNS) and induce a self-destructive inflammatory process. T-cell infiltrates are not only found within the parenchyma and the meninges, but also in the cerebrospinal fluid (CSF) that bathes the entire CNS tissue1,2. How the T cells reach the CSF, their functionality, and whether they traffic between the CSF and other CNS compartments remains hypothetical3,4,5,6. Here we show that effector T cells enter the CSF from the leptomeninges during Lewis rat experimental autoimmune encephalomyelitis (EAE), a model of multiple sclerosis. While moving through the three-dimensional leptomeningeal network of collagen fibres in a random Brownian walk, T cells were flushed from the surface by the flow of the CSF. The detached cells displayed significantly lower activation levels compared to T cells from the leptomeninges and CNS parenchyma. However, they did not represent a specialized non-pathogenic cellular sub-fraction, as their gene expression profile strongly resembled that of tissue-derived T cells and they fully retained their encephalitogenic potential. T-cell detachment from the leptomeninges was counteracted by integrins VLA-4 and LFA-1 binding to their respective ligands produced by resident macrophages. Chemokine signalling via CCR5/CXCR3 and antigenic stimulation of T cells in contact with the leptomeningeal macrophages enforced their adhesiveness. T cells floating in the CSF were able to reattach to the leptomeninges through steps reminiscent of vascular adhesion in CNS blood vessels, and invade the parenchyma. The molecular/cellular conditions for T-cell reattachment were the same as the requirements for detachment from the leptomeningeal milieu. Our data indicate that the leptomeninges represent a checkpoint at which activated T cells are licensed to enter the CNS parenchyma and non-activated T cells are preferentially released into the CSF, from where they can reach areas of antigen availability and tissue damage.
Access options
Subscribe to Journal
Get full journal access for 1 year
$199.00
only $3.90 per issue
All prices are NET prices.
VAT will be added later in the checkout.
Rent or Buy article
Get time limited or full article access on ReadCube.
from$8.99
All prices are NET prices.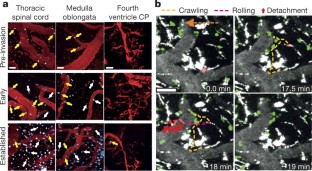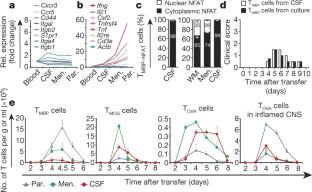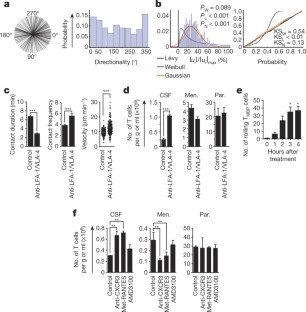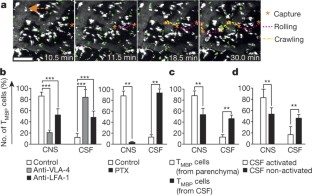 References
1

Alvermann, S., Hennig, C., Stuve, O., Wiendl, H. & Stangel, M. Immunophenotyping of cerebrospinal fluid cells in multiple sclerosis: in search of biomarkers. JAMA Neurol . 71, 905–912 (2014)

2

Giunti, D. et al. Phenotypic and functional analysis of T cells homing into the CSF of subjects with inflammatory diseases of the CNS. J. Leukoc. Biol. 73, 584–590 (2003)

3

Kivisäkk, P. et al. Human cerebrospinal fluid central memory CD4+T cells: evidence for trafficking through choroid plexus and meninges via P-selectin. Proc. Natl Acad. Sci. USA 100, 8389–8394 (2003)

4

Reboldi, A. et al. C-C chemokine receptor 6–regulated entry of TH-17 cells into the CNS through the choroid plexus is required for the initiation of EAE. Nature Immunol. 10, 514–523 (2009)

5

Engelhardt, B. & Ransohoff, R. M. The ins and outs of T-lymphocyte trafficking to the CNS: anatomical sites and molecular mechanisms. Trends Immunol. 26, 485–495 (2005)

6

Engelhardt, B., Wolburg-Buchholz, K. & Wolburg, H. Involvement of the choroid plexus in central nervous system inflammation. Microsc. Res. Tech. 52, 112–129 (2001)

7

Bartholomäus, I. et al. Effector T cell interactions with meningeal vascular structures in nascent autoimmune CNS lesions. Nature 462, 94–98 (2009)

8

Shechter, R. et al. Recruitment of beneficial M2 macrophages to injured spinal cord is orchestrated by remote brain choroid plexus. Immunity 38, 555–569 (2013)

9

Baruch, K. & Schwartz, M. CNS-specific T cells shape brain function via the choroid plexus. Brain Behav. Immun. 34, 11–16 (2013)

10

Lodygin, D. et al. A combination of fluorescent NFAT and H2B sensors uncovers dynamics of T cell activation in real time during CNS autoimmunity. Nature Med. 19, 784–790 (2013)

11

Kawakami, N. et al. The activation status of neuroantigen-specific T cells in the target organ determines the clinical outcome of autoimmune encephalomyelitis. J. Exp. Med. 199, 185–197 (2004)

12

Castellino, F. et al. Chemokines enhance immunity by guiding naive CD8 + T cells to sites of CD4+ T cell–dendritic cell interaction. Nature 440, 890–895 (2006)

13

Harris, T. H. et al. Generalized Lévy walks and the role of chemokines in migration of effector CD8 + T cells. Nature 486, 545–548 (2012)

14

Humphries, N. E. et al. Environmental context explains Lévy and Brownian movement patterns of marine predators. Nature 465, 1066–1069 (2010)

15

Mues, M. et al. Real-time in vivo analysis of T cell activation in the central nervous system using a genetically encoded calcium indicator. Nature Med. 19, 778–783 (2013)

16

Kivisäkk, P. et al. Localizing central nervous system immune surveillance: meningeal antigen-presenting cells activate T cells during experimental autoimmune encephalomyelitis. Ann. Neurol. 65, 457–469 (2009)

17

Laudanna, C., Kim, J. Y., Constantin, G. & Butcher, E. Rapid leukocyte integrin activation by chemokines. Immunol. Rev. 186, 37–46 (2002)

18

Odoardi, F. et al. T cells become licensed in the lung to enter the central nervous system. Nature 488, 675–679 (2012)

19

Lämmermann, T. et al. Rapid leukocyte migration by integrin-independent flowing and squeezing. Nature 453, 51–55 (2008)

20

Louveau, A. et al. Structural and functional features of central nervous system lymphatic vessels. Nature 523, 337–341 (2015)

21

Aspelund, A. et al. A dural lymphatic vascular system that drains brain interstitial fluid and macromolecules. J. Exp. Med. 212, 991–999 (2015)

22

Iliff, J. J. et al. A paravascular pathway facilitates CSF flow through the brain parenchyma and the clearance of interstitial solutes, including amyloid β. Sci. Transl. Med. 4, 147ra111 (2012)

23

Hatterer, E., Touret, M., Belin, M. F., Honnorat, J. & Nataf, S. Cerebrospinal fluid dendritic cells infiltrate the brain parenchyma and target the cervical lymph nodes under neuroinflammatory conditions. PLoS ONE 3, e3321 (2008)

24

Dreha-Kulaczewski, S. et al. Inspiration is the major regulator of human CSF flow. J. Neurosci. 35, 2485–2491 (2015)

25

Ley, K., Laudanna, C., Cybulsky, M. I. & Nourshargh, S. Getting to the site of inflammation: the leukocyte adhesion cascade updated. Nature Rev. Immunol . 7, 678–689 (2007)

26

Odoardi, F., Kawakami, N., Klinkert, W. E., Wekerle, H. & Flügel, A. Blood-borne soluble protein antigen intensifies T cell activation in autoimmune CNS lesions and exacerbates clinical disease. Proc. Natl Acad. Sci. USA 104, 18625–18630 (2007)

27

Kawakami, N. et al. Autoimmune CD4+T cell memory: lifelong persistence of encephalitogenic T cell clones in healthy immune repertoires. J. Immunol. 175, 69–81 (2005)

28

Lucchinetti, C. F. et al. Inflammatory cortical demyelination in early multiple sclerosis. N. Engl. J. Med. 365, 2188–2197 (2011)

29

Dustin, M. L. & Springer, T. A. T-cell receptor cross-linking transiently stimulates adhesiveness through LFA-1. Nature 341, 619–624 (1989)

30

Flügel, A., Willem, M., Berkowicz, T. & Wekerle, H. Gene transfer into CD4+ T lymphocytes: green fluorescent protein-engineered, encephalitogenic T cells illuminate brain autoimmune responses. Nature Med. 5, 843–847 (1999)

31

Gurskaya, N. G. et al. Engineering of a monomeric green-to-red photoactivatable fluorescent protein induced by blue light. Nature Biotechnol. 24, 461–465 (2006)

32

Eylar, E. H., Kniskern, P. J. & Jackson, J. J. Myelin basic proteins. Methods Enzymol. 32, 323–341 (1974)

33

Adelmann, M. et al. The N-terminal domain of the myelin oligodendrocyte glycoprotein (MOG) induces acute demyelinating experimental autoimmune encephalomyelitis in the Lewis rat. J. Neuroimmunol. 63, 17–27 (1995)

34

Flügel, A. et al. Migratory activity and functional changes of green fluorescent effector cells before and during experimental autoimmune encephalomyelitis. Immunity 14, 547–560 (2001)

35

Luque, A. et al. Activated conformations of very late activation integrins detected by a group of antibodies (HUTS) specific for a novel regulatory region (355–425) of the common β1 chain. J. Biol. Chem. 271, 11067–11075 (1996)

36

Siffrin, V. et al. Differential immune cell dynamics in the CNS cause CD4+ T cell compartmentalization. Brain 132, 1247–1258 (2009)

37

Kawakami, N. et al. Live imaging of effector cell trafficking and autoantigen recognition within the unfolding autoimmune encephalomyelitis lesion. J. Exp. Med. 201, 1805–1814 (2005)

38

Issekutz, T. B. Inhibition of in vivo lymphocyte migration to inflammation and homing to lymphoid tissues by the TA-2 monoclonal antibody. A likely role for VLA-4 in vivo. J. Immunol. 147, 4178–4184 (1991)

39

Sporici, R. & Issekutz, T. B. CXCR3 blockade inhibits T-cell migration into the CNS during EAE and prevents development of adoptively transferred, but not actively induced, disease. Eur. J. Immunol. 40, 2751–2761 (2010)

40

Matsui, M. et al. Treatment of experimental autoimmune encephalomyelitis with the chemokine receptor antagonist Met-RANTES. J. Neuroimmunol. 128, 16–22 (2002)

41

Meiron, M., Zohar, Y., Anunu, R., Wildbaum, G. & Karin, N. CXCL12 (SDF-1alpha) suppresses ongoing experimental autoimmune encephalomyelitis by selecting antigen-specific regulatory T cells. J. Exp. Med. 205, 2643–2655 (2008)

42

Carnevali, L. et al. Vagal withdrawal and susceptibility to cardiac arrhythmias in rats with high trait aggressiveness. PLoS ONE 8, e68316 (2013)

43

Slobodian, I., Krassioukov-Enns, D. & Del Bigio, M. R. Protein and synthetic polymer injection for induction of obstructive hydrocephalus in rats. Cerebrospinal Fluid Res. 4, 9 (2007)

44

De la Calle, J. L. & Paino, C. L. A procedure for direct lumbar puncture in rats. Brain Res. Bull. 59, 245–250 (2002)

45

Cabeza, R. et al. An RNA sequencing transcriptome analysis reveals novel insights into molecular aspects of the nitrate impact on the nodule activity of Medicago truncatula. Plant Physiol. 164, 400–411 (2014)

46

Dobin, A. et al. STAR: ultrafast universal RNA-seq aligner. Bioinformatics 29, 15–21 (2013)

47

Li, H. et al. The Sequence Alignment/Map format and SAMtools. Bioinformatics 25, 2078–2079 (2009)

48

Anders, S., Pyl, P. T. & Huber, W. HTSeq–a Python framework to work with high-throughput sequencing data. Bioinformatics 31, 166–169 (2015)

49

Anders, S. & Huber, W. Differential expression analysis for sequence count data. Genome Biol. 11, R106 (2010)

50

Durinck, S. et al. BioMart and Bioconductor: a powerful link between biological databases and microarray data analysis. Bioinformatics 21, 3439–3440 (2005)

51

Huang, W., Sherman, B. T. & Lempicki, R. A. Systematic and integrative analysis of large gene lists using DAVID bioinformatics resources. Nature Protocols 4, 44–57 (2009)

52

Odoardi, F. et al. Instant effect of soluble antigen on effector T cells in peripheral immune organs during immunotherapy of autoimmune encephalomyelitis. Proc. Natl Acad. Sci. USA 104, 920–925 (2007)

53

Schindelin, J. et al. Fiji: an open-source platform for biological-image analysis. Nature Methods 9, 676–682 (2012)
Acknowledgements
The authors thank S. Hamann, A. Stas, N. Meyer, S. Mole, and M. Weig for excellent technical assistance. We thank G. Salinas-Riester for her support in performing the transcriptome analyses, T. Lingner for his help in analysing the transcriptome data and W. Lühder for contributing to the mathematical T-cell locomotion analyses. We are grateful to C. Ludwig for text editing. This work was supported by the Deutsche Forschungsgemeinschaft (TRR-SFB43 project B10, FORR 1336 project B1 and RK-Grant FL 377/3-1), the Bundesministerium für Bildung und Forschung ('UNDERSTAND MS'), the Hertie Foundation (grants 1.01.1/11/004 and 1130072), the Ministry of Science and Culture of Lower Saxony (Niedersachsen-Research Network on Neuroinfectiology, N-RENNT) and the European Commission ERA-NET NEURON (MELTRA-BBB).
Ethics declarations
Competing interests
The authors declare no competing financial interests.
Extended data figures and tables
Supplementary information
About this article
Cite this article
Schläger, C., Körner, H., Krueger, M. et al. Effector T-cell trafficking between the leptomeninges and the cerebrospinal fluid. Nature 530, 349–353 (2016). https://doi.org/10.1038/nature16939
Received:

Accepted:

Published:

Issue Date:
Comments
By submitting a comment you agree to abide by our Terms and Community Guidelines. If you find something abusive or that does not comply with our terms or guidelines please flag it as inappropriate.