Abstract
Mammalian Wnt proteins are believed to act as short-range signals1,2,3,4, yet have not been previously visualized in vivo. Self-renewal, proliferation and differentiation are coordinated along a putative Wnt gradient in the intestinal crypt5. Wnt3 is produced specifically by Paneth cells6,7. Here we have generated an epitope-tagged, functional Wnt3 knock-in allele. Wnt3 covers basolateral membranes of neighbouring stem cells. In intestinal organoids, Wnt3-transfer involves direct contact between Paneth cells and stem cells. Plasma membrane localization requires surface expression of Frizzled receptors, which in turn is regulated by the transmembrane E3 ligases Rnf43/Znrf3 and their antagonists Lgr4-5/R-spondin. By manipulating Wnt3 secretion and by arresting stem-cell proliferation, we demonstrate that Wnt3 mainly travels away from its source in a cell-bound manner through cell division, and not through diffusion. We conclude that stem-cell membranes constitute a reservoir for Wnt proteins, while Frizzled receptor turnover and 'plasma membrane dilution' through cell division shape the epithelial Wnt3 gradient.
Relevant articles
Open Access articles citing this article.
Qinying Wang

,

Fanying Guo

…

Yanlei Ma

Signal Transduction and Targeted Therapy Open Access 27 September 2022

Gabriele Colozza

,

So-Yeon Park

&

Bon-Kyoung Koo

Experimental & Molecular Medicine Open Access 18 September 2022

Yujia Fan

,

Xiaohan Huo

…

Huili Hu

Cell Death & Differentiation Open Access 23 February 2022
Access options
Subscribe to Journal
Get full journal access for 1 year
$199.00
only $3.90 per issue
All prices are NET prices.
VAT will be added later in the checkout.
Tax calculation will be finalised during checkout.
Buy article
Get time limited or full article access on ReadCube.
$32.00
All prices are NET prices.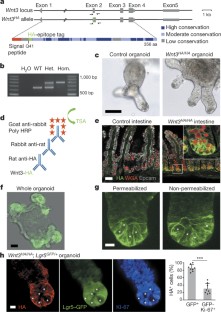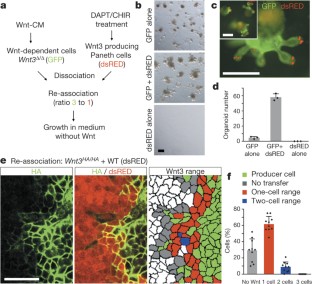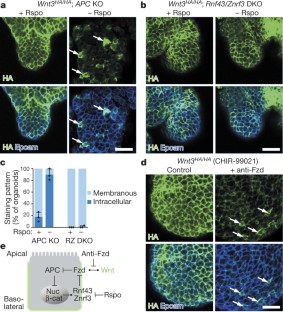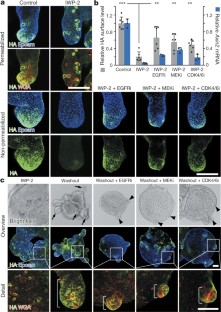 References
van den Heuvel, M., Nusse, R., Johnston, P. & Lawrence, P. A. Distribution of the wingless gene product in Drosophila embryos: a protein involved in cell-cell communication. Cell 59, 739–749 (1989)

Thorpe, C. J., Schlesinger, A., Carter, J. C. & Bowerman, B. Wnt signaling polarizes an early C. elegans blastomere to distinguish endoderm from mesoderm. Cell 90, 695–705 (1997)

Goldstein, B., Takeshita, H., Mizumoto, K. & Sawa, H. Wnt signals can function as positional cues in establishing cell polarity. Dev. Cell 10, 391–396 (2006)

Alexandre, C., Baena-Lopez, A. & Vincent, J.-P. Patterning and growth control by membrane-tethered Wingless. Nature 505, 180–185 (2014)

Clevers, H. The intestinal crypt, a prototype stem cell compartment. Cell 154, 274–284 (2013)

Gregorieff, A. et al. Expression pattern of Wnt signaling components in the adult intestine. Gastroenterology 129, 626–638 (2005)

Sato, T. et al. Paneth cells constitute the niche for Lgr5 stem cells in intestinal crypts. Nature 469, 415–418 (2011)

Coudreuse, D. Y. M., Roël, G., Betist, M. C., Destrée, O. & Korswagen, H. C. Wnt gradient formation requires retromer function in Wnt-producing cells. Science 312, 921–924 (2006)

Kiecker, C. & Niehrs, C. A morphogen gradient of Wnt/β-catenin signalling regulates anteroposterior neural patterning in Xenopus. Development 128, 4189–4201 (2001)

Zecca, M., Basler, K. & Struhl, G. Direct and long-range action of a wingless morphogen gradient. Cell 87, 833–844 (1996)

Neumann, C. J. & Cohen, S. M. Long-range action of Wingless organizes the dorsal-ventral axis of the Drosophila wing. Development 124, 871–880 (1997)

Strigini, M. & Cohen, S. M. Wingless gradient formation in the Drosophila wing. Curr. Biol. 10, 293–300 (2000)

Galli, L. M., Barnes, T. L., Secrest, S. S., Kadowaki, T. & Burrus, L. W. Porcupine-mediated lipid-modification regulates the activity and distribution of Wnt proteins in the chick neural tube. Development 134, 3339–3348 (2007)

Muñoz, J. et al. The Lgr5 intestinal stem cell signature: robust expression of proposed quiescent '+4' cell markers. EMBO J. 31, 3079–3091 (2012)

Barker, N. et al. Identification of stem cells in small intestine and colon by marker gene Lgr5. Nature 449, 1003–1007 (2007)

Farin, H. F., Van Es, J. H. & Clevers, H. Redundant sources of Wnt regulate intestinal stem cells and promote formation of Paneth cells. Gastroenterology 143, 1518–1529.e7 (2012)

Kabiri, Z. et al. Stroma provides an intestinal stem cell niche in the absence of epithelial Wnts. Development 141, 2206–2215 (2014)

Sato, T. et al. Single Lgr5 stem cells build crypt-villus structures in vitro without a mesenchymal niche. Nature 459, 262–265 (2009)

Janda, C. Y., Waghray, D., Levin, A. M., Thomas, C. & Garcia, K. C. Structural basis of Wnt recognition by Frizzled. Science 337, 59–64 (2012)

Liu, P. et al. Requirement for Wnt3 in vertebrate axis formation. Nature Genet. 22, 361–365 (1999)

Yin, X. et al. Niche-independent high-purity cultures of Lgr5+ intestinal stem cells and their progeny. Nature Methods 11, 106–112 (2014)

Hao, H.-X. et al. ZNRF3 promotes Wnt receptor turnover in an R-spondin-sensitive manner. Nature 485, 195–200 (2012)

Koo, B.-K. et al. Tumour suppressor RNF43 is a stem-cell E3 ligase that induces endocytosis of Wnt receptors. Nature 488, 665–669 (2012)

Chen, P.-H., Chen, X., Lin, Z., Fang, D. & He, X. The structural basis of R-spondin recognition by LGR5 and RNF43. Genes Dev. 27, 1345–1350 (2013)

Schwank, G. et al. Functional repair of CFTR by CRISPR/Cas9 in intestinal stem cell organoids of cystic fibrosis patients. Cell Stem Cell 13, 653–658 (2013)

Lecourtois, M., Alexandre, C., Dubois, L. & Vincent, J.-P. Wingless capture by Frizzled and Frizzled2 in Drosophila embryos. Dev. Biol. 235, 467–475 (2001)

Gurney, A. et al. Wnt pathway inhibition via the targeting of Frizzled receptors results in decreased growth and tumorigenicity of human tumors. Proc. Natl Acad. Sci. USA 109, 11717–11722 (2012)

Chen, B. et al. Small molecule-mediated disruption of Wnt-dependent signaling in tissue regeneration and cancer. Nature Chem. Biol. 5, 100–107 (2009)

Ritsma, L. et al. Intestinal crypt homeostasis revealed at single-stem-cell level by in vivo live imaging. Nature 507, 362–365 (2014)

Habib, S. J. et al. A localized Wnt signal orients asymmetric stem cell division in vitro. Science 339, 1445–1448 (2013)

Farley, F. W., Soriano, P., Steffen, L. S. & Dymecki, S. M. Widespread recombinase expression using FLPeR (flipper) mice. Genesis 28, 106–110 (2000)

Lallemand, Y., Luria, V., Haffner-Krausz, R. & Lonai, P. Maternally expressed PGK-Cre transgene as a tool for early and uniform activation of the Cre site-specific recombinase. Transgenic Res. 7, 105–112 (1998)

Barrow, J. R. et al. Ectodermal Wnt3/β-catenin signaling is required for the establishment and maintenance of the apical ectodermal ridge. Genes Dev. 17, 394–409 (2003)

El Marjou, F. et al. Tissue-specific and inducible Cre-mediated recombination in the gut epithelium. Genesis 39, 186–193 (2004)

Koo, B.-K. et al. Controlled gene expression in primary Lgr5 organoid cultures. Nature Methods 9, 81–83 (2012)

Lamprecht, M. R., Sabatini, D. M. & Carpenter, A. E. CellProfiler: free, versatile software for automated biological image analysis. Biotechniques 42, 71–75 (2007)

Jmol: an open-source Java viewer for chemical structures in 3D. http://www.jmol.org/

Morgenstern, B. DIALIGN: multiple DNA and protein sequence alignment at BiBiServ. Nucleic Acids Res. 32, W33–W36 (2004)

Schepers, A. G., Vries, R., van den Born, M., van de Wetering, M. & Clevers, H. Lgr5 intestinal stem cells have high telomerase activity and randomly segregate their chromosomes. EMBO J. 30, 1104–1109 (2011)
Acknowledgements
We thank M. van den Born, C. Kroon-Veenboer, J. van Es, T. Darvishi and S. van den Brink and the Hubrecht imaging facility for technical support. We thank A. Gurney for the pan-Fzd antibody and B.-K. Koo for discussions. M.M.M. is supported by the European Research Council (ERC StG 242958), the European Union (FP7 Marie-Curie ITN 608180 'WntsApp') and the Netherlands Scientific Organization (NWO-ECHO 711.013.012 and NWO-VICI 91815604).
Ethics declarations
Competing interests
H.C. is an inventor on several patents involving the organoid culture system.
Extended data figures and tables
Supplementary information
About this article
Cite this article
Farin, H., Jordens, I., Mosa, M. et al. Visualization of a short-range Wnt gradient in the intestinal stem-cell niche. Nature 530, 340–343 (2016). https://doi.org/10.1038/nature16937
Received:

Accepted:

Published:

Issue Date:

DOI: https://doi.org/10.1038/nature16937
Comments
By submitting a comment you agree to abide by our Terms and Community Guidelines. If you find something abusive or that does not comply with our terms or guidelines please flag it as inappropriate.