Abstract
The DNA-binding protein PRDM9 directs positioning of the double-strand breaks (DSBs) that initiate meiotic recombination in mice and humans. Prdm9 is the only mammalian speciation gene yet identified and is responsible for sterility phenotypes in male hybrids of certain mouse subspecies. To investigate PRDM9 binding and its role in fertility and meiotic recombination, we humanized the DNA-binding domain of PRDM9 in C57BL/6 mice. This change repositions DSB hotspots and completely restores fertility in male hybrids. Here we show that alteration of one Prdm9 allele impacts the behaviour of DSBs controlled by the other allele at chromosome-wide scales. These effects correlate strongly with the degree to which each PRDM9 variant binds both homologues at the DSB sites it controls. Furthermore, higher genome-wide levels of such 'symmetric' PRDM9 binding associate with increasing fertility measures, and comparisons of individual hotspots suggest binding symmetry plays a downstream role in the recombination process. These findings reveal that subspecies-specific degradation of PRDM9 binding sites by meiotic drive, which steadily increases asymmetric PRDM9 binding, has impacts beyond simply changing hotspot positions, and strongly support a direct involvement in hybrid infertility. Because such meiotic drive occurs across mammals, PRDM9 may play a wider, yet transient, role in the early stages of speciation.
This is a preview of subscription content
Access options
Subscribe to Journal
Get full journal access for 1 year
$199.00
only $3.90 per issue
All prices are NET prices.
VAT will be added later in the checkout.
Tax calculation will be finalised during checkout.
Buy article
Get time limited or full article access on ReadCube.
$32.00
All prices are NET prices.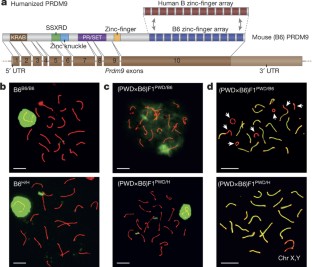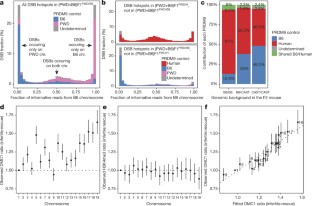 References
Presgraves, D. C. The molecular evolutionary basis of species formation. Nature Rev. Genet. 11, 175–180 (2010)

Mihola, O., Trachtulec, Z., Vlcek, C., Schimenti, J. C. & Forejt, J. A mouse speciation gene encodes a meiotic histone H3 methyltransferase. Science 323, 373–375 (2009)

Oliver, P. L. et al. Accelerated evolution of the Prdm9 speciation gene across diverse metazoan taxa. PLoS Genet. 5, e1000753 (2009)

Gregorová, S. & Forejt, J. PWD/Ph and PWK/Ph inbred mouse strains of Mus m. musculus subspecies–a valuable resource of phenotypic variations and genomic polymorphisms. Folia Biol. (Praha) 46, 31–41 (2000)

Bhattacharyya, T. et al. Mechanistic basis of infertility of mouse intersubspecific hybrids. Proc. Natl Acad. Sci. USA 110, E468–E477 (2013)

Bhattacharyya, T. et al. X chromosome control of meiotic chromosome synapsis in mouse inter-subspecific hybrids. PLoS Genet. 10, e1004088 (2014)

Qiao, H. et al. Interplay between synaptonemal complex, homologous recombination, and centromeres during mammalian meiosis. PLoS Genet. 8, e1002790 (2012)

Henderson, K. A. & Keeney, S. Synaptonemal complex formation: where does it start? Bioessays 27, 995–998 (2005)

Flachs, P. et al. Interallelic and intergenic incompatibilities of the Prdm9 (Hst1) gene in mouse hybrid sterility. PLoS Genet. 8, e1003044 (2012)

Hayashi, K., Yoshida, K. & Matsui, Y. A histone H3 methyltransferase controls epigenetic events required for meiotic prophase. Nature 438, 374–378 (2005)

Grey, C. et al. Mouse PRDM9 DNA-binding specificity determines sites of histone H3 lysine 4 trimethylation for initiation of meiotic recombination. PLoS Biol. 9, e1001176 (2011)

Jeffreys, A. J., Kauppi, L. & Neumann, R. Intensely punctate meiotic recombination in the class II region of the major histocompatibility complex. Nature Genet. 29, 217–222 (2001)

Myers, S. et al. Drive against hotspot motifs in primates implicates the PRDM9 gene in meiotic recombination. Science 327, 876–879 (2010)

Berg, I. L. et al. PRDM9 variation strongly influences recombination hot-spot activity and meiotic instability in humans. Nature Genet. 42, 859–863 (2010)

Kono, H. et al. Prdm9 polymorphism unveils mouse evolutionary tracks. DNA Res. 21, 315–326 (2014)

Auton, A. et al. A fine-scale chimpanzee genetic map from population sequencing. Science 336, 193–198 (2012)

Baker, C. L. et al. PRDM9 drives evolutionary erosion of hotspots in Mus musculus through haplotype-specific initiation of meiotic recombination. PLoS Genet. 11, e1004916 (2015)

Forejt, J. & Ivanyi, P. Genetic studies on male sterility of hybrids between laboratory and wild mice (Mus musculus L.). Genet. Res. 24, 189–206 (1974)

Khil, P. P., Smagulova, F., Brick, K. M., Camerini-Otero, R. D. & Petukhova, G. V. Sensitive mapping of recombination hotspots using sequencing-based detection of ssDNA. Genome Res. 22, 957–965 (2012)

Pratto, F. et al. DNA recombination. Recombination initiation maps of individual human genomes. Science 346, 1256442 (2014)

Brick, K., Smagulova, F., Khil, P., Camerini-Otero, R. D. & Petukhova, G. V. Genetic recombination is directed away from functional genomic elements in mice. Nature 485, 642–645 (2012)

Paigen, K. et al. The recombinational anatomy of a mouse chromosome. PLoS Genet. 4, e1000119 (2008)

Jeffreys, A. J. & Neumann, R. Reciprocal crossover asymmetry and meiotic drive in a human recombination hot spot. Nature Genet. 31, 267–271 (2002)

Flachs, P. et al. Prdm9 incompatibility controls oligospermia and delayed fertility but no selfish transmission in mouse intersubspecific hybrids. PLoS ONE 9, e95806 (2014)

Lange, J. et al. ATM controls meiotic double-strand-break formation. Nature 479, 237–240 (2011)

Sun, F. et al. Nuclear localization of PRDM9 and its role in meiotic chromatin modifications and homologous synapsis. Chromosoma (2015)

Boateng, K. A., Bellani, M. A., Gregoretti, I. V., Pratto, F. & Camerini-Otero, R. D. Homologous pairing preceding SPO11-mediated double-strand breaks in mice. Dev. Cell 24, 196–205 (2013)

Ishiguro, K. et al. Meiosis-specific cohesin mediates homolog recognition in mouse spermatocytes. Genes Dev. 28, 594–607 (2014)

Renkawitz, J., Lademann, C. A. & Jentsch, S. Mechanisms and principles of homology search during recombination. Nature Rev. Mol. Cell Biol. 15, 369–383 (2014)

Weiner, A., Zauberman, N. & Minsky, A. Recombinational DNA repair in a cellular context: a search for the homology search. Nature Rev. Microbiol. 7, 748–755 (2009)

Chen, C. M., Krohn, J., Bhattacharya, S. & Davies, B. A comparison of exogenous promoter activity at the ROSA26 locus using a ΦC31 integrase mediated cassette exchange approach in mouse ES cells. PLoS ONE 6, e23376 (2011)

Daniel, K. et al. Meiotic homologue alignment and its quality surveillance are controlled by mouse HORMAD1. Nature Cell Biol. 13, 599–610 (2011)

Barchi, M. et al. ATM promotes the obligate XY crossover and both crossover control and chromosome axis integrity on autosomes. PLoS Genet. 4, e1000076 (2008)

Peters, A. H., Plug, A. W., van Vugt, M. J. & de Boer, P. A drying-down technique for the spreading of mammalian meiocytes from the male and female germline. Chromosome Res. 5, 66–68 (1997)

Anderson, L. K., Reeves, A., Webb, L. M. & Ashley, T. Distribution of crossing over on mouse synaptonemal complexes using immunofluorescent localization of MLH1 protein. Genetics 151, 1569–1579 (1999)

Hinch, A. G., Altemose, N., Noor, N., Donnelly, P. & Myers, S. R. Recombination in the human pseudoautosomal region PAR1. PLoS Genet. 10, e1004503 (2014)

Li, H. & Durbin, R. Fast and accurate short read alignment with Burrows–Wheeler transform. Bioinformatics 25, 1754–1760 (2009)

Lunter, G. & Goodson, M. Stampy: a statistical algorithm for sensitive and fast mapping of Illumina sequence reads. Genome Res. 21, 936–939 (2011)

Li, H. et al. The Sequence Alignment/Map format and SAMtools. Bioinformatics 25, 2078–2079 (2009)

Quinlan, A. R. & Hall, I. M. BEDTools: a flexible suite of utilities for comparing genomic features. Bioinformatics 26, 841–842 (2010)
Acknowledgements
We thank N. Hortin, S. Chen and R. Davies for technical assistance, the High-Throughput Genomics Group at the Wellcome Trust Centre for Human Genetics for the generation of the sequencing data and R. Esnouf and J. Diprose for assistance with computing facilities. PWD/PhJ mice were a gift from J. Forejt. This work was supported by the Wellcome Trust Core Award Grant 090532/Z/09/Z, Senior Investigator Award 095552/Z/11/Z (to P.D.), Investigator Award 098387/Z/12/Z (to S.R.M.) and the NIDDK Intramural Research Program (R.D.C.O.). E.H. is funded by a Nuffield Department of Medicine Prize Studentship. J.G.H. is an EPAC/Linacre Junior Research Fellow funded by the Human Frontiers Postdoctoral Program (LT-001017/2013-L).
Ethics declarations
Competing interests
The authors declare no competing financial interests.
Extended data figures and tables
Supplementary information
This file contains Supplementary Text and Data (see Contents for more details). (PDF 1771 kb)
This file contains the gel source data for Extended Data Figure 1b. (PDF 185 kb)
About this article
Cite this article
Davies, B., Hatton, E., Altemose, N. et al. Re-engineering the zinc fingers of PRDM9 reverses hybrid sterility in mice. Nature 530, 171–176 (2016). https://doi.org/10.1038/nature16931
Received:

Accepted:

Published:

Issue Date:

DOI: https://doi.org/10.1038/nature16931
Comments
By submitting a comment you agree to abide by our Terms and Community Guidelines. If you find something abusive or that does not comply with our terms or guidelines please flag it as inappropriate.