Abstract
The process of ageing makes death increasingly likely, involving a random aspect that produces a wide distribution of lifespan even in homogeneous populations1,2. The study of this stochastic behaviour may link molecular mechanisms to the ageing process that determines lifespan. Here, by collecting high-precision mortality statistics from large populations, we observe that interventions as diverse as changes in diet, temperature, exposure to oxidative stress, and disruption of genes including the heat shock factor hsf-1, the hypoxia-inducible factor hif-1, and the insulin/IGF-1 pathway components daf-2, age-1, and daf-16 all alter lifespan distributions by an apparent stretching or shrinking of time. To produce such temporal scaling, each intervention must alter to the same extent throughout adult life all physiological determinants of the risk of death. Organismic ageing in Caenorhabditis elegans therefore appears to involve aspects of physiology that respond in concert to a diverse set of interventions. In this way, temporal scaling identifies a novel state variable, r(t), that governs the risk of death and whose average decay dynamics involves a single effective rate constant of ageing, kr. Interventions that produce temporal scaling influence lifespan exclusively by altering kr. Such interventions, when applied transiently even in early adulthood, temporarily alter kr with an attendant transient increase or decrease in the rate of change in r and a permanent effect on remaining lifespan. The existence of an organismal ageing dynamics that is invariant across genetic and environmental contexts provides the basis for a new, quantitative framework for evaluating the manner and extent to which specific molecular processes contribute to the aspect of ageing that determines lifespan.
Your institute does not have access to this article
Relevant articles
Open Access articles citing this article.
Fernando Colchero

,

José Manuel Aburto

…

Susan C. Alberts

Nature Communications Open Access 16 June 2021

Mizanur Rahman

,

Hunter Edwards

…

Siva A. Vanapalli

Scientific Reports Open Access 01 October 2020

Omer Karin

,

Amit Agrawal

…

Uri Alon

Nature Communications Open Access 02 December 2019
Access options
Subscribe to Journal
Get full journal access for 1 year
$199.00
only $3.90 per issue
All prices are NET prices.
VAT will be added later in the checkout.
Tax calculation will be finalised during checkout.
Buy article
Get time limited or full article access on ReadCube.
$32.00
All prices are NET prices.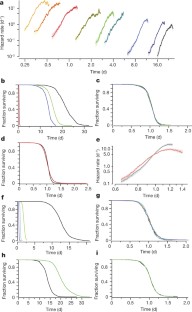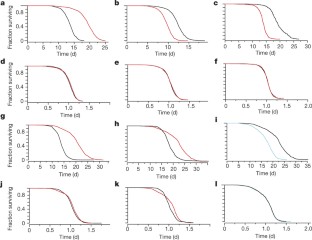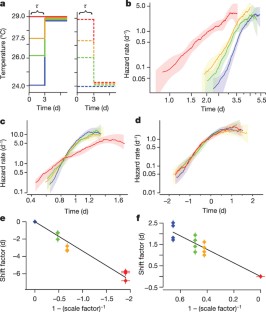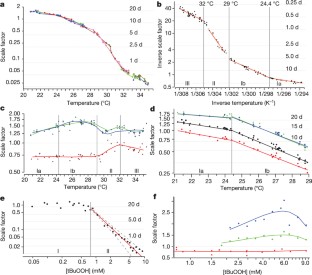 References
Pincus, Z., Smith-Vikos, T. & Slack, F. J. MicroRNA predictors of longevity in Caenorhabditis elegans . PLoS Genet. 7, e1002306 (2011)

Herndon, L. A. et al. Stochastic and genetic factors influence tissue-specific decline in ageing C. elegans . Nature 419, 808–814 (2002)

Shaw, R. F. & Bercaw, B. L. Temperature and life-span in poikilothermous animals. Nature 196, 454–457 (1962)

Mair, W., Goymer, P., Pletcher, S. D. & Partridge, L. Demography of dietary restriction and death in Drosophila . Science 301, 1731–1733 (2003)

Wu, D., Rea, S. L., Cypser, J. R. & Johnson, T. E. Mortality shifts in Caenorhabditis elegans: remembrance of conditions past. Aging Cell 8, 666–675 (2009)

Conti, B. et al. Transgenic mice with a reduced core body temperature have an increased life span. Science 314, 825–828 (2006)

Lithgow, G. J., White, T. M., Melov, S. & Johnson, T. E. Thermotolerance and extended life-span conferred by single-gene mutations and induced by thermal stress. Proc. Natl Acad. Sci. USA 92, 7540–7544 (1995)

Stroustrup, N. et al. The Caenorhabditis elegans lifespan machine. Nature Methods 10, 665–670 (2013)

Johnson, T. E., Wu, D., Tedesco, P., Dames, S. & Vaupel, J. W. Age-specific demographic profiles of longevity mutants in Caenorhabditis elegans show segmental effects. J. Gerontol. A 56, B331–B339 (2001)

Swindell, W. R. Accelerated failure time models provide a useful statistical framework for aging research. Exp. Gerontol. 44, 190–200 (2009)

Vaupel, J. W., Manton, K. G. & Stallard, E. The impact of heterogeneity in individual frailty on the dynamics of mortality. Demography 16, 439–454 (1979)

Martin, G. M., Austad, S. N. & Johnson, T. E. Genetic analysis of ageing: role of oxidative damage and environmental stresses. Nature Genet. 13, 25–34 (1996)

Tullet, J. M. et al. Direct inhibition of the longevity-promoting factor SKN-1 by insulin-like signaling in C. elegans . Cell 132, 1025–1038 (2008)

Landis, J. N. & Murphy, C. T. Integration of diverse inputs in the regulation of Caenorhabditis elegans DAF-16/FOXO. Dev. Dyn. 239, 1405–1412 (2010)

Hsu, A. L., Murphy, C. T. & Kenyon, C. Regulation of aging and age-related disease by DAF-16 and heat-shock factor. Science 300, 1142–1145 (2003)

Leiser, S. F., Begun, A. & Kaeberlein, M. HIF-1 modulates longevity and healthspan in a temperature-dependent manner. Aging Cell 10, 318–326 (2011)

Kirkwood, T. B. & Shanley, D. P. Food restriction, evolution and ageing. Mech. Ageing Dev. 126, 1011–1016 (2005)

Garigan, D. et al. Genetic analysis of tissue aging in Caenorhabditis elegans: a role for heat-shock factor and bacterial proliferation. Genetics 161, 1101–1112 (2002)

Lakowski, B. & Hekimi, S. The genetics of caloric restriction in Caenorhabditis elegans . Proc. Natl Acad. Sc. USA 95, 13091–13096 (1998)

Suda, H., Sato, K. & Yanase, S. Timing mechanism and effective activation energy concerned with aging and lifespan in the long-lived and thermosensory mutants of Caenorhabditis elegans . Mech. Ageing Dev. 133, 600–610 (2012)

Atlan, H., Miquel, J., Helmle, L. C. & Dolkas, C. B. Thermodynamics of aging in Drosophila melanogaster . Mech. Ageing Dev. 5, 371–387 (1976)

Libina, N., Berman, J. R. & Kenyon, C. Tissue-specific activities of C. elegans DAF-16 in the regulation of lifespan. Cell 115, 489–502 (2003)

Murphy, C. T. et al. Genes that act downstream of DAF-16 to influence the lifespan of Caenorhabditis elegans . Nature 424, 277–283 (2003)

Walker, G., Houthoofd, K., Vanfleteren, J. R. & Gems, D. Dietary restriction in C. elegans: from rate-of-living effects to nutrient sensing pathways. Mech. Ageing Dev. 126, 929–937 (2005)

McColl, G. et al. Insulin-like signaling determines survival during stress via posttranscriptional mechanisms in C. elegans . Cell Metab. 12, 260–272 (2010)

Oliveira, R. P. et al. Condition-adapted stress and longevity gene regulation by Caenorhabditis elegans SKN-1/Nrf. Aging Cell 8, 524–541 (2009)

Aalen, O. O. & Gjessing, H. K. Understanding the shape of the hazard rate: a process point of view. Stat. Sci. 16, 1–14 (2001)

Medawar, P. B. An Unsolved Problem of Biology: An Inaugural Lecture Delivered at University College, London (H. K. Lewis, 1951)

Gladyshev, V. N. The origin of aging: imperfectness-driven non-random damage defines the aging process and control of lifespan. Trends Genet. 29, 506–512 (2013)

Samuelson, A. V., Carr, C. E. & Ruvkun, G. Gene activities that mediate increased life span of C. elegans insulin-like signaling mutants. Genes Dev. 21, 2976–2994 (2007)

Stiernagle, T. in WormBook (ed. The C. elegans Research Community) http://dx.doi.org/10.1895/wormbook.1.101.1 (February 11, 2006)

Baeriswyl, S. et al. Modulation of aging profiles in isogenic populations of Caenorhabditis elegans by bacteria causing different extrinsic mortality rates. Biogerontology 11, 53–65 (2010)

Wilkinson, D. S., Taylor, R. C. & Dillin, A. Analysis of aging in Caenorhabditis elegans . Methods Cell Biol. 107, 353–381 (2012)

R Core Team. R: a language and environment for statistical computing (R Foundation for Statistical Computing, 2013)

Rebora, P., Salim, A. & Reilly, M. bshazard: a flexible tool for nonparametric smoothing of the hazard function. R J . 6, 114–122 (2014)
Acknowledgements
We thank J. Alcedo for nematode strains, X. Manière for providing the NEC937 Escherichia coli strain, B. Ward for reading our manuscript, and D. Marks, C. Romero, T. Kolokotrones, D. Yamins, P. F. Stadler, E. Smith, and all members of the Fontana laboratory for discussions and encouragement throughout this project. Some strains were provided by the Caenorhabditis Genetics Center, which is funded by US National Institutes of Health (NIH) Office of Research Infrastructure Programs (P40 OD010440). This work was funded by the NIH through grant R01 AG034994 and by a Glenn Award from the Glenn Foundation for Medical Research.
Ethics declarations
Competing interests
The authors declare no competing financial interests.
Extended data figures and tables
Supplementary information
This file contains Supplementary Notes 1-6, which define the terminology, develop the statistical approaches, derive the predictions about temporal scaling, and explore the temporal scaling in the context of competing risk models, interdependency network models, and drift-diffusion models. (PDF 12501 kb)
This file contains Supplementary Tables 1-3. (PDF 229 kb)
About this article
Cite this article
Stroustrup, N., Anthony, W., Nash, Z. et al. The temporal scaling of Caenorhabditis elegans ageing. Nature 530, 103–107 (2016). https://doi.org/10.1038/nature16550
Received:

Accepted:

Published:

Issue Date:

DOI: https://doi.org/10.1038/nature16550
Comments
By submitting a comment you agree to abide by our Terms and Community Guidelines. If you find something abusive or that does not comply with our terms or guidelines please flag it as inappropriate.