Abstract
Schizophrenia is a heritable brain illness with unknown pathogenic mechanisms. Schizophrenia's strongest genetic association at a population level involves variation in the major histocompatibility complex (MHC) locus, but the genes and molecular mechanisms accounting for this have been challenging to identify. Here we show that this association arises in part from many structurally diverse alleles of the complement component 4 (C4) genes. We found that these alleles generated widely varying levels of C4A and C4B expression in the brain, with each common C4 allele associating with schizophrenia in proportion to its tendency to generate greater expression of C4A. Human C4 protein localized to neuronal synapses, dendrites, axons, and cell bodies. In mice, C4 mediated synapse elimination during postnatal development. These results implicate excessive complement activity in the development of schizophrenia and may help explain the reduced numbers of synapses in the brains of individuals with schizophrenia.
Relevant articles
Open Access articles citing this article.
Sarah M. Carpanini

,

Megan Torvell

…

B. Paul Morgan

Acta Neuropathologica Communications Open Access 06 July 2022

Rosario Trifiletti

,

Herbert M. Lachman

…

Peter J. van der Spek

Scientific Reports Open Access 30 June 2022

Simon Cervenka

,

Andreas Frick

…

Mark Lubberink

Translational Psychiatry Open Access 14 June 2022
Access options
Subscribe to Journal
Get full journal access for 1 year
$199.00
only $3.90 per issue
All prices are NET prices.
VAT will be added later in the checkout.
Tax calculation will be finalised during checkout.
Buy article
Get time limited or full article access on ReadCube.
$32.00
All prices are NET prices.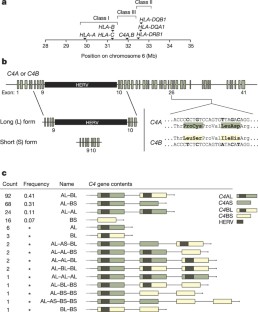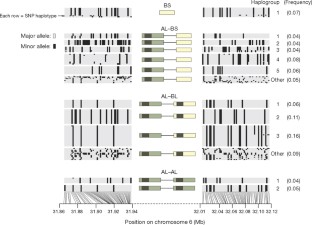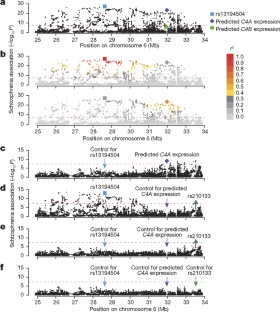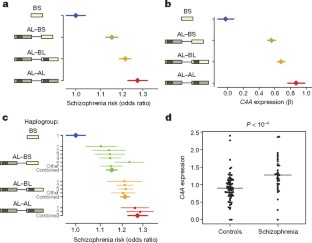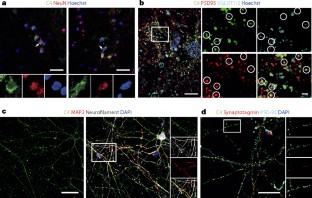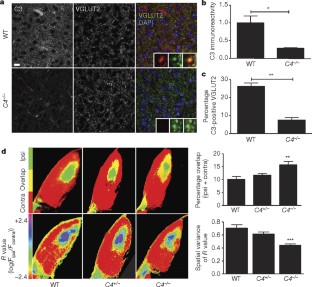 References
Cannon, T. D. et al. Cortex mapping reveals regionally specific patterns of genetic and disease-specific gray-matter deficits in twins discordant for schizophrenia. Proc. Natl Acad. Sci. USA 99, 3228–3233 (2002)

Cannon, T. D. et al. Progressive reduction in cortical thickness as psychosis develops: a multisite longitudinal neuroimaging study of youth at elevated clinical risk. Biol. Psychiatry 77, 147–157 (2015)

Garey, L. J. et al. Reduced dendritic spine density on cerebral cortical pyramidal neurons in schizophrenia. J. Neurol. Neurosurg. Psychiatry 65, 446–453 (1998)

Glantz, L. A. & Lewis, D. A. Decreased dendritic spine density on prefrontal cortical pyramidal neurons in schizophrenia. Arch. Gen. Psychiatry 57, 65–73 (2000)

Glausier, J. R. & Lewis, D. A. Dendritic spine pathology in schizophrenia. Neuroscience 251, 90–107 (2013)

Schizophrenia Working Group of the Psychiatric Genomics Consortium. Biological insights from 108 schizophrenia-associated genetic loci. Nature 511, 421–427 (2014)

Shi, J. et al. Common variants on chromosome 6p22.1 are associated with schizophrenia. Nature 460, 753–757 (2009)

Stefansson, H. et al. Common variants conferring risk of schizophrenia. Nature 460, 744–747 (2009)

International Schizophrenia Consortium et al. Common polygenic variation contributes to risk of schizophrenia and bipolar disorder. Nature 460, 748–752 (2009)

Schizophrenia Psychiatric Genome-Wide Association Study Consortium. Genome-wide association study identifies five new schizophrenia loci. Nature Genet . 43, 969–976 (2011)

Howson, J. M., Walker, N. M., Clayton, D. & Todd, J. A. Confirmation of HLA class II independent type 1 diabetes associations in the major histocompatibility complex including HLA-B and HLA-A. Diabetes Obes. Metab. 11 (Suppl 1), 31–45 (2009)

Raychaudhuri, S. et al. Five amino acids in three HLA proteins explain most of the association between MHC and seropositive rheumatoid arthritis. Nature Genet. 44, 291–296 (2012)

Escudero-Esparza, A., Kalchishkova, N., Kurbasic, E., Jiang, W. G. & Blom, A. M. The novel complement inhibitor human CUB and Sushi multiple domains 1 (CSMD1) protein promotes factor I-mediated degradation of C4b and C3b and inhibits the membrane attack complex assembly. FASEB J . 27, 5083–5093 (2013)

Carroll, M. C., Campbell, R. D., Bentley, D. R. & Porter, R. R. A molecular map of the human major histocompatibility complex class III region linking complement genes C4, C2 and factor B. Nature 307, 237–241 (1984)

Carroll, M. C., Belt, T., Palsdottir, A. & Porter, R. R. Structure and organization of the C4 genes. Phil. Trans. R. Soc. Lond. B 306, 379–388 (1984)

Dangel, A. W. et al. The dichotomous size variation of human complement C4 genes is mediated by a novel family of endogenous retroviruses, which also establishes species-specific genomic patterns among Old World primates. Immunogenetics 40, 425–436 (1994)

Horton, R. et al. Variation analysis and gene annotation of eight MHC haplotypes: the MHC Haplotype Project. Immunogenetics 60, 1–18 (2008)

Bánlaki, Z., Doleschall, M., Rajczy, K., Fust, G. & Szilagyi, A. Fine-tuned characterization of RCCX copy number variants and their relationship with extended MHC haplotypes. Genes Immun. 13, 530–535 (2012)

Law, S. K., Dodds, A. W. & Porter, R. R. A comparison of the properties of two classes, C4A and C4B, of the human complement component C4. EMBO J. 3, 1819–1823 (1984)

Isenman, D. E. & Young, J. R. The molecular basis for the difference in immune hemolysis activity of the Chido and Rodgers isotypes of human complement component C4. J. Immunol. 132, 3019–3027 (1984)

Illarionova, A. E., Vinogradova, T. V. & Sverdlov, E. D. Only those genes of the KIAA1245 gene subfamily that contain HERV(K) LTRs in their introns are transcriptionally active. Virology 358, 39–47 (2007)

Nakamura, A., Okazaki, Y., Sugimoto, J., Oda, T. & Jinno, Y. Human endogenous retroviruses with transcriptional potential in the brain. J. Hum. Genet. 48, 575–581 (2003)

Suntsova, M. et al. Human-specific endogenous retroviral insert serves as an enhancer for the schizophrenia-linked gene PRODH. Proc. Natl Acad. Sci. USA 110, 19472–19477 (2013)

Yang, Y. et al. Diversity in intrinsic strengths of the human complement system: serum C4 protein concentrations correlate with C4 gene size and polygenic variations, hemolytic activities, and body mass index. J. Immunol. 171, 2734–2745 (2003)

Browning, S. R. & Browning, B. L. Rapid and accurate haplotype phasing and missing-data inference for whole-genome association studies by use of localized haplotype clustering. Am. J. Hum. Genet. 81, 1084–1097 (2007)

Iossifov, I. et al. The contribution of de novo coding mutations to autism spectrum disorder. Nature 515, 216–221 (2014)

Mayilyan, K. R., Arnold, J. N., Presanis, J. S., Soghoyan, A. F. & Sim, R. B. Increased complement classical and mannan-binding lectin pathway activities in schizophrenia. Neurosci. Lett. 404, 336–341 (2006)

Hakobyan, S., Boyajyan, A. & Sim, R. B. Classical pathway complement activity in schizophrenia. Neurosci. Lett. 374, 35–37 (2005)

Stevens, B. et al. The classical complement cascade mediates CNS synapse elimination. Cell 131, 1164–1178 (2007)

Schafer, D. P. et al. Microglia sculpt postnatal neural circuits in an activity and complement-dependent manner. Neuron 74, 691–705 (2012)

Bialas, A. R. & Stevens, B. TGF-β signaling regulates neuronal C1q expression and developmental synaptic refinement. Nature Neurosci. 16, 1773–1782 (2013)

Kaiser, T. & Feng, G. Modeling psychiatric disorders for developing effective treatments. Nature Med. 21, 979–988 (2015)

Shatz, C. J. & Kirkwood, P. A. Prenatal development of functional connections in the cat's retinogeniculate pathway. J. Neurosci. 4, 1378–1397 (1984)

Sretavan, D. W. & Shatz, C. J. Prenatal development of retinal ganglion cell axons: segregation into eye-specific layers within the cat's lateral geniculate nucleus. J. Neurosci. 6, 234–251 (1986)

Chen, C. & Regehr, W. G. Developmental remodeling of the retinogeniculate synapse. Neuron 28, 955–966 (2000)

Fischer, M. B. et al. Regulation of the B cell response to T-dependent antigens by classical pathway complement. J. Immunol. 157, 549–556 (1996)

Huttenlocher, P. R. & Dabholkar, A. S. Regional differences in synaptogenesis in human cerebral cortex. J. Comp. Neurol. 387, 167–178 (1997)

Huttenlocher, P. R. Synaptic density in human frontal cortex—developmental changes and effects of aging. Brain Res. 163, 195–205 (1979)

Petanjek, Z. et al. Extraordinary neoteny of synaptic spines in the human prefrontal cortex. Proc. Natl Acad. Sci. USA 108, 13281–13286 (2011)

Buckner, R. L. & Krienen, F. M. The evolution of distributed association networks in the human brain. Trends Cogn. Sci. 17, 648–665 (2013)

Feinberg, I. Schizophrenia: caused by a fault in programmed synaptic elimination during adolescence? J. Psychiatr. Res. 17, 319–334 (1982–1983)

Kirov, G. et al. De novo CNV analysis implicates specific abnormalities of postsynaptic signalling complexes in the pathogenesis of schizophrenia. Mol. Psychiatry 17, 142–153 (2012)

Fromer, M. et al. De novo mutations in schizophrenia implicate synaptic networks. Nature 506, 179–184 (2014)

Purcell, S. M. et al. A polygenic burden of rare disruptive mutations in schizophrenia. Nature 506, 185–190 (2014)

Datwani, A. et al. Classical MHCI molecules regulate retinogeniculate refinement and limit ocular dominance plasticity. Neuron 64, 463–470 (2009)

Lee, H. et al. Synapse elimination and learning rules co-regulated by MHC class I H2-Db. Nature 509, 195–200 (2014)

van den Elsen, J. M. et al. X-ray crystal structure of the C4d fragment of human complement component C4. J. Mol. Biol. 322, 1103–1115 (2002)

Dodds, A. W., Ren, X. D., Willis, A. C. & Law, S. K. The reaction mechanism of the internal thioester in the human complement component C4. Nature 379, 177–179 (1996)

Handsaker, R. E. et al. Large multiallelic copy number variations in humans. Nature Genet. 47, 296–303 (2015)

Torborg, C. L. & Feller, M. B. Unbiased analysis of bulk axonal segregation patterns. J. Neurosci. Methods 135, 17–26 (2004)

Fernando, M. M. et al. Assessment of complement C4 gene copy number using the paralog ratio test. Hum. Mutat. 31, 866–874 (2010)

Rudduck, C., Beckman, L., Franzen, G., Jacobsson, L. & Lindstrom, L. Complement factor C4 in schizophrenia. Hum. Hered. 35, 223–226 (1985)

Schroers, R. et al. Investigation of complement C4B deficiency in schizophrenia. Hum. Hered. 47, 279–282 (1997)

Mayilyan, K. R., Dodds, A. W., Boyajyan, A. S., Soghoyan, A. F. & Sim, R. B. Complement C4B protein in schizophrenia. World J. Biol. Psychiatry 9, 225–230 (2008)

Jia, X. et al. Imputing amino acid polymorphisms in human leukocyte antigens. PLoS ONE 8, e64683 (2013)

Nonaka, M., Nakayama, K., Yeul, Y. D. & Takahashi, M. Complete nucleotide and derived amino acid sequences of sex-limited protein (Slp), nonfunctional isotype of the fourth component of mouse complement (C4). J. Immunol. 136, 2989–2993 (1986)
Acknowledgements
The authors would like to remember the late T. Stanley with appreciation and express their gratitude for his support. We thank S. Hyman, E. Lander, C. Bargmann, and C. Patil for conversations about the project and comments on drafts of the manuscript; M. Webster for expert advice on immunohistochemistry; B. Browning for expert advice on imputation; the Stanley Medical Research Institute Brain Collection and the NHGRI Gene and Tissue Expression (GTEx) Project for access to RNA and tissue samples; C. Emba for assistance with experiments; and C. Usher for contributions to manuscript figures. This work was supported by R01 HG 006855 (to S.A.M.), by the Stanley Center for Psychiatric Research (to S.A.M. and B.S.), by U01 MH105641 (to S.A.M.), by R01 MH077139 (to the PGC), and by T32 GM007753 (to A.S. and M.B.).
Ethics declarations
Competing interests
The authors declare no competing financial interests.
Extended data figures and tables
Supplementary information
This file contains Supplementary Methods, Supplementary Tables 1-3, a full list of the collaborators from the PGC Schizophrenia Working Group and additional references. This file was replaced on 11 April 2016 to update affiliation 210. (PDF 668 kb)
About this article
Cite this article
Sekar, A., Bialas, A., de Rivera, H. et al. Schizophrenia risk from complex variation of complement component 4. Nature 530, 177–183 (2016). https://doi.org/10.1038/nature16549
Received:

Accepted:

Published:

Issue Date:

DOI: https://doi.org/10.1038/nature16549
Comments
By submitting a comment you agree to abide by our Terms and Community Guidelines. If you find something abusive or that does not comply with our terms or guidelines please flag it as inappropriate.