Abstract
Intracellular aggregation of the human amyloid protein α-synuclein is causally linked to Parkinson's disease. While the isolated protein is intrinsically disordered, its native structure in mammalian cells is not known. Here we use nuclear magnetic resonance (NMR) and electron paramagnetic resonance (EPR) spectroscopy to derive atomic-resolution insights into the structure and dynamics of α-synuclein in different mammalian cell types. We show that the disordered nature of monomeric α-synuclein is stably preserved in non-neuronal and neuronal cells. Under physiological cell conditions, α-synuclein is amino-terminally acetylated and adopts conformations that are more compact than when in buffer, with residues of the aggregation-prone non-amyloid-β component (NAC) region shielded from exposure to the cytoplasm, which presumably counteracts spontaneous aggregation. These results establish that different types of crowded intracellular environments do not inherently promote α-synuclein oligomerization and, more generally, that intrinsic structural disorder is sustainable in mammalian cells.
Relevant articles
Open Access articles citing this article.
Manuel Flores-Leon

&

Tiago Fleming Outeiro

Acta Neuropathologica Open Access 08 July 2023

Enrico Luchinat

&

Lucia Banci

Rendiconti Lincei. Scienze Fisiche e Naturali Open Access 20 June 2023

Alexandra Shchukina

,

Thomas C. Schwarz

…

Krzysztof Kazimierczuk

Journal of Biomolecular NMR Open Access 26 May 2023
Access options
Subscribe to this journal
Receive 51 print issues and online access
$199.00 per year
only $3.90 per issue
Rent or buy this article
Prices vary by article type
from$1.95
to$39.95
Prices may be subject to local taxes which are calculated during checkout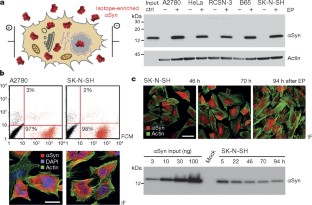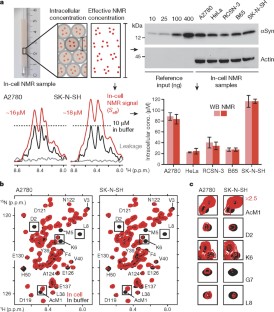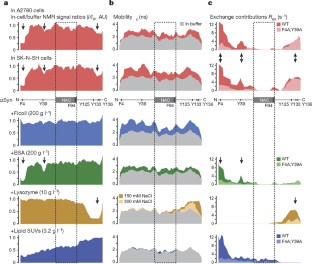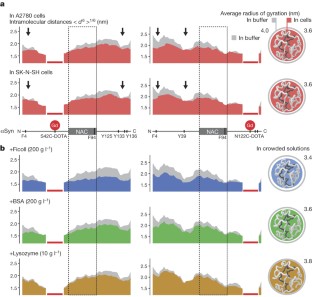 References
Theillet, F. X. et al. Physicochemical properties of cells and their effects on intrinsically disordered proteins (IDPs). Chem. Rev. 114, 6661–6714 (2014)

Goedert, M., Spillantini, M. G., Del Tredici, K. & Braak, H. 100 years of Lewy pathology. Nature Rev. Neurol. 9, 13–24 (2013)

Iwai, A. et al. The precursor protein of non-A beta component of Alzheimer's disease amyloid is a presynaptic protein of the central nervous system. Neuron 14, 467–475 (1995)

Lashuel, H. A., Overk, C. R., Oueslati, A. & Masliah, E. The many faces of alpha-synuclein: from structure and toxicity to therapeutic target. Nature Rev. Neurosci. 14, 38–48 (2013)

Dettmer, U., Selkoe, D. & Bartels, T. New insights into cellular α-synuclein homeostasis in health and disease. Curr. Opin. Neurobiol. 36, 15–22 (2015)

Bartels, T., Choi, J. G. & Selkoe, D. J. α-Synuclein occurs physiologically as a helically folded tetramer that resists aggregation. Nature 477, 107–110 (2011)

Wang, W. et al. A soluble α-synuclein construct forms a dynamic tetramer. Proc. Natl Acad. Sci. USA 108, 17797–17802 (2011)

Binolfi, A., Theillet, F. X. & Selenko, P. Bacterial in-cell NMR of human alpha-synuclein: a disordered monomer by nature? Biochem. Soc. Trans. 40, 950–954 (2012)

Burré, J. et al. Properties of native brain α-synuclein. Nature 498, E4–E6 (2013)

Fauvet, B. et al. Characterization of semisynthetic and naturally N-alpha-acetylated α-synuclein in vitro and in intact cells: implications for aggregation and cellular properties of alpha-synuclein. J. Biol. Chem. 287, 28243–28262 (2012)

Fauvet, B. et al. α-Synuclein in central nervous system and from erythrocytes, mammalian cells, and Escherichia coli exists predominantly as disordered monomer. J. Biol. Chem. 287, 15345–15364 (2012)

Dettmer, U., Newman, A. J., Luth, E. S., Bartels, T. & Selkoe, D. In vivo cross-linking reveals principally oligomeric forms of α-synuclein and β-synuclein in neurons and non-neural cells. J. Biol. Chem. 288, 6371–6385 (2013)

Dettmer, U. et al. Parkinson-causing alpha-synuclein missense mutations shift native tetramers to monomers as a mechanism for disease initiation. Nature Commun. 6, 7314 (2015)

Luth, E. S., Bartels, T., Dettmer, U., Kim, N. C. & Selkoe, D. J. Purification of α-synuclein from human brain reveals an instability of endogenous multimers as the protein approaches purity. Biochemistry 54, 279–292 (2015)

Selkoe, D. et al. Defining the native state of α-synuclein. Neurodegener. Dis. 13, 114–117 (2014)

Uversky, V. N. Intrinsically disordered proteins and their (disordered) proteomes in neurodegenerative disorders. Front. Aging Neurosci. 7, 18 (2015)

Paris, I. et al. The catecholaminergic RCSN-3 cell line: a model to study dopamine metabolism. Neurotox. Res. 13, 221–230 (2008)

Wilhelm, B. G. et al. Composition of isolated synaptic boutons reveals the amounts of vesicle trafficking proteins. Science 344, 1023–1028 (2014)

Okochi, M. et al. Constitutive phosphorylation of the Parkinson's disease associated α-synuclein. J. Biol. Chem. 275, 390–397 (2000)

Starheim, K. K., Gevaert, K. & Arnesen, T. Protein N-terminal acetyltransferases: when the start matters. Trends Biochem. Sci. 37, 152–161 (2012)

Kang, L. et al. N-terminal acetylation of alpha-synuclein induces increased transient helical propensity and decreased aggregation rates in the intrinsically disordered monomer. Protein Sci. 21, 911–917 (2012)

Maltsev, A. S., Ying, J. F. & Bax, A. Impact of N-terminal acetylation of α-synuclein on its random coil and lipid binding properties. Biochemistry 51, 5004–5013 (2012)

Dikiy, I. & Eliezer, D. N-terminal acetylation stabilizes N-terminal helicity in lipid- and micelle-bound alpha-synuclein and increases its affinity for physiological membranes. J. Biol. Chem. 289, 3652–3665 (2014)

Li, C. et al. Differential dynamical effects of macromolecular crowding on an intrinsically disordered protein and a globular protein: Implications for in-cell NMR spectroscopy. J. Am. Chem. Soc. 130, 6310–6311 (2008)

Fusco, G. et al. Direct observation of the three regions in α-synuclein that determine its membrane-bound behaviour. Nature Commun. 5, 3827 (2014)

Martorana, A. et al. Probing protein conformation in cells by EPR distance measurements using Gd3+ spin labelling. J. Am. Chem. Soc. 136, 13458–13465 (2014)

Bertoncini, C. W. et al. Release of long-range tertiary interactions potentiates aggregation of natively unstructured α-synuclein. Proc. Natl Acad. Sci. USA 102, 1430–1435 (2005)

Dedmon, M. M., Lindorff-Larsen, K., Christodoulou, J., Vendruscolo, M. & Dobson, C. M. Mapping long-range interactions in α-synuclein using spin-label NMR and ensemble molecular dynamics simulations. J. Am. Chem. Soc. 127, 476–477 (2005)

Wu, K. P. & Baum, J. Detection of transient interchain interactions in the intrinsically disordered protein α-synuclein by NMR paramagnetic relaxation enhancement. J. Am. Chem. Soc. 132, 5546–5547 (2010)

Kostka, M. et al. Single particle characterization of iron-induced pore-forming α-synuclein oligomers. J. Biol. Chem. 283, 10992–11003 (2008)

Danielsson, J. et al. Thermodynamics of protein destabilization in live cells. Proc. Natl Acad. Sci. USA 112, 12402–12407 (2015)

Monteith, W. B., Cohen, R. D., Smith, A. E., Guzman-Cisneros, E. & Pielak, G. J. Quinary structure modulates protein stability in cells. Proc. Natl Acad. Sci. USA 112, 1739–1742 (2015)

Cremades, N. et al. Direct observation of the interconversion of normal and toxic forms of α-synuclein. Cell 149, 1048–1059 (2012)

Galvagnion, C. et al. Lipid vesicles trigger α-synuclein aggregation by stimulating primary nucleation. Nature Chem. Biol. 11, 229–234 (2015)

Lamberto, G. R. et al. Structural and mechanistic basis behind the inhibitory interaction of PcTS on α-synuclein amyloid fibril formation. Proc. Natl Acad. Sci. USA 106, 21057–21062 (2009)

Ulmer, T. S. & Bax, A. Comparison of structure and dynamics of micellebound human α-synuclein and Parkinson disease variants. J. Biol. Chem. 280, 43179–43187 (2005)
Acknowledgements
We thank J. Burre, T. Sudhof, D. Jovin, D. Mulvihill, P. Caviedes and T. Maritzen for plasmids and reagents, and for critical discussions. V. Subramanian, D. Eliezer, J. Clark and J. Dyson for carefully reading the manuscript and helpful comments. M. Herzig for essential input in the development of the electroporation protocol and M. Beerbaum and P. Schmieder for maintenance of the NMR infrastructure. RCSN-3 cells are made available by P. Caviedes upon request (pcaviede@med.uchile.cl). F.-X.T. acknowledges funding from the Association pour la Recherche sur le Cancer (ARC). D.G. acknowledges support by the Israel Science Foundation (ISF) F.I.R.S.T. program (grant 1114/12). P.S. was funded by the Deutsche Forschungsgemeinschaft (DFG) via an Emmy Noether Project Grant (SE1794/1-1). This work is supported by the European Research Council (ERC) Consolidator Grant (CoG) 'NeuroInCellNMR' (647474) awarded to P.S.
Ethics declarations
Competing interests
The authors declare no competing financial interests.
Extended data figures and tables
Supplementary information
This file contains Supplementary Methods, Text and Data and additional references. (PDF 691 kb)
This file contains the uncropped gel and membrane images for Figures 1a, 1c, 2a and Extended Data figures 1e, 3c, 9b. (PDF 499 kb)
About this article
Cite this article
Theillet, FX., Binolfi, A., Bekei, B. et al. Structural disorder of monomeric α-synuclein persists in mammalian cells. Nature 530, 45–50 (2016). https://doi.org/10.1038/nature16531
Received:

Accepted:

Published:

Issue Date:

DOI: https://doi.org/10.1038/nature16531
Comments
By submitting a comment you agree to abide by our Terms and Community Guidelines. If you find something abusive or that does not comply with our terms or guidelines please flag it as inappropriate.