Abstract
Wearable sensor technologies are essential to the realization of personalized medicine through continuously monitoring an individual's state of health1,2,3,4,5,6,7,8,9,10,11,12. Sampling human sweat, which is rich in physiological information13, could enable non-invasive monitoring. Previously reported sweat-based and other non-invasive biosensors either can only monitor a single analyte at a time or lack on-site signal processing circuitry and sensor calibration mechanisms for accurate analysis of the physiological state14,15,16,17,18. Given the complexity of sweat secretion, simultaneous and multiplexed screening of target biomarkers is critical and requires full system integration to ensure the accuracy of measurements. Here we present a mechanically flexible and fully integrated (that is, no external analysis is needed) sensor array for multiplexed in situ perspiration analysis, which simultaneously and selectively measures sweat metabolites (such as glucose and lactate) and electrolytes (such as sodium and potassium ions), as well as the skin temperature (to calibrate the response of the sensors). Our work bridges the technological gap between signal transduction, conditioning (amplification and filtering), processing and wireless transmission in wearable biosensors by merging plastic-based sensors that interface with the skin with silicon integrated circuits consolidated on a flexible circuit board for complex signal processing. This application could not have been realized using either of these technologies alone owing to their respective inherent limitations. The wearable system is used to measure the detailed sweat profile of human subjects engaged in prolonged indoor and outdoor physical activities, and to make a real-time assessment of the physiological state of the subjects. This platform enables a wide range of personalized diagnostic and physiological monitoring applications.
Relevant articles
Open Access articles citing this article.
Jian Tang

,

Qinqin Wang

…

Guangyu Zhang

Nature Communications Open Access 19 June 2023

Aaron Asael Smith

,

Rui Li

&

Zion Tsz Ho Tse

Scientific Reports Open Access 27 March 2023

Bangfeng Wang

,

Yiwei Li

…

Bi-Feng Liu

Nature Communications Open Access 11 March 2023
Access options
Subscribe to this journal
Receive 51 print issues and online access
$199.00 per year
only $3.90 per issue
Rent or buy this article
Prices vary by article type
from$1.95
to$39.95
Prices may be subject to local taxes which are calculated during checkout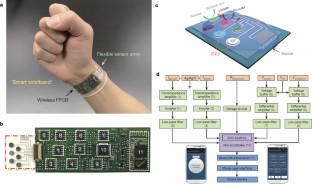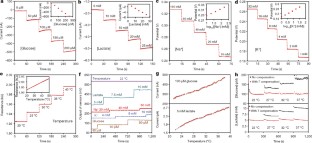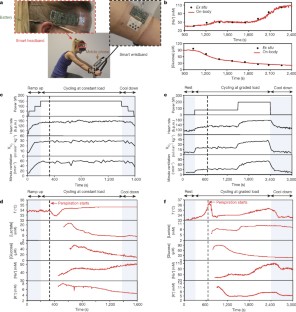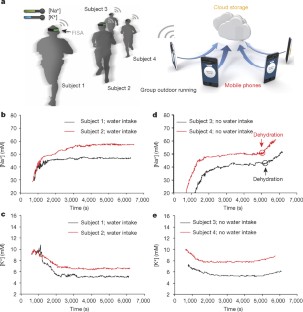 References
Kim, D. H. et al. Epidermal electronics. Science 333, 838–843 (2011)

Lipomi, D. J. et al. Skin-like pressure and strain sensors based on transparent elastic films of carbon nanotubes. Nature Nanotechnol. 6, 788–792 (2011)

Takei, K. et al. Nanowire active-matrix circuitry for low-voltage macroscale artificial skin. Nature Mater. 9, 821–826 (2010)

Wu, W. et al. Piezoelectricity of single-atomic-layer MoS2 for energy conversion and piezotronics. Nature 514, 470–474 (2014)

McAlpine, M. C., Ahmad, H., Wang, D. & Heath, J. R. Highly ordered nanowire arrays on plastic substrates for ultrasensitive flexible chemical sensors. Nature Mater. 6, 379–384 (2007)

Kaltenbrunner, M. et al. An ultra-lightweight design for imperceptible plastic electronics. Nature 499, 458–463 (2013)

Xu, S. et al. Soft microfluidic assemblies of sensors, circuits, and radios for the skin. Science 344, 70–74 (2014)

Wang, C. et al. User-interactive electronic skin for instantaneous pressure visualization. Nature Mater. 12, 899–904 (2013)

Liang, J., Li, L., Niu, X., Yu, Z. & Pei, Q. Elastomeric polymer light-emitting devices and displays. Nature Photon. 7, 817–824 (2013)

Kim, D. H., Ghaffari, R. & Rogers, J. A. Flexible and stretchable electronics for biointegrated devices. Annu. Rev. Biomed. Eng. 14, 113–128 (2012)

Patel, S., Park, H., Bonato, P., Chan, L. & Rodgers, M. A review of wearable sensors and systems with application in rehabilitation. J. Neuroeng. Rehabil. 9, 21 (2012)

Bandodkar, A. J. & Wang, J. Non-invasive wearable electrochemical sensors: a review. Trends Biotechnol. 32, 363–371 (2014)

Sonner, Z. et al. The microfluidics of the eccrine sweat gland, including biomarker partitioning, transport, and biosensing implications. Biomicrofluidics 9, 031301 (2015)

Schazmann, B. et al. A wearable electrochemical sensor for the real-time measurement of sweat sodium concentration. Anal. Methods 2, 342–348 (2010)

Jia, W. et al. Electrochemical tattoo biosensors for real-time noninvasive lactate monitoring in human perspiration. Anal. Chem. 85, 6553–6560 (2013)

Coyle, S. et al. BIOTEX—biosensing textiles for personalised healthcare management. IEEE Trans. Inf. Technol. Biomed. 14, 364–370 (2010)

Bandodkar, A. J. et al. Epidermal tattoo potentiometric sodium sensors with wireless signal transduction for continuous non-invasive sweat monitoring. Biosens. Bioelectron. 54, 603–609 (2014)

Rose, D. P. et al. Adhesive RFID sensor patch for monitoring of sweat electrolytes. IEEE Trans. Biomed. Eng. 62, 1457–1465 (2015)

Boysen, T. C., Yanagawa, S., Sato, F. & Sato, K. A modified anaerobic method of sweat collection. J. Appl. Physiol. 56, 1302–1307 (1984)

Speedy, D. B., Noakes, T. D. & Schneider, C. Exercise-associated hyponatremia: a review. Emerg. Med. 13, 17–27 (2001)

Talary, M. S., Dewarrat, F., Huber, D. & Caduff, A. In vivo life sign application of dielectric spectroscopy and non-invasive glucose monitoring. J. Non-Cryst. Solids 353, 4515–4517 (2007)

Derbyshire, P. J., Barr, H., Davis, F. & Higson, S. P. Lactate in human sweat: a critical review of research to the present day. J. Physiol. Sci. 62, 429–440 (2012)

Webb, R. C. et al. Ultrathin conformal devices for precise and continuous thermal characterization of human skin. Nature Mater. 12, 938–944 (2013)

Sprigle, S., Linden, M., McKenna, D., Davis, K. & Riordan, B. Clinical skin temperature measurement to predict incipient pressure ulcers. Adv. Skin Wound Care 14, 133–137 (2001)

Zhu, J., Qin, Y. & Zhang, Y. Preparation of all solid-state potentiometric ion sensors with polymer-CNT composites. Electrochem. Commun. 11, 1684–1687 (2009)

Jobst, G. et al. Thin-film microbiosensors for glucose-lactate monitoring. Anal. Chem. 68, 3173–3179 (1996)

Nadel, E. R., Bullard, R. W. & Stolwijk, J. A. Importance of skin temperature in the regulation of sweating. J. Appl. Physiol. 31, 80–87 (1971)

Cage, G. W., Wolfe, S. M., Thompson, R. H. & Gordon, R. S. Jr. Effects of water intake on composition of thermal sweat in normal human volunteers. J. Appl. Physiol. 29, 687–690 (1970)

Patterson, M. J., Galloway, S. D. R. & Nimmo, M. A. Variations in regional sweat composition in normal human males. Exp. Physiol. 85, 869–875 (2000)

Messonnier, L. A. et al. Lactate kinetics at the lactate threshold in trained and untrained men. J. Appl. Physiol. 114, 1593–1602 (2013)

Buono, M. J., Lee, N. V. & Miller, P. W. The relationship between exercise intensity and the sweat lactate excretion rate. J. Physiol. Sci. 60, 103–107 (2010)

Barr, S. I. Effects of dehydration on exercise performance. Can. J. Appl. Physiol. 24, 164–172 (1999)

Morgan, R. M., Patterson, M. J. & Nimmo, M. A. Acute effects of dehydration on sweat composition in men during prolonged exercise in the heat. Acta Physiol. Scand. 182, 37–43 (2004)

Kudo, H. et al. A flexible and wearable glucose sensor based on functional polymers with Soft-MEMS techniques. Biosens. Bioelectron. 22, 558–562 (2006)

Bandodkar, A. J. et al. Tattoo-based noninvasive glucose monitoring: a proof-of-concept study. Anal. Chem. 87, 394–398 (2015)

Guinovart, T., Crespo, G. A., Rius, F. X. & Andrade, F. J. A reference electrode based on polyvinyl butyral (PVB) polymer for decentralized chemical measurements. Anal. Chim. Acta 821, 72–80 (2014)

Bobacka, J. Potential stability of all-solid-state ion-selective electrodes using conducting polymers as ion-to-electron transducers. Anal. Chem. 71, 4932–4937 (1999)

Grieshaber, D., MacKenzie, R., Vörös, J. & Reimhult, E. Electrochemical biosensors—sensor principles and architectures. Sensors 8, 1400–1458 (2008)

Vimieiro-Gomes, A. C. Comparison of sweat rate during graded exercise and the local rate induced by pilocarpine. Braz. J. Med. Biol. Res. 38, 1133–1139 (2005)
Acknowledgements
The sensor design, characterization and testing aspects of this work were supported by the Berkeley Sensor and Actuator Center, and National Institutes of Health grant number P01 HG000205. The sensor fabrication was performed in the Electronic Materials (E-MAT) laboratory funded by the Director, Office of Science, Office of Basic Energy Sciences, Material Sciences and Engineering Division of the US Department of Energy under contract number DE-AC02-05CH11231. K.C. acknowledges funding from the NSF Nanomanufacturing Systems for mobile Computing and Energy Technologies (NASCENT) Center. H.O. acknowledges support from a Japan Society for the Promotion of Science (JSPS) Fellowship. We thank J. Bullock, C. M. Sutter-Fella, H. W. W. Nyein, Z. Shahpar, M. Zhou, E. Wu and W. Chen for their help.
Ethics declarations
Competing interests
The authors declare no competing financial interests.
Extended data figures and tables
Supplementary information
This file contains Supplementary Table 1, Supplementary Discussions for selection of the target analytes and Supplementary References. (PDF 152 kb)
About this article
Cite this article
Gao, W., Emaminejad, S., Nyein, H. et al. Fully integrated wearable sensor arrays for multiplexed in situ perspiration analysis. Nature 529, 509–514 (2016). https://doi.org/10.1038/nature16521
Received:

Accepted:

Published:

Issue Date:

DOI: https://doi.org/10.1038/nature16521
Comments
By submitting a comment you agree to abide by our Terms and Community Guidelines. If you find something abusive or that does not comply with our terms or guidelines please flag it as inappropriate.