Abstract
Phosphoinositides are a minor class of short-lived membrane phospholipids that serve crucial functions in cell physiology ranging from cell signalling and motility to their role as signposts of compartmental membrane identity1,2. Phosphoinositide 4-phosphates such as phosphatidylinositol 4-phosphate (PI(4)P) and phosphatidylinositol 4,5-bisphosphate (PI(4,5)P2) are concentrated at the plasma membrane, on secretory organelles3, and on lysosomes4, whereas phosphoinositide 3-phosphates, most notably phosphatidylinositol 3-phosphate (PI(3)P)5, are a hallmark of the endosomal system1,2. Directional membrane traffic between endosomal and secretory compartments, although inherently complex, therefore requires regulated phosphoinositide conversion. The molecular mechanism underlying this conversion of phosphoinositide identity during cargo exit from endosomes by exocytosis is unknown. Here we report that surface delivery of endosomal cargo requires hydrolysis of PI(3)P by the phosphatidylinositol 3-phosphatase MTM1, an enzyme whose loss of function leads to X-linked centronuclear myopathy (also called myotubular myopathy) in humans6. Removal of endosomal PI(3)P by MTM1 is accompanied by phosphatidylinositol 4-kinase-2α (PI4K2α)-dependent generation of PI(4)P and recruitment of the exocyst tethering complex to enable membrane fusion. Our data establish a mechanism for phosphoinositide conversion from PI(3)P to PI(4)P at endosomes en route to the plasma membrane and suggest that defective phosphoinositide conversion at endosomes underlies X-linked centronuclear myopathy caused by mutation of MTM1 in humans.
Relevant articles
Open Access articles citing this article.
Wen-Ting Lo

,

Hassane Belabed

…

Volker Haucke

Nature Chemical Biology Open Access 15 September 2022

Jonathan R. Volpatti

,

Mehdi M. Ghahramani-Seno

…

James J. Dowling

Acta Neuropathologica Open Access 17 July 2022

Tong Mu

,

Honghong Hu

…

Yaling Gu

Scientific Reports Open Access 27 April 2022
Access options
Subscribe to this journal
Receive 51 print issues and online access
$199.00 per year
only $3.90 per issue
Rent or buy this article
Prices vary by article type
from$1.95
to$39.95
Prices may be subject to local taxes which are calculated during checkout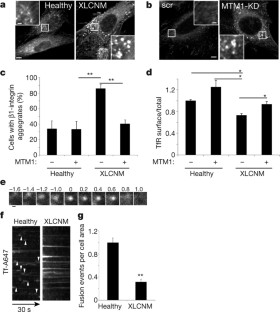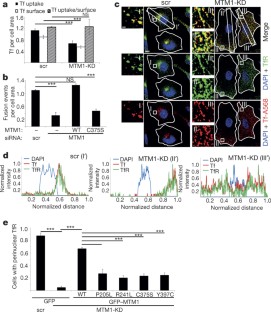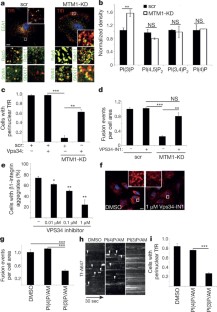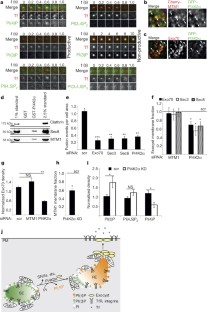 References
Balla, T. Phosphoinositides: tiny lipids with giant impact on cell regulation. Physiol. Rev. 93, 1019–1137 (2013)

Di Paolo, G. & De Camilli, P. Phosphoinositides in cell regulation and membrane dynamics. Nature 443, 651–657 (2006)

Guo, J. et al. Phosphatidylinositol 4-kinase type IIα is responsible for the phosphatidylinositol 4-kinase activity associated with synaptic vesicles. Proc. Natl Acad. Sci. USA 100, 3995–4000 (2003)

Hammond, G. R., Machner, M. P. & Balla, T. A novel probe for phosphatidylinositol 4-phosphate reveals multiple pools beyond the Golgi. J. Cell Biol. 205, 113–126 (2014)

Raiborg, C., Schink, K. O. & Stenmark, H. Class III phosphatidylinositol 3-kinase and its catalytic product PtdIns3P in regulation of endocytic membrane traffic. FEBS J. 280, 2730–2742 (2013)

Amoasii, L., Hnia, K. & Laporte, J. Myotubularin phosphoinositide phosphatases in human diseases. Curr. Top. Microbiol. Immunol. 362, 209–233 (2012)

Dowling, J. J. et al. Loss of myotubularin function results in T-tubule disorganization in zebrafish and human myotubular myopathy. PLoS Genet. 5, e1000372 (2009)

Herman, G. E., Finegold, M., Zhao, W., de Gouyon, B. & Metzenberg, A. Medical complications in long-term survivors with X-linked myotubular myopathy. J. Pediatr. 134, 206–214 (1999)

Buj-Bello, A. et al. The lipid phosphatase myotubularin is essential for skeletal muscle maintenance but not for myogenesis in mice. Proc. Natl Acad. Sci. USA 99, 15060–15065 (2002)

Ribeiro, I., Yuan, L., Tanentzapf, G., Dowling, J. J. & Kiger, A. Phosphoinositide regulation of integrin trafficking required for muscle attachment and maintenance. PLoS Genet. 7, e1001295 (2011)

Hsu, V. W., Bai, M. & Li, J. Getting active: protein sorting in endocytic recycling. Nature Rev. Mol. Cell Biol. 13, 323–328 (2012)

Cao, C., Backer, J. M., Laporte, J., Bedrick, E. J. & Wandinger-Ness, A. Sequential actions of myotubularin lipid phosphatases regulate endosomal PI(3)P and growth factor receptor trafficking. Mol. Biol. Cell 19, 3334–3346 (2008)

Cullen, P. J. & Korswagen, H. C. Sorting nexins provide diversity for retromer-dependent trafficking events. Nature Cell Biol. 14, 29–37 (2012)

Munson, M. J. et al. mTOR activates the VPS34-UVRAG complex to regulate autolysosomal tubulation and cell survival. EMBO J. 34, 2272–2290 (2015)

Bago, R. et al. Characterization of VPS34-IN1, a selective inhibitor of Vps34, reveals that the phosphatidylinositol 3-phosphate-binding SGK3 protein kinase is a downstream target of class III phosphoinositide 3-kinase. Biochem. J. 463, 413–427 (2014)

Lorenzo, O., Urbé, S. & Clague, M. J. Systematic analysis of myotubularins: heteromeric interactions, subcellular localisation and endosome related functions. J. Cell Sci. 119, 2953–2959 (2006)

Subramanian, D. et al. Activation of membrane-permeant caged PtdIns(3)P induces endosomal fusion in cells. Nature Chem. Biol. 6, 324–326 (2010)

Wang, Y. J. et al. Phosphatidylinositol 4 phosphate regulates targeting of clathrin adaptor AP-1 complexes to the Golgi. Cell 114, 299–310 (2003)

Minogue, S. et al. Phosphatidylinositol 4-kinase is required for endosomal trafficking and degradation of the EGF receptor. J. Cell Sci. 119, 571–581 (2006)

Mizuno-Yamasaki, E., Medkova, M., Coleman, J. & Novick, P. Phosphatidylinositol 4-phosphate controls both membrane recruitment and a regulatory switch of the Rab GEF Sec2p. Dev. Cell 18, 828–840 (2010)

Takahashi, S. et al. Rab11 regulates exocytosis of recycling vesicles at the plasma membrane. J. Cell Sci. 125, 4049–4057 (2012)

Hertzog, M. & Chavrier, P. Cell polarity during motile processes: keeping on track with the exocyst complex. Biochem. J. 433, 403–409 (2011)

Jović, M. et al. Endosomal sorting of VAMP3 is regulated by PI4K2A. J. Cell Sci. 127, 3745–3756 (2014)

Hammond, G. R. V. et al. PI4P and PI(4,5)P2 are essential but independent lipid determinants of membrane identity. Science 337, 727–730 (2012)

Schmidt, M. R. et al. Regulation of endosomal membrane traffic by a Gadkin/AP-1/kinesin KIF5 complex. Proc. Natl Acad. Sci. USA 106, 15344–15349 (2009)

Mössinger, J. et al. Phosphatidylinositol 4-kinase IIα function at endosomes is regulated by the ubiquitin ligase Itch. EMBO Rep. 13, 1087–1094 (2012)

Laporte, J. et al. MTM1 mutations in X-linked myotubular myopathy. Hum. Mutat. 15, 393–409 (2000)

Laporte, J., Kress, W. & Mandel, J. L. Diagnosis of X-linked myotubular myopathy by detection of myotubularin. Ann. Neurol. 50, 42–46 (2001)

Gordon, D. E., Bond, L. M., Sahlender, D. A. & Peden, A. A. A targeted siRNA screen to identify SNAREs required for constitutive secretion in mammalian cells. Traffic 11, 1191–1204 (2010)

Hammond, G. R., Schiavo, G. & Irvine, R. F. Immunocytochemical techniques reveal multiple, distinct cellular pools of PtdIns4P and PtdIns(4,5)P2 . Biochem. J. 422, 23–35 (2009)

Posor, Y. et al. Spatiotemporal control of endocytosis by phosphatidylinositol-3,4-bisphosphate. Nature 499, 233–237 (2013)

Diesenberg, K., Beerbaum, M., Fink, U., Schmieder, P. & Krauss, M. SEPT9 negatively regulates ubiquitin-dependent downregulation of EGFR. J. Cell Sci. 128, 397–407 (2015)
Acknowledgements
We thank L. Pluska for initial studies on PI4K2α-exocyst, I. Ganley for fluorescently labelled p40-Phox, M. Ringling, M. Mühlbauer, L. von Oertzen, and S. Zillmann for technical assistance, and A. Marat for comments. This work was supported by grants from the German Research Foundation (SFB740/C8 to V.H. and SFB958/A11 to M.K.) and Agence Nationale de la Recherche (ANR-14-CE12-0009/13-BSV2-0004 to J.L.).
Ethics declarations
Competing interests
The authors declare no competing financial interests.
Extended data figures and tables
Supplementary information
About this article
Cite this article
Ketel, K., Krauss, M., Nicot, AS. et al. A phosphoinositide conversion mechanism for exit from endosomes. Nature 529, 408–412 (2016). https://doi.org/10.1038/nature16516
Received:

Accepted:

Published:

Issue Date:

DOI: https://doi.org/10.1038/nature16516
Comments
By submitting a comment you agree to abide by our Terms and Community Guidelines. If you find something abusive or that does not comply with our terms or guidelines please flag it as inappropriate.