Abstract
Endothelial cells (ECs) are plastic cells that can switch between growth states with different bioenergetic and biosynthetic requirements1. Although quiescent in most healthy tissues, ECs divide and migrate rapidly upon proangiogenic stimulation2,3. Adjusting endothelial metabolism to the growth state is central to normal vessel growth and function1,4, yet it is poorly understood at the molecular level. Here we report that the forkhead box O (FOXO) transcription factor FOXO1 is an essential regulator of vascular growth that couples metabolic and proliferative activities in ECs. Endothelial-restricted deletion of FOXO1 in mice induces a profound increase in EC proliferation that interferes with coordinated sprouting, thereby causing hyperplasia and vessel enlargement. Conversely, forced expression of FOXO1 restricts vascular expansion and leads to vessel thinning and hypobranching. We find that FOXO1 acts as a gatekeeper of endothelial quiescence, which decelerates metabolic activity by reducing glycolysis and mitochondrial respiration. Mechanistically, FOXO1 suppresses signalling by MYC (also known as c-MYC), a powerful driver of anabolic metabolism and growth5,6. MYC ablation impairs glycolysis, mitochondrial function and proliferation of ECs while its EC-specific overexpression fuels these processes. Moreover, restoration of MYC signalling in FOXO1-overexpressing endothelium normalizes metabolic activity and branching behaviour. Our findings identify FOXO1 as a critical rheostat of vascular expansion and define the FOXO1–MYC transcriptional network as a novel metabolic checkpoint during endothelial growth and proliferation.
This is a preview of subscription content
Access options
Subscribe to Journal
Get full journal access for 1 year
$199.00
only $3.90 per issue
All prices are NET prices.
VAT will be added later in the checkout.
Tax calculation will be finalised during checkout.
Rent or Buy article
Get time limited or full article access on ReadCube.
from$8.99
All prices are NET prices.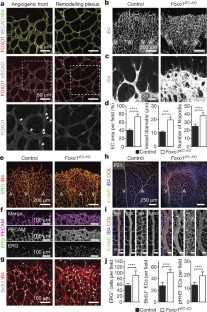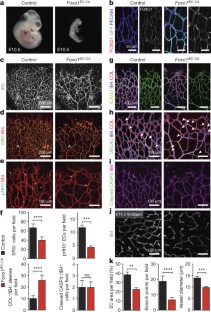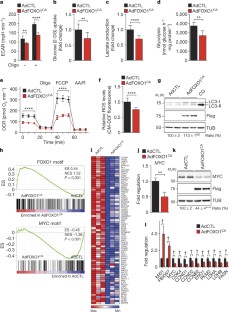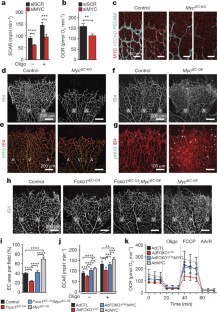 Accession codes
Primary accessions
ArrayExpress
Data deposits
Data from microarray analysis have been deposited in the ArrayExpress repository under the accessions E-MTAB-4023 and E-MTAB-4025.
References
1

Ghesquière, B., Wong, B. W., Kuchnio, A. & Carmeliet, P. Metabolism of stromal and immune cells in health and disease. Nature 511, 167–176 (2014)

2

Adams, R. H. & Alitalo, K. Molecular regulation of angiogenesis and lymphangiogenesis. Nature Rev. Mol. Cell Biol. 8, 464–478 (2007)

3

Potente, M., Gerhardt, H. & Carmeliet, P. Basic and therapeutic aspects of angiogenesis. Cell 146, 873–887 (2011)

4

De Bock, K., Georgiadou, M. & Carmeliet, P. Role of endothelial cell metabolism in vessel sprouting. Cell Metab. 18, 634–647 (2013)

5

Dang, C. V. MYC, metabolism, cell growth, and tumorigenesis. Cold Spring Harb. Perspect. Med. 3, a014217 (2013)

6

Adhikary, S. & Eilers, M. Transcriptional regulation and transformation by Myc proteins. Nature Rev. Mol. Cell Biol. 6, 635–645 (2005)

7

Vander Heiden, M. G., Cantley, L. C. & Thompson, C. B. Understanding the Warburg effect: the metabolic requirements of cell proliferation. Science 324, 1029–1033 (2009)

8

Ward, P. S. & Thompson, C. B. Metabolic reprogramming: a cancer hallmark even Warburg did not anticipate. Cancer Cell 21, 297–308 (2012)

9

Salih, D. A. & Brunet, A. FoxO transcription factors in the maintenance of cellular homeostasis during aging. Curr. Opin. Cell Biol. 20, 126–136 (2008)

10

Eijkelenboom, A. & Burgering, B. M. FOXOs: signalling integrators for homeostasis maintenance. Nature Rev. Mol. Cell Biol. 14, 83–97 (2013)

11

Daly, C. et al. Angiopoietin-1 modulates endothelial cell function and gene expression via the transcription factor FKHR (FOXO1). Genes Dev. 18, 1060–1071 (2004)

12

Potente, M. et al. Involvement of Foxo transcription factors in angiogenesis and postnatal neovascularization. J. Clin. Invest. 115, 2382–2392 (2005)

13

Paik, J. H. et al. FoxOs are lineage-restricted redundant tumor suppressors and regulate endothelial cell homeostasis. Cell 128, 309–323 (2007)

14

Taddei, A. et al. Endothelial adherens junctions control tight junctions by VE-cadherin-mediated upregulation of claudin-5. Nature Cell Biol. 10, 923–934 (2008)

15

Tsuchiya, K. et al. FoxOs integrate pleiotropic actions of insulin in vascular endothelium to protect mice from atherosclerosis. Cell Metab. 15, 372–381 (2012)

16

Keller, C. et al. Alveolar rhabdomyosarcomas in conditional Pax3:Fkhr mice: cooperativity of Ink4a/ARF and Trp53 loss of function. Genes Dev. 18, 2614–2626 (2004)

17

Sengupta, A., Chakraborty, S., Paik, J., Yutzey, K. E. & Evans-Anderson, H. J. FoxO1 is required in endothelial but not myocardial cell lineages during cardiovascular development. Dev. Dyn. 241, 803–813 (2012)

18

Stöhr, O. et al. Insulin receptor signaling mediates APP processing and β-amyloid accumulation without altering survival in a transgenic mouse model of Alzheimer's disease. Age (Dordr) 35, 83–101 (2013)

19

Delpuech, O. et al. Induction of Mxi1-SRα by FOXO3a contributes to repression of Myc-dependent gene expression. Mol. Cell. Biol. 27, 4917–4930 (2007)

20

Gan, B. et al. FoxOs enforce a progression checkpoint to constrain mTORC1-activated renal tumorigenesis. Cancer Cell 18, 472–484 (2010)

21

Jensen, K. S. et al. FoxO3A promotes metabolic adaptation to hypoxia by antagonizing Myc function. EMBO J. 30, 4554–4570 (2011)

22

Kress, T. R. et al. The MK5/PRAK kinase and Myc form a negative feedback loop that is disrupted during colorectal tumorigenesis. Mol. Cell 41, 445–457 (2011)

23

Ferber, E. C. et al. FOXO3a regulates reactive oxygen metabolism by inhibiting mitochondrial gene expression. Cell Death Differ. 19, 968–979 (2012)

24

de Alboran, I. M. et al. Analysis of C-MYC function in normal cells via conditional gene-targeted mutation. Immunity 14, 45–55 (2001)

25

Sander, S. et al. Synergy between PI3K signaling and MYC in Burkitt lymphomagenesis. Cancer Cell 22, 167–179 (2012)

26

Kops, G. J. et al. Forkhead transcription factor FOXO3a protects quiescent cells from oxidative stress. Nature 419, 316–321 (2002)

27

Nemoto, S. & Finkel, T. Redox regulation of forkhead proteins through a p66shc-dependent signaling pathway. Science 295, 2450–2452 (2002)

28

Tothova, Z. et al. FoxOs are critical mediators of hematopoietic stem cell resistance to physiologic oxidative stress. Cell 128, 325–339 (2007)

29

Miyamoto, K. et al. Foxo3a is essential for maintenance of the hematopoietic stem cell pool. Cell Stem Cell 1, 101–112 (2007)

30

Yeo, H. et al. FoxO3 coordinates metabolic pathways to maintain redox balance in neural stem cells. EMBO J. 32, 2589–2602 (2013)

31

Koni, P. A. et al. Conditional vascular cell adhesion molecule 1 deletion in mice: impaired lymphocyte migration to bone marrow. J. Exp. Med. 193, 741–754 (2001)

32

Claxton, S. et al. Efficient, inducible Cre-recombinase activation in vascular endothelium. Genesis 46, 74–80 (2008)

33

Muzumdar, M. D., Tasic, B., Miyamichi, K., Li, L. & Luo, L. A global double-fluorescent Cre reporter mouse. Genesis 45, 593–605 (2007)

34

Fantin, A., Vieira, J. M., Plein, A., Maden, C. H. & Ruhrberg, C. The embryonic mouse hindbrain as a qualitative and quantitative model for studying the molecular and cellular mechanisms of angiogenesis. Nature Protocols 8, 418–429 (2013)

35

Pitulescu, M. E., Schmidt, I., Benedito, R. & Adams, R. H. Inducible gene targeting in the neonatal vasculature and analysis of retinal angiogenesis in mice. Nature Protocols 5, 1518–1534 (2010)

36

Guarani, V. et al. Acetylation-dependent regulation of endothelial Notch signalling by the SIRT1 deacetylase. Nature 473, 234–238 (2011)

37

Ramaswamy, S., Nakamura, N., Sansal, I., Bergeron, L. & Sellers, W. R. A novel mechanism of gene regulation and tumor suppression by the transcription factor FKHR. Cancer Cell 2, 81–91 (2002)

38

Hermeking, H. et al. Identification of CDK4 as a target of c-MYC. Proc. Natl Acad. Sci. USA 97, 2229–2234 (2000)

39

Zeller, K. I., Jegga, A. G., Aronow, B. J., O'Donnell, K. A. & Dang, C. V. An integrated database of genes responsive to the Myc oncogenic transcription factor: identification of direct genomic targets. Genome Biol. 4, R69 (2003)

40

Menssen, A. & Hermeking, H. Characterization of the c-MYC-regulated transcriptome by SAGE: identification and analysis of c-MYC target genes. Proc. Natl Acad. Sci. USA 99, 6274–6279 (2002)

41

Ben-Porath, I. et al. An embryonic stem cell-like gene expression signature in poorly differentiated aggressive human tumors. Nature Genet. 40, 499–507 (2008)

42

Bild, A. H. et al. Oncogenic pathway signatures in human cancers as a guide to targeted therapies. Nature 439, 353–357 (2006)
Acknowledgements
We thank F. W. Alt and I. Aifantis for Mycfl/fl mice, and T. Enders, J. Sperling and K. Wilson for assistance with the mouse colony. The research of M.P. is supported by the Max Planck Society, the European Research Council (ERC) Starting Grant ANGIOMET (311546), the Deutsche Forschungsgemeinschaft (SFB 834), the Excellence Cluster Cardiopulmonary System (EXC 147/1), the Cluster of Excellence Macromolecular Complexes (EXC115), the Foundation Leducq Transatlantic Network (ARTEMIS), the LOEWE grant Ub-Net, and the European Molecular Biology Organization Young Investigator Programme. S.S. was supported by a PhD fellowship of the Belgian Science Policy (IWT) and I.M.A. is a recipient of a DOC-fFORTE fellowship of the Austrian Academy of Sciences. C.A.F was supported by a European Union FP7 Marie Curie Post-doctoral Fellowship and a FCT grant (IF/00412/2012). The research of K.R. is supported by an ERC Advanced Grant (268921) and C.K. received support from the National Institutes of Health K08CA090438. The research of H.G. is supported by Cancer Research UK, an ERC consolidator grant (REshape), the Foundation Leducq Transatlantic Network (ARTEMIS), the Lister Institute of Preventive Medicine and the British Council under the BIRAX Initiative. The work of P.C. is funded by long-term structural funding: Methusalem Funding by the Flemish Government, ERC Advanced Research Grant (269073), and FWO G.0834.13N from the Flanders Science Fund.
Ethics declarations
Competing interests
The authors declare no competing financial interests.
Extended data figures and tables
Supplementary information
This file contains the uncropped blots for Figures 3 and Extended Data Figures 5, 6, 7, 8. (PDF 2155 kb)
About this article
Cite this article
Wilhelm, K., Happel, K., Eelen, G. et al. FOXO1 couples metabolic activity and growth state in the vascular endothelium. Nature 529, 216–220 (2016). https://doi.org/10.1038/nature16498
Received:

Accepted:

Published:

Issue Date:
Comments
By submitting a comment you agree to abide by our Terms and Community Guidelines. If you find something abusive or that does not comply with our terms or guidelines please flag it as inappropriate.