Abstract
Plasmodium falciparum antigens expressed on the surface of infected erythrocytes are important targets of naturally acquired immunity against malaria, but their high number and variability provide the pathogen with a powerful means of escape from host antibodies1,2,3,4. Although broadly reactive antibodies against these antigens could be useful as therapeutics and in vaccine design, their identification has proven elusive. Here we report the isolation of human monoclonal antibodies that recognize erythrocytes infected by different P. falciparum isolates and opsonize these cells by binding to members of the RIFIN family. These antibodies acquired broad reactivity through a novel mechanism of insertion of a large DNA fragment between the V and DJ segments. The insert, which is both necessary and sufficient for binding to RIFINs, encodes the entire 98 amino acid collagen-binding domain of LAIR1, an immunoglobulin superfamily inhibitory receptor encoded on chromosome 19. In each of the two donors studied, the antibodies are produced by a single expanded B-cell clone and carry distinct somatic mutations in the LAIR1 domain that abolish binding to collagen and increase binding to infected erythrocytes. These findings illustrate, with a biologically relevant example, a novel mechanism of antibody diversification by interchromosomal DNA transposition and demonstrate the existence of conserved epitopes that may be suitable candidates for the development of a malaria vaccine.
Access options
Subscribe to Journal
Get full journal access for 1 year
$199.00
only $3.90 per issue
All prices are NET prices.
VAT will be added later in the checkout.
Tax calculation will be finalised during checkout.
Rent or Buy article
Get time limited or full article access on ReadCube.
from$8.99
All prices are NET prices.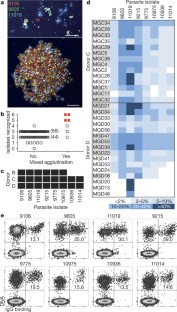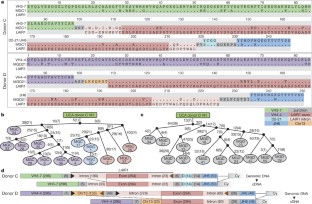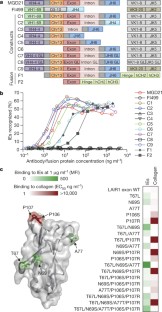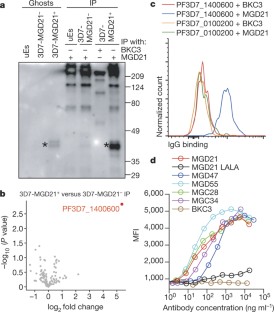 Accession codes
Primary accessions
NCBI Reference Sequence
Data deposits
The VH and VL sequences of the antibodies have been deposited in GenBank under accession numbers from KU058438 to KU058491 (Supplementary Table 1).
References
1

Chan, J.-A., Fowkes, F. J. I. & Beeson, J. G. Surface antigens of Plasmodium falciparum-infected erythrocytes as immune targets and malaria vaccine candidates. Cell. Mol. Life Sci. 71, 3633–3657 (2014)

2

Scherf, A., Lopez-Rubio, J. J. & Riviere, L. Antigenic variation in Plasmodium falciparum . Annu. Rev. Microbiol. 62, 445–470 (2008)

3

Goel, S. et al. RIFINs are adhesins implicated in severe Plasmodium falciparum malaria. Nature Med. 21, 314–317 (2015)

4

Bull, P. C. et al. Parasite antigens on the infected red cell surface are targets for naturally acquired immunity to malaria. Nature Med. 4, 358–360 (1998)

5

Traggiai, E. et al. An efficient method to make human monoclonal antibodies from memory B cells: potent neutralization of SARS coronavirus. Nature Med. 10, 871–875 (2004)

6

Meyaard, L. The inhibitory collagen receptor LAIR-1 (CD305). J. Leukoc. Biol. 83, 799–803 (2008)

7

Le Roch, K. G. et al. Discovery of gene function by expression profiling of the malaria parasite life cycle. Science 301, 1503–1508 (2003)

8

Florens, L. et al. A proteomic view of the Plasmodium falciparum life cycle. Nature 419, 520–526 (2002)

9

Messier, T. L., O'Neill, J. P., Hou, S.-M., Nicklas, J. A. & Finette, B. A. In vivo transposition mediated by V(D)J recombinase in human T lymphocytes. EMBO J. 22, 1381–1388 (2003)

10

Vaandrager, J. W., Schuuring, E., Philippo, K. & Kluin, P. M. V. V(D)J recombinase-mediated transposition of the BCL2 gene to the IGH locus in follicular lymphoma. Blood 96, 1947–1952 (2000)

11

Küppers, R., Klein, U., Hansmann, M. L. & Rajewsky, K. Cellular origin of human B-cell lymphomas. N. Engl. J. Med. 341, 1520–1529 (1999)

12

Teng, G. et al. RAG represents a widespread threat to the lymphocyte genome. Cell 162, 751–765 (2015)

13

Hu, J. et al. Chromosomal loop domains direct the recombination of antigen receptor genes. Cell 163, 947–959 (2015)

14

Onozawa, M. et al. Repair of DNA double-strand breaks by templated nucleotide sequence insertions derived from distant regions of the genome. Proc. Natl Acad. Sci. USA. 111, 7729–7734 (2014)

15

Reynaud, C.-A., Aoufouchi, S., Faili, A. & Weill, J.-C. What role for AID: mutator, or assembler of the immunoglobulin mutasome? Nature Immunol. 4, 631–638 (2003)

16

Robbiani, D. F. et al. Plasmodium infection promotes genomic instability and AID-dependent B cell lymphoma. Cell 162, 727–737 (2015)

17

Wilson, P. C. et al. Somatic hypermutation introduces insertions and deletions into immunoglobulin V genes. J. Exp. Med. 187, 59–70 (1998)

18

Kepler, T. B. et al. Immunoglobulin gene insertions and deletions in the affinity maturation of HIV-1 broadly reactive neutralizing antibodies. Cell Host Microbe 16, 304–313 (2014)

19

Brondijk, T. H. C. et al. Crystal structure and collagen-binding site of immune inhibitory receptor LAIR-1: unexpected implications for collagen binding by platelet receptor GPVI. Blood 115, 1364–1373 (2010)

20

Trager, W. & Jensen, J. B. Human malaria parasites in continuous culture. Science 193, 673–675 (1976)

21

Midega, J. T. et al. Wind direction and proximity to larval sites determines malaria risk in Kilifi District in Kenya. Nat. Commun. 3, 674 (2012)

22

Tiller, T. et al. Efficient generation of monoclonal antibodies from single human B cells by single cell RT-PCR and expression vector cloning. J. Immunol. Methods 329, 112–124 (2008)

23

Lefranc, M.-P. et al. IMGT, the international ImMunoGeneTics information system. Nucleic Acids Res. 37, D1006–D1012 (2009)

24

Larkin, M. A. et al. Clustal W and Clustal X version 2.0. Bioinformatics 23, 2947–2948 (2007)

25

Merelli, I. et al. RSSsite: a reference database and prediction tool for the identification of cryptic recombination signal sequences in human and murine genomes. Nucleic Acids Res. 38, W262–W267 (2010)

26

Kepler, T. B. Reconstructing a B-cell clonal lineage. I. Statistical inference of unobserved ancestors. F1000 Res. 2, 103 (2013)

27

Liao, H.-X. et al. Co-evolution of a broadly neutralizing HIV-1 antibody and founder virus. Nature 496, 469–476 (2013)

28

Pappas, L. et al. Rapid development of broadly influenza neutralizing antibodies through redundant mutations. Nature 516, 418–422 (2014)

29

Cox, J. & Mann, M. MaxQuant enables high peptide identification rates, individualized p.p.b.-range mass accuracies and proteome-wide protein quantification. Nature Biotechnol. 26, 1367–1372 (2008)

30

Schwanhäusser, B. et al. Global quantification of mammalian gene expression control. Nature 473, 337–342 (2011)
Acknowledgements
We thank M. Nussenzweig for providing reagents for antibody cloning and expression. This work was supported by the European Research Council (grant no. 250348 IMMUNExplore and 670955 BROADimmune), the Swiss National Science Foundation (grant no. 160279), the Swiss Vaccine Research Institute and the Wellcome Trust (grant no. 084535, 077092, 084538, 084113/Z/07/Z, 084378/Z/07/A, 092741 and 099811). A.L. is supported by the Helmut Horten Foundation. This paper is published with the permission of the Director of Kenya Medical Research Institute (KEMRI).
Ethics declarations
Competing interests
A.L. is the scientific founder and shareholder of Humabs BioMed. F.S. is a shareholder of Humabs BioMed. Si.B. and D.C. are employees of Humabs BioMed, a company that commercializes human monoclonal antibodies.
Extended data figures and tables
Supplementary information
This file contains Supplementary Figure 1 (Western blots for Figure 4a and Extended Data Figure 9d) and Supplementary Table 1 (accession numbers of heavy and light chain immunoglobulin sequences of donors C and D). (PDF 369 kb)
About this article
Cite this article
Tan, J., Pieper, K., Piccoli, L. et al. A LAIR1 insertion generates broadly reactive antibodies against malaria variant antigens. Nature 529, 105–109 (2016). https://doi.org/10.1038/nature16450
Received:

Accepted:

Published:

Issue Date:
Comments
By submitting a comment you agree to abide by our Terms and Community Guidelines. If you find something abusive or that does not comply with our terms or guidelines please flag it as inappropriate.