Abstract
Variant rs351855-G/A is a commonly occurring single-nucleotide polymorphism of coding regions in exon 9 of the fibroblast growth factor receptor FGFR4 (CD334) gene (c.1162G>A). It results in an amino-acid change at codon 388 from glycine to arginine (p.Gly388Arg) in the transmembrane domain of the receptor. Despite compelling genetic evidence for the association of this common variant with cancers of the bone1, breast2, colon3, prostate4,5, skin6, lung7,8, head and neck9, as well as soft-tissue sarcomas and non-Hodgkin lymphoma, the underlying biological mechanism has remained elusive. Here we show that substitution of the conserved glycine 388 residue to a charged arginine residue alters the transmembrane spanning segment and exposes a membrane-proximal cytoplasmic signal transducer and activator of transcription 3 (STAT3) binding site Y390-(P)XXQ393. We demonstrate that such membrane-proximal STAT3 binding motifs in the germline of type I membrane receptors enhance STAT3 tyrosine phosphorylation by recruiting STAT3 proteins to the inner cell membrane. Remarkably, such germline variants frequently co-localize with somatic mutations in the Catalogue of Somatic Mutations in Cancer (COSMIC) database. Using Fgfr4 single nucleotide polymorphism knock-in mice and transgenic mouse models for breast and lung cancers, we validate the enhanced STAT3 signalling induced by the FGFR4 Arg388-variant in vivo. Thus, our findings elucidate the molecular mechanism behind the genetic association of rs351855 with accelerated cancer progression and suggest that germline variants of cell-surface molecules that recruit STAT3 to the inner cell membrane are a significant risk for cancer prognosis and disease progression.
This is a preview of subscription content
Access options
Subscribe to Journal
Get full journal access for 1 year
$199.00
only $3.90 per issue
All prices are NET prices.
VAT will be added later in the checkout.
Tax calculation will be finalised during checkout.
Buy article
Get time limited or full article access on ReadCube.
$32.00
All prices are NET prices.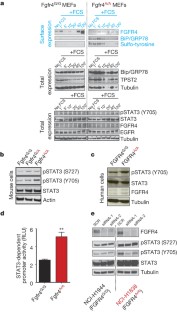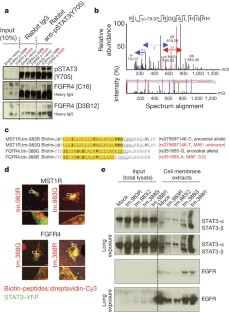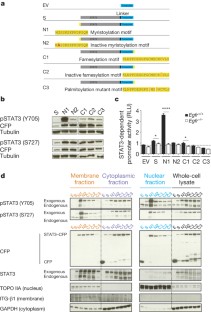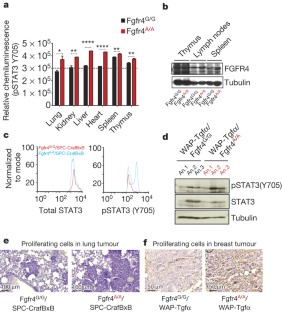 References
Morimoto, Y. et al. Single nucleotide polymorphism in fibroblast growth factor receptor 4 at codon 388 is associated with prognosis in high-grade soft tissue sarcoma. Cancer 98, 2245–2250 (2003)

Frullanti, E. et al. Meta and pooled analyses of FGFR4 Gly388Arg polymorphism as a cancer prognostic factor. Eur. J. Cancer Prevention 20, 340–347 (2011)

Heinzle, C. et al. Differential effects of polymorphic alleles of FGF receptor 4 on colon cancer growth and metastasis. Cancer Res. 72, 5767–5777 (2012)

Xu, W. et al. FGFR4 transmembrane domain polymorphism and cancer risk: a meta-analysis including 8555 subjects. Eur. J. Cancer 46, 3332–3338 (2010)

Xu, B. et al. FGFR4 Gly388Arg polymorphism contributes to prostate cancer development and progression: a meta-analysis of 2618 cases and 2305 controls. BMC Cancer 11, 84 (2011)

Streit, S., Mestel, D. S., Schmidt, M., Ullrich, A. & Berking, C. FGFR4 Arg388 allele correlates with tumour thickness and FGFR4 protein expression with survival of melanoma patients. Br. J. Cancer 94, 1879–1886 (2006)

Spinola, M. et al. Functional FGFR4 Gly388Arg polymorphism predicts prognosis in lung adenocarcinoma patients. J. Clin. Oncol. 23, 7307–7311 (2005)

Falvella, F. S. et al. FGFR4 Gly388Arg polymorphism may affect the clinical stage of patients with lung cancer by modulating the transcriptional profile of normal lung. Int. J. Cancer 124, 2880–2885, (2009)

Streit, S. et al. Involvement of the FGFR4 Arg388 allele in head and neck squamous cell carcinoma. Int. J. Cancer 111, 213–217 (2004)

Bange, J. et al. Cancer progression and tumor cell motility are associated with the FGFR4 Arg(388) allele. Cancer Res. 62, 840–847 (2002)

Abecasis, G. R. et al.; 1000 Genomes Project Consortium. An integrated map of genetic variation from 1,092 human genomes. Nature 491, 56–65 (2012)

Sharpe, H. J., Stevens, T. J. & Munro, S. A comprehensive comparison of transmembrane domains reveals organelle-specific properties. Cell 142, 158–169 (2010)

Buss, J. E., Der, C. J. & Solski, P. A. The six amino-terminal amino acids of p60src are sufficient to cause myristylation of p21v-ras. Mol. Cell. Biol. 8, 3960–3963 (1988)

Shao, H. et al. Structural requirements for signal transducer and activator of transcription 3 binding to phosphotyrosine ligands containing the YXXQ motif. J. Biol. Chem. 279, 18967–18973 (2004)

Cunningham, F. et al. Ensembl 2015. Nucleic Acids Res . 43, D662–D669 (2015)

Hancock, J. F., Cadwallader, K., Paterson, H. & Marshall, C. J. A CAAX or a CAAL motif and a second signal are sufficient for plasma membrane targeting of ras proteins. EMBO J. 10, 4033–4039 (1991)

Rotin, D. et al. SH2 domains prevent tyrosine dephosphorylation of the EGF receptor: identification of Tyr992 as the high-affinity binding site for SH2 domains of phospholipase C gamma. EMBO J. 11, 559–567 (1992)

Sandgren, E. P., et al. Inhibition of mammary gland involution is associated with transforming growth factor α but not c-myc-induced tumorigenesis in transgenic mice. Cancer Res . 55, 3915–3927 (1995)

Parker, R. A. & Bermann, N. G. Sample size: more than calculations. Am. Stat. 57, 166–170 (2003)

Vizcaíno, J. A., et al. ProteomeXchange provides globally coordinated proteomics data submission and dissemination. Nature Biotechnol. 32, 223–226 (2014)
Acknowledgements
We thank the NHLBI GO Exome Sequencing Project and its ongoing studies, which produced and provided exome variant calls for comparison: the Lung GO Sequencing Project (HL-102923), the WHI Sequencing Project (HL-102924), the Broad GO Sequencing Project (HL-102925), the Seattle GO Sequencing Project (HL-102926) and the Heart GO Sequencing Project (HL-103010). We also thank N. Nagaraj for the help with quantitative proteomics and T. W. J. Gadella for providing us pmTurquoise2-N1 and C1 plasmids. We acknowledge T. Mayr for helping us by providing Fgfr4 knock-in mice for preliminary experiments, and R. Hornberger for technical assistance. We thank M. Sibilia for providing the Egfr knockout and wild-type counterpart MEFs. R. Abraham provided FGFR4 extracellular domain-specific anti-human mAb, clone 4FA6#11. We also acknowledge H. Brandstetter, S. Uebel and M. Spitaler for their assistance and services.
Ethics declarations
Competing interests
The authors declare no competing financial interests.
Extended data figures and tables
Supplementary information
About this article
Cite this article
Ulaganathan, V., Sperl, B., Rapp, U. et al. Germline variant FGFR4 p.G388R exposes a membrane-proximal STAT3 binding site. Nature 528, 570–574 (2015). https://doi.org/10.1038/nature16449
Received:

Accepted:

Published:

Issue Date:

DOI: https://doi.org/10.1038/nature16449
Comments
By submitting a comment you agree to abide by our Terms and Community Guidelines. If you find something abusive or that does not comply with our terms or guidelines please flag it as inappropriate.