Abstract
During ageing, muscle stem-cell regenerative function declines. At advanced geriatric age, this decline is maximal owing to transition from a normal quiescence into an irreversible senescence state. How satellite cells maintain quiescence and avoid senescence until advanced age remains unknown. Here we report that basal autophagy is essential to maintain the stem-cell quiescent state in mice. Failure of autophagy in physiologically aged satellite cells or genetic impairment of autophagy in young cells causes entry into senescence by loss of proteostasis, increased mitochondrial dysfunction and oxidative stress, resulting in a decline in the function and number of satellite cells. Re-establishment of autophagy reverses senescence and restores regenerative functions in geriatric satellite cells. As autophagy also declines in human geriatric satellite cells, our findings reveal autophagy to be a decisive stem-cell-fate regulator, with implications for fostering muscle regeneration in sarcopenia.
Relevant articles
Open Access articles citing this article.
Ge Zhang

,

Yuli Wang

…

Meijin Guo

Stem Cell Research & Therapy Open Access 13 August 2022

Mafalda Loreti

&

Alessandra Sacco

npj Regenerative Medicine Open Access 17 February 2022

Linfei Hu

,

Jun Zhang

…

Ming Gao

Cell Death & Disease Open Access 08 February 2022
Access options
Subscribe to Journal
Get full journal access for 1 year
$199.00
only $3.90 per issue
All prices are NET prices.
VAT will be added later in the checkout.
Tax calculation will be finalised during checkout.
Buy article
Get time limited or full article access on ReadCube.
$32.00
All prices are NET prices.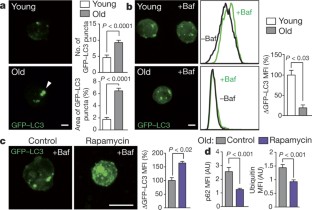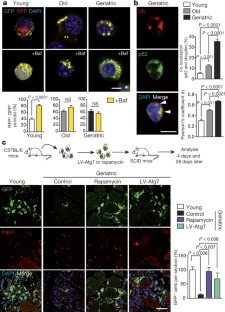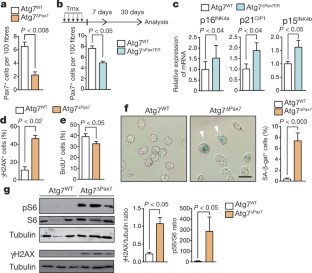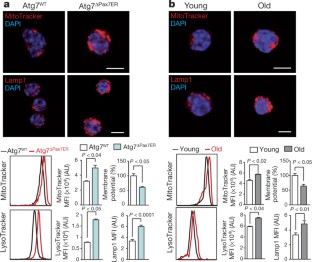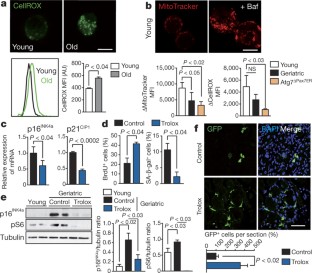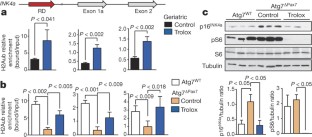 References
Cheung, T. H. & Rando, T. A. Molecular regulation of stem cell quiescence. Nature Rev. Mol. Cell Biol. 14, 329–340 (2013)

Comai, G. & Tajbakhsh, S. Molecular and cellular regulation of skeletal myogenesis. Curr. Top. Dev. Biol. 110, 1–73 (2014)

Yin, H., Price, F. & Rudnicki, M. A. Satellite cells and the muscle stem cell niche. Physiol. Rev. 93, 23–67 (2013)

Montarras, D., L'Honore, A. & Buckingham, M. Lying low but ready for action: the quiescent muscle satellite cell. FEBS J. 280, 4036–4050 (2013)

Grounds, M. D. Therapies for sarcopenia and regeneration of old skeletal muscles: more a case of old tissue architecture than old stem cells. Bioarchitecture . 4, 81–87 (2014)

García-Prat, L., Sousa-Victor, P. & Muñoz-Cánoves, P. Functional dysregulation of stem cells during aging: a focus on skeletal muscle stem cells. FEBS J. 280, 4051–4062 (2013)

Chakkalakal, J. V., Jones, K. M., Basson, M. A. & Brack, A. S. The aged niche disrupts muscle stem cell quiescence. Nature 490, 355–360 (2012)

Sousa-Victor, P. et al. Geriatric muscle stem cells switch reversible quiescence into senescence. Nature 506, 316–321 (2014)

Sousa-Victor, P., Garcia-Prat, L., Serrano, A. L., Perdiguero, E. & Muñoz-Cánoves, P. Muscle stem cell aging: regulation and rejuvenation. Trends Endocrinol. Metab. 26, 287–296 (2015)

Cosgrove, B. D. et al. Rejuvenation of the muscle stem cell population restores strength to injured aged muscles. Nature Med. 20, 255–264 (2014)

Bernet, J. D. et al. p38 MAPK signaling underlies a cell-autonomous loss of stem cell self-renewal in skeletal muscle of aged mice. Nature Med. 20, 265–271 (2014)

Price, F. D. et al. Inhibition of JAK–STAT signaling stimulates adult satellite cell function. Nature Med. 20, 1174–1181 (2014)

Tierney, M. T. et al. STAT3 signaling controls satellite cell expansion and skeletal muscle repair. Nature Med. 20, 1182–1186 (2014)

Cuervo, A. M. et al. Autophagy and aging: the importance of maintaining "clean" cells. Autophagy 1, 131–140 (2005)

He, C. & Klionsky, D. J. Regulation mechanisms and signaling pathways of autophagy. Annu. Rev. Genet. 43, 67–93 (2009)

Fukada, S. et al. Molecular signature of quiescent satellite cells in adult skeletal muscle. Stem Cells 25, 2448–2459 (2007)

Liu, L. et al. Chromatin modifications as determinants of muscle stem cell quiescence and chronological aging. Cell Rep . 4, 189–204 (2013)

Pallafacchina, G. et al. An adult tissue-specific stem cell in its niche: a gene profiling analysis of in vivo quiescent and activated muscle satellite cells. Stem Cell Res . 4, 77–91 (2010)

Carnio, S. et al. Autophagy impairment in muscle induces neuromuscular junction degeneration and precocious aging. Cell Rep . 8, 1509–1521 (2014)

Rubinsztein, D. C., Marino, G. & Kroemer, G. Autophagy and aging. Cell 146, 682–695 (2011)

Mizushima, N., Yamamoto, A., Matsui, M., Yoshimori, T. & Ohsumi, Y. In vivo analysis of autophagy in response to nutrient starvation using transgenic mice expressing a fluorescent autophagosome marker. Mol. Biol. Cell 15, 1101–1111 (2004)

Klionsky, D. J. et al. Guidelines for the use and interpretation of assays for monitoring autophagy in higher eukaryotes. Autophagy 4, 151–175 (2008)

Zhu, J., Dagda, R. K. & Chu, C. T. Monitoring mitophagy in neuronal cell cultures. Methods Mol. Biol. 793, 325–339 (2011)

Mammucari, C. et al. FoxO3 controls autophagy in skeletal muscle in vivo . Cell Metab. 6, 458–471 (2007)

Morselli, E. et al. Spermidine and resveratrol induce autophagy by distinct pathways converging on the acetylproteome. J. Cell Biol. 192, 615–629 (2011)

van Deursen, J. M. The role of senescent cells in ageing. Nature 509, 439–446 (2014)

Kimura, S., Noda, T. & Yoshimori, T. Dissection of the autophagosome maturation process by a novel reporter protein, tandem fluorescent-tagged LC3. Autophagy 3, 452–460 (2007)

Muñoz-Espín, D. & Serrano, M. Cellular senescence: from physiology to pathology. Nature Rev. Mol. Cell Biol. 15, 482–496 (2014)

Blagosklonny, M. V. Selective anti-cancer agents as anti-aging drugs. Cancer Biol. Ther. 14, 1092–1097 (2013)

Young, A. R. et al. Autophagy mediates the mitotic senescence transition. Genes Dev. 23, 798–803 (2009)

Narita, M. et al. Spatial coupling of mTOR and autophagy augments secretory phenotypes. Science 332, 966–970 (2011)

Pérez-Mancera, P. A., Young, A. R. & Narita, M. Inside and out: the activities of senescence in cancer. Nature Rev. Cancer 14, 547–558 (2014)

Capparelli, C. et al. Autophagy and senescence in cancer-associated fibroblasts metabolically supports tumor growth and metastasis via glycolysis and ketone production. Cell Cycle 11, 2285–2302 (2012)

Flach, J. et al. Replication stress is a potent driver of functional decline in ageing haematopoietic stem cells. Nature 512, 198–202 (2014)

Kodama, R. et al. ROS-generating oxidases Nox1 and Nox4 contribute to oncogenic Ras-induced premature senescence. Genes Cells 18, 32–41 (2013)

Ramsey, M. R. & Sharpless, N. E. ROS as a tumour suppressor? Nature Cell Biol. 8, 1213–1215 (2006)

Ito, K. et al. Reactive oxygen species act through p38 MAPK to limit the lifespan of hematopoietic stem cells. Nature Med. 12, 446–451 (2006)

Lee, A. C. et al. Ras proteins induce senescence by altering the intracellular levels of reactive oxygen species. J. Biol. Chem. 274, 7936–7940 (1999)

Mandal, P. K., Blanpain, C. & Rossi, D. J. DNA damage response in adult stem cells: pathways and consequences. Nature Rev. Mol. Cell Biol. 12, 198–202 (2011)

Shao, L. et al. Reactive oxygen species and hematopoietic stem cell senescence. Int. J. Hematol. 94, 24–32 (2011)

Lerner, C. et al. Reduced mammalian target of rapamycin activity facilitates mitochondrial retrograde signaling and increases life span in normal human fibroblasts. Aging Cell 12, 966–977 (2013)

López-Otín, C., Blasco, M. A., Partridge, L., Serrano, M. & Kroemer, G. The hallmarks of aging. Cell 153, 1194–1217 (2013)

Warr, M. R. et al. FOXO3A directs a protective autophagy program in haematopoietic stem cells. Nature 494, 323–327 (2013)

Tang, A. H. & Rando, T. A. Induction of autophagy supports the bioenergetic demands of quiescent muscle stem cell activation. EMBO J. 33, 2782–2797 (2014)

Lee, J. H. et al . Sestrin as a feedback inhibitor of TOR that prevents age-related pathologies. Science 327, 1223–1228 (2010)

Masiero, E. et al. Autophagy is required to maintain muscle mass. Cell Metab. 10, 507–515 (2009)

Suelves, M. et al. uPA deficiency exacerbates muscular dystrophy in MDX mice. J. Cell Biol. 178, 1039–1051 (2007)

Breitkreutz, B. J., Jorgensen, P., Breitkreutz, A. & Tyers, M. AFM 4.0: a toolbox for DNA microarray analysis. Genome Biol. 2, http://dx.doi.org/10.1186/gb-2001-2-8-software0001 (2001)

Hulsen, T., de Vlieg, J. & Alkema, W. BioVenn—a web application for the comparison and visualization of biological lists using area-proportional Venn diagrams. BMC Genomics 9, 488 (2008)

Sacco, A. et al. Short telomeres and stem cell exhaustion model Duchenne muscular dystrophy in mdx/mTR mice. Cell 143, 1059–1071 (2010)

Crews, L. et al. Selective molecular alterations in the autophagy pathway in patients with Lewy body disease and in models of α-synucleinopathy. PLoS ONE 5, e9313 (2010)

Perdiguero, E. et al. Genetic analysis of p38 MAP kinases in myogenesis: fundamental role of p38α in abrogating myoblast proliferation. EMBO J. 26, 1245–1256 (2007)

Kamentsky, L. et al. Improved structure, function and compatibility for CellProfiler: modular high-throughput image analysis software. Bioinformatics 27, 1179–1180 (2011)

Bolte, S. & Cordelieres, F. P. A guided tour into subcellular colocalization analysis in light microscopy. J. Microsc. 224, 213–232 (2006)
Acknowledgements
We are indebted to G. Mariño for the gift of GFP–LC3 transgenic mice, C. Keller and M. Capecchi for Pax–Cre mouse lines, J. Ruberte for TEM studies help, E. Masliah and K. Kosberg for Atg7 lentivirus; M. Raya, M. Jardí, and V. Lukesova for their technical contributions, and especially J. Guerra for help in microarray experiments and P. Sousa-Victor for initial findings; J. Martín-Caballero (PRBB Animal Facility) and O. Fornas (UPF/CRG FACS Facility) for technical help, and the KS Society. The authors acknowledge funding from MINECO, Spain (SAF2012-38547, SAF2015-67369-R, PLE2009-0124; SAF2009-08374; "María de Maeztu" Programme for Units of Excellence in R&D MDM-2014-0370), AFM, E-Rare/ERANET, Fundació Marató TV3, MDA, EU-FP7 (Myoage, Optistem and Endostem) and DuchennePP-NL. M.M.-V. acknowledges funding from ISCIII, Spain (FIS-PS09/01267, FIS-PI13/02512, CP09/00184, PI14/01529) and CIBERNED; and MS from the European Union ERC (282310-MyoPHAGY) and Foundation Leducq. L.G.-P. was supported by a Predoctoral Fellowship from Programa de Formación de Personal Investigador (Spain).
Ethics declarations
Competing interests
The authors declare no competing financial interests.
Extended data figures and tables
Supplementary information
About this article
Cite this article
García-Prat, L., Martínez-Vicente, M., Perdiguero, E. et al. Autophagy maintains stemness by preventing senescence. Nature 529, 37–42 (2016). https://doi.org/10.1038/nature16187
Received:

Accepted:

Published:

Issue Date:

DOI: https://doi.org/10.1038/nature16187
Comments
By submitting a comment you agree to abide by our Terms and Community Guidelines. If you find something abusive or that does not comply with our terms or guidelines please flag it as inappropriate.