Abstract
Terrestrial volcanic eruptions are the consequence of magmas ascending to the surface of the Earth. This ascent is driven by buoyancy forces, which are enhanced by bubble nucleation and growth (vesiculation) that reduce the density of magma1. The development of vesicularity also greatly reduces the 'strength' of magma2, a material parameter controlling fragmentation and thus the explosive potential of the liquid rock3. The development of vesicularity in magmas has until now been viewed (both thermodynamically and kinetically) in terms of the pressure dependence of the solubility of water in the magma, and its role in driving gas saturation, exsolution and expansion during decompression. In contrast, the possible effects of the well documented negative temperature dependence of solubility of water in magma has largely been ignored. Recently, petrological constraints have demonstrated that considerable heating of magma may indeed be a common result of the latent heat of crystallization4 as well as viscous5,6 and frictional7 heating in areas of strain localization. Here we present field and experimental observations of magma vesiculation and fragmentation resulting from heating (rather than decompression). Textural analysis of volcanic ash from Santiaguito volcano in Guatemala reveals the presence of chemically heterogeneous filaments hosting micrometre-scale vesicles. The textures mirror those developed by disequilibrium melting induced via rapid heating during fault friction experiments, demonstrating that friction can generate sufficient heat to induce melting and vesiculation of hydrated silicic magma. Consideration of the experimentally determined temperature and pressure dependence of water solubility in magma reveals that, for many ascent paths, exsolution may be more efficiently achieved by heating than by decompression. We conclude that the thermal path experienced by magma during ascent strongly controls degassing, vesiculation, magma strength and the effusive–explosive transition in volcanic eruptions.
Relevant articles
Open Access articles citing this article.
Silvia Massaro

,

Antonio Costa

…

Anatoly Soloviev

Earth, Planets and Space Open Access 09 July 2022

Mathieu Colombier

,

Thomas Shea

…

Donald B. Dingwell

Bulletin of Volcanology Open Access 20 November 2020

M. Colombier

,

F. B. Wadsworth

…

D. B. Dingwell

Bulletin of Volcanology Open Access 04 March 2020
Access options
Subscribe to this journal
Receive 51 print issues and online access
$199.00 per year
only $3.90 per issue
Rent or buy this article
Get just this article for as long as you need it
$39.95
Prices may be subject to local taxes which are calculated during checkout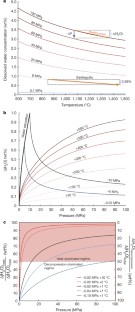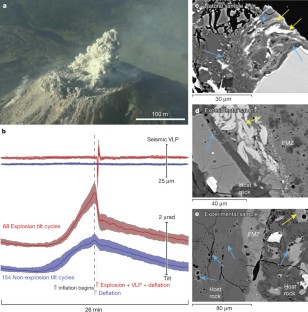 References
Sahagian, D. Magma fragmentation in eruptions. Nature 402, 589 (1999)

Vasseur, J., Wadsworth, F. B., Lavallée, Y., Hess, K.-U. & Dingwell, D. B. Volcanic sintering: timescales of viscous densification and strength recovery. Geophys. Res. Lett. 40, 5658–5664 (2013)

Dingwell, D. B. Volcanic dilemma: flow or blow? Science 273, 1054–1055 (1996)

Blundy, J., Cashman, K. & Humphreys, M. Magma heating by decompression-driven crystallization beneath andesite volcanoes. Nature 443, 76–80 (2006)

Rosi, M., Landi, P., Polacci, M., Di Muro, A. & Zandomeneghi, D. Role of conduit shear on ascent of the crystal-rich magma feeding the 800-year-BP Plinian eruption of Quilotoa Volcano (Ecuador). Bull. Volcanol. 66, 307–321 (2004)

Wright, H. M. N. & Weinberg, R. F. Strain localization in vesicular magma: implications for rheology and fragmentation. Geology 37, 1023–1026 (2009)

Kendrick, J. E. et al. Extreme frictional processes in the volcanic conduit of Mount St. Helens (USA) during the 2004–2008 eruption. J. Struct. Geol. 38, 61–76 (2012)

Martel, C. & Schmidt, B. C. Decompression experiments as an insight into ascent rates of silicic magmas. Contrib. Mineral. Petrol. 144, 397–415 (2003)

Proussevitch, A. A. & Sahagian, D. L. Dynamics and energetics of bubble growth in magmas: Analytical formulation and numerical modeling. J. Geophys. Res. Solid Earth 103, 18223–18251 (1998)

Ghiorso, M. S. & Sack, R. O. Chemical mass-transfer in magmatic processes. 4. A revised and internally consistent thermodynamic model for the interpolation and extrapolation of liquid-solid equilibria in magmatic systems at elevated temperatures and pressures. Contrib. Mineral. Petrol. 119, 197–212 (1995)

Hess, K. U., Cordonnier, B., Lavallée, Y. & Dingwell, D. B. Viscous heating in rhyolite: an in situ determination. Earth Planet. Sci. Lett. 275, 121–126 (2008)

Mastin, L. G. The controlling effect of viscous dissipation on magma flow in silicic conduits. J. Volcanol. Geotherm. Res. 143, 17–28 (2005)

Kendrick, J. E. et al. Seismogenic frictional melting in the magmatic column. Solid Earth 5, 199–208 (2014)

Kendrick, J. E. et al. Volcanic drumbeat seismicity caused by stick-slip motion and magmatic frictional melting. Nature Geosci . 7, 438–442 (2014)

Lavallée, Y., Hess, K.-U., Cordonnier, B. & Dingwell, D. B. Non-Newtonian rheological law for highly crystalline dome lavas. Geology 35, 843–846 (2007)

Gonnermann, H. M. & Manga, M. Explosive volcanism may not be an inevitable consequence of magma fragmentation. Nature 426, 432–435 (2003)

Papale, P. Strain-induced magma fragmentation in explosive eruptions. Nature 397, 425–428 (1999)

Tuffen, H., Dingwell, D. B. & Pinkerton, H. Repeated fracture and healing of silicic magma generate flow banding and earthquakes? Geology 31, 1089–1092 (2003)

Noguchi, S., Toramaru, A. & Nakada, S. Groundmass crystallization in dacite dykes taken in Unzen scientific drilling project (USDP-4). J. Volcanol. Geotherm. Res. 175, 71–81 (2008)

Stasiuk, M. V. et al. Degassing during magma ascent in the Mule Creek vent (USA). Bull. Volcanol. 58, 117–130 (1996)

Johnson, J. B., Lees, J. M., Gerst, A., Sahagian, D. & Varley, N. Long-period earthquakes and co-eruptive dome inflation seen with particle image velocimetry. Nature 456, 377–381 (2008)

Holtz, F., Behrens, H., Dingwell, D. B. & Johannes, W. H2O solubility in haplogranitic melts—compositional, pressure and temperature-dependence. Am. Mineral. 80, 94–108 (1995)

Ryan, A. G., Russell, J. K., Nichols, A. R. L., Hess, K.-U. & Porritt, L. A. Experiments and models on H2O retrograde solubility in volcanic systems. Am. Mineral. 100, 774–786 (2015)

Liu, Y., Zhang, Y. X. & Behrens, H. Solubility of H2O in rhyolitic melts at low pressures and a new empirical model for mixed H2O–CO2 solubility in rhyolitic melts. J. Volcanol. Geotherm. Res. 143, 219–235 (2005)

Holland, A. S. P., Watson, I. M., Phillips, J. C., Caricchi, L. & Dalton, M. P. Degassing processes during lava dome growth: insights from Santiaguito lava dome, Guatemala. J. Volcanol. Geotherm. Res. 202, 153–166 (2011)

Scharff, L., Hort, M. & Gerst, A. The dynamics of the dome at Santiaguito volcano, Guatemala. Geophys. J. Int. 197, 1–17 (2014)

Johnson, J. B., Lyons, J. J., Andrews, B. J. & Lees, J. M. Explosive dome eruptions modulated by periodic gas-driven inflation. Geophys. Res. Lett. 41, 6689–6697 (2014)

Hornby, A. J. et al. Spine growth and seismogenic faulting at Mt. Unzen, Japan. J. Geophys. Res. Solid Earth 120, 4034–4054 (2015)

Lin, A. M. & Shimamoto, T. Selective melting processes as inferred from experimentally generated pseudotachylytes. J. Asian Earth Sci. 16, 533–545 (1998)

Spray, J. G. in Annual Review of Earth and Planetary Sciences Vol. 38 (ed. Jeanloz, R. F. K. H. ) 221–254 (2010)

Carslaw, H. S. & Jaeger, J. C. Conduction of Heat in Solids 2nd edn (Oxford Univ. Press, 1959)

Harris, A. J. L. & Flynn, L. P. The thermal stealth flows of Santiaguito dome, Guatemala: implications for the cooling and emplacement of dacitic block-lava flows. Geol. Soc. Am. Bull. 114, 533–546 (2002)

Zhang, Y. X. A criterion for the fragmentation of bubbly magma based on brittle failure theory. Nature 402, 648–650 (1999)

Petruk, W. Applied Mineralogy in the Mining Industry 1st edn, 268 (Elsevier, 1990)

Hirose, T. & Shimamoto, T. Growth of molten zone as a mechanism of slip weakening of simulated faults in gabbro during frictional melting. J. Geophys. Res. Solid Earth 110, http://dx.doi.org/10.1029/2004JB003207 (2005)
Acknowledgements
We thank A. Pineda, the staff at the National Institute for Seismology, Vulcanology, Meteorology and Hydrology of Guatemala (INSIVUMEH) and the Policia Nacional Civil de Guatemala for support with the field campaign. This work was supported by a European Research Council Starting Grant to Y.L. on 'Strain Localisation in Magmas' (SLiM, grant number 306488) and an Advanced Grant to D.B.D. on 'Explosive volcanism in the Earth system' (EVOKES, grant number 247076). J.B.J acknowledges the National Science Foundation EAR-grant number 1151662. This work was partially funded by the European Union's seventh programme for research, technological development, and demonstration under grant agreement 282759 (VUELCO), and by an AXA grant 'Risk from Volcanic Ash in the Earth System'. We are grateful to K. Genereau and L. Mastin for constructive reviews.
Ethics declarations
Competing interests
The authors declare no competing financial interests.
Extended data figures and tables
About this article
Cite this article
Lavallée, Y., Dingwell, D., Johnson, J. et al. Thermal vesiculation during volcanic eruptions. Nature 528, 544–547 (2015). https://doi.org/10.1038/nature16153
Received:

Accepted:

Published:

Issue Date:

DOI: https://doi.org/10.1038/nature16153
Comments
By submitting a comment you agree to abide by our Terms and Community Guidelines. If you find something abusive or that does not comply with our terms or guidelines please flag it as inappropriate.