Abstract
Astrocytic brain tumours, including glioblastomas, are incurable neoplasms characterized by diffusely infiltrative growth. Here we show that many tumour cells in astrocytomas extend ultra-long membrane protrusions, and use these distinct tumour microtubes as routes for brain invasion, proliferation, and to interconnect over long distances. The resulting network allows multicellular communication through microtube-associated gap junctions. When damage to the network occurred, tumour microtubes were used for repair. Moreover, the microtube-connected astrocytoma cells, but not those remaining unconnected throughout tumour progression, were protected from cell death inflicted by radiotherapy. The neuronal growth-associated protein 43 was important for microtube formation and function, and drove microtube-dependent tumour cell invasion, proliferation, interconnection, and radioresistance. Oligodendroglial brain tumours were deficient in this mechanism. In summary, astrocytomas can develop functional multicellular network structures. Disconnection of astrocytoma cells by targeting their tumour microtubes emerges as a new principle to reduce the treatment resistance of this disease.
Relevant articles
Open Access articles citing this article.
Florent Peglion

,

Lavinia Capuana

…

Sandrine Etienne-Manneville

Nature Communications Open Access 11 August 2022

Zonghan Liu

,

Yi Sun

…

Shuzhe Ding

Cell & Bioscience Open Access 19 May 2022

Antonio Merolli

,

Leila Kasaei

…

Leonard C. Feldman

Scientific Reports Open Access 08 March 2022
Access options
Subscribe to Journal
Get full journal access for 1 year
$199.00
only $3.90 per issue
All prices are NET prices.
VAT will be added later in the checkout.
Tax calculation will be finalised during checkout.
Buy article
Get time limited or full article access on ReadCube.
$32.00
All prices are NET prices.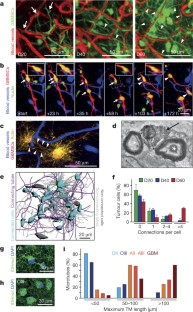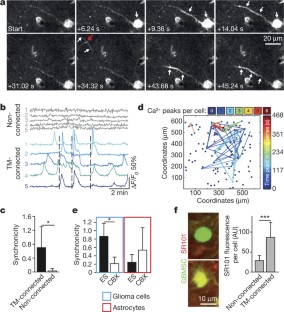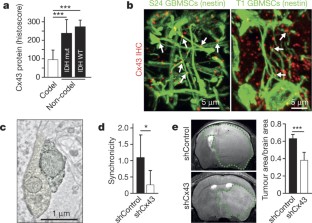 References
Cuddapah, V. A., Robel, S., Watkins, S. & Sontheimer, H. A neurocentric perspective on glioma invasion. Nature Rev. Neurosci. 15, 455–465 (2014)

The Cancer Genome Atlas Research Network. Comprehensive, integrative genomic analysis of diffuse lower-grade gliomas. N. Engl. J. Med. 372, 2481–2498 (2015)

Eckel-Passow, J. E. et al. Glioma groups based on 1p/19q, IDH, and TERT promoter mutations in tumors. N. Engl. J. Med. 372, 2499–2508 (2015)

Wiestler, B. et al. Integrated DNA methylation and copy-number profiling identify three clinically and biologically relevant groups of anaplastic glioma. Acta Neuropathol. 128, 561–571 (2014)

van den Bent, M. J. et al. Adjuvant procarbazine, lomustine, and vincristine chemotherapy in newly diagnosed anaplastic oligodendroglioma: long-term follow-up of EORTC brain tumor group study 26951. J. Clin. Oncol. 31, 344–350 (2013)

Cairncross, G. et al. Phase III trial of chemoradiotherapy for anaplastic oligodendroglioma: long-term results of RTOG 9402. J. Clin. Oncol. 31, 337–343 (2013)

Ramírez-Weber, F. A. & Kornberg, T. B. Cytonemes: cellular processes that project to the principal signaling center in Drosophila imaginal discs. Cell 97, 599–607 (1999)

Rustom, A., Saffrich, R., Markovic, I., Walther, P. & Gerdes, H. H. Nanotubular highways for intercellular organelle transport. Science 303, 1007–1010 (2004)

Lou, E. et al. Tunneling nanotubes provide a unique conduit for intercellular transfer of cellular contents in human malignant pleural mesothelioma. PLoS One 7, e33093 (2012)

Sowinski, S. et al. Membrane nanotubes physically connect T cells over long distances presenting a novel route for HIV-1 transmission. Nature Cell Biol. 10, 211–219 (2008)

Inaba, M., Buszczak, M. & Yamashita, Y. M. Nanotubes mediate niche-stem-cell signalling in the Drosophila testis. Nature 523, 329–332 (2015)

Hsiung, F., Ramirez-Weber, F. A., Iwaki, D. D. & Kornberg, T. B. Dependence of Drosophila wing imaginal disc cytonemes on Decapentaplegic. Nature 437, 560–563 (2005)

Smith, I. F., Shuai, J. & Parker, I. Active generation and propagation of Ca2+ signals within tunneling membrane nanotubes. Biophys. J. 100, L37–L39 (2011)

Wang, X., Veruki, M. L., Bukoreshtliev, N. V., Hartveit, E. & Gerdes, H. H. Animal cells connected by nanotubes can be electrically coupled through interposed gap-junction channels. Proc. Natl Acad. Sci. USA 107, 17194–17199 (2010)

Sherer, N. M. Long-distance relationships: do membrane nanotubes regulate cell-cell communication and disease progression? Mol. Biol. Cell 24, 1095–1098 (2013)

Kienast, Y. et al. Real-time imaging reveals the single steps of brain metastasis formation. Nature Med. 16, 116–122 (2010)

Lee, J. et al. Tumor stem cells derived from glioblastomas cultured in bFGF and EGF more closely mirror the phenotype and genotype of primary tumors than do serum-cultured cell lines. Cancer Cell 9, 391–403 (2006)

Lowery, L. A. & Van Vactor, D. The trip of the tip: understanding the growth cone machinery. Nature Rev. Mol. Cell Biol. 10, 332–343 (2009)

Friedl, P. & Alexander, S. Cancer invasion and the microenvironment: plasticity and reciprocity. Cell 147, 992–1009 (2011)

Scherer, H. J. The forms of growth in gliomas and their practical significance. Brain 63, 1–35 (1940)

Zhu, Z. et al. Targeting self-renewal in high-grade brain tumors leads to loss of brain tumor stem cells and prolonged survival. Cell Stem Cell 15, 185–198 (2014)

Calabrese, C. et al. A perivascular niche for brain tumor stem cells. Cancer Cell 11, 69–82 (2007)

Capper, D., Zentgraf, H., Balss, J., Hartmann, C. & von Deimling, A. Monoclonal antibody specific for IDH1 R132H mutation. Acta Neuropathol. 118, 599–601 (2009)

Kuchibhotla, K. V., Lattarulo, C. R., Hyman, B. T. & Bacskai, B. J. Synchronous hyperactivity and intercellular calcium waves in astrocytes in Alzheimer mice. Science 323, 1211–1215 (2009)

Cornell-Bell, A. H., Finkbeiner, S. M., Cooper, M. S. & Smith, S. J. Glutamate induces calcium waves in cultured astrocytes: long-range glial signaling. Science 247, 470–473 (1990)

Leybaert, L. & Sanderson, M. J. Intercellular Ca2+ waves: mechanisms and function. Physiol. Rev. 92, 1359–1392 (2012)

Weissman, T. A., Riquelme, P. A., Ivic, L., Flint, A. C. & Kriegstein, A. R. Calcium waves propagate through radial glial cells and modulate proliferation in the developing neocortex. Neuron 43, 647–661 (2004)

Nimmerjahn, A., Kirchhoff, F., Kerr, J. N. & Helmchen, F. Sulforhodamine 101 as a specific marker of astroglia in the neocortex in vivo. Nature Methods 1, 31–37 (2004)

Tomaselli, K. J., Neugebauer, K. M., Bixby, J. L., Lilien, J. & Reichardt, L. F. N-cadherin and integrins: two receptor systems that mediate neuronal process outgrowth on astrocyte surfaces. Neuron 1, 33–43 (1988)

Stephens, R. M. et al. Trk receptors use redundant signal transduction pathways involving SHC and PLC-γ1 to mediate NGF responses. Neuron 12, 691–705 (1994)

Kozma, R., Sarner, S., Ahmed, S. & Lim, L. Rho family GTPases and neuronal growth cone remodelling: relationship between increased complexity induced by Cdc42Hs, Rac1, and acetylcholine and collapse induced by RhoA and lysophosphatidic acid. Mol. Cell. Biol. 17, 1201–1211 (1997)

Fang, P., Schachner, M. & Shen, Y. Q. HMGB1 in development and diseases of the central nervous system. Mol. Neurobiol. 45, 499–506 (2012)

Wang, Y. et al. Trk A, B, and C are commonly expressed in human astrocytes and astrocytic gliomas but not by human oligodendrocytes and oligodendroglioma. Acta Neuropathol. 96, 357–364 (1998)

Goslin, K., Schreyer, D. J. & Skene, J. H. & Banker, G. Development of neuronal polarity: GAP-43 distinguishes axonal from dendritic growth cones. Nature 336, 672–674 (1988)

Skene, J. H. et al. A protein induced during nerve growth (GAP-43) is a major component of growth-cone membranes. Science 233, 783–786 (1986)

Lavenius, E., Gestblom, C., Johansson, I., Nånberg, E. & Påhlman, S. Transfection of TRK-A into human neuroblastoma cells restores their ability to differentiate in response to nerve growth factor. Cell Growth Differ. 6, 727–736 (1995)

Koponen, E., Lakso, M. & Castrén, E. Overexpression of the full-length neurotrophin receptor trkB regulates the expression of plasticity-related genes in mouse brain. Brain Res. Mol. Brain Res. 130, 81–94 (2004)

Haag, D. et al. Nos2 inactivation promotes the development of medulloblastoma in Ptch1+/− mice by deregulation of Gap43-dependent granule cell precursor migration. PLoS Genet. 8, e1002572 (2012)

Aigner, L. et al. Overexpression of the neural growth-associated protein GAP-43 induces nerve sprouting in the adult nervous system of transgenic mice. Cell 83, 269–278 (1995)

Zuber, M. X., Goodman, D. W., Karns, L. R. & Fishman, M. C. The neuronal growth-associated protein GAP-43 induces filopodia in non-neuronal cells. Science 244, 1193–1195 (1989)

Sin, W. C., Crespin, S. & Mesnil, M. Opposing roles of connexin43 in glioma progression. Biochim. Biophys. Acta 1818, 2058–2067 (2012)

Hitomi, M. et al. Differential connexin function enhances self-renewal in glioblastoma. Cell Reports 11, 1031–1042 (2015)

Le, H. T. et al. Gap junction intercellular communication mediated by connexin43 in astrocytes is essential for their resistance to oxidative stress. J. Biol. Chem. 289, 1345–1354 (2014)

Tombal, B., Denmeade, S. R., Gillis, J. M. & Isaacs, J. T. A supramicromolar elevation of intracellular free calcium ([Ca2+]i) is consistently required to induce the execution phase of apoptosis. Cell Death Differ. 9, 561–573 (2002)

McFerrin, M. B., Turner, K. L., Cuddapah, V. A. & Sontheimer, H. Differential role of IK and BK potassium channels as mediators of intrinsic and extrinsic apoptotic cell death. Am. J. Physiol. Cell Physiol. 303, C1070–C1078 (2012)

Hanahan, D. & Weinberg, R. A. Hallmarks of cancer: the next generation. Cell 144, 646–674 (2011)

Venkatesh, H. S. et al. Neuronal activity promotes glioma growth through neuroligin-3 secretion. Cell 161, 803–816 (2015)

Egeblad, M., Nakasone, E. S. & Werb, Z. Tumors as organs: complex tissues that interface with the entire organism. Dev. Cell 18, 884–901 (2010)

Winkler, F. et al. Kinetics of vascular normalization by VEGFR2 blockade governs brain tumor response to radiation: role of oxygenation, angiopoietin-1, and matrix metalloproteinases. Cancer Cell 6, 553–563 (2004)

Shigetomi, E., Kracun, S. & Khakh, B. S. Monitoring astrocyte calcium microdomains with improved membrane targeted GCaMP reporters. Neuron Glia Biol. 6, 183–191 (2010)

Thestrup, T. et al. Optimized ratiometric calcium sensors for functional in vivo imaging of neurons and T lymphocytes. Nature Methods 11, 175–182 (2014)

Lemke, D. et al. Primary glioblastoma cultures: can profiling of stem cell markers predict radiotherapy sensitivity? J. Neurochem. 131, 251–264 (2014)

Kelly, J. J. et al. Oligodendroglioma cell lines containing t(1;19)(q10;p10). Neuro-oncol . 12, 745–755 (2010)

Talasila, K. M. et al. EGFR wild-type amplification and activation promote invasion and development of glioblastoma independent of angiogenesis. Acta Neuropathol. 125, 683–698 (2013)

Weiler, M. et al. mTOR target NDRG1 confers MGMT-dependent resistance to alkylating chemotherapy. Proc. Natl Acad. Sci. USA 111, 409–414 (2014)

Sahm, F. et al. Addressing diffuse glioma as a systemic brain disease with single-cell analysis. Arch. Neurol. 69, 523–526 (2012)

Horstmann, H., Vasileva, M. & Kuner, T. Photooxidation-guided ultrastructural identification and analysis of cells in neuronal tissue labeled with green fluorescent protein. PLoS One 8, e64764 (2013)

Horstmann, H., Körber, C., Sätzler, K., Aydin, D. & Kuner, T. Serial section scanning electron microscopy (S3EM) on silicon wafers for ultra-structural volume imaging of cells and tissues. PLoS One 7, e35172 (2012)

Geiger, J. R. et al. Patch-clamp recording in brain slices with improved slicer technology. Pflugers Arch. 443, 491–501 (2002)

Bruna, A. et al. High TGFβ-Smad activity confers poor prognosis in glioma patients and promotes cell proliferation depending on the methylation of the PDGF-B gene. Cancer Cell 11, 147–160 (2007)

Opitz, C. A. et al. An endogenous tumour-promoting ligand of the human aryl hydrocarbon receptor. Nature 478, 197–203 (2011)

Cerami, E. et al. The cBio cancer genomics portal: an open platform for exploring multidimensional cancer genomics data. Cancer Discov . 2, 401–404 (2012)

Robinson, M. D., McCarthy, D. J. & Smyth, G. K. edgeR: a Bioconductor package for differential expression analysis of digital gene expression data. Bioinformatics 26, 139–140 (2010)

Benjamini, Y. & Hochberg, Y. Controlling the false discovery rate: a practical and powerful approach to multiple testing. J. R. Stat. Soc. B 57, 289–300 (1995)
Acknowledgements
We thank C. Ruiz de Almodovar and H.-H. Gerdes for discussions and comments; P. Rübman, B. Kast, A. Habel, A. Tietz-Dalfuβ and M. Fischer for technical assistance; R. Hermann for help with vibratome slices; G. Eisele for providing the WJ cell line; P. Friedl for the Lifeact-YFP-construct and the IDH1R132H thick section staining protocol; H. Glimm for the pCCL.PPT.SFFV.MCS.IRES.eGFP.WPRE-vector backbone; and M. Splinter, M. Brand, C. Lang for help with radiation experiments. This work was funded by grants from the German Research Foundation (DFG, WI 1930/5-1 (F.W.) and Major Equipment Grant INST 114089/26-1 FUGG (F.W., W.W.)), an intramural grant from the DKFZ to F.W. and H.L., Heinrich F. C. Behr-Stipend to S. Weil. F.S. is a fellow of the Medical Faculty Heidelberg PostDoc-Program. The results published here are in part based upon data generated by the TCGA Research Network: http://cancergenome.nih.gov/.
Ethics declarations
Competing interests
The authors declare no competing financial interests.
Extended data figures and tables
Supplementary information
About this article
Cite this article
Osswald, M., Jung, E., Sahm, F. et al. Brain tumour cells interconnect to a functional and resistant network. Nature 528, 93–98 (2015). https://doi.org/10.1038/nature16071
Received:

Accepted:

Published:

Issue Date:

DOI: https://doi.org/10.1038/nature16071
Comments
By submitting a comment you agree to abide by our Terms and Community Guidelines. If you find something abusive or that does not comply with our terms or guidelines please flag it as inappropriate.