Abstract
Skeletal growth relies on both biosynthetic and catabolic processes1,2. While the role of the former is clearly established, how the latter contributes to growth-promoting pathways is less understood. Macroautophagy, hereafter referred to as autophagy, is a catabolic process that plays a fundamental part in tissue homeostasis3. We investigated the role of autophagy during bone growth, which is mediated by chondrocyte rate of proliferation, hypertrophic differentiation and extracellular matrix (ECM) deposition in growth plates4. Here we show that autophagy is induced in growth-plate chondrocytes during post-natal development and regulates the secretion of type II collagen (Col2), the major component of cartilage ECM. Mice lacking the autophagy related gene 7 (Atg7) in chondrocytes experience endoplasmic reticulum storage of type II procollagen (PC2) and defective formation of the Col2 fibrillary network in the ECM. Surprisingly, post-natal induction of chondrocyte autophagy is mediated by the growth factor FGF18 through FGFR4 and JNK-dependent activation of the autophagy initiation complex VPS34–beclin-1. Autophagy is completely suppressed in growth plates from Fgf18−/− embryos, while Fgf18+/− heterozygous and Fgfr4−/− mice fail to induce autophagy during post-natal development and show decreased Col2 levels in the growth plate. Strikingly, the Fgf18+/− and Fgfr4−/− phenotypes can be rescued in vivo by pharmacological activation of autophagy, pointing to autophagy as a novel effector of FGF signalling in bone. These data demonstrate that autophagy is a developmentally regulated process necessary for bone growth, and identify FGF signalling as a crucial regulator of autophagy in chondrocytes.
This is a preview of subscription content
Access options
Subscribe to Journal
Get full journal access for 1 year
$199.00
only $3.90 per issue
All prices are NET prices.
VAT will be added later in the checkout.
Tax calculation will be finalised during checkout.
Buy article
Get time limited or full article access on ReadCube.
$32.00
All prices are NET prices.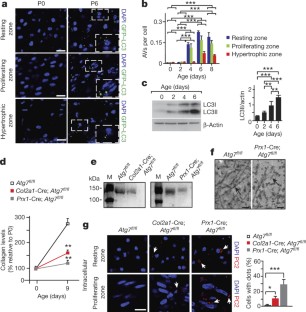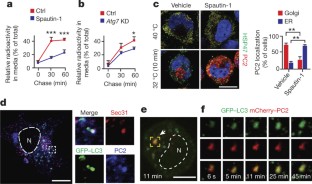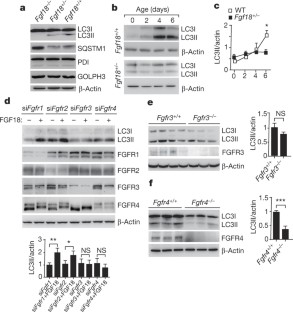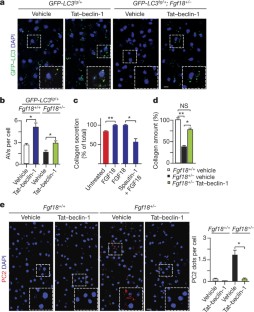 References
Karsenty, G. & Wagner, E. F. Reaching a genetic and molecular understanding of skeletal development. Dev. Cell 2, 389–406 (2002)

Shapiro, I. M., Layfield, R., Lotz, M., Settembre, C. & Whitehouse, C. Boning up on autophagy: the role of autophagy in skeletal biology. Autophagy 10, 7–19 (2014)

Mizushima, N. & Komatsu, M. Autophagy: renovation of cells and tissues. Cell 147, 728–741 (2011)

Wilsman, N. J., Farnum, C. E., Leiferman, E. M., Fry, M. & Barreto, C. Differential growth by growth plates as a function of multiple parameters of chondrocytic kinetics. J. Orthop. Res. 14, 927–936 (1996)

Mizushima, N., Yamamoto, A., Matsui, M., Yoshimori, T. & Ohsumi, Y. In vivo analysis of autophagy in response to nutrient starvation using transgenic mice expressing a fluorescent autophagosome marker. Mol. Biol. Cell 15, 1101–1111 (2004)

Kabeya, Y. et al. LC3, a mammalian homologue of yeast Apg8p, is localized in autophagosome membranes after processing. EMBO J. 19, 5720–5728 (2000)

Komatsu, M. et al. Impairment of starvation-induced and constitutive autophagy in Atg7-deficient mice. J. Cell Biol. 169, 425–434 (2005)

Logan, M. et al. Expression of Cre recombinase in the developing mouse limb bud driven by a Prxl enhancer. Genesis 33, 77–80 (2002)

Ovchinnikov, D. A., Deng, J. M., Ogunrinu, G. & Behringer, R. R. Col2a1-directed expression of Cre recombinase in differentiating chondrocytes in transgenic mice. Genesis 26, 145–146 (2000)

Olsen, B. R., Reginato, A. M. & Wang, W. Bone development. Annu. Rev. Cell Dev. Biol. 16, 191–220 (2000)

Liu, J. et al. Beclin1 controls the levels of p53 by regulating the deubiquitination activity of USP10 and USP13. Cell 147, 223–234 (2011)

Ishida, Y. & Nagata, K. Hsp47 as a collagen-specific molecular chaperone. Methods Enzymol. 499, 167–182 (2011)

Ishida, Y. et al. Autophagic elimination of misfolded procollagen aggregates in the endoplasmic reticulum as a means of cell protection. Mol. Biol. Cell 20, 2744–2754 (2009)

Teckman, J. H. & Perlmutter, D. H. Retention of mutant α1-antitrypsin Z in endoplasmic reticulum is associated with an autophagic response. Am. J. Physiol. Gastrointest. Liver Physiol. 279, G961–G974 (2000)

Houck, S. A. et al. Quality control autophagy degrades soluble ERAD-resistant conformers of the misfolded membrane protein GnRHR. Mol. Cell 54, 166–179 (2014)

Moore, E. E. et al. Fibroblast growth factor-18 stimulates chondrogenesis and cartilage repair in a rat model of injury-induced osteoarthritis. Osteoarthritis Cartilage 13, 623–631 (2005)

Karsenty, G., Kronenberg, H. M. & Settembre, C. Genetic control of bone formation. Annu. Rev. Cell Dev. Biol. 25, 629–648 (2009)

Kimura, S., Fujita, N., Noda, T. & Yoshimori, T. Monitoring autophagy in mammalian cultured cells through the dynamics of LC3. Methods Enzymol. 452, 1–12 (2009)

Liu, Z., Xu, J., Colvin, J. S. & Ornitz, D. M. Coordination of chondrogenesis and osteogenesis by fibroblast growth factor 18. Genes Dev. 16, 859–869 (2002)

Wei, Y., Pattingre, S., Sinha, S., Bassik, M. & Levine, B. JNK1-mediated phosphorylation of Bcl-2 regulates starvation-induced autophagy. Mol. Cell 30, 678–688 (2008)

Liang, X. H. et al. Induction of autophagy and inhibition of tumorigenesis by beclin 1. Nature 402, 672–676 (1999)

Shoji-Kawata, S. et al. Identification of a candidate therapeutic autophagy-inducing peptide. Nature 494, 201–206 (2013)

Lotz, M. K. & Caramés, B. Autophagy and cartilage homeostasis mechanisms in joint health, aging and OA. Nature Rev. Rheumatol . 7, 579–587 (2011)

Srinivas, V., Bohensky, J., Zahm, A. M. & Shapiro, I. M. Autophagy in mineralizing tissues: microenvironmental perspectives. Cell Cycle 8, 391–393 (2009)

Vuppalapati, K. K. et al. Targeted deletion of autophagy genes Atg5 or Atg7 in the chondrocytes promotes caspase-dependent cell death and leads to mild growth retardation. J. Bone Miner. Res. http://dx.doi.org/10.1002/jbmr.2575 (2015)

Ornitz, D. M. & Marie, P. J. FGF signaling pathways in endochondral and intramembranous bone development and human genetic disease. Genes Dev. 16, 1446–1465 (2002)

Settembre, C. et al. Proteoglycan desulfation determines the efficiency of chondrocyte autophagy and the extent of FGF signaling during endochondral ossification. Genes Dev. 22, 2645–2650 (2008)

Lango Allen, H. et al. Hundreds of variants clustered in genomic loci and biological pathways affect human height. Nature 467, 832–838 (2010)

Venditti, R. et al. Sedlin controls the ER export of procollagen by regulating the Sar1 cycle. Science 337, 1668–1672 (2012)

King, K. B. & Kimura, J. H. The establishment and characterization of an immortal cell line with a stable chondrocytic phenotype. J. Cell. Biochem. 89, 992–1004 (2003)
Acknowledgements
We thank A. Ballabio, G. Karsenty, A. Auricchio, M. Sandri and G. Diez Roux for critical reading of the manuscript. We thank L. Staiano and C. Lanzara for technical support. We thank A. Carissimo for statistical analysis. We thank N. Mizushima, D. Ornitz and J. Seavitt for sharing mouse lines used in this work. This work was supported by grants from the Italian Telethon Foundation (TCP12008), Marie Curie European Reintegration Grant (PCIG13-GA-2013-618805), STAR/Banco di Napoli and the Italian Ministry of Research (FIRB RBFR13LH4X) to C.S.
Ethics declarations
Competing interests
The authors declare no competing financial interests.
Extended data figures and tables
Supplementary information
About this article
Cite this article
Cinque, L., Forrester, A., Bartolomeo, R. et al. FGF signalling regulates bone growth through autophagy. Nature 528, 272–275 (2015). https://doi.org/10.1038/nature16063
Received:

Accepted:

Published:

Issue Date:

DOI: https://doi.org/10.1038/nature16063
Comments
By submitting a comment you agree to abide by our Terms and Community Guidelines. If you find something abusive or that does not comply with our terms or guidelines please flag it as inappropriate.