Abstract
Fast radio bursts are bright, unresolved, non-repeating, broadband, millisecond flashes, found primarily at high Galactic latitudes, with dispersion measures much larger than expected for a Galactic source1,2,3,4,5,6,7. The inferred all-sky burst rate8 is comparable to the core-collapse supernova rate9 out to redshift 0.5. If the observed dispersion measures are assumed to be dominated by the intergalactic medium, the sources are at cosmological distances with redshifts of 0.2 to 1 (refs 10 and 11). These parameters are consistent with a wide range of source models12,13,14,15,16,17. One fast burst6 revealed circular polarization of the radio emission, but no linear polarization was detected, and hence no Faraday rotation measure could be determined. Here we report the examination of archival data revealing Faraday rotation in the fast radio burst FRB 110523. Its radio flux and dispersion measure are consistent with values from previously reported bursts and, accounting for a Galactic contribution to the dispersion and using a model of intergalactic electron density10, we place the source at a maximum redshift of 0.5. The burst has a much higher rotation measure than expected for this line of sight through the Milky Way and the intergalactic medium, indicating magnetization in the vicinity of the source itself or within a host galaxy. The pulse was scattered by two distinct plasma screens during propagation, which requires either a dense nebula associated with the source or a location within the central region of its host galaxy. The detection in this instance of magnetization and scattering that are both local to the source favours models involving young stellar populations such as magnetars over models involving the mergers of older neutron stars, which are more likely to be located in low-density regions of the host galaxy.
Access options
Subscribe to this journal
Receive 51 print issues and online access
$199.00 per year
only $3.90 per issue
Rent or buy this article
Prices vary by article type
from$1.95
to$39.95
Prices may be subject to local taxes which are calculated during checkout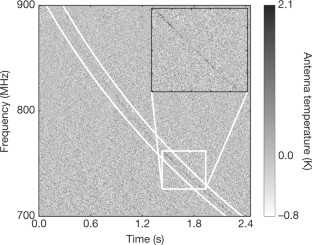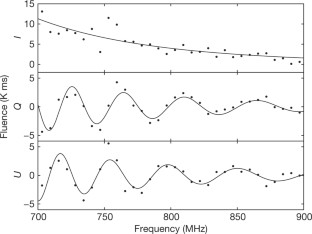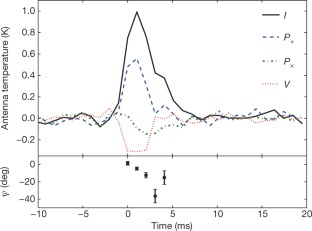 References
Lorimer, D. R., Bailes, M., McLaughlin, M. A., Narkevic, D. J. & Crawford, F. A bright millisecond radio burst of extragalactic origin. Science 318, 777–780 (2007)

Keane, E. F., Stappers, B. W., Kramer, M. & Lyne, A. G. On the origin of a highly dispersed coherent radio burst. Mon. Not. R. Astron. Soc. 425, L71–L75 (2012)

Thornton, D. et al. A population of fast radio bursts at cosmological distances. Science 341, 53–56 (2013)

Spitler, L. G. et al. Fast radio burst discovered in the Arecibo pulsar ALFA survey. Astrophys. J. 790, 101 (2014)

Burke-Spolaor, S. & Bannister, K. W. The Galactic position dependence of fast radio bursts and the discovery of FRB011025. Astrophys. J. 792, 19 (2014)

Petroff, E. et al. A real-time fast radio burst: polarization detection and multiwavelength follow-up. Mon. Not. R. Astron. Soc. 447, 246–255 (2015)

Ravi, V., Shannon, R. M. & Jameson, A. A fast radio burst in the direction of the Carina dwarf spheroidal galaxy. Astrophys. J. Lett. 799, L5 (2015)

Rane, A. et al. A search for rotating radio transients and fast radio bursts in the Parkes high-latitude pulsar survey. Mon. Not. R. Astron. Soc. http://dx.doi.org/10.1093/mnras/stv2404 (2015); preprint at http://arxiv.org/abs/1505.00834

Taylor, M. et al. The core collapse supernova rate from the SDSS-II supernova survey. Astrophys. J. 792, 135 (2014)

Inoue, S. Probing the cosmic reionization history and local environment of gamma-ray bursts through radio dispersion. Mon. Not. R. Astron. Soc. 348, 999–1008 (2004)

Ioka, K. The cosmic dispersion measure from gamma-ray burst afterglows: probing the reionization history and the burst environment. Astrophys. J. Lett. 598, L79–L82 (2003)

Loeb, A., Shvartzvald, Y. & Maoz, D. Fast radio bursts may originate from nearby flaring stars. Mon. Not. R. Astron. Soc. 439, L46–L50 (2014)

Kulkarni, S. R., Ofek, E. O., Neill, J. D., Zheng, Z. & Juric, M. Giant sparks at cosmological distances? Astrophys. J. 797, 70 (2014)

Geng, J. J. & Huang, Y. F. Fast radio bursts: collisions between neutron stars and asteroids/comets. Astrophys. J. 809, 24 (2015)

Lyubarsky, Y. A model for fast extragalactic radio bursts. Mon. Not. R. Astron. Soc. 442, L9–L13 (2014)

Falcke, H. & Rezzolla, L. Fast radio bursts: the last sign of supramassive neutron stars. Astron. Astrophys. 562, A137 (2014)

Connor, L., Sievers, J. & Pen, U.-L. Non-cosmological FRBs from young supernova remnant pulsars. Preprint at http://arxiv.org/abs/1505.05535 (2015)

Chang, T.-C., Pen, U.-L., Bandura, K. & Peterson, J. B. An intensity map of hydrogen 21-cm emission at redshift z ≈ 0.8. Nature 466, 463–465 (2010)

Masui, K. W. et al. Measurement of 21 cm brightness fluctuations at z ~ 0.8 in cross-correlation. Astrophys. J. Lett. 763, L20 (2013)

Switzer, E. R. et al. Determination of z ≈ 0.8 neutral hydrogen fluctuations using the 21-cm intensity mapping autocorrelation. Mon. Not. R. Astron. Soc. 434, L46–L50 (2013)

Cordes, J. M. & Lazio, T. J. W. NE2001.I. A new model for the galactic distribution of free electrons and its fluctuations. Preprint at http://arxiv.org/abs/astro-ph/0207156 (2002)

Katz, J. I. Inferences from the distributions of fast radio burst pulse widths, dispersion measures and fluences. Preprint at http://arxiv.org/abs/1505.06220 (2015)

Tuntsov, A. V. Dense plasma dispersion of fast radio bursts. Mon. Not. R. Astron. Soc. 441, L26–L30 (2014)

Dennison, B. Fast radio bursts: constraints on the dispersing medium. Mon. Not. R. Astron. Soc. 443, L11–L14 (2014)

Maoz, D. et al. Fast radio bursts: the observational case for a Galactic origin. Mon. Not. R. Astron. Soc. 454, 2183–2189 (2015)

Widrow, L. M. Origin of galactic and extragalactic magnetic fields. Rev. Mod. Phys. 74, 775–823 (2002)

Oppermann, N. et al. Estimating extragalactic Faraday rotation. Astron. Astrophys. 575, A118 (2015)

Radhakrishnan, V. & Cooke, D. J. Magnetic poles and the polarization structure of pulsar radiation. Astrophys. Lett. 3, 225–229 (1969)

Macquart, J.-P. & Koay, J. Y. Temporal smearing of transient radio sources by the inter-galactic medium. Astrophys. J. 776, 125 (2013)

Taylor, J. H. A sensitive method for detecting dispersed radio emission. Astron. Astrophys. (Suppl.) 15, 367–369 (1974)

Hamilton, P. A. & Lyne, A. G. Faraday rotation measurements on 163 pulsars. Mon. Not. R. Astron. Soc. 224, 1073–1081 (1987)

Lorimer, D. R. & Kramer, M. Handbook of Pulsar Astronomy Ch. 4 (Cambridge Univ. Press, 2004)

Johnson, M. D. & Gwinn, C. R. Ultra-high-resolution intensity statistics of a scintillating source. Astrophys. J. 755, 179 (2012)

Taylor, J. H. & Cordes, J. M. Pulsar distances and the galactic distribution of free electrons. Astrophys. J. 411, 674–684 (1993)

Alam, S. et al. The eleventh and twelfth data releases of the Sloan Digital Sky Survey: final data from SDSS-III. Astrophys. J. Suppl. 219, 12 (2015)

Yasuda, N. et al. Galaxy number counts from the Sloan Digital Sky Survey commissioning data. Astron. J. 122, 1104–1124 (2001)
Acknowledgements
K.M. is supported by the CIFAR Global Scholars Program. T.-C.C. acknowledges support from MoST grant 103-2112-M-001-002-MY3. X.C. and Y.-C.L. are supported by MOST 863 programme 2012AA121701, CAS XDB09000000 and NSFC 11373030. P.T.T. acknowledges support from NSF Award 1211781. J.B.P. acknowledges support from NSF Award 1211777. Computations were performed on the General Purpose Cluster supercomputer at the SciNet HPC Consortium.
Ethics declarations
Competing interests
The authors declare no competing financial interests.
Extended data figures and tables
From left to right are shown data for FRB 110523, a simulated FRB, a known pulsar PSR J2257+5909, and man-made radio frequency interference (RFI). Brightness temperature is shown in frequency–time space (upper panels) and the same data in DM–time space (lower panels). The relative dispersion measure is the difference between the DM and the event DM; event DM values are 622.8 pc cm−3, 610.3 pc cm−3, 151.0 pc cm−3 and 1132.1 pc cm−3 from left to right. The time axes of the frequency–time plots show time relative to the zero time in DM–time space. The colour scale in the lower panels represents broadband flux, with red showing a bright source.
Each sub-band has width of 66 MHz. The pulse width decreases with frequency (at 2.6σ significance), consistent with models of scattering in the interstellar medium. Also shown in black is the best-fit model profile for the middle band.
The intensity spectrum has structure that is correlated for frequency separations less than fdc = 1.2 MHz. Error bars are the standard deviation of 3,268 simulated measurements with 817 independent noise realizations and are correlated.
About this article
Cite this article
Masui, K., Lin, HH., Sievers, J. et al. Dense magnetized plasma associated with a fast radio burst. Nature 528, 523–525 (2015). https://doi.org/10.1038/nature15769
Received:

Accepted:

Published:

Issue Date:

DOI: https://doi.org/10.1038/nature15769
Comments
By submitting a comment you agree to abide by our Terms and Community Guidelines. If you find something abusive or that does not comply with our terms or guidelines please flag it as inappropriate.