Abstract
The human kidney contains up to 2 million epithelial nephrons responsible for blood filtration. Regenerating the kidney requires the induction of the more than 20 distinct cell types required for excretion and the regulation of pH, and electrolyte and fluid balance. We have previously described the simultaneous induction of progenitors for both collecting duct and nephrons via the directed differentiation of human pluripotent stem cells1. Paradoxically, although both are of intermediate mesoderm in origin, collecting duct and nephrons have distinct temporospatial origins. Here we identify the developmental mechanism regulating the preferential induction of collecting duct versus kidney mesenchyme progenitors. Using this knowledge, we have generated kidney organoids that contain nephrons associated with a collecting duct network surrounded by renal interstitium and endothelial cells. Within these organoids, individual nephrons segment into distal and proximal tubules, early loops of Henle, and glomeruli containing podocytes elaborating foot processes and undergoing vascularization. When transcription profiles of kidney organoids were compared to human fetal tissues, they showed highest congruence with first trimester human kidney. Furthermore, the proximal tubules endocytose dextran and differentially apoptose in response to cisplatin, a nephrotoxicant. Such kidney organoids represent powerful models of the human organ for future applications, including nephrotoxicity screening, disease modelling and as a source of cells for therapy.
Relevant articles
Open Access articles citing this article.
Eun Jung Kim

,

Caressa Chen

…

Shuvo Roy

Nature Communications Open Access 29 August 2023

Yibo Lu

,

Yiyang Zhou

…

Bo Wang

Communications Biology Open Access 17 July 2023

Ramin Banan Sadeghian

,

Ryohei Ueno

…

Ryuji Yokokawa

Communications Biology Open Access 04 May 2023
Access options
Subscribe to this journal
Receive 51 print issues and online access
$199.00 per year
only $3.90 per issue
Rent or buy this article
Prices vary by article type
from$1.95
to$39.95
Prices may be subject to local taxes which are calculated during checkout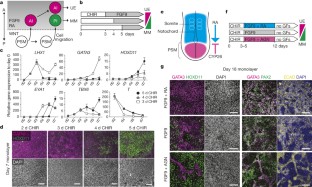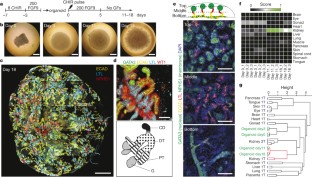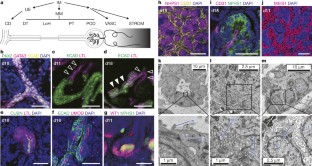 References
Takasato, M. et al. Directing human embryonic stem cell differentiation towards a renal lineage generates a self-organizing kidney. Nature Cell Biol. 16, 118–126 (2014)

James, R. G. & Schultheiss, T. M. Patterning of the avian intermediate mesoderm by lateral plate and axial tissues. Dev. Biol. 253, 109–124 (2003)

Mae, S. et al. Monitoring and robust induction of nephrogenic intermediate mesoderm from human pluripotent stem cells. Nat. Commun. 4, 1367 (2013)

Xia, Y. et al. Directed differentiation of human pluripotent cells to ureteric bud kidney progenitor-like cells. Nature Cell Biol. 15, 1507–1515 (2013)

Taguchi, A. et al. Redefining the in vivo origin of metanephric nephron progenitors enables generation of complex kidney structures from pluripotent stem cells. Cell Stem Cell 14, 53–67 (2014)

Lam, A. Q. et al. Rapid and efficient differentiation of human pluripotent stem cells into intermediate mesoderm that forms tubules expressing kidney proximal tubular markers. J. Am. Soc. Nephrol. 25, 1211–1225 (2014)

Kang, M. & Han, Y. M. Differentiation of human pluripotent stem cells into nephron progenitor cells in a serum and feeder free system. PLoS One 9, e94888 (2014)

Xu, J. et al. Eya1 interacts with Six2 and Myc to regulate expansion of the nephron progenitor pool during nephrogenesis. Dev. Cell 31, 434–447 (2014)

Duester, G. Retinoic acid synthesis and signaling during early organogenesis. Cell 134, 921–931 (2008)

Sakai, Y. et al. The retinoic acid-inactivating enzyme CYP26 is essential for establishing an uneven distribution of retinoic acid along the anterio-posterior axis within the mouse embryo. Genes Dev. 15, 213–225 (2001)

Abu-Abed, S. et al. The retinoic acid-metabolizing enzyme, CYP26A1, is essential for normal hindbrain patterning, vertebral identity, and development of posterior structures. Genes Dev. 15, 226–240 (2001)

Sweetman, D., Wagstaff, L., Cooper, O., Weijer, C. & Münsterberg, A. The migration of paraxial and lateral plate mesoderm cells emerging from the late primitive streak is controlled by different Wnt signals. BMC Dev. Biol. 8, 63 (2008)

Takasato, M. & Little, M. H. The origin of the mammalian kidney: implications for recreating the kidney in vitro. Development 142, 1937–1947 (2015)

Park, J. S. et al. Six2 and Wnt regulate self-renewal and commitment of nephron progenitors through shared gene regulatory networks. Dev. Cell 23, 637–651 (2012)

Roost, M. S. et al. KeyGenes, a tool to probe tissue differentiation using a human fetal transcriptional atlas. Stem Cell Reports 4, 1112–1124 (2015)

Mugford, J. W., Sipilä, P., McMahon, J. A. & McMahon, A. P. Osr1 expression demarcates a multi-potent population of intermediate mesoderm that undergoes progressive restriction to an Osr1-dependent nephron progenitor compartment within the mammalian kidney. Dev. Biol. 324, 88–98 (2008)

Sims-Lucas, S. et al. Endothelial progenitors exist within the kidney and lung mesenchyme. PLoS One 8, e65993 (2013)

Brunskill, E. W., Georgas, K., Rumballe, B., Little, M. H. & Potter, S. S. Defining the molecular character of the developing and adult kidney podocyte. PLoS One 6, e24640 (2011)

Kobayashi, A. et al. Identification of a multipotent self-renewing stromal progenitor population during mammalian kidney organogenesis. Stem Cell Reports 3, 650–662 (2014)

Floege, J. et al. Localization of PDGF alpha-receptor in the developing and mature human kidney. Kidney Int. 51, 1140–1150 (1997)

Loughna, S., Yuan, H. T. & Woolf, A. S. Effects of oxygen on vascular patterning in Tie1/LacZ metanephric kidneys in vitro. Biochem. Biophys. Res. Commun. 247, 361–366 (1998)

Brunskill, E. W. et al. Atlas of gene expression in the developing kidney at microanatomic resolution. Dev. Cell 15, 781–791 (2008)

Thiagarajan, R. D. et al. Identification of anchor genes during kidney development defines ontological relationships, molecular subcompartments and regulatory pathways. PLoS One 6, e17286 (2011)

Cheng, X. & Klaassen, C. D. Tissue distribution, ontogeny, and hormonal regulation of xenobiotic transporters in mouse kidneys. Drug Metab. Dispos. 37, 2178–2185 (2009)

Mese, H., Sasaki, A., Nakayama, S., Alcalde, R. E. & Matsumura, T. The role of caspase family protease, caspase-3 on cisplatin-induced apoptosis in cisplatin-resistant A431 cell line. Cancer Chemother. Pharmacol. 46, 241–245 (2000)

Cummings, B. S. & Schnellmann, R. G. Cisplatin-induced renal cell apoptosis: caspase 3-dependent and -independent pathways. J. Pharmacol. Exp. Ther. 302, 8–17 (2002)

Short, K. M. et al. Global quantification of tissue dynamics in the developing mouse kidney. Dev. Cell 29, 188–202 (2014)

Briggs, J. A. et al. Integration-free induced pluripotent stem cells model genetic and neural developmental features of down syndrome etiology. Stem Cells 31, 467–478 (2013)

Takasato, M., Er, X. P., Chiu, S. H. & Little, H. M. Generation of kidney organoids from human pluripotent stem cells. Protoc. Exch. http://dx.doi.org/10.1038/protex.2015.087 (2015)

Dobin, A. et al. STAR: ultrafast universal RNA-seq aligner. Bioinformatics 29, 15–21 (2013)

Love, M. I., Huber, W. & Anders, S. Moderated estimation of fold change and dispersion for RNA-seq data with DESeq2. Genome Biol. 15, 550 (2014)
Acknowledgements
This research was supported by National Health and Medical Research Council (NHMRC) of Australia (APP1041277, APP1037320), Australian Research Council (ARC) (SRI110001002, CE140100036), Bontius Stiching and Organovo Inc. M.H.L. and R.G.P. are NHMRC Senior Principal Research Fellows. B.M. is a Rosamond Siemon Postgraduate Scholar. We thank A. Christ and T. Bruxner at the IMB Sequencing Facility for providing NGS service. We also acknowledge the IMB ACRF Imaging Facility and the Australian Microscopy & Microanalysis Research Facility at the Center for Microscopy and Microanalysis at The University of Queensland.
Ethics declarations
Competing interests
M.T. and M.H.L. are named inventors on a patent relating to this methodology. Some research funding was provided by Organovo Inc.
Extended data figures and tables
Supplementary information
About this article
Cite this article
Takasato, M., Er, P., Chiu, H. et al. Kidney organoids from human iPS cells contain multiple lineages and model human nephrogenesis. Nature 526, 564–568 (2015). https://doi.org/10.1038/nature15695
Received:

Accepted:

Published:

Issue Date:

DOI: https://doi.org/10.1038/nature15695
Comments
By submitting a comment you agree to abide by our Terms and Community Guidelines. If you find something abusive or that does not comply with our terms or guidelines please flag it as inappropriate.