Abstract
Top-down prefrontal cortex inputs to the hippocampus have been hypothesized to be important in memory consolidation, retrieval, and the pathophysiology of major psychiatric diseases; however, no such direct projections have been identified and functionally described. Here we report the discovery of a monosynaptic prefrontal cortex (predominantly anterior cingulate) to hippocampus (CA3 to CA1 region) projection in mice, and find that optogenetic manipulation of this projection (here termed AC–CA) is capable of eliciting contextual memory retrieval. To explore the network mechanisms of this process, we developed and applied tools to observe cellular-resolution neural activity in the hippocampus while stimulating AC–CA projections during memory retrieval in mice behaving in virtual-reality environments. Using this approach, we found that learning drives the emergence of a sparse class of neurons in CA2/CA3 that are highly correlated with the local network and that lead synchronous population activity events; these neurons are then preferentially recruited by the AC–CA projection during memory retrieval. These findings reveal a sparsely implemented memory retrieval mechanism in the hippocampus that operates via direct top-down prefrontal input, with implications for the patterning and storage of salient memory representations.
Relevant articles
Open Access articles citing this article.
Arita Silapetere

,

Songhwan Hwang

…

Peter Hegemann

Nature Communications Open Access 20 September 2022

Anurag Singh

,

Shruthi Sateesh

…

Wickliffe C. Abraham

Scientific Reports Open Access 02 February 2022

M. Alexandra Kredlow

,

Robert J. Fenster

…

Elizabeth A. Phelps

Neuropsychopharmacology Open Access 20 September 2021
Access options
Subscribe to Journal
Get full journal access for 1 year
$199.00
only $3.90 per issue
All prices are NET prices.
VAT will be added later in the checkout.
Tax calculation will be finalised during checkout.
Buy article
Get time limited or full article access on ReadCube.
$32.00
All prices are NET prices.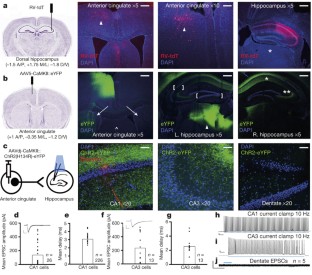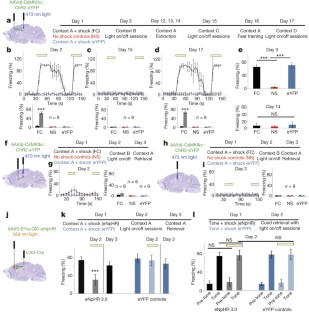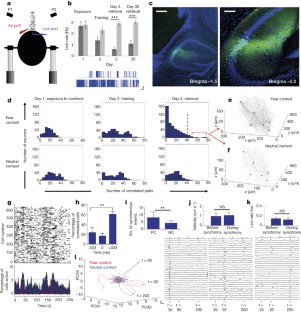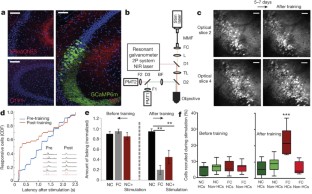 References
Kandel, E. R., Dudai, Y. & Mayford, M. R. The molecular and systems biology of memory. Cell 157, 163–186 (2014)

Han, J. H. et al. Neuronal competition and selection during memory formation. Science 316, 457–460 (2007)

Han, J. H. et al. Selective erasure of a fear memory. Science 323, 1492–1496 (2009)

Yiu, A. P. et al. Neurons are recruited to a memory trace based on relative neuronal excitability immediately before training. Neuron 83, 722–735 (2014)

Reijmers, L. G., Perkins, B. L., Matsuo, N. & Mayford, M. Localization of a stable neural correlate of associative memory. Science 317, 1230–1233 (2007)

Liu, X. et al. Optogenetic stimulation of a hippocampal engram activates fear memory recall. Nature 484, 381–385 (2012)

Garner, A. R. et al. Generation of a synthetic memory trace. Science 335, 1513–1516 (2012)

Ramirez, S. et al. Creating a false memory in the hippocampus. Science 341, 387–391 (2013)

Tse, D. et al. Schema-dependent gene activation and memory encoding in neocortex. Science 333, 891–895 (2011)

Lesburguères, E. et al. Early tagging of cortical networks is required for the formation of enduring associative memory. Science 331, 924–928 (2011)

Bero, A. W. et al. Early remodeling of the neocortex upon episodic memory encoding. Proc. Natl Acad. Sci. USA 111, 11852–11857 (2014)

Frankland, P. W. & Bontempi, B. The organization of recent and remote memories. Nature Rev. Neurosci. 6, 119–130 (2005)

Ressler, K. J. & Mayberg, H. S. Targeting abnormal neural circuits in mood and anxiety disorders: from the laboratory to the clinic. Nature Neurosci. 10, 1116–1124 (2007)

Taylor, S. F. et al. Meta-analysis of functional neuroimaging studies of emotion perception and experience in schizophrenia. Biol. Psychiatry 71, 136–145 (2012)

Wilson, S. J., Sayette, M. A. & Fiez, J. A. Prefrontal responses to drug cues: a neurocognitive analysis. Nature Neurosci. 7, 211–214 (2004)

Nadel, L. & Moscovitch, M. Memory consolidation, retrograde amnesia and the hippocampal complex. Curr. Opin. Neurobiol. 7, 217–227 (1997)

Winocur, G., Moscovitch, M. & Bontempi, B. Memory formation and long-term retention in humans and animals: convergence towards a transformation account of hippocampal-neocortical interactions. Neuropsychologia 48, 2339–2356 (2010)

Strogatz, S. H. Exploring complex networks. Nature 410, 268–276 (2001)

Barabási, A. L. & Oltvai, Z. N. Network biology: understanding the cell's functional organization. Nature Rev. Genet. 5, 101–113 (2004)

Bullmore, E. & Sporns, O. Complex brain networks: graph theoretical analysis of structural and functional systems. Nature Rev. Neurosci. 10, 186–198 (2009)

Hermundstad, A. M., Brown, K. S., Bassett, D. S. & Carlson, J. M. Learning, memory, and the role of neural network architecture. PLOS Comput. Biol. 7, e1002063 (2011)

Wickersham, I. R., Finke, S., Conzelmann, K. K. & Callaway, E. M. Retrograde neuronal tracing with a deletion-mutant rabies virus. Nature Methods 4, 47–49 (2007)

Soudais, C., Laplace-Builhe, C., Kissa, K. & Kremer, E. J. Preferential transduction of neurons by canine adenovirus vectors and their efficient retrograde transport in vivo. FASEB J. 15, 2283–2285 (2001)

Dombeck, D. A., Harvey, C. D., Tian, L., Looger, L. L. & Tank, D. W. Functional imaging of hippocampal place cells at cellular resolution during virtual navigation. Nature Neurosci. 13, 1433–1440 (2010)

Mahoney, W. J. & Ayres, J. J. B. One-trial simultaneous and backward fear conditioning as reflected in conditioned suppression of licking in rats. Anim. Learn. Behav. 4, 357–362 (1976)

Bouton, M. E. & Bolles, R. C. Conditioned fear assessed by freezing and by the suppression of three different baselines. Anim. Learn. Behav. 8, 429–434 (1980)

Lovett-Barron, M. et al. Dendritic inhibition in the hippocampus supports fear learning. Science 343, 857–863 (2014)

Chen, T. W. et al. Ultrasensitive fluorescent proteins for imaging neuronal activity. Nature 499, 295–300 (2013)

Cheng, S. & Frank, L. M. New experiences enhance coordinated neural activity in the hippocampus. Neuron 57, 303–313 (2008)

Komiyama, T. et al. Learning-related fine-scale specificity imaged in motor cortex circuits of behaving mice. Nature 464, 1182–1186 (2010)

Modi, M. N., Dhawale, A. K. & Bhalla, U. S. CA1 cell activity sequences emerge after reorganization of network correlation structure during associative learning. eLife 3, e01982 (2014)

Vogelstein, J. T. et al. Fast nonnegative deconvolution for spike train inference from population calcium imaging. J. Neurophysiol. 104, 3691–3704 (2010)

Yizhar, O. et al. Neocortical excitation/inhibition balance in information processing and social dysfunction. Nature 477, 171–178 (2011)

Lin, J. Y., Knutsen, P. M., Muller, A., Kleinfeld, D. & Tsien, R. Y. ReaChR: a red-shifted variant of channelrhodopsin enables deep transcranial optogenetic excitation. Nature Neurosci. 16, 1499–1508 (2013)

Gunaydin, L. A. et al. Ultrafast optogenetic control. Nature Neurosci. 13, 387–392 (2010)

Goshen, I. et al. Dynamics of retrieval strategies for remote memories. Cell 147, 678–689 (2011)

Vinje, W. E. & Gallant, J. L. Sparse coding and decorrelation in primary visual cortex during natural vision. Science 287, 1273–1276 (2000)

Olshausen, B. A. & Field, D. J. Sparse coding of sensory inputs. Curr. Opin. Neurobiol. 14, 481–487 (2004)

Yassin, L. et al. An embedded subnetwork of highly active neurons in the neocortex. Neuron 68, 1043–1050 (2010)

Gdalyahu, A. et al. Associative fear learning enhances sparse network coding in primary sensory cortex. Neuron 75, 121–132 (2012)

Buzsáki, G., Geisler, C., Henze, D. A. & Wang, X.-J. Interneuron Diversity series: circuit complexity and axon wiring economy of cortical interneurons. Trends Neurosci. 27, 186–193 (2004)

Perin, R., Berger, T. K. & Markram, H. A synaptic organizing principle for cortical neuronal groups. Proc. Natl Acad. Sci. USA 108, 5419–5424 (2011)

Bonifazi, P. et al. GABAergic hub neurons orchestrate synchrony in developing hippocampal networks. Science 326, 1419–1424 (2009)

Brecht, M., Schneider, M., Sakmann, B. & Margrie, T. W. Whisker movements evoked by stimulation of single pyramidal cells in rat motor cortex. Nature 427, 704–710 (2004)

Houweling, A. R. & Brecht, M. Behavioural report of single neuron stimulation in somatosensory cortex. Nature 451, 65–68 (2008)

Li, C. Y., Poo, M.-M. & Dan, Y. Burst spiking of a single cortical neuron modifies global brain state. Science 324, 643–646 (2009)

Prakash, R. et al. Two-photon optogenetic toolbox for fast inhibition, excitation and bistable modulation. Nature Methods 9, 1171–1179 (2012)

Rickgauer, J. P., Deisseroth, K. & Tank, D. W. Simultaneous cellular-resolution optical perturbation and imaging of place cell firing fields. Nature Neurosci. 17, 1816–1824 (2014)

Packer, A. M., Russell, L. E., Dalgleish, H. W. & Häusser, M. Simultaneous all-optical manipulation and recording of neural circuit activity with cellular resolution in vivo. Nature Methods 12, 140–146 (2015)

Chung, K. et al. Structural and molecular interrogation of intact biological systems. Nature 497, 332–337 (2013)

Harvey, C. D., Coen, P. & Tank, D. W. Choice-specific sequences in parietal cortex during a virtual-navigation decision task. Nature 484, 62–68 (2012)

Niell, C. M. & Stryker, M. P. Modulation of visual responses by behavioral state in mouse visual cortex. Neuron 65, 472–479 (2010)

Mukamel, E. A., Nimmerjahn, A. & Schnitzer, M. J. Automated analysis of cellular signals from large-scale calcium imaging data. Neuron 63, 747–760 (2009)

Canny, J. A computational approach to edge detection. IEEE Trans. Pattern Anal. Mach. Intell. 8, 679–698 (1986)

Ko, H. et al. Functional specificity of local synaptic connections in neocortical networks. Nature 473, 87–91 (2011)

Cossell, L. et al. Functional organization of excitatory synaptic strength in primary visual cortex. Nature 518, 399–403 (2015)

Tarjan, R. E. Depth first search and linear graph algorithms. SIAM J. Comput. 1, 146–160 (1972)

Sedgewick, R. Algorithms in C++, Part 5 Graph Algorithms (Addison-Wesley, 2002)

Schwartz, T. H. et al. Networks of coactive neurons in developing layer 1. Neuron 20, 541–552 (1998)

Greenberg, D. S., Houweling, A. R. & Kerr, J. N. Population imaging of ongoing neuronal activity in the visual cortex of awake rats. Nature Neurosci. 11, 749–751 (2008)

Holekamp, T. F., Turaga, D. & Holy, T. E. Fast three-dimensional fluorescence imaging of activity in neural populations by objective-coupled planar illumination microscopy. Neuron 57, 661–672 (2008)

Smith, S. L. & Häusser, M. Parallel processing of visual space by neighboring neurons in mouse visual cortex. Nature Neurosci. 13, 1144–1149 (2010)

Castillo, P. E., Younts, T. J., Chávez, A. E. & Hashimotodani, Y. Endocannabinoid signaling and synaptic function. Neuron 76, 70–81 (2012)

Berndt, A., Lee, S. Y., Ramakrishnan, C. & Deisseroth, K. Structure-guided transformation of channelrhodopsin into a light-activated chloride channel. Science 344, 420–424 (2014)

Lee, S. Y., Földy, C., Szabadics, J. & Soltesz, I. Cell-type-specific CCK2 receptor signaling underlies the cholecystokinin-mediated selective excitation of hippocampal parvalbumin-positive fast-spiking basket cells. J. Neurosci. 31, 10993–11002 (2011)

Kohara, K. et al. Cell type-specific genetic and optogenetic tools reveal hippocampal CA2 circuits. Nature Neurosci. 17, 269–279 (2014)

Varga, C., Lee, S. Y. & Soltesz, I. Target-selective GABAergic control of entorhinal cortex output. Nature Neurosci. 13, 822–824 (2010)
Acknowledgements
We thank B. K. Lim for the rabies virus and S. Pak for assistance with histology. We thank the entire Deisseroth laboratory for thoughtful comments, with particular gratitude to M. Lovett-Baron, A. Andalman and W. Allen for their helpful discussions throughout. K.D. is supported by the Defense Advanced Research Projects Agency Neuro-FAST program, National Institute of Mental Health, National Institute on Drug Abuse, National Science Foundation, the Simons Foundation, the Tarlton Foundation, the Wiegers Family Fund, the Nancy and James Grosfeld Foundation, the H.L. Snyder Medical Foundation, and the Samuel and Betsy Reeves Fund. This work is supported by an Ellison Life Sciences Research Foundation (LSRF) fellowship (P.R.), a Simons LSRF fellowship (J.H.M.), the German Academic Exchange Service DAAD (A.B.) and the Fidelity Foundation (S.Y.L.). All tools and methods are distributed and supported freely (http://www.optogenetics.org).
Ethics declarations
Competing interests
The authors declare no competing financial interests.
Extended data figures and tables
Supplementary information
About this article
Cite this article
Rajasethupathy, P., Sankaran, S., Marshel, J. et al. Projections from neocortex mediate top-down control of memory retrieval. Nature 526, 653–659 (2015). https://doi.org/10.1038/nature15389
Received:

Accepted:

Published:

Issue Date:

DOI: https://doi.org/10.1038/nature15389
Comments
By submitting a comment you agree to abide by our Terms and Community Guidelines. If you find something abusive or that does not comply with our terms or guidelines please flag it as inappropriate.