Abstract
The gut epithelium has remarkable self-renewal capacity that under homeostatic conditions is driven by Wnt signalling in Lgr5+ intestinal stem cells (ISCs)1. However, the mechanisms underlying ISC regeneration after injury remain poorly understood. The Hippo signalling pathway mediates tissue growth and is important for regeneration2,3. Here we demonstrate in mice that Yap, a downstream transcriptional effector of Hippo, is critical for recovery of intestinal epithelium after exposure to ionizing radiation. Yap transiently reprograms Lgr5+ ISCs by suppressing Wnt signalling and excessive Paneth cell differentiation, while promoting cell survival and inducing a regenerative program that includes Egf pathway activation. Accordingly, growth of Yap-deficient organoids is rescued by the Egfr ligand epiregulin, and we find that non-cell-autonomous production of stromal epiregulin may compensate for Yap loss in vivo. Consistent with key roles for regenerative signalling in tumorigenesis, we further demonstrate that Yap inactivation abolishes adenomas in the ApcMin mouse model of colon cancer, and that Yap-driven expansion of Apc−/− organoids requires the Egfr module of the Yap regenerative program. Finally, we show that in vivo Yap is required for progression of early Apc mutant tumour-initiating cells, suppresses their differentiation into Paneth cells, and induces a regenerative program and Egfr signalling. Our studies reveal that upon tissue injury, Yap reprograms Lgr5+ ISCs by inhibiting the Wnt homeostatic program, while inducing a regenerative program that includes activation of Egfr signalling. Moreover, our findings reveal a key role for the Yap regenerative pathway in driving cancer initiation.
Access options
Subscribe to Journal
Get full journal access for 1 year
$199.00
only $3.90 per issue
All prices are NET prices.
VAT will be added later in the checkout.
Tax calculation will be finalised during checkout.
Rent or Buy article
Get time limited or full article access on ReadCube.
from$8.99
All prices are NET prices.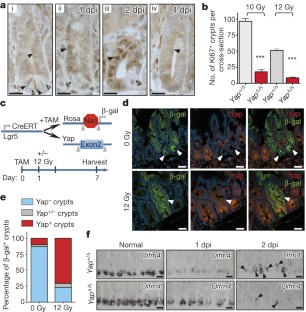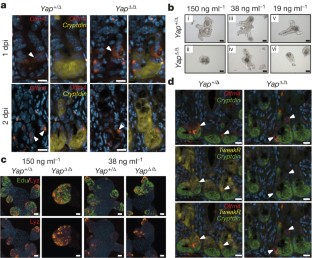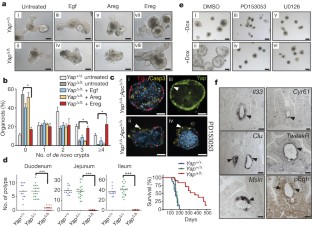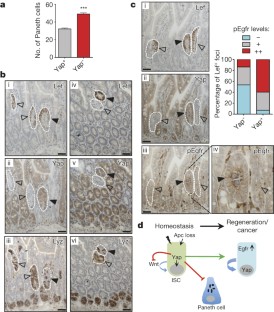 References
1

Clevers, H. The intestinal crypt, a prototype stem cell compartment. Cell 154, 274–284 (2013)

2

Johnson, R. & Halder, G. The two faces of Hippo: targeting the Hippo pathway for regenerative medicine and cancer treatment. Nature Rev. Drug Discov. 13, 63–79 (2014)

3

Yu, F. X., Meng, Z., Plouffe, S. W. & Guan, K. L. Hippo pathway regulation of gastrointestinal tissues. Annu. Rev. Physiol. 77, 201–227 (2015)

4

Barry, E. R. et al. Restriction of intestinal stem cell expansion and the regenerative response by YAP. Nature 493, 106–110 (2013)

5

Metcalfe, C., Kljavin, N. M., Ybarra, R. & de Sauvage, F. J. Lgr5+ stem cells are indispensable for radiation-induced intestinal regeneration. Cell Stem Cell 14, 149–159 (2014)

6

Barker, N. et al. Identification of stem cells in small intestine and colon by marker gene Lgr5. Nature 449, 1003–1007 (2007)

7

Sato, T. et al. Single Lgr5 stem cells build crypt-villus structures in vitro without a mesenchymal niche. Nature 459, 262–265 (2009)

8

Varelas, X. et al. The Hippo pathway regulates Wnt/β-catenin signaling. Dev. Cell 18, 579–591 (2010)

9

Imajo, M., Miyatake, K., Iimura, A., Miyamoto, A. & Nishida, E. A molecular mechanism that links Hippo signalling to the inhibition of Wnt/β-catenin signalling. EMBO J. 31, 1109–1122 (2012)

10

Azzolin, L. et al. YAP/TAZ incorporation in the β-catenin destruction complex orchestrates the Wnt response. Cell 158, 157–170 (2014)

11

Yan, K. S. et al. The intestinal stem cell markers Bmi1 and Lgr5 identify two functionally distinct populations. Proc. Natl Acad. Sci. USA 109, 466–471 (2012)

12

van Es, J. H. et al. Dll1+ secretory progenitor cells revert to stem cells upon crypt damage. Nature Cell Biol. 14, 1099–1104 (2012)

13

Tao, S. et al. Wnt activity and basal niche position sensitize intestinal stem and progenitor cells to DNA damage. EMBO J., (2015)

14

van Es, J. H. et al. Wnt signalling induces maturation of Paneth cells in intestinal crypts. Nature Cell Biol. 7, 381–386 (2005)

15

Andreu, P. et al. Crypt-restricted proliferation and commitment to the Paneth cell lineage following Apc loss in the mouse intestine. Development 132, 1443–1451 (2005)

16

Zhou, D. et al. Mst1 and Mst2 protein kinases restrain intestinal stem cell proliferation and colonic tumorigenesis by inhibition of Yes-associated protein (Yap) overabundance. Proc. Natl Acad. Sci. USA 108, E1312–E1320 (2011)

17

Farin, H. F., Van Es, J. H. & Clevers, H. Redundant sources of Wnt regulate intestinal stem cells and promote formation of Paneth cells. Gastroenterology 143, 1518–1529 (2012)

18

Karaca, G. et al. TWEAK/Fn14 signaling is required for liver regeneration after partial hepatectomy in mice. PLoS ONE 9, e83987 (2014)

19

Shao, J. & Sheng, H. Amphiregulin promotes intestinal epithelial regeneration: roles of intestinal subepithelial myofibroblasts. Endocrinology 151, 3728–3737 (2010)

20

Ren, F. et al. Hippo signaling regulates Drosophila intestine stem cell proliferation through multiple pathways. Proc. Natl Acad. Sci. USA 107, 21064–21069 (2010)

21

Powell, A. E. et al. The pan-ErbB negative regulator Lrig1 is an intestinal stem cell marker that functions as a tumor suppressor. Cell 149, 146–158 (2012)

22

Staley, B. K. & Irvine, K. D. Warts and Yorkie mediate intestinal regeneration by influencing stem cell proliferation. Curr. Biol. 20, 1580–1587 (2010)

23

Wong, V. W. et al. Lrig1 controls intestinal stem-cell homeostasis by negative regulation of ErbB signalling. Nature Cell Biol. 14, 401–408 (2012)

24

Yang, N. et al. TAZ induces growth factor-independent proliferation through activation of EGFR ligand amphiregulin. Cell Cycle 11, 2922–2930 (2012)

25

Zhang, J. et al. YAP-dependent induction of amphiregulin identifies a non-cell-autonomous component of the Hippo pathway. Nature Cell Biol. 11, 1444–1450 (2009)

26

Pastore, S., Mascia, F., Mariani, V. & Girolomoni, G. The epidermal growth factor receptor system in skin repair and inflammation. J. Invest. Dermatol. 128, 1365–1374 (2008)

27

Lee, D. et al. Epiregulin is not essential for development of intestinal tumors but is required for protection from intestinal damage. Mol. Cell. Biol. 24, 8907–8916 (2004)

28

Neufert, C. et al. Tumor fibroblast-derived epiregulin promotes growth of colitis-associated neoplasms through ERK. J. Clin. Invest. 123, 1428–1443 (2013)

29

Faller, W. J. et al. mTORC1-mediated translational elongation limits intestinal tumour initiation and growth. Nature 517, 497–500 (2015)

30

Reginensi, A. et al. Yap- and Cdc42-dependent nephrogenesis and morphogenesis during mouse kidney development. PLoS Genet. 9, e1003380 (2013)

31

Gregorieff, A. et al. Expression pattern of Wnt signaling components in the adult intestine. Gastroenterology 129, 626–638 (2005)

32

Lauter, G., Soll, I. & Hauptmann, G. Multicolor fluorescent in situ hybridization to define abutting and overlapping gene expression in the embryonic zebrafish brain. Neural Dev. 6, 10 (2011)

33

Kosman, D. et al. Multiplex detection of RNA expression in Drosophila embryos. Science 305, 846 (2004)

34

Vize, P. D., McCoy, K. E. & Zhou, X. Multichannel wholemount fluorescent and fluorescent/chromogenic in situ hybridization in Xenopus embryos. Nature Protocols 4, 975–983 (2009)
Acknowledgements
We would like to thank K. Chan for performing RNA-seq analysis, M. Moran for advice on Egfr analyses, and R. Bremner and L. Attisano for critical review of the manuscript. This work was supported by the CIHR (MOP-12860 and MOP-106672), the Terry Fox Research Institute, and the Krembil Foundation. J.L.W. is the Mary Janigan Chair in Experimental Therapeutics and the CIBC Chair in Breast Cancer Research.
Ethics declarations
Competing interests
The authors declare no competing financial interests.
Extended data figures and tables
Supplementary information
This file contains uncropped scans with size marker indications. (PDF 2169 kb)
This file contains Supplementary Table 1, a list of Yap regulated genes. (XLSX 1383 kb)
About this article
Cite this article
Gregorieff, A., Liu, Y., Inanlou, M. et al. Yap-dependent reprogramming of Lgr5+ stem cells drives intestinal regeneration and cancer. Nature 526, 715–718 (2015). https://doi.org/10.1038/nature15382
Received:

Accepted:

Published:

Issue Date:
Comments
By submitting a comment you agree to abide by our Terms and Community Guidelines. If you find something abusive or that does not comply with our terms or guidelines please flag it as inappropriate.