Abstract
It is commonly assumed, but has rarely been demonstrated1,2, that sex differences in behaviour arise from sexual dimorphism in the underlying neural circuits3,4. Parental care is a complex stereotypic behaviour towards offspring that is shared by numerous species5. Mice display profound sex differences in offspring-directed behaviours. At their first encounter, virgin females behave maternally towards alien pups while males will usually ignore the pups or attack them6,7,8,9. Here we show that tyrosine hydroxylase (TH)-expressing neurons in the anteroventral periventricular nucleus (AVPV) of the mouse hypothalamus are more numerous in mothers than in virgin females and males, and govern parental behaviours in a sex-specific manner. In females, ablating the AVPV TH+ neurons impairs maternal behaviour whereas optogenetic stimulation or increased TH expression in these cells enhance maternal care. In males, however, this same neuronal cluster has no effect on parental care but rather suppresses inter-male aggression. Furthermore, optogenetic activation or increased TH expression in the AVPV TH+ neurons of female mice increases circulating oxytocin, whereas their ablation reduces oxytocin levels. Finally, we show that AVPV TH+ neurons relay a monosynaptic input to oxytocin-expressing neurons in the paraventricular nucleus. Our findings uncover a previously unknown role for this neuronal population in the control of maternal care and oxytocin secretion, and provide evidence for a causal relationship between sexual dimorphism in the adult brain and sex differences in parental behaviour.
Your institute does not have access to this article
Relevant articles
Open Access articles citing this article.
Lindsey M. Biggs

&

Elizabeth A. D. Hammock

Scientific Reports Open Access 06 July 2022

Ioana Carcea

,

Naomi López Caraballo

…

Robert C. Froemke

Nature Open Access 11 August 2021

María Pilar Madrigal

&

Sandra Jurado

Communications Biology Open Access 14 May 2021
Access options
Subscribe to Journal
Get full journal access for 1 year
$199.00
only $3.90 per issue
All prices are NET prices.
VAT will be added later in the checkout.
Tax calculation will be finalised during checkout.
Buy article
Get time limited or full article access on ReadCube.
$32.00
All prices are NET prices.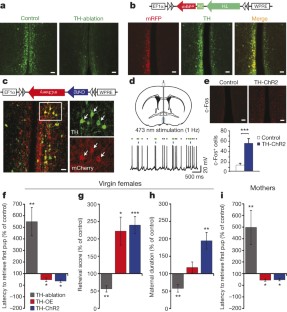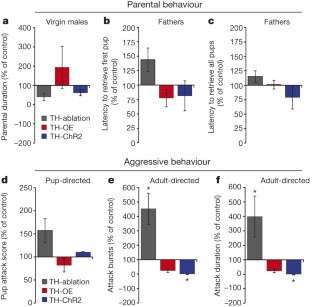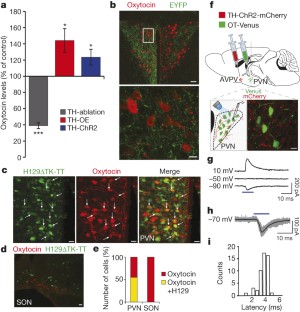 References
Xu, X. et al. Modular genetic control of sexually dimorphic behaviors. Cell 148, 596–607 (2012)

Yang, C. F. et al. Sexually dimorphic neurons in the ventromedial hypothalamus govern mating in both sexes and aggression in males. Cell 153, 896–909 (2013)

De Vries, G. J. & Villalba, C. Brain sexual dimorphism and sex differences in parental and other social behaviors. Ann. NY Acad. Sci. 807, 273–286 (1997)

Simerly, R. B. Wired for reproduction: organization and development of sexually dimorphic circuits in the mammalian forebrain. Annu. Rev. Neurosci. 25, 507–536 (2002)

Dulac, C., O'Connell, L. A. & Wu, Z. Neural control of maternal and paternal behaviors. Science 345, 765–770 (2014)

Kuroda, K. O., Tachikawa, K., Yoshida, S., Tsuneoka, Y. & Numan, M. Neuromolecular basis of parental behavior in laboratory mice and rats: with special emphasis on technical issues of using mouse genetics. Prog. Neuropsychopharmacol. Biol. Psychiatry 35, 1205–1231 (2011)

Vom Saal, F. S. Time-contingent change in infanticide and parental behavior induced by ejaculation in male mice. Physiol. Behav. 34, 7–15 (1985)

Chalfin, L. et al. Mapping ecologically relevant social behaviours by gene knockout in wild mice. Nat. Commun. 5, 4569 (2014)

Lonstein, J. S. & De Vries, G. J. Sex differences in the parental behavior of rodents. Neurosci. Biobehav. Rev. 24, 669–686 (2000)

Semaan, S. J. & Kauffman, A. S. Sexual differentiation and development of forebrain reproductive circuits. Curr. Opin. Neurobiol. 20, 424–431 (2010)

Simerly, R. B. Organization and regulation of sexually dimorphic neuroendocrine pathways. Behav. Brain Res. 92, 195–203 (1998)

Cao, J. & Patisaul, H. B. Sexually dimorphic expression of hypothalamic estrogen receptors α and β and Kiss1 in neonatal male and female rats. J. Comp. Neurol. 519, 2954–2977 (2011)

Zuloaga, D. G., Zuloaga, K. L., Hinds, L. R., Carbone, D. L. & Handa, R. J. Estrogen receptor β expression in the mouse forebrain: age and sex differences. J. Comp. Neurol. 522, 358–371 (2014)

Simerly, R. B., Zee, M. C., Pendleton, J. W., Lubahn, D. B. & Korach, K. S. Estrogen receptor-dependent sexual differentiation of dopaminergic neurons in the preoptic region of the mouse. Proc. Natl Acad. Sci. USA 94, 14077–14082 (1997)

Love, T. M. Oxytocin, motivation and the role of dopamine. Pharmacol. Biochem. Behav. 119, 49–60 (2014)

Lonstein, J. S. & Morrell, J. I. in Handbook of Neurochemistry and Molecular Neurobiology: Behavioral Neurochemistry, Neuroendocrinology and Molecular Neurobiology (eds Lejtha, A. & Blaustein J. ) Ch. 5, 197–229 (Springer-Verlag, 2007)

Iancu, R., Mohapel, P., Brundin, P. & Paul, G. Behavioral characterization of a unilateral 6-OHDA-lesion model of Parkinson's disease in mice. Behav. Brain Res. 162, 1–10 (2005)

Liu, X. & Herbison, A. E. Dopamine regulation of gonadotropin-releasing hormone neuron excitability in male and female mice. Endocrinology 154, 340–350 (2013)

Han, S. K. et al. Activation of gonadotropin-releasing hormone neurons by kisspeptin as a neuroendocrine switch for the onset of puberty. J. Neurosci. 25, 11349–11356 (2005)

Spitzer, N. C. Activity-dependent neurotransmitter respecification. Nature Rev. Neurosci. 13, 94–106 (2012)

Aumann, T. D., Tomas, D. & Horne, M. K. Environmental and behavioral modulation of the number of substantia nigra dopamine neurons in adult mice. Brain Behav. 3, 617–625 (2013)

Ducret, E., Gaidamaka, G. & Herbison, A. E. Electrical and morphological characteristics of anteroventral periventricular nucleus kisspeptin and other neurons in the female mouse. Endocrinology 151, 2223–2232 (2010)

Margolis, E. B., Lock, H., Hjelmstad, G. O. & Fields, H. L. The ventral tegmental area revisited: is there an electrophysiological marker for dopaminergic neurons? J. Physiol. (Lond.) 577, 907–924 (2006)

Kimchi, T., Xu, J. & Dulac, C. A functional circuit underlying male sexual behaviour in the female mouse brain. Nature 448, 1009–1014 (2007)

Rilling, J. K. & Young, L. J. The biology of mammalian parenting and its effect on offspring social development. Science 345, 771–776 (2014)

Lee, H.-J., Macbeth, A. H., Pagani, J. H. & Young, W. S., III Oxytocin: the great facilitator of life. Prog. Neurobiol. 88, 127–151 (2009)

Wu, Z., Autry, A. E., Bergan, J. F., Watabe-Uchida, M. & Dulac, C. G. Galanin neurons in the medial preoptic area govern parental behaviour. Nature 509, 325–330 (2014)

Numan, M. & Woodside, B. Maternity: neural mechanisms, motivational processes, and physiological adaptations. Behav. Neurosci. 124, 715–741 (2010)

Numan, M. & Insel, T. R. The Neurobiology of Parental Behavior (Springer-Verlag, 2003)

Marlin, B. J., Mitre, M., D'amour, J. A., Chao, M. V. & Froemke, R. C. Oxytocin enables maternal behaviour by balancing cortical inhibition. Nature 520, 499–504 (2015)

Lindeberg, J. et al. Transgenic expression of Cre recombinase from the tyrosine hydroxylase locus. Genesis 40, 67–73 (2004)

Lammel, S. et al. Diversity of transgenic mouse models for selective targeting of midbrain dopamine neurons. Neuron 85, 429–438 (2015)

Lo, L. & Anderson, D. J. A Cre-dependent, anterograde transsynaptic viral tracer for mapping output pathways of genetically marked neurons. Neuron 72, 938–950 (2011)

Knobloch, H. S. et al. Evoked axonal oxytocin release in the central amygdala attenuates fear response. Neuron 73, 553–566 (2012)

Sohal, V. S., Zhang, F., Yizhar, O. & Deisseroth, K. Parvalbumin neurons and gamma rhythms enhance cortical circuit performance. Nature 459, 698–702 (2009)

Nelson, J. F., Felicio, L. S., Randall, P. K., Sims, C. & Finch, C. E. A longitudinal study of estrous cyclicity in aging C57BL/6J mice: I. Cycle frequency, length and vaginal cytology. Biol. Reprod. 27, 327–339 (1982)
Acknowledgements
We thank M. Dayan, E. Elharrar, I. Sofer, Y. Pen, Y. Beny, N. Zhilka and E. Massasa for their assistance with the experiments; R. Levy for help with virus production; A. Chen and A. Ramot for sharing equipment and reagents. A. Mizrahi, S. Wagner, and the Yizhar and Kimchi groups, for comments on the manuscript; D. Anderson for providing the Cre-dependent anterograde virus and V. Grinevich for providing the OT:Venus virus. M.P. was supported by the Clore Center for Biological Physics and a Minerva postdoctoral fellowship. This work was supported by grants from Minerva Foundation 711131, Women's Health Research Center, Gruber Foundation 720667, ISF 1324/15, the Jenna and Julia Birnbach Career Development Chair to T.K.; and Marie Curie CIG 321919, ERC StG 337637, ISF 1351/12, the Nollman Career Development Chair to O.Y.
Ethics declarations
Competing interests
The authors declare no competing financial interests.
Extended data figures and tables
Supplementary information
About this article
Cite this article
Scott, N., Prigge, M., Yizhar, O. et al. A sexually dimorphic hypothalamic circuit controls maternal care and oxytocin secretion. Nature 525, 519–522 (2015). https://doi.org/10.1038/nature15378
Received:

Accepted:

Published:

Issue Date:

DOI: https://doi.org/10.1038/nature15378
Comments
By submitting a comment you agree to abide by our Terms and Community Guidelines. If you find something abusive or that does not comply with our terms or guidelines please flag it as inappropriate.