Abstract
The development of life-threatening cancer metastases at distant organs requires disseminated tumour cells' adaptation to, and co-evolution with, the drastically different microenvironments of metastatic sites1. Cancer cells of common origin manifest distinct gene expression patterns after metastasizing to different organs2. Clearly, the dynamic interaction between metastatic tumour cells and extrinsic signals at individual metastatic organ sites critically effects the subsequent metastatic outgrowth3,4. Yet, it is unclear when and how disseminated tumour cells acquire the essential traits from the microenvironment of metastatic organs that prime their subsequent outgrowth. Here we show that both human and mouse tumour cells with normal expression of PTEN, an important tumour suppressor, lose PTEN expression after dissemination to the brain, but not to other organs. The PTEN level in PTEN-loss brain metastatic tumour cells is restored after leaving the brain microenvironment. This brain microenvironment-dependent, reversible PTEN messenger RNA and protein downregulation is epigenetically regulated by microRNAs from brain astrocytes. Mechanistically, astrocyte-derived exosomes mediate an intercellular transfer of PTEN-targeting microRNAs to metastatic tumour cells, while astrocyte-specific depletion of PTEN-targeting microRNAs or blockade of astrocyte exosome secretion rescues the PTEN loss and suppresses brain metastasis in vivo. Furthermore, this adaptive PTEN loss in brain metastatic tumour cells leads to an increased secretion of the chemokine CCL2, which recruits IBA1-expressing myeloid cells that reciprocally enhance the outgrowth of brain metastatic tumour cells via enhanced proliferation and reduced apoptosis. Our findings demonstrate a remarkable plasticity of PTEN expression in metastatic tumour cells in response to different organ microenvironments, underpinning an essential role of co-evolution between the metastatic cells and their microenvironment during the adaptive metastatic outgrowth. Our findings signify the dynamic and reciprocal cross-talk between tumour cells and the metastatic niche; importantly, they provide new opportunities for effective anti-metastasis therapies, especially of consequence for brain metastasis patients.
Access options
Subscribe to Journal
Get full journal access for 1 year
$199.00
only $3.90 per issue
All prices are NET prices.
VAT will be added later in the checkout.
Tax calculation will be finalised during checkout.
Rent or Buy article
Get time limited or full article access on ReadCube.
from$8.99
All prices are NET prices.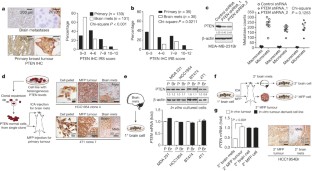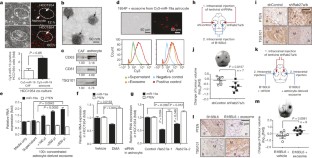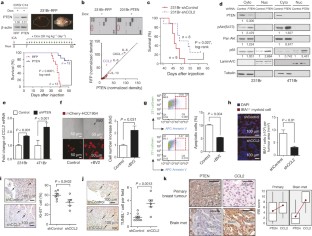 References
1

Quail, D. F. & Joyce, J.A. Microenvironmental regulation of tumor progression and metastasis. Nature Med. 19, 1423–1437 (2013)

2

Park, E. S. et al. Cross-species hybridization of microarrays for studying tumor transcriptome of brain metastasis. Proc. Natl Acad. Sci. USA 108, 17456–17461 (2011)

3

Joyce, J. A. & Pollard, J. W. Microenvironmental regulation of metastasis. Nature Rev. Cancer 9, 239–252 (2009)

4

Vanharanta, S. & Massagué, J. Origins of metastatic traits. Cancer Cell 24, 410–421 (2013)

5

Gray, J. Cancer: genomics of metastasis. Nature 464, 989–990 (2010)

6

Friedl, P. & Alexander, S. Cancer invasion and the microenvironment: plasticity and reciprocity. Cell 147, 992–1009 (2011)

7

Zhang, S. et al. Combating trastuzumab resistance by targeting SRC, a common node downstream of multiple resistance pathways. Nature Med. 17, 461–469 (2011)

8

Gonzalez-Angulo, A. M. et al. PI3K pathway mutations and PTEN levels in primary and metastatic breast cancer. Mol. Cancer Ther. 10, 1093–1101 (2011)

9

Wikman, H. et al. Relevance of PTEN loss in brain metastasis formation of breast cancer patients. Breast Cancer Res. 14, R49 (2012)

10

Song, M. S., Salmena, L. & Pandolfi, P. P. The functions and regulation of the PTEN tumour suppressor. Nature Rev. Mol. Cell Biol. 13, 283–296 (2012)

11

Hopkins, B. D. et al. A secreted PTEN phosphatase that enters cells to alter signaling and survival. Science 341, 399–402 (2013)

12

Miething, C. et al. PTEN action in leukaemia dictated by the tissue microenvironment. Nature 510, 402–406 (2014)

13

Mecha, M. et al. An easy and fast way to obtain a high number of glial cells from rat cerebral tissue: A beginners approach. Protocol Exchange http://dx.doi.org/10.1038/protex.2011.218 (2011)

14

Zhu, H., Han, C., Lu, D. & Wu, T. miR-17–92 cluster promotes cholangiocarcinoma growth: evidence for PTEN as downstream target and IL-6/Stat3 as upstream activator. Am. J. Pathol. 184, 2828–2839 (2014)

15

Liu, S.-Q., Jiang, S., Li, C., Zhang, B. & Li, Q.-J. miR-17–92 cluster targets phosphatase and tensin homology and Ikaros Family Zinc Finger 4 to promote TH17-mediated inflammation. J. Biol. Chem. 289, 12446–12456 (2014)

16

Olive, V. et al. miR-19 is a key oncogenic component of mir-17–92. Genes Dev. 23, 2839–2849 (2009)

17

Olive, V., Jiang, I. & He, L. mir-17-92, a cluster of miRNAs in the midst of the cancer network. Int. J. Biochem. Cell Biol. 42, 1348–1354 (2010)

18

Ventura, A. et al. Targeted deletion reveals essential and overlapping functions of the miR-17 through 92 family of miRNA clusters. Cell 132, 875–886 (2008)

19

Mittelbrunn, M. et al. Unidirectional transfer of microRNA-loaded exosomes from T cells to antigen-presenting cells. Nature Commun. 2, 282 (2011)

20

Suetsugu, A. et al. Imaging exosome transfer from breast cancer cells to stroma at metastatic sites in orthotopic nude-mouse models. Adv. Drug Deliv. Rev. 65, 383–390 (2013)

21

Frühbeis, C., Fröhlich, D. & Krämer-Albers, E. M. Emerging roles of exosomes in neuron–glia communication. Front. Physiol. 3, 119 (2012)

22

Kesimer, M. et al. Characterization of exosome-like vesicles released from human tracheobronchial ciliated epithelium: a possible role in innate defense. FASEB J. 23, 1858–1868 (2009)

23

Peinado, H. et al. Melanoma exosomes educate bone marrow progenitor cells toward a pro-metastatic phenotype through MET. Nature Med. 18, 883–891 (2012)

24

Conti, I. & Rollins, B. J. CCL2 (monocyte chemoattractant protein-1) and cancer. Semin. Cancer Biol. 14, 149–154 (2004)

25

Qian, B.-Z. et al. CCL2 recruits inflammatory monocytes to facilitate breast-tumour metastasis. Nature 475, 222–225 (2011)

26

Bonapace, L. et al. Cessation of CCL2 inhibition accelerates breast cancer metastasis by promoting angiogenesis. Nature 515, 130–133 (2014)

27

Lu, J. et al. 14-3-3ζ Cooperates with ErbB2 to promote ductal carcinoma in situ progression to invasive breast cancer by inducing epithelial-mesenchymal transition. Cancer Cell 16, 195–207 (2009)

28

Nagata, Y. et al. PTEN activation contributes to tumor inhibition by trastuzumab, and loss of PTEN predicts trastuzumab resistance in patients. Cancer Cell 6, 117–127 (2004)

29

Zhang, S. et al. Src family kinases as novel therapeutic targets to treat breast cancer brain metastases. Cancer Res. 73, 5764–5774 (2013)

30

Gril, B. et al. Effect of lapatinib on the outgrowth of metastatic breast cancer cells to the brain. J. Natl Cancer Inst. 100, 1092–1103 (2008)
Acknowledgements
We thank M.-C. Hung, H.-K. Lin and Z. Lu for reading the manuscript, A. Yung for PTEN promoter constructs, MD Anderson Cancer Center (MDACC) shRNA and ORFome, FACS, histology and high-resolution electron microscopy support, the animal core facilities (NIH CA16672) for technical support, and members of the Yu laboratory for helpful discussions. Thanks to A. Matsika for histological review and tissue microarray construction. This work was supported partially by DOD Center of Excellence grant (P.S.S.) subproject W81XWH-06-2-0033 (D.Y.), NIH Pathway to Independence Award 5R00CA158066-05 (S.Z.), DOD Postdoctoral Fellowship W81XWH-11-1-0003 (C.Z.), Isaiah Fidler Fellowship in Cancer Metastasis (F.J.L.), PO1-CA099031 project 4 (D.Y.), RO1-CA112567-06 (D.Y.), R01CA184836 (D.Y.), Susan G. Komen Breast Cancer Foundation Promise Grant KG091020 (D.Y.), METAvivor Research Grant (D.Y.), Breast and Ovarian Cancers Moon Shot program, China Medical University Research Fund, and Sowell-Huggins Pre-doctoral Fellowship (L.Z.) and Professorship (D.Y.) in Cancer Research. D.Y. is the Hubert L. & Olive Stringer Distinguished Chair in Basic Science at the MDACC.
Ethics declarations
Competing interests
The authors declare no competing financial interests.
Extended data figures and tables
Supplementary information
This file contains the relevant patient information for this study. (PDF 469 kb)
About this article
Cite this article
Zhang, L., Zhang, S., Yao, J. et al. Microenvironment-induced PTEN loss by exosomal microRNA primes brain metastasis outgrowth. Nature 527, 100–104 (2015). https://doi.org/10.1038/nature15376
Received:

Accepted:

Published:

Issue Date:
Comments
By submitting a comment you agree to abide by our Terms and Community Guidelines. If you find something abusive or that does not comply with our terms or guidelines please flag it as inappropriate.