Abstract
Understanding the development and function of an organ requires the characterization of all of its cell types. Traditional methods for visualizing and isolating subpopulations of cells are based on messenger RNA or protein expression of only a few known marker genes. The unequivocal identification of a specific marker gene, however, poses a major challenge, particularly if this cell type is rare. Identifying rare cell types, such as stem cells, short-lived progenitors, cancer stem cells, or circulating tumour cells, is crucial to acquire a better understanding of normal or diseased tissue biology. To address this challenge we first sequenced the transcriptome of hundreds of randomly selected cells from mouse intestinal organoids1, cultured self-organizing epithelial structures that contain all cell lineages of the mammalian intestine. Organoid buds, like intestinal crypts, harbour stem cells that continuously differentiate into a variety of cell types, occurring at widely different abundances2. Since available computational methods can only resolve more abundant cell types, we developed RaceID, an algorithm for rare cell type identification in complex populations of single cells. We demonstrate that this algorithm can resolve cell types represented by only a single cell in a population of randomly sampled organoid cells. We use this algorithm to identify Reg4 as a novel marker for enteroendocrine cells, a rare population of hormone-producing intestinal cells3. Next, we use Reg4 expression to enrich for these rare cells and investigate the heterogeneity within this population. RaceID confirmed the existence of known enteroendocrine lineages, and moreover discovered novel subtypes, which we subsequently validated in vivo. Having validated RaceID we then applied the algorithm to ex vivo-isolated Lgr5-positive stem cells and their direct progeny. We find that Lgr5-positive cells represent a homogenous abundant population of stem cells mixed with a rare population of Lgr5-positive secretory cells. We envision broad applicability of our method for discovering rare cell types and the corresponding marker genes in healthy and diseased organs.
Your institute does not have access to this article
Relevant articles
Open Access articles citing this article.
Mariia Bilous

,

Loc Tran

…

David Gfeller

BMC Bioinformatics Open Access 13 August 2022

Fredrik Salmen

,

Joachim De Jonghe

…

Alexander van Oudenaarden

Nature Biotechnology Open Access 27 June 2022

Wendy Xueyi Wang

&

Julie L. Lefebvre

Nature Communications Open Access 14 June 2022
Access options
Subscribe to Journal
Get full journal access for 1 year
$199.00
only $3.90 per issue
All prices are NET prices.
VAT will be added later in the checkout.
Tax calculation will be finalised during checkout.
Buy article
Get time limited or full article access on ReadCube.
$32.00
All prices are NET prices.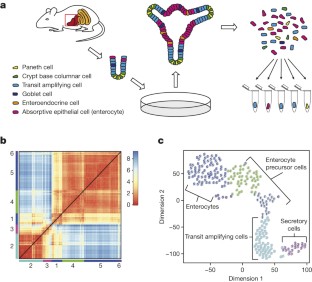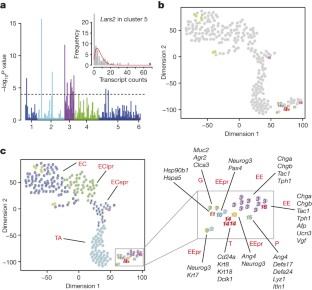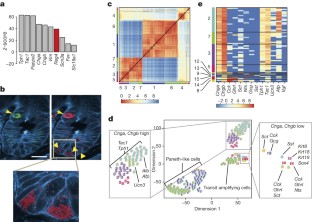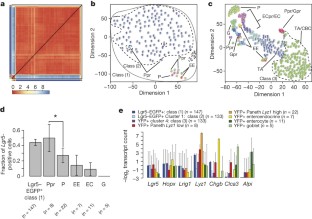 References
Sato, T. et al. Single Lgr5 stem cells build crypt-villus structures in vitro without a mesenchymal niche. Nature 459, 262–265 (2009)

van der Flier, L. G. & Clevers, H. Stem cells, self-renewal, and differentiation in the intestinal epithelium. Annu. Rev. Physiol. 71, 241–260 (2009)

Engelstoft, M. S., Egerod, K. L., Lund, M. L. & Schwartz, T. W. Enteroendocrine cell types revisited. Curr. Opin. Pharmacol. 13, 912–921 (2013)

Shapiro, E., Biezuner, T. & Linnarsson, S. Single-cell sequencing-based technologies will revolutionize whole-organism science. Nature Rev. Genet. 14, 618–630 (2013)

Jaitin, D. A. et al. Massively parallel single-cell RNA-seq for marker-free decomposition of tissues into cell types. Science 343, 776–779 (2014)

Treutlein, B. et al. Reconstructing lineage hierarchies of the distal lung epithelium using single-cell RNA-seq. Nature 509, 371–375 (2014)

Patel, A. P. et al. Single-cell RNA-seq highlights intratumoral heterogeneity in primary glioblastoma. Science 344, 1396–1401 (2014)

Shalek, A. K. et al. Single-cell RNA-seq reveals dynamic paracrine control of cellular variation. Nature 510, 363–369 (2014)

Pollen, A. A. et al. Low-coverage single-cell mRNA sequencing reveals cellular heterogeneity and activated signaling pathways in developing cerebral cortex. Nature Biotechnol. 32, 1053–1058 (2014)

Xue, Z. et al. Genetic programs in human and mouse early embryos revealed by single-cell RNA sequencing. Nature 500, 593–597 (2013)

Clevers, H. The intestinal crypt, a prototype stem cell compartment. Cell 154, 274–284 (2013)

Barker, N. Adult intestinal stem cells: critical drivers of epithelial homeostasis and regeneration. Nature Rev. Mol. Cell Biol. 15, 19–33 (2014)

Hashimshony, T., Wagner, F., Sher, N. & Yanai, I. CEL-Seq: single-cell RNA-Seq by multiplexed linear amplification. Cell Rep. 2, 666–673 (2012)

Grün, D., Kester, L. & van Oudenaarden, A. Validation of noise models for single-cell transcriptomics. Nature Methods 11, 637–640 (2014)

Tibshirani, R., Walther, G. & Hastie, T. Estimating the number of clusters in a data set via the gap statistic. J. R. Stat. Soc. B. 63, 411–423 (2001)

Van der Maaten, L. & Hinton, G. Visualizing data using t-SNE. J. Mach. Learn. Res. 9, 2570–2605 (2008)

Schonhoff, S. E., Giel-Moloney, M. & Leiter, A. B. Minireview: Development and differentiation of gut endocrine cells. Endocrinology 145, 2639–2644 (2004)

Habib, A. M. et al. Overlap of endocrine hormone expression in the mouse intestine revealed by transcriptional profiling and flow cytometry. Endocrinology 153, 3054–3065 (2012)

Egerod, K. L. et al. A major lineage of enteroendocrine cells coexpress CCK, secretin, GIP, GLP-1, PYY, and neurotensin but not somatostatin. Endocrinology 153, 5782–5795 (2012)

Raj, A., Van Den Bogaard, P., Rifkin, S. A., Van Oudenaarden, A. & Tyagi, S. Imaging individual mRNA molecules using multiple singly labeled probes. Nature Methods 5, 877–879 (2008)

Saruta, M. et al. Urocortin 3/stresscopin in human colon: possible modulators of gastrointestinal function during stressful conditions. Peptides 26, 1196–1206 (2005)

Baker, M. E. Albumin, steroid hormones and the origin of vertebrates. J. Endocrinol. 175, 121–127 (2002)

Tian, H. et al. A reserve stem cell population in small intestine renders Lgr5-positive cells dispensable. Nature 478, 255–259 (2011)

Barker, N. et al. Identification of stem cells in small intestine and colon by marker gene Lgr5. Nature 449, 1003–1007 (2007)

Roth, S. et al. Paneth cells in intestinal homeostasis and tissue injury. PLoS ONE 7, e38965 (2012)

Li, N. et al. Single-cell analysis of proxy reporter allele-marked epithelial cells establishes intestinal stem cell hierarchy. Stem Cell Rep. 3, 876–891 (2014)

Buczacki, S. J. A. et al. Intestinal label-retaining cells are secretory precursors expressing Lgr5. Nature 495, 65–69 (2013)

Yin, X. et al. Niche-independent high-purity cultures of Lgr5+ intestinal stem cells and their progeny. Nature Methods 11, 106–112 (2014)

Li, H. & Durbin, R. Fast and accurate long-read alignment with Burrows-Wheeler transform. Bioinformatics 26, 589–595 (2010)

Meyer, L. R. et al. The UCSC Genome Browser database: extensions and updates 2013. Nucleic Acids Res. 41, D64–D69 (2013)

The External RNA Controls Consortium. a progress report. Nature Methods 2, 731–734 (2005)
Acknowledgements
This work was supported by an European Research Council Advanced grant (ERC-AdG 294325-GeneNoiseControl) and a Nederlandse Organisatie voor Wetenschappelijk Onderzoek (NWO) Vici award.
Ethics declarations
Competing interests
The authors declare no competing financial interests.
Extended data figures and tables
Supplementary information
About this article
Cite this article
Grün, D., Lyubimova, A., Kester, L. et al. Single-cell messenger RNA sequencing reveals rare intestinal cell types. Nature 525, 251–255 (2015). https://doi.org/10.1038/nature14966
Received:

Accepted:

Published:

Issue Date:

DOI: https://doi.org/10.1038/nature14966
Comments
By submitting a comment you agree to abide by our Terms and Community Guidelines. If you find something abusive or that does not comply with our terms or guidelines please flag it as inappropriate.