Abstract
Enhancing repair of myelin is an important but still elusive therapeutic goal in many neurological disorders1. In multiple sclerosis, an inflammatory demyelinating disease, endogenous remyelination does occur but is frequently insufficient to restore function. Both parenchymal oligodendrocyte progenitor cells and endogenous adult neural stem cells resident within the subventricular zone are known sources of remyelinating cells2. Here we characterize the contribution to remyelination of a subset of adult neural stem cells, identified by their expression of Gli1, a transcriptional effector of the sonic hedgehog pathway. We show that these cells are recruited from the subventricular zone to populate demyelinated lesions in the forebrain but never enter healthy, white matter tracts. Unexpectedly, recruitment of this pool of neural stem cells, and their differentiation into oligodendrocytes, is significantly enhanced by genetic or pharmacological inhibition of Gli1. Importantly, complete inhibition of canonical hedgehog signalling was ineffective, indicating that the role of Gli1 both in augmenting hedgehog signalling and in retarding myelination is specialized. Indeed, inhibition of Gli1 improves the functional outcome in a relapsing/remitting model of experimental autoimmune encephalomyelitis and is neuroprotective. Thus, endogenous neural stem cells can be mobilized for the repair of demyelinated lesions by inhibiting Gli1, identifying a new therapeutic avenue for the treatment of demyelinating disorders.
Relevant articles
Open Access articles citing this article.
Jayshree Samanta

,

Hernandez Moura Silva

…

James L. Salzer

Scientific Data Open Access 28 October 2021

Poommaree Namchaiw

,

Han Wen

…

Wenbin Deng

Stem Cell Research & Therapy Open Access 27 August 2019

R. Vivian Allahyari

,

K. Lyles Clark

…

A. Denise R. Garcia

Scientific Reports Open Access 24 January 2019
Access options
Subscribe to this journal
Receive 51 print issues and online access
$199.00 per year
only $3.90 per issue
Rent or buy this article
Prices vary by article type
from$1.95
to$39.95
Prices may be subject to local taxes which are calculated during checkout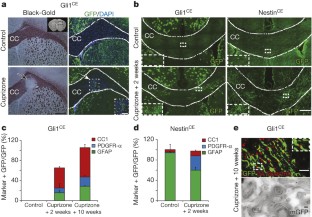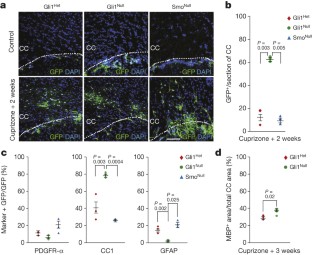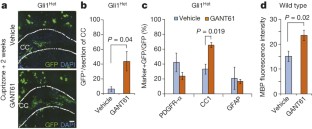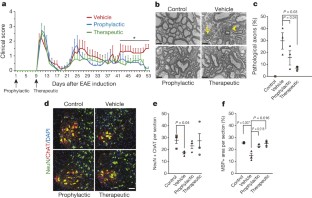 References
Franklin, R. J. M. & Goldman, S. A. Glia disease and repair—remyelination. Cold Spring Harb. Perspect. Biol http://dx.doi.org/10.1101/cshperspect.a020594 (2015)

Xing, Y. L. et al. Adult neural precursor cells from the subventricular zone contribute significantly to oligodendrocyte regeneration and remyelination. J. Neurosci. 34, 14128–14146 (2014)

Scolding, N. et al. Oligodendrocyte progenitors are present in the normal adult human CNS and in the lesions of multiple sclerosis. Brain 121, 2221–2228 (1998)

Gensert, J. M. & Goldman, J. E. Endogenous progenitors remyelinate demyelinated axons in the adult CNS. Neuron 19, 197–203 (1997)

Zawadzka, M. et al. CNS-resident glial progenitor/stem cells produce Schwann cells as well as oligodendrocytes during repair of CNS demyelination. Cell Stem Cell 6, 578–590 (2010)

Menn, B. et al. Origin of oligodendrocytes in the subventricular zone of the adult brain. J. Neurosci. 26, 7907–7918 (2006)

Nait-Oumesmar, B. et al. Activation of the subventricular zone in multiple sclerosis: evidence for early glial progenitors. Proc. Natl Acad. Sci. USA 104, 4694–4699 (2007)

Fuccillo, M., Joyner, A. L. & Fishell, G. Morphogen to mitogen: the multiple roles of hedgehog signalling in vertebrate neural development. Nature Rev. Neurosci. 7, 772–783 (2006)

Petrova, R. & Joyner, A. L. Roles for Hedgehog signaling in adult organ homeostasis and repair. Development 141, 3445–3457 (2014)

Ferent, J., Zimmer, C., Durbec, P., Ruat, M. & Traiffort, E. Sonic Hedgehog signaling is a positive oligodendrocyte regulator during demyelination. J. Neurosci. 33, 1759–1772 (2013)

Ingham, P. W. & McMahon, A. P. Hedgehog signaling in animal development: paradigms and principles. Genes Dev. 15, 3059–3087 (2001)

Ahn, S. & Joyner, A. L. Dynamic changes in the response of cells to positive hedgehog signaling during mouse limb patterning. Cell 118, 505–516 (2004)

Dessaud, E., McMahon, A. P. & Briscoe, J. Pattern formation in the vertebrate neural tube: a sonic hedgehog morphogen-regulated transcriptional network. Development 135, 2489–2503 (2008)

Ahn, S. & Joyner, A. L. In vivo analysis of quiescent adult neural stem cells responding to Sonic hedgehog. Nature 437, 894–897 (2005)

Sousa, V. H., Miyoshi, G., Hjerling-Leffler, J., Karayannis, T. & Fishell, G. Characterization of Nkx6-2-derived neocortical interneuron lineages. Cereb. Cortex 19 (Suppl. 1). i1–i10 (2009)

Matsushima, G. K. & Morell, P. The neurotoxicant, cuprizone, as a model to study demyelination and remyelination in the central nervous system. Brain Pathol. 11, 107–116 (2001)

Garcia, A. D., Petrova, R., Eng, L. & Joyner, A. L. Sonic hedgehog regulates discrete populations of astrocytes in the adult mouse forebrain. J. Neurosci. 30, 13597–13608 (2010)

Balordi, F. & Fishell, G. Mosaic removal of hedgehog signaling in the adult SVZ reveals that the residual wild-type stem cells have a limited capacity for self-renewal. J. Neurosci. 27, 14248–14259 (2007)

Bai, C. B., Auerbach, W., Lee, J. S., Stephen, D. & Joyner, A. L. Gli2, but not Gli1, is required for initial Shh signaling and ectopic activation of the Shh pathway. Development 129, 4753–4761 (2002)

Bambakidis, N. C. & Onwuzulike, K. Sonic Hedgehog signaling and potential therapeutic indications. Vitam. Horm. 88, 379–394 (2012)

Xie, J. et al. Activating Smoothened mutations in sporadic basal-cell carcinoma. Nature 391, 90–92 (1998)

Rowitch, D. H. Sonic hedgehog regulates proliferation and inhibits differentiation of CNS precursor cells. J. Neurosci. 19, 8954–8965 (1999)

Lauth, M., Bergstrom, A., Shimokawa, T. & Toftgard, R. Inhibition of GLI-mediated transcription and tumor cell growth by small-molecule antagonists. Proc. Natl Acad. Sci. USA 104, 8455–8460 (2007)

Zhu, X. et al. Age-dependent fate and lineage restriction of single NG2 cells. Development 138, 745–753 (2011)

Tuohy, V. K., Sobel, R. A. & Lees, M. B. Myelin proteolipid protein-induced experimental allergic encephalomyelitis. Variations of disease expression in different strains of mice. J. Immunol. 140, 1868–1873 (1988)

Wujek, J. R. et al. Axon loss in the spinal cord determines permanent neurological disability in an animal model of multiple sclerosis. J. Neuropathol. Exp. Neurol. 61, 23–32 (2002)

Recks, M. S. et al. Early axonal damage and progressive myelin pathology define the kinetics of CNS histopathology in a mouse model of multiple sclerosis. Clin. Immunol. 149, 32–45 (2013)

Powers, B. E. et al. Remyelination reporter reveals prolonged refinement of spontaneously regenerated myelin. Proc. Natl Acad. Sci. USA 110, 4075–4080 (2013)

Aharoni, R. et al. Distinct pathological patterns in relapsing-remitting and chronic models of experimental autoimmune enchephalomyelitis and the neuroprotective effect of glatiramer acetate. J. Autoimmun. 37, 228–241 (2011)

Barnabe-Heider, F. et al. Origin of new glial cells in intact and injured adult spinal cord. Cell Stem Cell 7, 470–482 (2010)

Elsworth, S. & Howell, J. M. Variation in the response of mice to cuprizone. Res. Vet. Sci. 14, 385–387 (1973)

Glausier, J. R., Khan, Z. U. & Muly, E. C. Dopamine D1 and D5 receptors are localized to discrete populations of interneurons in primate prefrontal cortex. Cereb. Cortex 19, 1820–1834 (2009)
Acknowledgements
We thank A. Joyner for providing mouse lines and for advice during the course of this project, M. Bhat, M. Wegner, and M. Rasband for providing antibodies, G. Zanazzi for providing human brain tissue, A. Liang for assistance with immunoelectron microscopy, and G. Multani for technical assistance during initial studies. This research was supported by grants to J.L.S. from the New York State Department of Health Stem Cell Board and the National Multiple Sclerosis Society. J.S. was a recipient of a postdoctoral fellowship from the National Multiple Sclerosis Society.
Ethics declarations
Competing interests
A patent on the method of targeting Gli1 as a strategy to promote remyelination has been awarded, with J. L. Salzer, J. Samanta and G. Fishell listed as co-inventors.
Extended data figures and tables
Supplementary information
About this article
Cite this article
Samanta, J., Grund, E., Silva, H. et al. Inhibition of Gli1 mobilizes endogenous neural stem cells for remyelination. Nature 526, 448–452 (2015). https://doi.org/10.1038/nature14957
Received:

Accepted:

Published:

Issue Date:

DOI: https://doi.org/10.1038/nature14957
Comments
By submitting a comment you agree to abide by our Terms and Community Guidelines. If you find something abusive or that does not comply with our terms or guidelines please flag it as inappropriate.