Abstract
Thousands of putative biosynthetic genes in Arabidopsis thaliana have no known function, which suggests that there are numerous molecules contributing to plant fitness that have not yet been discovered1,2. Prime among these uncharacterized genes are cytochromes P450 upregulated in response to pathogens3,4. Here we start with a single pathogen-induced P450 (ref. 5), CYP82C2, and use a combination of untargeted metabolomics and coexpression analysis to uncover the complete biosynthetic pathway to 4-hydroxyindole-3-carbonyl nitrile (4-OH-ICN), a previously unknown Arabidopsis metabolite. This metabolite harbours cyanogenic functionality that is unprecedented in plants and exceedingly rare in nature6,7; furthermore, the aryl cyanohydrin intermediate in the 4-OH-ICN pathway reveals a latent capacity for cyanogenic glucoside biosynthesis8,9 in Arabidopsis. By expressing 4-OH-ICN biosynthetic enzymes in Saccharomyces cerevisiae and Nicotiana benthamiana, we reconstitute the complete pathway in vitro and in vivo and validate the functions of its enzymes. Arabidopsis 4-OH-ICN pathway mutants show increased susceptibility to the bacterial pathogen Pseudomonas syringae, consistent with a role in inducible pathogen defence. Arabidopsis has been the pre-eminent model system10,11 for studying the role of small molecules in plant innate immunity12; our results uncover a new branch of indole metabolism distinct from the canonical camalexin pathway, and support a role for this pathway in the Arabidopsis defence response13. These results establish a more complete framework for understanding how the model plant Arabidopsis uses small molecules in pathogen defence.
Relevant articles
Open Access articles citing this article.
C. G. Amoroso

,

G. Andolfo

…

M. R. Ercolano

BMC Genomics Open Access 16 May 2022

Yu Ayukawa

,

Shuta Asai

…

Tsutomu Arie

Communications Biology Open Access 09 June 2021

Carl Michael Deom

,

Magdy S. Alabady

&

Li Yang

BMC Genomics Open Access 02 March 2021
Access options
Subscribe to Journal
Get full journal access for 1 year
$199.00
only $3.90 per issue
All prices are NET prices.
VAT will be added later in the checkout.
Tax calculation will be finalised during checkout.
Buy article
Get time limited or full article access on ReadCube.
$32.00
All prices are NET prices.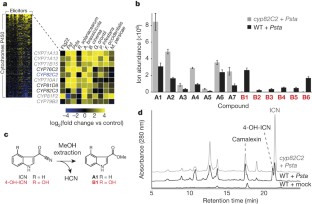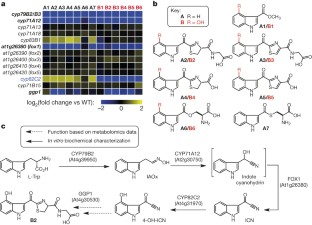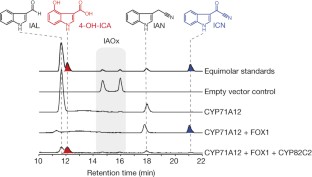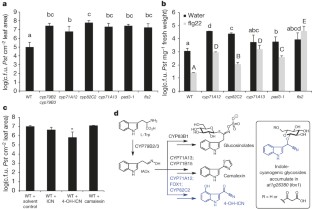 References
Chae, L., Kim, T., Nilo-Poyanco, R. & Rhee, S. Y. Genomic signatures of specialized metabolism in plants. Science 344, 510–513 (2014)

D'Auria, J. C. & Gershenzon, J. The secondary metabolism of Arabidopsis thaliana: growing like a weed. Curr. Opin. Plant Biol. 8, 308–316 (2005)

Bednarek, P. & Osbourn, A. Plant-microbe interactions: chemical diversity in plant defense. Science 324, 746–748 (2009)

Denoux, C. et al. Activation of defense response pathways by OGs and Flg22 elicitors in Arabidopsis seedlings. Mol. Plant 1, 423–445 (2008)

Bak, S. et al. Cytochromes P450. Arabidopsis Book 9, e0144 (2011)

Jones, T. H., Conner, W. E., Meinwald, J., Eisner, H. E. & Eisner, T. Benzoyl cyanide and mandelonitrile in the cyanogenetic secretion of a centipede. J. Chem. Ecol. 2, 421–429 (1976)

Zagrobelny, M., Bak, S. & Møller, B. L. Cyanogenesis in plants and arthropods. Phytochemistry 69, 1457–1468 (2008)

Gleadow, R. M. & Møller, B. L. Cyanogenic glycosides: synthesis, physiology, and phenotypic plasticity. Annu. Rev. Plant Biol. 65, 155–185 (2014)

Tattersall, D. B. et al. Resistance to an herbivore through engineered cyanogenic glucoside synthesis. Science 293, 1826–1828 (2001)

Bednarek, P. et al. A glucosinolate metabolism pathway in living plant cells mediates broad-spectrum antifungal defense. Science 323, 101–106 (2009)

Clay, N. K., Adio, A. M., Denoux, C., Jander, G. & Ausubel, F. M. Glucosinolate metabolites required for an Arabidopsis innate immune response. Science 323, 95–101 (2009)

Dangl, J. L., Horvath, D. M. & Staskawicz, B. J. Pivoting the plant immune system from dissection to deployment. Science 341, 746–751 (2013)

Ahuja, I., Kissen, R. & Bones, A. M. Phytoalexins in defense against pathogens. Trends Plant Sci. 17, 73–90 (2012)

Vinayavekhin, N. & Saghatelian, A. in Current Protocols in Molecular Biology (eds Ausubel, F. M. et al.) Ch. 30 (2010)

Böttcher, C. et al. The biosynthetic pathway of indole-3-carbaldehyde and indole-3-carboxylic acid derivatives in Arabidopsis. Plant Physiol. 165, 841–853 (2014)

Mikkelsen, M. D., Hansen, C. H., Wittstock, U. & Halkier, B. A. Cytochrome P450 CYP79B2 from Arabidopsis catalyzes the conversion of tryptophan to indole-3-acetaldoxime, a precursor of indole glucosinolates and indole-3-acetic acid. J. Biol. Chem. 275, 33712–33717 (2000)

Zhao, Y. et al. Trp-dependent auxin biosynthesis in Arabidopsis: involvement of cytochrome P450s CYP79B2 and CYP79B3. Genes Dev. 16, 3100–3112 (2002)

Millet, Y. A. et al. Innate immune responses activated in Arabidopsis roots by microbe-associated molecular patterns. Plant Cell 22, 973–990 (2010)

Boudsocq, M. et al. Differential innate immune signalling via Ca2+ sensor protein kinases. Nature 464, 418–422 (2010)

Peyret, H. & Lomonossoff, G. P. The pEAQ vector series: the easy and quick way to produce recombinant proteins in plants. Plant Mol. Biol. 83, 51–58 (2013)

Thomma, B. P., Nelissen, I., Eggermont, K. & Broekaert, W. F. Deficiency in phytoalexin production causes enhanced susceptibility of Arabidopsis thaliana to the fungus Alternaria brassicicola. Plant J. 19, 163–171 (1999)

Gómez-Gómez, L. & Boller, T. Flagellin perception: a paradigm for innate immunity. Trends Plant Sci. 7, 251–256 (2002)

Zipfel, C. et al. Bacterial disease resistance in Arabidopsis through flagellin perception. Nature 428, 764–767 (2004)

Liu, F. et al. The Arabidopsis P450 protein CYP82C2 modulates jasmonate-induced root growth inhibition, defense gene expression and indole glucosinolate biosynthesis. Cell Res. 20, 539–552 (2010)

Nafisi, M. et al. Arabidopsis cytochrome P450 monooxygenase 71A13 catalyzes the conversion of indole-3-acetaldoxime in camalexin synthesis. Plant Cell 19, 2039–2052 (2007)

Nelson, D. & Werck-Reichhart, D. A P450-centric view of plant evolution. Plant J. 66, 194–211 (2011)

Møller, B. L. Functional diversifications of cyanogenic glucosides. Curr. Opin. Plant Biol. 13, 338–347 (2010)

Rauhut, T. & Glawischnig, E. Evolution of camalexin and structurally related indolic compounds. Phytochemistry 70, 1638–1644 (2009)
Acknowledgements
We thank F. Ausubel, M. B. Mudgett, C. Khosla, A. Saghatelian, Y. Millet, C. Danna, S. Galanie, and members of the Sattely and Clay laboratories for advice on experiments and comments on the manuscript. We thank the Salk Institute Genomic Analysis Laboratory for providing the sequence-indexed Arabidopsis transfer-DNA insertion mutants. We thank G. Lomonossoff (John Innes Centre) for providing plasmid pEAQ. This work was supported by R00 GM089985 and DP2 AT008321 (to E.S.S.), T32 GM008412-20 (to J.R.), and T32 GM007499-38 (to B.B.). The early stages of this work were supported by National Science Foundation grant MCB-0519898 and National Institutes of Health grant R37 GM 48707 (awarded to Fred Ausubel, Massachusetts General Hospital, Boston, Massachusetts, USA).
Ethics declarations
Competing interests
The authors declare no competing financial interests.
Extended data figures and tables
Supplementary information
About this article
Cite this article
Rajniak, J., Barco, B., Clay, N. et al. A new cyanogenic metabolite in Arabidopsis required for inducible pathogen defence. Nature 525, 376–379 (2015). https://doi.org/10.1038/nature14907
Received:

Accepted:

Published:

Issue Date:

DOI: https://doi.org/10.1038/nature14907
Comments
By submitting a comment you agree to abide by our Terms and Community Guidelines. If you find something abusive or that does not comply with our terms or guidelines please flag it as inappropriate.