Abstract
Macromolecular complexes are essential to conserved biological processes, but their prevalence across animals is unclear. By combining extensive biochemical fractionation with quantitative mass spectrometry, here we directly examined the composition of soluble multiprotein complexes among diverse metazoan models. Using an integrative approach, we generated a draft conservation map consisting of more than one million putative high-confidence co-complex interactions for species with fully sequenced genomes that encompasses functional modules present broadly across all extant animals. Clustering reveals a spectrum of conservation, ranging from ancient eukaryotic assemblies that have probably served cellular housekeeping roles for at least one billion years, ancestral complexes that have accrued contemporary components, and rarer metazoan innovations linked to multicellularity. We validated these projections by independent co-fractionation experiments in evolutionarily distant species, affinity purification and functional analyses. The comprehensiveness, centrality and modularity of these reconstructed interactomes reflect their fundamental mechanistic importance and adaptive value to animal cell systems.
Relevant articles
Open Access articles citing this article.
Meghana V. Palukuri

,

Ridhi S. Patil

&

Edward M. Marcotte

BMC Bioinformatics Open Access 02 August 2023

Paul T. Morse

,

Gonzalo Pérez-Mejías

…

Maik Hüttemann

Nature Communications Open Access 13 July 2023

Yuwan Chen

,

Wen Zhou

…

Yukui Zhang

Nature Communications Open Access 30 June 2023
Access options
Subscribe to this journal
Receive 51 print issues and online access
$199.00 per year
only $3.90 per issue
Rent or buy this article
Prices vary by article type
from$1.95
to$39.95
Prices may be subject to local taxes which are calculated during checkout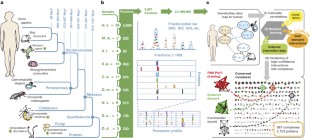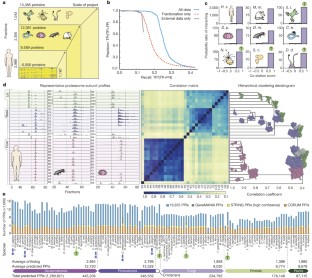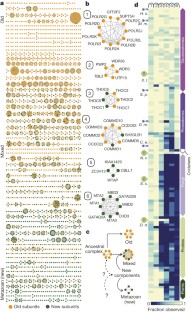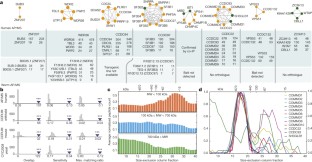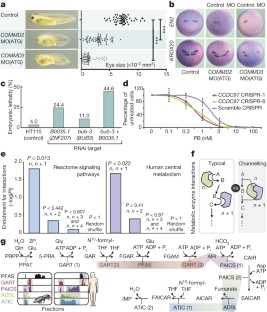 References
Hartwell, L. H., Hopfield, J. J., Leibler, S. & Murray, A. W. From molecular to modular cell biology. Nature 402, C47–C52 (1999)

Alberts, B. The cell as a collection of protein machines: Preparing the next generation of molecular biologists. Cell 92, 291–294 (1998)

Butland, G. et al. Interaction network containing conserved and essential protein complexes in Escherichia coli. Nature 433, 531–537 (2005)

Krogan, N. J. et al. Global landscape of protein complexes in the yeast Saccharomyces cerevisiae. Nature 440, 637–643 (2006)

Guruharsha, K. G. et al. A protein complex network of Drosophila melanogaster. Cell 147, 690–703 (2011)

Havugimana, P. C. et al. A census of human soluble protein complexes. Cell 150, 1068–1081 (2012)

Stelzl, U. et al. A human protein-protein interaction network: a resource for annotating the proteome. Cell 122, 957–968 (2005)

Li, S. et al. A map of the interactome network of the metazoan C-elegans. Science 303, 540–543 (2004)

Hu, P. et al. Global functional atlas of Escherichia coli encompassing previously uncharacterized proteins. PLoS Biol. 7, e1000096 (2009)

Rolland, T. et al. A proteome-scale map of the human interactome network. Cell 159, 1212–1226 (2014)

Sharan, R. et al. Conserved patterns of protein interaction in multiple species. Proc. Natl Acad. Sci. USA 102, 1974–1979 (2005)

Gandhi, T. K. B. et al. Analysis of the human protein interactome and comparison with yeast, worm and fly interaction datasets. Nature Genet. 38, 285–293 (2006)

Tan, K., Shlomi, T., Feizi, H., Ideker, T. & Sharan, R. Transcriptional regulation of protein complexes within and across species. Proc. Natl Acad. Sci. USA 104, 1283–1288 (2007)

Singh, R., Xu, J. B. & Berger, B. Global alignment of multiple protein interaction networks with application to functional orthology detection. Proc. Natl Acad. Sci. USA 105, 12763–12768 (2008)

Yu, H. et al. Annotation transfer between genomes: protein–protein interologs and protein–DNA regulogs. Genome Res. 14, 1107–1118 (2004)

Ideker, T. & Krogan, N. J. Differential network biology. Mol. Syst. Biol. 8, 565 (2012)

Kiemer, L. & Cesareni, G. Comparative interactomics: comparing apples and pears? Trends Biotechnol. 25, 448–454 (2007)

von Mering, C. et al. Comparative assessment of large-scale data sets of protein–protein interactions. Nature 417, 399–403 (2002)

Malovannaya, A. et al. Analysis of the human endogenous coregulator complexome. Cell 145, 787–799 (2011)

Lee, I., Blom, U. M., Wang, P. I., Shim, J. E. & Marcotte, E. M. Prioritizing candidate disease genes by network-based boosting of genome-wide association data. Genome Res. 21, 1109–1121 (2011)

Uhlen, M. et al. Towards a knowledge-based Human Protein Atlas. Nature Biotechnol. 28, 1248–1250 (2010)

McKusick, V. A. Mendelian Inheritance in Man: A Catalog of Human Genes and Genetic Disorders. (Johns Hopkins Univ. Press, 1998)

Kim, M. S. et al. A draft map of the human proteome. Nature 509, 575–581 (2014)

Rubin, G. M. et al. Comparative genomics of the eukaryotes. Science 287, 2204–2215 (2000)

Bezginov, A., Clark, G. W., Charlebois, R. L., Dar, V. U. N. & Tillier, E. R. M. Coevolution reveals a network of human proteins originating with multicellularity. Mol. Biol. Evol. 30, 332–346 (2013)

Stumpf, M. P. H. et al. Estimating the size of the human interactome. Proc. Natl Acad. Sci. USA 105, 6959–6964 (2008)

Hart, G. T., Ramani, A. K. & Marcotte, E. M. How complete are current yeast and human protein-interaction networks? Genome Biol. 7, 120 (2006)

Eisenberg, E. & Levanon, E. Y. Preferential attachment in the protein network evolution. Phys. Rev. Lett. 91, 138701 (2003)

Knoll, A. H. The early evolution of eukaryotes: a geological perspective. Science 256, 622–627 (1992)

Burstein, E. et al. COMMD proteins, a novel family of structural and functional homologs of MURR1. J. Biol. Chem. 280, 22222–22232 (2005)

van de Sluis, B., Rothuizen, J., Pearson, P. L., van Oost, B. A. & Wijmenga, C. Identification of a new copper metabolism gene by positional cloning in a purebred dog population. Hum. Mol. Genet. 11, 165–173 (2002)

McDonald, F. J. COMMD1 and ion transport proteins: what is the COMMection? Focus on "COMMD1 interacts with the COOH terminus of NKCC1 in Calu-3 airway epithelial cells to modulate NKCC1 ubiquitination". Am. J. Physiol. Cell Physiol. 305, C129–C130 (2013)

Kolanczyk, M. et al. Missense variant in CCDC22 causes X-linked recessive intellectual disability with features of Ritscher-Schinzel/3C syndrome. Eur. J. Hum. Genet. 109, 1–6 (2014)

Voineagu, I. et al. CCDC22: a novel candidate gene for syndromic X-linked intellectual disability. Mol. Psychiatry 17, 4–7 (2012)

Toledo, C. M. et al. BuGZ is required for Bub3 stability, Bub1 kinetochore function, and chromosome alignment. Dev. Cell 28, 282–294 (2014)

Kotake, Y. et al. Splicing factor SF3b as a target of the antitumor natural product pladienolide. Nature Chem. Biol. 3, 570–575 (2007)

Croft, D. et al. The Reactome pathway knowledgebase. Nucleic Acids Res. 42, D472–D477 (2014)

Ovádi, J. Cell Architecture and Metabolite Channeling. (RG Landes Company, 1995)

Ruepp, A. et al. CORUM: the comprehensive resource of mammalian protein complexes-2009. Nucleic Acids Res. 38, D497–D501 (2010)

Warde-Farley, D. et al. The GeneMANIA prediction server: biological network integration for gene prioritization and predicting gene function. Nucleic Acids Res. 38, W214–W220 (2010)

Franceschini, A. et al. STRING v9.1: protein-protein interaction networks, with increased coverage and integration. Nucleic Acids Res. 41, D808–D815 (2013)

Pu, S., Wong, J., Turner, B., Cho, E. & Wodak, S. J. Up-to-date catalogues of yeast protein complexes. Nucleic Acids Res. 37, 825–831 (2009)

Kirkwood, K. J., Ahmad, Y., Larance, M. & Lamond, A. I. Characterization of native protein complexes and protein isoform variation using size-fractionation-based quantitative proteomics. Mol. Cell. Proteomics 12, 3851–3873 (2013)

Turner, B. et al. iRefWeb: interactive analysis of consolidated protein interaction data and their supporting evidence. Database 2010, baq023 (2010)

Stark, C. et al. BioGRID: a general repository for interaction datasets. Nucleic Acids Res. 34, D535–D539 (2006)

Uhlen, M. et al. Tissue-based map of the human proteome. Science 347, 6220 (2015)

de Bie, P. et al. Characterization of COMMD protein–protein interactions in NF-κB signalling. Biochem. J. 398, 63–71 (2006)

Phillips-Krawczak, C. A. et al. COMMD1 is linked to the WASH complex and regulates endosomal trafficking of the copper transporter ATP7A. Mol. Biol. Cell 26, 91–103 (2015)

Yanai, I., Peshkin, L., Jorgensen, P. & Kirschner, M. W. Mapping gene expression in two Xenopus species: evolutionary constraints and developmental flexibility. Dev. Cell 20, 483–496 (2011)
Acknowledgements
We thank G. Bader, P. Kim, G. Moreno-Hagelsieb, S. Pu and S. Wodak for critical suggestions, illustrator A. Syrett for expert help drafting figures, T. Kwon (University of Texas) for X. laevis gene models, and K. Foltz (University of California, Santa Barbara), A. Brehm (Philipps-University Marburg), P. Paddison (Fred Hutchinson Cancer Research Center), J. Smith (Woods Hole Marine Biological Laboratory), P. Zandstra and J. Moffat (University of Toronto) for providing biological specimens and reagents. We thank members of the Emili and Marcotte laboratories for assistance and guidance, and SciNet (University of Toronto) and the Texas Advanced Computing Center (University of Texas) for high-performance computing resources. This work was supported by grants from the CIHR, NSERC, ORF and the CFI to A.E., from the CIHR and Heart and Stroke to J. P., from the NIH (F32GM112495) to K.D., and from the NIH, NSF, CPRIT, and Welch Foundation (F-1515) to E.M.M.
Ethics declarations
Competing interests
The authors declare no competing financial interests.
Extended data figures and tables
Supplementary information
This file contains Supplementary Methods and Data and additional references. (PDF 389 kb)
This file contains Supplementary Tables 1-9 as follows: (1) Sample information (2) Human protein interactions + interologs detected in other 8 experimentally studied species + CORUM interaction reference standards (3) List co-complex interactions projected for 122 sequenced eukaryotic species (4) Final set of (981) conserved animal protein complexes (5) Protein age and conservation profile across 122 sequenced eukaryotic species (6) GOSlim domain, disease and phenotype enrichment results (7) Human disease annotations (8) Consecutive pathway and metabolic enzymes and (9) 36 common metabolites excluded from Recon2. (ZIP 16512 kb)
This file contains the Western blots gels for Extended Data Figures 6a and 10b. (PDF 1782 kb)
About this article
Cite this article
Wan, C., Borgeson, B., Phanse, S. et al. Panorama of ancient metazoan macromolecular complexes. Nature 525, 339–344 (2015). https://doi.org/10.1038/nature14877
Received:

Accepted:

Published:

Issue Date:

DOI: https://doi.org/10.1038/nature14877
Comments
By submitting a comment you agree to abide by our Terms and Community Guidelines. If you find something abusive or that does not comply with our terms or guidelines please flag it as inappropriate.