Abstract
DNA origami is a robust assembly technique that folds a single-stranded DNA template into a target structure by annealing it with hundreds of short 'staple' strands1,2,3,4. Its guiding design principle is that the target structure is the single most stable configuration5. The folding transition is cooperative4,6,7 and, as in the case of proteins, is governed by information encoded in the polymer sequence8,9,10,11. A typical origami folds primarily into the desired shape, but misfolded structures can kinetically trap the system and reduce the yield2. Although adjusting assembly conditions2,12 or following empirical design rules12,13 can improve yield, well-folded origami often need to be separated from misfolded structures2,3,14,15,16. The problem could in principle be avoided if assembly pathway and kinetics were fully understood and then rationally optimized. To this end, here we present a DNA origami system with the unusual property of being able to form a small set of distinguishable and well-folded shapes that represent discrete and approximately degenerate energy minima in a vast folding landscape, thus allowing us to probe the assembly process. The obtained high yield of well-folded origami structures confirms the existence of efficient folding pathways, while the shape distribution provides information about individual trajectories through the folding landscape. We find that, similarly to protein folding, the assembly of DNA origami is highly cooperative; that reversible bond formation is important in recovering from transient misfoldings; and that the early formation of long-range connections can very effectively enforce particular folds. We use these insights to inform the design of the system so as to steer assembly towards desired structures. Expanding the rational design process to include the assembly pathway should thus enable more reproducible synthesis, particularly when targeting more complex structures. We anticipate that this expansion will be essential if DNA origami is to continue its rapid development1,2,3,17,18,19 and become a reliable manufacturing technology20.
Your institute does not have access to this article
Relevant articles
Open Access articles citing this article.
Swarup Dey

,

Adam Dorey

…

Hao Yan

Nature Communications Open Access 28 April 2022

Sisi Jia

,

Jianbang Wang

…

Chunhai Fan

Nature Communications Open Access 06 December 2019

Richard Kosinski

,

Ann Mukhortava

…

Barbara Saccà

Nature Communications Open Access 05 March 2019
Access options
Subscribe to Journal
Get full journal access for 1 year
$199.00
only $3.90 per issue
All prices are NET prices.
VAT will be added later in the checkout.
Tax calculation will be finalised during checkout.
Buy article
Get time limited or full article access on ReadCube.
$32.00
All prices are NET prices.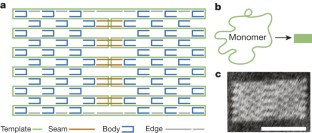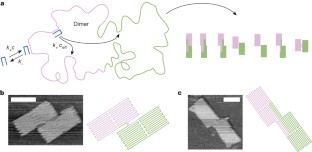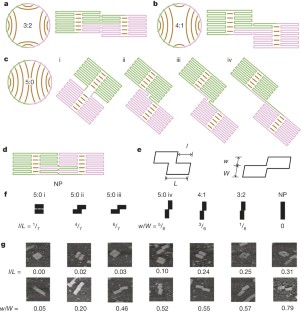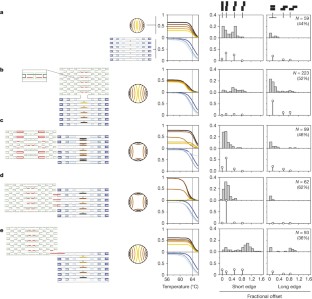 References
Rothemund, P. W. K. Folding DNA to create nanoscale shapes and patterns. Nature 440, 297–302 (2006)

Douglas, S. M. et al. Self-assembly of DNA into nanoscale three-dimensional shapes. Nature 459, 414–418 (2009)

Dietz, H., Douglas, S. M. & Shih, W. M. Folding DNA into twisted and curved nanoscale shapes. Science 325, 725–730 (2009)

Sobczak, J. P. J., Martin, T. G., Gerling, T. & Dietz, H. Rapid folding of DNA into nanoscale shapes at constant temperature. Science 338, 1458–1461 (2012)

Seeman, N. C. DNA in a material world. Nature 421, 427–431 (2003)

Arbona, J.-M., Aimé, J.-P. & Elezgaray, J. Cooperativity in the annealing of DNA origamis. J. Chem. Phys. 138, 015105 (2013)

Song, J. et al. Direct visualization of transient thermal response of a DNA origami. J. Am. Chem. Soc. 134, 9844–9847 (2012)

Levinthal, C. How to fold graciously. Mössbauer spectroscopy in biological systems. Univ. Illinois Bull. 67, 22–24 (1969)

Anfinsen, C. B. Principles that govern the folding of protein chains. Science 181, 223–230 (1973)

Dobson, C. M. Protein folding and misfolding. Nature 426, 884–890 (2003)

Baker, D. A surprising simplicity to protein folding. Nature 405, 39–42 (2000)

Martin, T. G. & Dietz, H. Magnesium-free self-assembly of multi-layer DNA objects. Nature Commun. 3, 1103 (2012)

Ke, Y., Bellot, G., Voigt, N. V., Fradkov, E. & Shih, W. M. Two design strategies for enhancement of multilayer-DNA-origami folding: underwinding for specific intercalator rescue and staple-break positioning. Chem. Sci. 3, 2587–2597 (2012)

Castro, C. E. et al. A primer to scaffolded DNA origami. Nature Methods 8, 221–229 (2011)

Douglas, S. M., Bachalet, I. & Church, G. M. A logic-gated nanorobot for targeted transport of molecular payloads. Science 335, 831–834 (2012)

Perrault, S. D. & Shih, W. M. Virus-inspired membrane encapsulation of DNA nanostructures to achieve in vivo stability. ACS Nano 8, 5132–5140 (2014)

Han, D. et al. DNA gridiron nanostructures based on four-arm junctions. Science 339, 1412–1415 (2013)

Ke, Y., Ong, L. L., Shih, W. M. & Yin, P. Three-dimensional structures self-assembled from DNA bricks. Science 338, 1177–1183 (2012)

He, Y. et al. Hierarchical self-assembly of DNA into symmetric supramolecular polyhedra. Nature 452, 198–201 (2008)

Kershner, R. J. et al. Placement and orientation of individual DNA shapes on lithographically patterned surfaces. Nature Nanotechnol. 4, 557–561 (2009)

Wolynes, P. G., Onuchic, J. N. & Thirumalai, D. Navigating the folding routes. Science 267, 1619–1620 (1995)

Onuchic, J. N., Wolynes, P. G., Lutheyschulten, Z. & Socci, N. D. Towards an outline of the topography of a realistic protein-folding funnel. Proc. Natl Acad. Sci. USA 92, 3626–3630 (1995)

Fink, T. M. A. & Ball, R. C. How many conformations can a protein remember? Phys. Rev. Lett. 87, 198103 (2001)

Jacobsen, J. L. & Kondev, J. Field theory of compact polymers on a square lattice. Nucl. Phys. B 532, 635–688 (1998)

Zhang, D. Y. & Winfree, E. Control of DNA strand displacement kinetics using toehold exchange. J. Am. Chem. Soc. 131, 17303–17314 (2009)

Zhang, P. H. et al. Engineering BspQI nicking enzymes and application of N.BspQI in DNA labeling and production of single-strand DNA. Protein Expr. Purif. 69, 226–234 (2010)

Douglas, S. M. et al. Rapid prototyping of 3D DNA-origami shapes with caDNAno. Nucleic Acids Res. 37, 5001–5006 (2009)

Wickham, S. F. J. et al. Direct observation of stepwise movement of a synthetic molecular transporter. Nature Nanotechnol. 6, 166–169 (2011)

Gillespie, D. T. Exact stochastic simulation of coupled chemical reactions. J. Phys. Chem. 81, 2340–2361 (1977)

SantaLucia, J., Jr & Hicks, D. The thermodynamics of DNA structural motifs. Annu. Rev. Biophys 33, 415–440 (2004)

Jacobson, H. & Stockmayer, W. H. Intramolecular reaction in polycondensations. I. The theory of linear systems. J. Chem. Phys. 18, 1600–1606 (1950)

Ouldridge, T. E., Louis, A. A. & Doye, J. P. K. Extracting bulk properties of self-assembling systems from small simulations. J. Phys. Condens. Matter 22, 104102 (2010)

Rayleigh On the problem of random vibrations, and of random flights in one, two or three dimensions. Phil. Mag. 37, 321–347 (1919)

Chandrasekhar, S. Stochastic problems in physics and astronomy. Rev. Mod. Phys. 15, 1–89 (1943)

Dijkstra, E. A note on two problems in connexion with graphs. Numer. Math. 1, 269–271 (1959)

Morrison, L. E. & Stols, L. M. Sensitive fluorescence-based thermodynamic and kinetic measurements of DNA hybridization in solution. Biochemistry 32, 3095–3104 (1993)

Gao, Y., Wolf, L. K. & Georgiadis, R. M. Secondary structure effects on DNA hybridization kinetics: a solution versus surface comparison. Nucleic Acids Res. 34, 3370–3377 (2006)

SantaLucia, J., Jr A unified view of polymer, dumbbell, and oligonucleotide DNA nearest-neighbor thermodynamics. Proc. Natl Acad. Sci. USA 95, 1460–1465 (1998)

Peryet, N. Prediction of Nucleic Acid Hybridisation: Parameters and Algorithms. PhD thesis, Wayne State Univ. (2000)

Owczarzy, R., Moreira, B. G., You, Y., Behlke, M. A. & Walder, J. A Predicting stability of DNA duplexes in solutions containing magnesium and monovalent cations. Biochemistry 47, 5336–5353 (2008)

Smith, S. B., Cui, Y. & Bustamante, C. Overstretching B-DNA: the elastic response of individual double-stranded and single-stranded DNA molecules. Science 271, 795–799 (1996)

Rivetti, C., Walker, C. & Bustamante, C. Polymer chain statistics and conformational analysis of DNA molecules with bends or sections of different flexibility. J. Mol. Biol. 280, 41–59 (1998)

Mills, J. B., Vacano, E. & Hagerman, P. J. Flexibility of single-stranded DNA: use of gapped duplex helices to determine the persistence lengths of poly(dT) and poly(dA). J. Mol. Biol. 285, 245–257 (1999)

Murphy, M. C., Rasnik, I., Chang, W., Lohman, T. M. & Ha, T. Probing single-stranded DNA conformational flexibility using fluorescence spectroscopy. Biophys. J. 86, 2530–2537 (2004)

Chen, H. et al. Ionic strength-dependent persistence lengths of single-stranded RNA and DNA. Proc. Natl Acad. Sci. USA 109, 799–804 (2012)

Saenger, W. Principles of Nucleic Acid Structure (Springer, 1984)

Hagerman, P. J. Flexibility of DNA. Annu. Rev. Biophys. Biophys. Chem. 17, 265–286 (1988)
Acknowledgements
We thank K.V. Gothelf, M. Dong, A.L.B. Kodal, S. Helmig and S. Zhang (Department of Chemistry and Interdisciplinary Nanoscience Centre iNano, Aarhus, Denmark) for assistance with AFM imaging. This research was supported by Engineering and Physical Sciences Research Council grants EP/G037930/1 and EP/P504287/1, a Human Frontier Science Program grant RGP0030/2013, a Microsoft Research PhD Scholarship (F.D.), the ERC Advanced Grant VERIWARE (F.D. and M.K.) and a Royal Society–Wolfson Research Merit Award (A.J.T.).
Ethics declarations
Competing interests
The authors declare no competing financial interests.
Extended data figures and tables
Supplementary information
About this article
Cite this article
Dunn, K., Dannenberg, F., Ouldridge, T. et al. Guiding the folding pathway of DNA origami. Nature 525, 82–86 (2015). https://doi.org/10.1038/nature14860
Received:

Accepted:

Published:

Issue Date:

DOI: https://doi.org/10.1038/nature14860
Comments
By submitting a comment you agree to abide by our Terms and Community Guidelines. If you find something abusive or that does not comply with our terms or guidelines please flag it as inappropriate.