Abstract
Dopamine neurons are thought to facilitate learning by comparing actual and expected reward1,2. Despite two decades of investigation, little is known about how this comparison is made. To determine how dopamine neurons calculate prediction error, we combined optogenetic manipulations with extracellular recordings in the ventral tegmental area while mice engaged in classical conditioning. Here we demonstrate, by manipulating the temporal expectation of reward, that dopamine neurons perform subtraction, a computation that is ideal for reinforcement learning but rarely observed in the brain. Furthermore, selectively exciting and inhibiting neighbouring GABA (γ-aminobutyric acid) neurons in the ventral tegmental area reveals that these neurons are a source of subtraction: they inhibit dopamine neurons when reward is expected, causally contributing to prediction-error calculations. Finally, bilaterally stimulating ventral tegmental area GABA neurons dramatically reduces anticipatory licking to conditioned odours, consistent with an important role for these neurons in reinforcement learning. Together, our results uncover the arithmetic and local circuitry underlying dopamine prediction errors.
Access options
Subscribe to Journal
Get full journal access for 1 year
$199.00
only $3.90 per issue
All prices are NET prices.
VAT will be added later in the checkout.
Tax calculation will be finalised during checkout.
Rent or Buy article
Get time limited or full article access on ReadCube.
from$8.99
All prices are NET prices.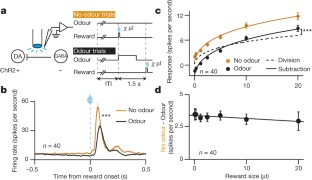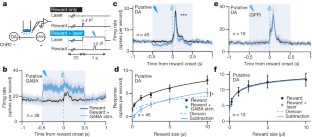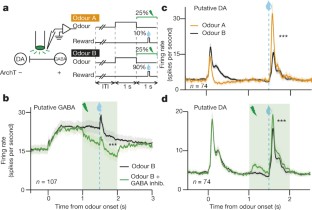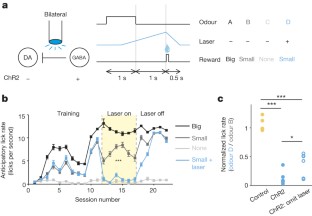 References
1

Schultz, W., Dayan, P. & Montague, P. R. A neural substrate of prediction and reward. Science 275, 1593–1599 (1997)

2

Bayer, H. M. & Glimcher, P. W. Midbrain dopamine neurons encode a quantitative reward prediction error signal. Neuron 47, 129–141 (2005)

3

Bush, R. R. & Mosteller, F. A mathematical model for simple learning. Psychol. Rev. 58, 313–323 (1951)

4

Rescorla, R. A. & Wagner, A. R. in Classical Conditioning II: Current Research and Theory (eds Black, A. & Prokasy, W. ) 64–99 (Appleton-Century-Crofts, 1972)

5

Carandini, M. & Heeger, D. J. Normalization as a canonical neural computation. Nature Rev. Neurosci. 13, 51–62 (2012)

6

Cohen, J. Y., Haesler, S., Vong, L., Lowell, B. B. & Uchida, N. Neuron-type-specific signals for reward and punishment in the ventral tegmental area. Nature 482, 85–88 (2012)

7

Tobler, P. N., Fiorillo, C. D. & Schultz, W. Adaptive coding of reward value by dopamine neurons. Science 307, 1642–1645 (2005)

8

Silver, R. A. Neuronal arithmetic. Nature Rev. Neurosci. 11, 474–489 (2010)

9

Houk, J. C., Adams, J. L. & Barto, A. G. in Models of Information Processing in the Basal Ganglia (eds Houk, J. C., Davis, J. L. & Beiser, D. G. ) 249–270 (MIT Press, 1995)

10

Kawato, M. & Samejima, K. Efficient reinforcement learning: computational theories, neuroscience and robotics. Curr. Opin. Neurobiol. 17, 205–212 (2007)

11

Matsumoto, M. & Hikosaka, O. Lateral habenula as a source of negative reward signals in dopamine neurons. Nature 447, 1111–1115 (2007)

12

Hong, S., Jhou, T. C., Smith, M., Saleem, K. S. & Hikosaka, O. Negative reward signals from the lateral habenula to dopamine neurons are mediated by rostromedial tegmental nucleus in primates. J. Neurosci. 31, 11457–11471 (2011)

13

Omelchenko, N. & Sesack, S. R. Ultrastructural analysis of local collaterals of rat ventral tegmental area neurons: GABA phenotype and synapses onto dopamine and GABA cells. Synapse 63, 895–906 (2009)

14

Van Zessen, R., Phillips, J. L., Budygin, E. A. & Stuber, G. D. Activation of VTA GABA neurons disrupts reward consumption. Neuron 73, 1184–1194 (2012)

15

Tan, K. R. et al. GABA neurons of the VTA drive conditioned place aversion. Neuron 73, 1173–1183 (2012)

16

Hazy, T. E., Frank, M. J. & O'Reilly, R. C. Neural mechanisms of acquired phasic dopamine responses in learning. Neurosci. Biobehav. Rev. 34, 701–720 (2010)

17

Rivest, F., Kalaska, J. F. & Bengio, Y. Conditioning and time representation in long short-term memory networks. Biol. Cybern. 108, 23–48 (2014)

18

Vitay, J. & Hamker, F. H. Timing and expectation of reward: a neuro-computational model of the afferents to the ventral tegmental area. Front. Neurorobot. 8, 4 (2014)

19

Ludvig, E. A., Sutton, R. S. & Kehoe, E. J. Stimulus representation and the timing of reward-prediction errors in models of the dopamine system. Neural Comput. 20, 3034–3054 (2008)

20

Tan, C. O. & Bullock, D. A local circuit model of learned striatal and dopamine cell responses under probabilistic schedules of reward. J. Neurosci. 28, 10062–10074 (2008)

21

Han, X. et al. A high-light sensitivity optical neural silencer: development and application to optogenetic control of non-human primate cortex. Front. Syst. Neurosci. 5, 18 (2011)

22

Fiorillo, C. D., Song, M. R. & Yun, S. R. Multiphasic temporal dynamics in responses of midbrain dopamine neurons to appetitive and aversive stimuli. J. Neurosci. 33, 4710–4725 (2013)

23

Pi, H.-J. et al. Cortical interneurons that specialize in disinhibitory control. Nature 503, 521–524 (2013)

24

Wilson, N. R., Runyan, C. A., Wang, F. L. & Sur, M. Division and subtraction by distinct cortical inhibitory networks in vivo . Nature 488, 343–348 (2012)

25

Atallah, B. V., Bruns, W., Carandini, M. & Scanziani, M. Parvalbumin-expressing interneurons linearly transform cortical responses to visual stimuli. Neuron 73, 159–170 (2012)

26

Murphy, B. K. & Miller, K. D. Multiplicative gain changes are induced by excitation or inhibition alone. J. Neurosci. 23, 10040–10051 (2003)

27

Ayaz, A. & Chance, F. S. Gain Modulation of neuronal responses by subtractive and divisive mechanisms of inhibition. J. Neurophysiol. 101, 958–968 (2009)

28

Holt, G. R. & Koch, C. Shunting inhibition does not have a divisive effect on firing rates. Neural Comput. 9, 1001–1013 (1997)

29

Roy, J. E. & Cullen, K. E. Dissociating self-generated from passively applied head motion: neural mechanisms in the vestibular nuclei. J. Neurosci. 24, 2102–2111 (2004)

30

Rust, N. C., Schwartz, O., Movshon, J. A. & Simoncelli, E. P. Spatiotemporal elements of macaque V1 receptive fields. Neuron 46, 945–956 (2005)

31

Bäckman, C. M. et al. Characterization of a mouse strain expressing Cre recombinase from the 3′ untranslated region of the dopamine transporter locus. Genesis 44, 383–390 (2006)

32

Vong, L. et al. Leptin action on GABAergic neurons prevents obesity and reduces inhibitory tone to POMC neurons. Neuron 71, 142–154 (2011)

33

Boyden, E. S., Zhang, F., Bamberg, E., Nagel, G. & Deisseroth, K. Millisecond-timescale, genetically targeted optical control of neural activity. Nature Neurosci. 8, 1263–1268 (2005)

34

Atasoy, D., Aponte, Y., Su, H. H. & Sternson, S. M. A FLEX switch targets Channelrhodopsin-2 to multiple cell types for imaging and long-range circuit mapping. J. Neurosci. 28, 7025–7030 (2008)

35

Uchida, N. & Mainen, Z. F. Speed and accuracy of olfactory discrimination in the rat. Nature Neurosci. 6, 1224–1229 (2003)

36

Schmitzer-Torbert, N. & Redish, A. D. Neuronal activity in the rodent dorsal striatum in sequential navigation: separation of spatial and reward responses on the multiple T task. J. Neurophysiol. 91, 2259–2272 (2004)

37

Lima, S. Q., Hromádka, T., Znamenskiy, P. & Zador, A. M. PINP: a new method of tagging neuronal populations for identification during in vivo electrophysiological recording. PLoS One 4, e6099 (2009)

38

Kvitsiani, D. et al. Distinct behavioural and network correlates of two interneuron types in prefrontal cortex. Nature 498, 363–366 (2013)

39

Olsen, S. R., Bhandawat, V. & Wilson, R. I. Divisive normalization in olfactory population codes. Neuron 66, 287–299 (2010)
Acknowledgements
We thank M. Andermann, J. Assad, R. Born, J. Buckholtz, P. Glimcher, J. Maunsell, B. Sabatini, W. Schultz, R. Wilson, and members of the Uchida laboratory for comments on the manuscript; S. Haesler for technical expertise and discussions on experimental design; E. Molnar for histology assistance; C. Dulac for sharing resources; K. Deisseroth for the AAV–FLEX–ChR2 construct; and E. Boyden for the AAV–FLEX–ArchT construct. This work was supported by a Sackler Fellowship in Psychobiology (N.E.) and National Institutes of Health grants T32GM007753 (to N.E.), F30MH100729 (to N.E.), R01MH095953 (to N.U.), and R01MH101207 (to N.U.).
Ethics declarations
Competing interests
The authors declare no competing financial interests.
Extended data figures and tables
Supplementary information
This file contains Supplementary Text. (PDF 85 kb)
This file contains Supplementary Table 1. (XLSX 12 kb)
About this article
Cite this article
Eshel, N., Bukwich, M., Rao, V. et al. Arithmetic and local circuitry underlying dopamine prediction errors. Nature 525, 243–246 (2015). https://doi.org/10.1038/nature14855
Received:

Accepted:

Published:

Issue Date:
Comments
By submitting a comment you agree to abide by our Terms and Community Guidelines. If you find something abusive or that does not comply with our terms or guidelines please flag it as inappropriate.