Abstract
Metamaterials, man-made composite media structured on a scale much smaller than a wavelength, offer surprising possibilities for engineering the propagation of waves1,2,3,4,5,6. One of the most interesting of these is the ability to achieve superlensing—that is, to focus or image beyond the diffraction limit7. This originates from the left-handed behaviour—the property of refracting waves negatively—that is typical of negative index metamaterials8,9,10. Yet reaching this goal requires the design of 'double negative' metamaterials, which act simultaneously on the permittivity and permeability in electromagnetics11,12, or on the density and compressibility in acoustics; this generally implies the use of two different kinds of building blocks13,14 or specific particles presenting multiple overlapping resonances15,16,17. Such a requirement limits the applicability of double negative metamaterials, and has, for example, hampered any demonstration of subwavelength focusing using left-handed acoustic metamaterials18. Here we show that these strict conditions can be largely relaxed by relying on media that consist of only one type of single resonant unit cell. Specifically, we show with a simple yet general semi-analytical model that judiciously breaking the symmetry of a single negative metamaterial is sufficient to turn it into a double negative one. We then demonstrate that this occurs solely because of multiple scattering of waves off the metamaterial resonant elements, a phenomenon often disregarded in these media owing to their subwavelength patterning. We apply our approach to acoustics and verify through numerical simulations that it allows the realization of negative index acoustic metamaterials based on Helmholtz resonators only. Finally, we demonstrate the operation of a negative index acoustic superlens, achieving subwavelength focusing and imaging with spot width and resolution 7 and 3.5 times better than the diffraction limit, respectively. Our findings have profound implications for the physics of metamaterials, highlighting the role of their subwavelength crystalline structure, and hence entering the realm of metamaterial crystals. This widens the scope of possibilities for designing composite media with novel properties in a much simpler way than has been possible so far.
Your institute does not have access to this article
Relevant articles
Open Access articles citing this article.
Andrew Webb

,

Alena Shchelokova

…

Rita Schmidt

Magnetic Resonance Materials in Physics, Biology and Medicine Open Access 26 April 2022

Ben-Xin Wang

,

Chongyang Xu

…

Yangkuan Wu

Nanoscale Research Letters Open Access 15 March 2022

François Legrand

,

Benoît Gérardin

…

Alexandre Aubry

Scientific Reports Open Access 13 December 2021
Access options
Subscribe to Journal
Get full journal access for 1 year
$199.00
only $3.90 per issue
All prices are NET prices.
VAT will be added later in the checkout.
Tax calculation will be finalised during checkout.
Buy article
Get time limited or full article access on ReadCube.
$32.00
All prices are NET prices.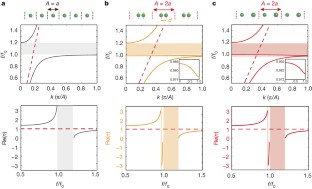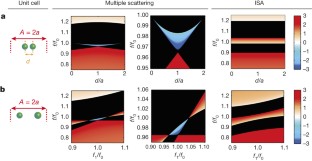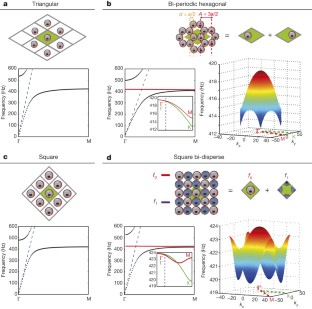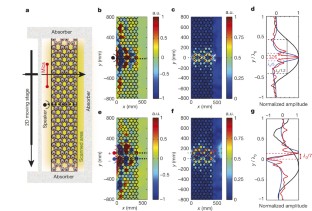 References
Pendry, J., Holden, A., Stewart, W. & Youngs, I. Extremely low frequency plasmons in metallic mesostructures. Phys. Rev. Lett. 76, 4773–4776 (1996)

Pendry, J. B., Holden, J., Robbins, D. J. & Stewart, W. J. Magnetism from conductors and enhanced nonlinear phenomena. IEEE Trans. Microw. Theory Tech. 47, 2075–2084 (1999)

Liu, Z. et al. Locally resonant sonic materials. Science 289, 1734–1736 (2000)

Deymier, P. A. Acoustic Metamaterials and Phononic Crystals (Springer, 2013)

Engheta, N. & Ziolkowski, R. Metamaterials: Physics and Engineering Explorations (Wiley & Sons, 2006)

Craster, R. V. & Guenneau, S. Acoustic Metamaterials: Negative Refraction, Imaging, Lensing and Cloaking (Springer, 2012)

Pendry, J. B. Negative refraction makes a perfect lens. Phys. Rev. Lett. 85, 3966–3969 (2000)

Lee, S. H., Park, C. M., Seo, Y. M., Wang, Z. G. & Kim, C. K. Composite acoustic medium with simultaneously negative density and modulus. Phys. Rev. Lett. 104, 054301 (2010)

Liang, Z., Feng, T., Lok, S., Liu, F. & Ng, K. Space-coiling metamaterials with double negativity and conical dispersion. Sci. Rep. 3, 1–6 (2013)

Xie, Y., Popa, B. I., Zigoneanu, L. & Cummer, S. a. Measurement of a broadband negative index with space-coiling acoustic metamaterials. Phys. Rev. Lett. 110, 175501 (2013)

Veselago, V. G. The electrodynamics of substances with simultaneous negative values of ε and μ. Phys. Uspekhi 10, 509–514 (1968)

Smith, D. R., Padilla, W. J., Vier, D. C., Nemat-Nasser, S. C. & Schultz, S. Composite medium with simultaneously negative permeability and permittivity. Phys. Rev. Lett. 84, 4184–4187 (2000)

Shelby, R. A., Smith, D. R. & Schultz, S. Experimental verification of a negative index of refraction. Science 292, 77–79 (2001)

Guenneau, S., Movchan, A., Pétursson, G. & Anantha Ramakrishna, S. Acoustic metamaterials for sound focusing and confinement. New J. Phys. 9, 399 (2007)

Li, J. & Chan, C. T. Double-negative acoustic metamaterial. Phys. Rev. E 70, 055602 (2004)

Brunet, T. et al. Soft 3D acoustic metamaterial with negative index. Nature Mater. 14, 384–388 (2015)

Zhu, R., Liu, X. N., Hu, G. K., Sun, C. T. & Huang, G. L. Negative refraction of elastic waves at the deep-subwavelength scale in a single-phase metamaterial. Nature Commun. 5, 5510 (2014)

Zhang, S., Yin, L. & Fang, N. Focusing ultrasound with an acoustic metamaterial network. Phys. Rev. Lett. 102, 194301 (2009)

Kanté, B. et al. Symmetry breaking and optical negative index of closed nanorings. Nature Commun. 3, 1180 (2012)

Christ, A., Martin, O. J. F., Ekinci, Y., Gippius, N. A. & Tikhodeev, S. G. Symmetry breaking in a plasmonic metamaterial at optical wavelength. Nano Lett. 8, 2171–2175 (2008)

Sukhovich, A. et al. Experimental and theoretical evidence for subwavelength imaging in phononic crystals. Phys. Rev. Lett. 102, 154301 (2009)

Notomi, M. Theory of light propagation in strongly modulated photonic crystals: refractionlike behavior in the vicinity of the photonic band gap. Phys. Rev. B 62, 10696–10705 (2000)

Yariv, A. & Yeh, P. Optical Waves in Crystals (Wiley, 1984)

Lemoult, F., Kaina, N., Fink, M. & Lerosey, G. Wave propagation control at the deep subwavelength scale in metamaterials. Nature Phys. 9, 55–60 (2013)

Fleischhauer, M. & Marangos, J. P. Electromagnetically induced transparency: optics in coherent media. Rev. Mod. Phys. 77, 633–673 (2005)

Papasimakis, N., Fedotov, V., Zheludev, N. & Prosvirnin, S. Metamaterial analog of electromagnetically induced transparency. Phys. Rev. Lett. 101, 253903 (2008)

Kaina, N., Lemoult, F., Fink, M. & Lerosey, G. Ultra small mode volume defect cavities in spatially ordered and disordered metamaterials. Appl. Phys. Lett. 102, 144104 (2013)

Leonhardt, U. Optical conformal mapping. Science 312, 1777–1780 (2006)

Pendry, J. B., Schurig, D. & Smith, D. R. Controlling electromagnetic fields. Science 312, 1780–1782 (2006)

Lemoult, F., Fink, M. & Lerosey, G. Acoustic resonators for far-field control of sound on a subwavelength scale. Phys. Rev. Lett. 107, 064301 (2011)

de Vries, P., Van Coevorden, D. & Lagendijk, A. Point scatterers for classical waves. Rev. Mod. Phys. 70, 447–466 (1998)

Fokin, V., Ambati, M., Sun, C. & Zhang, X. Method for retrieving effective properties of locally resonant acoustic metamaterials. Phys. Rev. B 76, 144302 (2007)

Belov, P. A., Simovski, C. R. & Ikonen, P. Canalization of subwavelength images by electromagnetic crystals. Phys. Rev. B 71, 193105 (2005)

Zhu, J. et al. A holey-structured metamaterial for acoustic deep-subwavelength imaging. Nature Phys. 7, 52–55 (2010)
Acknowledgements
We thank A. Lagendijk for sharing his knowledge of multiple scattering techniques. This work was supported by LABEX WIFI (Laboratory of Excellence within the French Program "Investments for the Future") grants ANR-10-LABX-24 and ANR-10-IDEX-0001-02 PSL*, and by Agence Nationale de la Recherche grant ANR-13-JS09-0001-01. N.K. acknowledges funding from the French "Direction Générale de l'Armement".
Ethics declarations
Competing interests
The authors declare no competing financial interests.
Extended data figures and tables
About this article
Cite this article
Kaina, N., Lemoult, F., Fink, M. et al. Negative refractive index and acoustic superlens from multiple scattering in single negative metamaterials. Nature 525, 77–81 (2015). https://doi.org/10.1038/nature14678
Received:

Accepted:

Published:

Issue Date:

DOI: https://doi.org/10.1038/nature14678
Comments
By submitting a comment you agree to abide by our Terms and Community Guidelines. If you find something abusive or that does not comply with our terms or guidelines please flag it as inappropriate.