Abstract
Cells that reside within a community can cooperate and also compete with each other for resources. It remains unclear how these opposing interactions are resolved at the population level. Here we investigate such an internal conflict within a microbial (Bacillus subtilis) biofilm community: cells in the biofilm periphery not only protect interior cells from external attack but also starve them through nutrient consumption. We discover that this conflict between protection and starvation is resolved through emergence of long-range metabolic co-dependence between peripheral and interior cells. As a result, biofilm growth halts periodically, increasing nutrient availability for the sheltered interior cells. We show that this collective oscillation in biofilm growth benefits the community in the event of a chemical attack. These findings indicate that oscillations support population-level conflict resolution by coordinating competing metabolic demands in space and time, suggesting new strategies to control biofilm growth.
Relevant articles
Open Access articles citing this article.
Zeinab Rezaei

,

Saeid Khanzadi

&

Amir Salari

AMB Express Open Access 25 November 2021

Anupama Sharma

&

Kevin B. Wood

The ISME Journal Open Access 05 May 2021
Access options
Subscribe to Journal
Get full journal access for 1 year
$199.00
only $3.90 per issue
All prices are NET prices.
VAT will be added later in the checkout.
Tax calculation will be finalised during checkout.
Buy article
Get time limited or full article access on ReadCube.
$32.00
All prices are NET prices.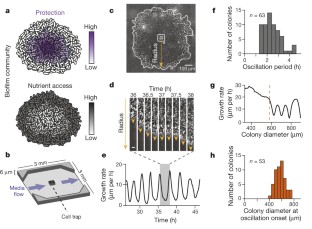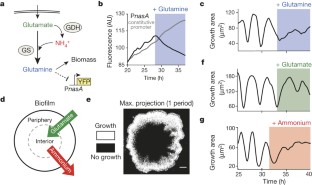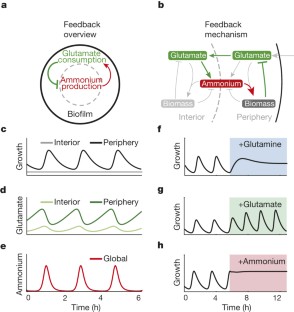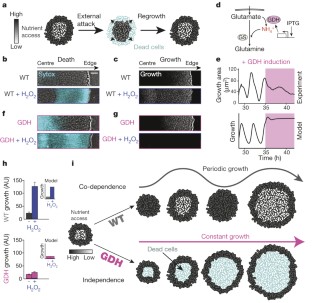 References
Ben-Jacob, E., Cohen, I. & Levine, H. Cooperative self-organization of microorganisms. Adv. Phys. 49, 395–554 (2000)

Eldar, A. Social conflict drives the evolutionary divergence of quorum sensing. Proc. Natl Acad. Sci. USA 108, 13635–13640 (2011)

Gregor, T., Fujimoto, K., Masaki, N. & Sawai, S. The onset of collective behavior in social amoebae. Science 328, 1021–1025 (2010)

Wingreen, N. S. & Levin, S. A. Cooperation among microorganisms. PLoS Biol. 4, 1486–1488 (2006)

Hibbing, M. E., Fuqua, C., Parsek, M. R. & Peterson, S. B. Bacterial competition: surviving and thriving in the microbial jungle. Nature Rev. Microbiol. 8, 15–25 (2010)

Oliveira, N. M., Niehus, R. & Foster, K. R. Evolutionary limits to cooperation in microbial communities. Proc. Natl Acad. Sci. USA 111, 17941–17946 (2014)

Davies, D. Understanding biofilm resistance to antibacterial agents. Nature Rev. Drug Discov. 2, 114–122 (2003)

Donlan, R. M. & Costerton, J. W. Biofilms: survival mechanisms of clinically relevant microorganisms. Clin. Microbiol. Rev. 15, 167–193 (2002)

Vlamakis, H., Aguilar, C., Losick, R. & Kolter, R. Control of cell fate by the formation of an architecturally complex bacterial community. Genes Dev. 22, 945–953 (2008)

Yildiz, F. H. & Visick, K. L. Vibrio biofilms: so much the same yet so different. Trends Microbiol. 17, 109–118 (2009)

Berk, V. et al. Molecular architecture and assembly principles of Vibrio cholerae biofilms. Science 337, 236–239 (2012)

Costerton, J. W., Stewart, P. S. & Greenberg, E. P. Bacterial biofilms: a common cause of persistent infections. Science 284, 1318–1322 (1999)

Hall-Stoodley, L., Costerton, J. W. & Stoodley, P. Bacterial biofilms: from the natural environment to infectious diseases. Nature Rev. Microbiol. 2, 95–108 (2004)

Asally, M. et al. Localized cell death focuses mechanical forces during 3D patterning in a biofilm. Proc. Natl Acad. Sci. USA 109, 18891–18896 (2012)

Wilking, J. N. et al. Liquid transport facilitated by channels in Bacillus subtilis biofilms. Proc. Natl Acad. Sci. USA 110, 848–852 (2013)

Branda, S. S., Gonzalez-Pastor, J. E., Ben-Yehuda, S., Losick, R. & Kolter, R. Fruiting body formation by Bacillus subtilis. Proc. Natl Acad. Sci. USA 98, 11621–11626 (2001)

Gunka, K. & Commichau, F. M. Control of glutamate homeostasis in Bacillus subtilis: a complex interplay between ammonium assimilation, glutamate biosynthesis and degradation. Mol. Microbiol. 85, 213–224 (2012)

Stannek, L. et al. Evidence for synergistic control of glutamate biosynthesis by glutamate dehydrogenases and glutamate in Bacillus subtilis. Environ. Microbiol http://dx.doi.org/10.1111/1462-2920.12813 (2015)

Belitsky, B. R. & Sonenshein, A. L. Role and regulation of Bacillus subtilis glutamate dehydrogenase genes. J. Bacteriol. 180, 6298–6305 (1998)

Zeigler, D. R. et al. The origins of 168, W23, and other Bacillus subtilis legacy strains. J. Bacteriol. 190, 6983–6995 (2008)

Nakano, M. M., Yang, F., Hardin, P. & Zuber, P. Nitrogen regulation of nasA and the nasB operon, which encode genes required for nitrate assimilation in Bacillus subtilis. J. Bacteriol. 177, 573–579 (1995)

Kleiner, D. Bacterial ammonium transport. FEMS Microbiol. Lett. 32, 87–100 (1985)

Castorph, H. & Kleiner, D. Some properties of a Klebsiella pneumoniae ammonium transport negative mutant (Amt-). Arch. Microbiol. 139, 245–247 (1984)

Boogerd, F. C. et al. AmtB-mediated NH3 transport in prokaryotes must be active and as a consequence regulation of transport by GlnK is mandatory to limit futile cycling of NH4+/NH3. FEBS Lett. 585, 23–28 (2011)

Jayakumar, A., Schulman, I., MacNeil, D. & Barnes, E. M. Jr. Role of the Escherichia coli glnALG operon in regulation of ammonium transport. J. Bacteriol. 166, 281–284 (1986)

Kim, M. et al. Need-based activation of ammonium uptake in Escherichia coli. Mol. Syst. Biol. 8, 616 (2012)

Commichau, F. M., Gunka, K., Landmann, J. J. & Stulke, J. Glutamate metabolism in Bacillus subtilis: gene expression and enzyme activities evolved to avoid futile cycles and to allow rapid responses to perturbations of the system. J. Bacteriol. 190, 3557–3564 (2008)

Detsch, C. & Stulke, J. Ammonium utilization in Bacillus subtilis: transport and regulatory functions of NrgA and NrgB. Microbiology 149, 3289–3297 (2003)

Anyan, M. E. et al. Type IV pili interactions promote intercellular association and moderate swarming of Pseudomonas aeruginosa. Proc. Natl Acad. Sci. USA 111, 18013–18018 (2014)

Irnov, I. & Winkler, W. C. A regulatory RNA required for antitermination of biofilm and capsular polysaccharide operons in Bacillales. Mol. Microbiol. 76, 559–575 (2010)
Acknowledgements
We would like to thank K. Süel, T. Çağatay, R. Wollman, T. Hwa and M. Elowitz for comments during the writing of the manuscript. A.P. is a Simons Foundation Fellow of the Helen Hay Whitney Foundation. J.H. is supported by the UCSD Cell and Molecular Genetics Training Grant. J.G.-O. is supported by the Ministerio de Economia y Competitividad (Spain) and FEDER, under project FIS2012-37655-C02-01, and by the ICREA Academia Programme. This research was funded by the National Institutes of Health, National Institute of General Medical Sciences Grant R01 GM088428 and the National Science Foundation Grant MCB-1450867 (both to G.M.S.).
Extended data figures and tables
Supplementary information
About this article
Cite this article
Liu, J., Prindle, A., Humphries, J. et al. Metabolic co-dependence gives rise to collective oscillations within biofilms. Nature 523, 550–554 (2015). https://doi.org/10.1038/nature14660
Received:

Accepted:

Published:

Issue Date:

DOI: https://doi.org/10.1038/nature14660
Comments
By submitting a comment you agree to abide by our Terms and Community Guidelines. If you find something abusive or that does not comply with our terms or guidelines please flag it as inappropriate.