Abstract
Homozygosity has long been associated with rare, often devastating, Mendelian disorders1, and Darwin was one of the first to recognize that inbreeding reduces evolutionary fitness2. However, the effect of the more distant parental relatedness that is common in modern human populations is less well understood. Genomic data now allow us to investigate the effects of homozygosity on traits of public health importance by observing contiguous homozygous segments (runs of homozygosity), which are inferred to be homozygous along their complete length. Given the low levels of genome-wide homozygosity prevalent in most human populations, information is required on very large numbers of people to provide sufficient power3,4. Here we use runs of homozygosity to study 16 health-related quantitative traits in 354,224 individuals from 102 cohorts, and find statistically significant associations between summed runs of homozygosity and four complex traits: height, forced expiratory lung volume in one second, general cognitive ability and educational attainment (P < 1 × 10−300, 2.1 × 10−6, 2.5 × 10−10 and 1.8 × 10−10, respectively). In each case, increased homozygosity was associated with decreased trait value, equivalent to the offspring of first cousins being 1.2 cm shorter and having 10 months' less education. Similar effect sizes were found across four continental groups and populations with different degrees of genome-wide homozygosity, providing evidence that homozygosity, rather than confounding, directly contributes to phenotypic variance. Contrary to earlier reports in substantially smaller samples5,6, no evidence was seen of an influence of genome-wide homozygosity on blood pressure and low density lipoprotein cholesterol, or ten other cardio-metabolic traits. Since directional dominance is predicted for traits under directional evolutionary selection7, this study provides evidence that increased stature and cognitive function have been positively selected in human evolution, whereas many important risk factors for late-onset complex diseases may not have been.
Relevant articles
Open Access articles citing this article.
Megan T. Lynch

,

Kristin A. Maloney

…

Braxton D. Mitchell

BMC Genomics Open Access 20 March 2023

May E. Montasser

,

Stella Aslibekyan

…

Jeffrey R. O'Connell

Communications Biology Open Access 07 April 2022

Isain Zapata

,

M. Leanne Lilly

…

Carlos E. Alvarez

BMC Genomics Open Access 07 February 2022
Access options
Subscribe to this journal
Receive 51 print issues and online access
$199.00 per year
only $3.90 per issue
Rent or buy this article
Get just this article for as long as you need it
$39.95
Prices may be subject to local taxes which are calculated during checkout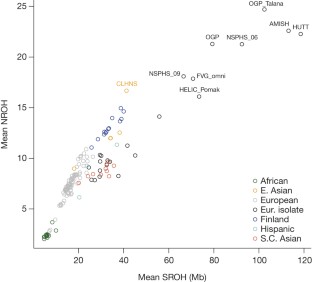 References
Garrod, A. The incidence of alkaptonuria: a study of chemical individuality. Lancet 160, 1616–1620 (1902)

Darwin, C. The Variation of Animals and Plants Under Domestication (Appleton, 1868)

McQuillan, R. et al. Runs of homozygosity in European populations. Am. J. Hum. Genet. 83, 359–372 (2008)

McQuillan, R. et al. Evidence of inbreeding depression on human height. PLoS Genet. 8, e1002655 (2012)

Rudan, I. et al. Inbreeding and the genetic complexity of human hypertension. Genetics 163, 1011–1021 (2003)

Campbell, H. et al. Effects of genome-wide heterozygosity on a range of biomedically relevant human quantitative traits. Hum. Mol. Genet. 16, 233–241 (2007)

Charlesworth, D. & Willis, J. H. The genetics of inbreeding depression. Nature Rev. Genet. 10, 783–796 (2009)

Wright, S. Evolution and the Genetics of Populations, Vol. 3: Experimental Results and Evolutionary Deductions (University of Chicago Press, 1977)

Wright, S. Coefficients of inbreeding and relationships. Am. Nat. 56, 330–339 (1922)

Broman, K. W. & Weber, J. L. Long homozygous chromosomal segments in reference families from the Centre d'Étude du Polymorphisme Humain. Am. J. Hum. Genet. 65, 1493–1500 (1999)

Gibson, J., Morton, N. E. & Collins, A. Extended tracts of homozygosity in outbred human populations. Hum. Mol. Genet. 15, 789–795 (2006)

Kirin, M. et al. Genomic runs of homozygosity record population history and consanguinity. PLoS ONE 5, e13996 (2010)

Keller, M. C., Visscher, P. M. & Goddard, M. E. Quantification of inbreeding due to distant ancestors and its detection using dense single nucleotide polymorphism data. Genetics 189, 237–249 (2011)

Pemberton, T. J. & Rosenberg, N. A. Population-genetic influences on genomic estimates of the inbreeding coefficient: a global perspective. Hum. Hered. 77, 37–48 (2014)

Abdellaoui, A. et al. Educational attainment influences levels of homozygosity through migration and assortative mating. PLoS ONE 10, e0118935 (2015)

Neel, J. V. et al. The effects of parental consanguinity and inbreeding in Hirado, Japan. II. Physical development, tapping rate, blood pressure, intelligence quotient, and school performance. Am. J. Hum. Genet. 22, 263–286 (1970)

Marioni, R. E. et al. Common genetic variants explain the majority of the correlation between height and intelligence: the generation Scotland study. Behav. Genet. 44, 91–96 (2014)

Wood, A. R. et al. Defining the role of common variation in the genomic and biological architecture of adult human height. Nature Genet. 46, 1173–1186 (2014)

Deary, I. J. et al. Genetic contributions to stability and change in intelligence from childhood to old age. Nature 482, 212–215 (2012)

Morton, N. E. Effect of inbreeding on IQ and mental retardation. Proc. Natl Acad. Sci. USA 75, 3906–3908 (1978)

Najmabadi, H. et al. Deep sequencing reveals 50 novel genes for recessive cognitive disorders. Nature 478, 57–63 (2011)

Nalls, M. A. et al. Measures of autozygosity in decline: globalization, urbanization, and its implications for medical genetics. PLoS Genet. 5, e1000415 (2009)

Flynn, J. R. Massive IQ gains in 14 nations: what IQ tests really measure. Psychol. Bull. 101, 171–191 (1987)

Galton, F. Natural inheritance (MacMillan, 1889)

Hoffman, J. I. et al. High-throughput sequencing reveals inbreeding depression in a natural population. Proc. Natl Acad. Sci. USA 111, 3775–3780 (2014)

Wright, A., Charlesworth, B., Rudan, I., Carothers, A. & Campbell, H. A polygenic basis for late-onset disease. Trends Genet. 19, 97–106 (2003)

Weiss, L. A., Pan, L., Abney, M. & Ober, C. The sex-specific genetic architecture of quantitative traits in humans. Nature Genet. 38, 218–222 (2006)

Powell, J. E. et al. Congruence of additive and non-additive effects on gene expression estimated from pedigree and SNP data. PLoS Genet. 9, e1003502 (2013)

Keller, M. C. et al. Runs of homozygosity implicate autozygosity as a schizophrenia risk factor. PLoS Genet. 8, e1002656 (2012)

Darwin, C. The Effects of Crossing and Self Fertilization in the Vegetable Kingdom (John Murray, 1876)

Purcell, S. PLINK: a tool set for whole-genome association and population-based linkage analyses. Am. J. Hum. Genet. 81, 559–575 (2007)

Aulchenko, Y. S., Ripke, S., Isaacs, A. & van Duijn, C. M. GenABEL: an R library for genome-wide association analysis. Bioinformatics 23, 1294–1296 (2007)

Ronnegard, L., Shen, X. & Alam, M. hglm: a package for fitting hierarchical generalized linear models. R Journal 2, 20–28 (2010)

Lango Allen, H. et al. Hundreds of variants clustered in genomic loci and biological pathways affect human height. Nature 467, 832–838 (2010)

Ehret, G. B. et al. Genetic variants in novel pathways influence blood pressure and cardiovascular disease risk. Nature 478, 103–109 (2011)

Scott, R. A. et al. Large-scale association analyses identify new loci influencing glycemic traits and provide insight into the underlying biological pathways. Nature Genet. 44, 991–1005 (2012)

Willer, C. J. et al. Discovery and refinement of loci associated with lipid levels. Nature Genet. 45, 1274–1283 (2013)

Soler Artigas, M. et al. Genome-wide association and large-scale follow up identifies 16 new loci influencing lung function. Nature Genet. 43, 1082–1090 (2011)

Rietveld, C. A. et al. GWAS of 126,559 individuals identified genetic variants associated with educational attainment. Science 340, 1467–1471 (2013)

Stefansson, H. et al. CNVs conferring risk of autism or schizophrenia affect cognition in controls. Nature 505, 361–366 (2014)

An integrated map of genetic variation from 1,092 human genomes. Nature 491, 56–65 (2012)

Aulchenko, Y. S., de Koning, D. J. & Haley, C. Genomewide rapid association using mixed model and regression: a fast and simple method for genome-wide pedigree-based quantitative trait loci association analysis. Genetics 177, 577–585 (2007)

Marioni, R. E. et al. Molecular genetic contributions to socioeconomic status and intelligence. Intelligence 44, 26–32 (2014)

Hedges, L. V. & Olkin, I. Statistical Methods for Meta-Analysis (Academic Press, New York, 1985)
Acknowledgements
This paper is the work of the ROHgen consortium. We thank the participants in all ROHgen studies; cohort-specific acknowledgements are detailed in Supplementary Table 6. This work was funded by a UK Medical Research Council (MRC) PhD studentship to P.K.J.; and J.F.W. and O.P. acknowledge support from the MRC Human Genetics Unit "QTL in Health and Disease" programme. We thank W. G. Hill for discussions and comments on the manuscript and K. Lindsay for administrative assistance.
Author information
Author notes
Peter K. Joshi, Tonu Esko, Ozren Polašek and James F. Wilson: These authors contributed equally to this work.
Authors and Affiliations
Centre for Global Health Research, Usher Institute for Population Health Sciences and Informatics, University of Edinburgh, Teviot Place, Edinburgh, EH8 9AG, UK

Peter K. Joshi, Igor Rudan, Harry Campbell, Ozren Polašek & James F. Wilson

Estonian Genome Center, University of Tartu, Riia 23b, 51010, Tartu, Estonia

Tonu Esko, Reedik Mägi, Evelin Mihailov, Lili Milani, Mari Nelis, Natalia Tšernikova, Andrew P. Morris, Andres Metspalu & Markus Perola

Division of Endocrinology and Center for Basic and Translational Obesity Research, Boston Children's Hospital, Cambridge, 02141, Massachusetts, USA

Tonu Esko, Yingleong Chan, Sailaja Vedantam, Rany M. Salem & Joel N. Hirschhorn

Program in Medical and Population Genetics, Broad Institute, Cambridge Center 7, Cambridge, 02242, Massachusetts, USA

Tonu Esko, Yingleong Chan, Sailaja Vedantam, Rany M. Salem, Cecilia M. Lindgren & Joel N. Hirschhorn

Department of Genetics, Harvard Medical School, 25 Shattuck St, Boston, 02115, Massachusetts, USA

Tonu Esko, Yingleong Chan, Sailaja Vedantam, Rany M. Salem & Joel N. Hirschhorn

Unit of Public Health Genomics, National Institute for Health and Welfare, P.O. Box 104, Helsinki, FI-00251, Finland

Hannele Mattsson, Niina Eklund, Anni Joensuu, Antti-Pekka Sarin & Markus Perola

Institute for Molecular Medicine Finland (FIMM), University of Helsinki, P.O. Box 20, Helsinki, FI-00014, Finland

Hannele Mattsson, Anni Joensuu, Kirsi Pietilainen, Antti-Pekka Sarin & Jaakko Kaprio

Department of Medical Sciences, University of Trieste, Strada di Fiume 447 - Osp. di Cattinara, Trieste, 34149, Italy

Ilaria Gandin, Dragana Vuckovic, Nicola Pirastu & Giorgia Girotto

Institute of Genetics and Biophysics "A. Buzzati-Traverso" CNR, via Pietro Castellino, 111, Naples, 80131, Italy

Teresa Nutile, Daniela Ruggiero & Marina Ciullo

Department of Biostatistics and Center for Statistical Genetics, University of Michigan, Ann Arbor, Michigan, 48109, USA

Anne U. Jackson, Laura J. Scott & Michael Boehnke

The Charles Bronfman Institute for Personalized Medicine, Icahn School of Medicine at Mount Sinai, One Gustave L. Levy Place, New York, 10029, New York, USA

Claudia Schurmann, Erwin P. Bottinger, Stephen B. Ellis, Omri Gottesman, Yingchang Lu, Rajiv Nadukuru & Ruth J. F. Loos

The Genetics of Obesity and Related Metabolic Traits Program, Icahn School of Medicine at Mount Sinai, One Gustave L. Levy Place, New York, 10029, New York, USA

Claudia Schurmann, Yingchang Lu & Ruth J. F. Loos

Icelandic Heart Association, Holtasmari 1, 201, Kopavogur, Iceland

Albert V. Smith & Vilmundur Gudnason

Faculty of Medicine, University of Iceland, Reykjavik, 101, Iceland

Albert V. Smith & Vilmundur Gudnason

Department of Epidemiology and Biostatistics, Imperial College London, Norfolk Place, London, W2 1PG, UK

Weihua Zhang, Uzma Afzal, Benjamin Lehne, Marie Loh, William R. Scott & John C. Chambers

Department of Cardiology, Ealing Hospital NHS Trust, Uxbridge Road, Southall, Middlesex, UB1 3HW, UK

Weihua Zhang, Uzma Afzal, Manraj K. Kooner, William R. Scott, John C. Chambers & Jaspal S. Kooner

Department of Human Genetics and Disease Diversity, Graduate School of Medical and Dental Sciences, Tokyo Medical and Dental University, 1-5-45 Yushima, Bunkyo-ku, Tokyo, 113-8510, Japan

Yukinori Okada

Laboratory for Statistical Analysis, RIKEN Center for Integrative Medical Sciences, 1-7-22 Suehiro-cho, Tsurumi-ku, Yokohama, 230-0045, Kanagawa, Japan

Yukinori Okada, Yoichiro Kamatani & Atsushi Takahashi

Department of Medicine, University of Eastern Finland, Kuopio, 70210, Finland

Alena Stančáková

Institute for Social Research, University of Michigan, 426 Thompson Street, Ann Arbor, Michigan, 48104, USA

Jessica D. Faul & David R. Weir

Department of Epidemiology, University of Michigan, 1415 Washington Heights, Ann Arbor, Michigan, 48109, USA

Wei Zhao, Lawrence F. Bielak, Patricia A. Peyser, Jennifer A. Smith, Erin B. Ware & Sharon L. R. Kardia

Departments of Biostatistics and Medicine, Cardiovascular Health Research Unit, University of Washington, 1730 Minor Ave, Suite 1360, Seattle, 98101, Washington, USA

Traci M. Bartz

Institute of Population Genetics, National Research Council, Trav. La Crucca n. 3 – Reg. Baldinca, Sassari, 07100, Italy

Maria Pina Concas & Mario Pirastu

Epidemiology, University of North Carolina, 137 E. Franklin St., Suite 306, Chapel Hill, 27599, North Carolina, USA

Nora Franceschini, Misa Graff & Kari E. North

Department of Immunology, Genetics, and Pathology, Biomedical Center, SciLifeLab Uppsala, Uppsala University, Uppsala, SE-75108, Sweden

Stefan Enroth, Åsa Johansson & Ulf Gyllensten

MRC Human Genetics Unit, Institute of Genetics and Molecular Medicine, University of Edinburgh, Crewe Road, Edinburgh, EH4 2XU, UK

Veronique Vitart, Chris Haley, Nicholas D. Hastie, Jennifer E. Huffman, Shona M. Kerr, Pau Navarro, Caroline Hayward, Alan F. Wright & James F. Wilson

Department of Gerontology and Geriatrics, Leiden University Medical Center, PO Box 9600, Leiden, 2300 RC, The Netherlands

Stella Trompet

Institute for Translational Genomics and Population Sciences, Los Angeles Biomedical Research Institute, , 1124 W. Carson Street, Torrance, 90502, California, USA

Xiuqing Guo, Y.-D. Ida Chen, Kent D. Taylor, Jie Yao & Jerome I. Rotter

Department of Pediatrics, Harbor-UCLA Medical Center, Torrance, 90502, California, USA

Xiuqing Guo, Y.-D. Ida Chen, Kent D. Taylor & Jerome I. Rotter

Division of Preventive Medicine, Brigham and Women's Hospital, 900 Commonwealth Avenue, East, Harvard Medical School, Boston, Boston, 02215, Massachusetts, USA

Daniel I. Chasman, Lynda M. Rose & Paul M. Ridker

Division of Endocrinology, Department of Medicine, Diabetes, and Nutrition and Program for Personalised and Genomic Medicine, University of Maryland School of Medicine, 685 Baltimore St. MSTF, Baltimore, 21201, Maryland, USA

Jeffrey R. O'Connel, May E. Montasser & Alan R. Shuldiner

Department of Medical Genetics, University of Lausanne, Rue du Bugnon 27, Lausanne, 1005, Switzerland

Tanguy Corre & Sven Bergmann

Swiss Institute of Bioinformatics, Quartier Sorge - batiment génopode, Lausanne, 1015, Switzerland

Tanguy Corre & Sven Bergmann

Genomic Research on Complex Diseases (GRC) Group, CSIR-Centre for Cellular and Molecular Biology, Habshiguda, Uppal Road, Hyderabad, 500007, India

Suraj S. Nongmaithem, Smeeta Shrestha & Giriraj R. Chandak

Department of Biostatistics, Boston University School of Public Health, 801 Massachusetts Avenue, Boston, 02118, Massachusetts, USA

Yuning Chen, L. Adrienne Cupples & Josée Dupuis

Department of Twin Research & Genetic Epidemiology, King's College London, South Wing, Block D, 3rd Floor, Westminster Bridge Road, London, SE1 7EH, UK

Massimo Mangino, Irina Gillham-Nasenya, Christopher J. Hammond, Pirro G. Hysi, Cristina Menni & Tim D. Spector

NIHR Biomedical Research Centre, Guy's and St. Thomas' Foundation Trust, Westminster Bridge Road, London, SE1 7EH, UK

Massimo Mangino

Division of Genetics and Cell Biology, San Raffaele Scientific Institute, Via Olgettina 58, Milano, 20132, Italy

Michela Traglia, Corrado Masciullo, Cinzia Sala & Daniela Toniolo

Department of Nutrition and Dietetics, Harokopio University of Athens, 70, El. Venizelou Ave, Athens, 17671, Greece

Aliki-Eleni Farmaki & George Dedoussis

Interfaculty Institute for Genetics and Functional Genomics, University Medicine Greifswald, Friedrich-Ludwig-Jahn-Str. 15A, Greifswald, 17475, Germany

Tim Kacprowski & Georg Homuth

Center for Human Genetic Research, 55 Fruit Street, Massachusetts General Hospital, Massachusetts, 02114, USA

Andrew Bjonnes & Richa Saxena

Department of Epidemiology, Erasmus Medical Center, PO Box 2040, Rotterdam, 3000, CA, The Netherlands

Ashley van der Spek, Saira S. Mirza, Najaf Amin, M. Arfan Ikram, Andre G. Uitterlinden, Henning Tiemeier & Cornelia M. van Duijn

Department of Genetics, University of North Carolina, Chapel Hill, 27599, North Carolina, USA

Ying Wu & Karen L. Mohlke

Genomics and Molecular Medicine, CSIR-Institute of Genomics & Integrative Biology, Mathura Road, New Delhi, 110025, India

Anil K. Giri, Nazir M. Khan & Dwaipayan Bharadwaj

Division of General Internal Medicine, Department of Medicine, The GeneSTAR Research Program, The Johns Hopkins University School of Medicine, Baltimore, 21287, Maryland, USA

Lisa R. Yanek, Rasika A. Mathias, Dhananjay Vaidya & Diane M. Becker

Department of Genetics, Washington University School of Medicine, 4444 Forest Park Boulevard, Saint Louis, 63108, Missouri, USA

Lihua Wang & Mary F. Feitosa

Department of Neurology, Clinical Division of Neurogeriatrics, Medical University Graz, Auenbruggerplatz 22, Graz, A-8036, Austria

Edith Hofer & Reinhold Schmidt

Institute for Medical Informatics, Statistics and Documentation, Medical University Graz, Auenbruggerplatz2, Graz, A-8036, Austria

Edith Hofer

Erasmus School of Economics, Erasmus University Rotterdam, Burgemeester Oudlaan 50, Rotterdam, 3000, DR, The Netherlands

Cornelius A. Rietveld & Philipp Koellinger

Department of Medicine Solna, Atherosclerosis Research Unit, Karolinska Institutet, CMM L8:03, Karolinska University Hospital, Solna, 171 76, Stockholm, Sweden

Olga McLeod, Bengt Sennblad, Rona J. Strawbridge & Anders Hamsten

Channing Division of Network Medicine, Brigham & Women's Hospital, 181 Longwood, Boston, 02115, Massachusetts, USA

Marilyn C. Cornelis

Nutrition, Harvard School of Public Health, 401 Park Drive, Boston, 02215, Massachusetts, USA

Marilyn C. Cornelis & Francine Grodstein

Center for Biomedicine, European Academy Bozen/Bolzano (EURAC), 39100 Bolzano, Italy (affiliated Institute of the University of Lübeck, D-23562 Lübeck, Germany).,

Cristian Pattaro, Francesca Pavani & Andrew A. Hicks

Department of Cardiology, University of Groningen, University Medical Center Groningen, Hanzeplein 1, Groningen, 9700, RB, The Netherlands

Niek Verweij & Pim van der Harst

Research Unit of Molecular Epidemiology, Helmholtz Zentrum München, German Research Center for Environmental Health, Ingolstädter Landstr. 1, Neuherberg, 85764, Germany

Clemens Baumbach, Melanie Waldenberger & Christian Gieger

Institute of Epidemiology II, Helmholtz Zentrum München, German Research Center for Environmental Health, Ingolstädter Landstr. 1, Neuherberg, 85764, Germany

Clemens Baumbach, Christa Meisinger, Melanie Waldenberger & Christian Gieger

Institute of Genetic Epidemiology, Helmholtz Zentrum München, German Research Center for Environmental Health, Ingolstädter Landstr. 1, Neuherberg, 85764, Germany

Clemens Baumbach, Konstantin Strauch & Christian Gieger

Department of Biological Psychology, VU University Amsterdam, Van der Boechorststraat 1, Amsterdam, 1081, BT, The Netherlands

Abdel Abdellaoui, Jouke-Jan Hottenga, Gonneke Willemsen & Dorret I. Boomsma

Clinical Pharmacology, William Harvey Research Institute, Barts and The London School of Medicine and Dentistry, Queen Mary University of London, Charterhouse Square, London, EC1M 6BQ, UK

Helen R. Warren, Patricia B. Munroe & Mark J. Caulfield

NIHR Barts Cardiovascular Biomedical Research Unit, Queen Mary University of London, Charterhouse Square, London, EC1M 6BQ, UK

Helen R. Warren, Patricia B. Munroe & Mark J. Caulfield

Department of Medicine, University of Mississippi Medical Center, 2500 N. State St., Jackson, Mississippi, 39216, USA

Hao Mei & Adolfo Correa

Pennington Biomedical Research Center, 6400 Perkins Rd, Baton Rouge, 70808, Louisiana, USA

Claude Bouchard

MRC Epidemiology Unit, University of Cambridge School of Clinical Medicine, Cambridge Biomedical Campus, Cambridge, CB2 0QQ, UK

John R. B. Perry, Jing Hua Zhao, Robert A. Scott & Nicholas J. Wareham

Institute for Maternal and Child Health - IRCCS "Burlo Garofolo", via dell'Istria 65, Trieste, 34137, Italy

Stefania Cappellani, Antonietta Robino, Diego Vozzi, Nicola Pirastu, Paolo Gasparini & Sheila Ulivi

Institute of Health and Biomedical Innovation, Queensland University of Technology, 60 Musk Avenue, Kelvin Grove, GPO Box 2434, Brisbane, 4001, Queensland, Australia

Miles C. Benton, Rodney A. Lea & Lyn R. Griffiths

Department of Pediatrics, Medical College of Wisconsin, 8701 Watertown Plank Rd, Milwaukee, 53226, Wisconsin, USA

Ulrich Broeckel

Quantitative Genetics, QIMR Berghofer Medical Research Institute, 300 Herston Rd, Herston, Brisbane, 4006, Queensland, Australia

Sarah E. Medland & Penelope A. Lind

Dipartimento di Scienze della Vita e della Riproduzione, University of Verona, Strada Le Grazie 15, Verona, 37134, Italy

Giovanni Malerba

Wellcome Trust Centre for Human Genetics, University of Oxford, Roosevelt Drive, Oxford, OX3 7BN, UK

Alexander Drong, Tugce Karaderi, Erik Ingelsson, Lorraine Southam, Cecilia M. Lindgren & Andrew P. Morris

CNRS UMR 8199, European Genomic Institute for Diabetes (EGID), Lille 2 University, 1 Rue du Professeur Calmette, Lille, 59000, France

Loic Yengo, Amelie Bonnefond & Philippe Froguel

Department of Biostatistics, University of Alabama at Birmingham, 1665 University Blvd, Birmingham, 35294, Alabama, USA

Degui Zhi

Department of Epidemiology, University of Groningen, University Medical Center Groningen, Groningen, P.O. box 30.001, Groningen, 9700 RB, The Netherlands

Peter J. van der Most & Ilja M. Nolte

Center for Research on Genomics and Global Health, National Human Genome Research Institute, Building 12A/Room 4047, 12 South Dr., Bethesda, 20892, Maryland, USA

Daniel Shriner & Charles N. Rotimi

MRC Integrative Epidemiology Unit, University of Bristol, Oakfield House, Oakfield Grove, Bristol, BS8 2BN, UK

Gibran Hemani, George Davey Smith, Matthew J. Suderman, Nicholas J. Timpson & Thorkild I. A. Sørensen

Division of Cancer Epidemiology and Genetics, National Cancer Institute, National Institutes of Health, 9609 Medical Center Drive, Rockville, 20850, Maryland, USA

Zhaoming Wang, Stephen J. Chanock & Sonja I. Berndt

Cancer Genomics Research Laboratory, National Cancer Institute, SAIC-Frederick, Inc., Frederick National Laboratory for Cancer Research, Frederick, 21702, Maryland, USA

Zhaoming Wang

Center for Lifespan Psychology, Max Planck Institute for Human Development, Lentzeallee 94, Berlin, 14195, Germany

Tian Liu & Ulman Lindenberger

Vertebrate Genomics, Max Planck Institute for Molecular Genetics, Ihnestr. 72, Berlin, 14195, Germany

Tian Liu & Lars Bertram

Charité Research Group on Geriatrics, Charité – Universitätsmedizin Berlin, Reinickendorferstr. 61, Berlin, 13347, Germany

Ilja Demuth

Institute of Medical and Human Genetics, Charité – Universitätsmedizin Berlin, Augustenburger Platz 1, Berlin, 13353, Germany

Ilja Demuth

Division of Population Health Sciences, Medical Research Institute, University of Dundee, Ninewells Hospital and School of Medicine, Dundee, DD2 4BF, UK

Weihua Meng

William Harvey Research Institute, Barts and The London School of Medicine and Dentistry, Queen Mary University of London, Charterhouse Square, London, EC1M 6BQ, UK

Lazaros Lataniotis, Stavroula Kanoni & Panos Deloukas

Division Heart and Lungs, Experimental Cardiology, University Medical Center Utrecht, Heidelberglaan 100, Utrecht, 3584 CX, The Netherlands

Sander W. van der Laan, Jessica van Setten & Gerard Pasterkamp

Center for Applied Genomics, Children's Hospital of Philadelphia, 3615 Civic Center Boulevard, Philadelphia, 19104, Pennsylvania, USA

Jonathan P. Bradfield, Frank D. Mentch, Struan F.A. Grant & Hakon Hakonarson

Genetics of Complex Traits, University of Exeter Medical School, University of Exeter, Royal Devon and Exeter Hospital, Barrack Road, Exeter, EX2 5DW, UK

Andrew R. Wood & Timothy M. Frayling

COPSAC, Copenhagen Prospective Studies on Asthma in Childhood, Herlev and Gentofte Hospital, University of Copenhagen, Ledreborg Allé 34, Copenhagen, DK-2820, Denmark

Tarunveer S. Ahluwalia & Hans Bisgaard

Novo Nordisk Centre for Basic Metabolic Research, Section of Metabolic Genetics, Faculty of Health and Medical Sciences, University of Copenhagen, Universitetsparken 1, Copenhagen, 2100, Denmark

Tarunveer S. Ahluwalia & Thorkild I. A. Sørensen

Department of Cardiovascular Sciences, University of Leicester, BHF Cardiovascular Research Centre, Glenfield Hospital, Groby Road, Leicester, LE3 9QP, UK

Leanne M. Hall, Maciej Tomaszewski & Nilesh J. Samani

Department of Health Sciences, University of Milan, via A. di Rudinì 8, Milan, 20142, Italy

Erika Salvi & Daniele Cusi

Centre for Ophthalmology and Visual Science, University of Western Australia, Lions Eye Institute, 2 Verdun Street, Perth, 6009, Western Australia, Australia

Seyhan Yazar & David A. Mackey

Department of Epidemiology Research, Statens Serum Institut, Artillerivej 5, Copenhagen, 2300, Denmark

Lisbeth Carstensen, Bjarke Feenstra, Frank Geller & Mads Melbye

Clinical Epidemiology, Leiden University Medical Center, PO Box 9600, Leiden, 2300 RC, The Netherlands

Hugoline G. de Haan & Astrid van Hylckama Vlieg

Department of Human Genetics, University of Chicago, 920 E. 58th Street, Chicago, 60637, Illinois, USA

Mark Abney, William Wentworth-Shields & Carole Ober

Department of Family and Preventive Medicine, University of California San Diego, 9500 Gilman Drive, La Jolla, 92093, California, USA

Matthew A. Allison

Department of Cardiology, Division Heart and Lungs, University Medical Center Utrecht, Heidelberglaan 100, Utrecht, 3584 CX, The Netherlands

Folkert W. Asselbergs

Durrer Center for Cardiogenetic Research, ICIN-Netherlands Heart Institute, Catharijnesingel 52, Utrecht, 3501 DG, The Netherlands

Folkert W. Asselbergs & Pim van der Harst

Institute of Cardiovascular Science, faculty of Population Health Sciences, University College London, Gower Street, London, WC1E 6BT, UK

Folkert W. Asselbergs

Department of Internal Medicine, University of Groningen, University Medical Center Groningen, Hanzeplein 1, Groningen, 9700 RB, The Netherlands

Stephan J. L. Bakker

Department of Medicine, Columbia University, 622 W. 168th Street, New York, 10032, New York, USA

R. Graham Barr & Walter R. Palmas

Institute for Community Medicine, University Medicine Greifswald, W.-Rathenau-Str. 48, Greifswald, 17475, Germany

Sebastian E. Baumeister & Alexander Teumer

Department of Economics, Cornell University, 480 Uris Hall, Ithaca, 14853, New York, USA

Daniel J. Benjamin

Department of Economics and Center for Economic and Social Research, University of Southern California, 314C Dauterive Hall, 635 Downey Way, Los Angeles, 90089, California, USA

Daniel J. Benjamin

Human Genetics Center, School of Public Health, University of Texas Health Science Center at Houston, 1200 Pressler Street, Suite, Houston, 453E, 77030, Texas, USA

Eric Boerwinkle & Alanna Morrison

Centre for Genomic and Experimental Medicine, University of Edinburgh, Western General Hospital, Edinburgh, EH4 2XU, UK

Archie Campbell, Generation Scotland, Sarah E. Harris & David J. Porteous

McKusick-Nathans Institute of Genetic Medicine, Johns Hopkins University School of Medicine, Baltimore, 21205, Maryland, USA

Aravinda Chakravarti & Georg Ehret

Program in Genetic Epidemiology and Statistical Genetics, Harvard School of Public Health, 665 Huntington Ave, Boston, 02115, Massachusetts, USA

Constance Chen & Peter Kraft

Genome Technology Branch, National Human Genome Research Institute, NIH, Bethesda, 20892, Maryland, USA

Francis S. Collins

College of Medicine, Dentistry and Nursing, Ninewells Hospital and Medical School, College Office, Level 10, Dundee, DD1 9SY, UK

John Connell

National Heart, Lung, and Blood Institute's Framingham Heart Study, 73 Mt. Wayte Ave, Framingham, 01702, Massachusetts, USA

L. Adrienne Cupples, Caroline S. Fox, Nancy L. Heard-Costa, George T. O'Connor, Sudha Seshadri & Josée Dupuis

Psychology, University of Edinburgh, 7 George Square, Edinburgh, EH8 9JZ, UK

Gail Davies, Paul Redmond & Ian J. Deary

Centre for Cognitive Ageing and Cognitive Epidemiology, University of Edinburgh, 7 George Square, Edinburgh, EH8 9JZ, UK

Gail Davies, Sarah E. Harris, David C.M. Liewald, John M. Starr, Ian J. Deary & David J. Porteous

Department of Internal Medicine B, University Medicine Greifswald, Ferdinand-Sauerbruch-Str. NK, Greifswald, 17475, Germany

Marcus Dörr

Cardiology, Geneva University Hospitals, Rue Gabrielle-Perret-Gentil, 4, Genève 14, 1211, Switzerland

Georg Ehret

Robertson Centre, University of Glasgow, Boyd Orr Building, Glasgow, G12 8QQ, Scotland

Ian Ford

Division of Endocrinology, Brigham and Women's Hospital and Harvard Medical School, 75 Francis St, Boston, 02115, Massachusetts, USA

Caroline S. Fox

Institute of Clinical Chemistry and Laboratory Medicine, University Medicine Greifswald, Ferdinand-Sauerbruch-Str. NK, Greifswald, 17475, Germany

Nele Friedrich

Division of Biostatistics, Washington University, 660 S Euclid, St Louis, 63110, Missouri, USA

Charles Gu

Roslin Institute, University of Edinburgh, Easter Bush, Midlothian, EH25 9RG, Edinburgh, UK

Chris Haley

National Institutes on Aging, National Institutes of Health, Bethesda, 20892, Maryland, USA

Tamara B. Harris & Lenore J. Launer

Department of Neurology, Boston University School of Medicine, 72 E Concord St, Boston, 02118, Massachusetts, USA

Nancy L. Heard-Costa & Sudha Seshadri

Department of Public Health, University of Helsinki, Hjelt Institute, P.O.Box 41, Mannerheimintie 172, Helsinki, FI-00014, Finland

Kauko Heikkilä, Anu Loukola, Eero Vuoksimaa & Jaakko Kaprio

Division of Applied Medicine, Musculoskeletal Research Programme, University of Aberdeen, Foresterhill, AB25 2ZD, Aberdeen, UK

Lynne J. Hocking

State Key Laboratory of Medical Genomics, Shanghai Institute of Hematology, Rui Jin Hospital Affiliated with Shanghai Jiao Tong University School of Medicine, 197 Rui Jin Er Road, Shanghai, 200025, China

Jinyan Huang

Department of Radiology, Erasmus Medical Center, PO Box 2040, Rotterdam, 3000, CA, The Netherlands

M. Arfan Ikram

Department of Medical Sciences, Molecular Epidemiology and Science for Life Laboratory, Uppsala University, Uppsala, SE-17121, Sweden

Erik Ingelsson

Uppsala Clinical Research Center, Uppsala University, Uppsala, SE-75237, Sweden

Åsa Johansson

Department of Chronic Disease Prevention, National Institute for Health and Welfare, P.O. Box 30, Helsinki, FI-00271, Finland

Pekka Jousilahti, Satu Männistö, Veikko Salomaa, Johan G. Eriksson & Erkki Vartiainen

Department of Cardiology C5-P, Leiden University Medical Center, PO Box 9600, Leiden, 2300 RC, The Netherlands

J. Wouter Jukema

Department of Clinical Physiology, University of Tampere and Tampere University Hospital, P.O. Box 2000, Tampere, FI-33521, Finland

Mika Kähönen

Diabetes Prevention Unit, National Institute for Health and Welfare, P.O. Box 30, Helsinki, FI-00271, Finland

Heikki A. Koistinen & Jaakko Tuomilehto

Department of Medicine, Division of Endocrinology, Helsinki University Central Hospital, P.O.Box 340, Haartmaninkatu 4, Helsinki, FI-00029, Finland

Heikki A. Koistinen & Kirsi Pietilainen

Minerva Foundation Institute for Medical Research, Biomedicum 2U, Tukholmankatu 8, Helsinki, FI-00290, Finland

Heikki A. Koistinen

Laboratory for Genotyping Development RCfIMS, 1-7-22 Suehiro-cho, Tsurumi-ku, Yokohama, 230-0045, Kanagawa, Japan

Michiaki Kubo

Department of Medicine, University of Eastern Finland and Kuopio University Hospital, Kuopio, FI-70210, Finland

Johanna Kuusisto & Markku Laakso

Institute of Behavioural Sciences, University of Helsinki, P.O. Box 9, University of Helsinki, Helsinki, FI-00014, Finland

Jari Lahti

Folkhälsan Reasearch Centre, PB 63, Helsinki, FI-00014 University of Helsinki, Finland

Jari Lahti

Department of Clinical Chemistry, Fimlab Laboratories and School of Medicine University of Tampere, Tampere, FI-33520, Finland

Terho Lehtimäki

Department of Medical Sciences, University Hospital, Uppsala, 75185, Sweden

Lars Lind

Transplantation laboratory, Haartman Institute, University of Helsinki, P.O. Box 21, Helsinki, FI-00014, Finland

Marja-Liisa Lokki & Efthymia Vlachopoulou

Department of Health and Human Services, National Institute of Environmental Health Sciences, National Institutes of Health, Research Triangle Park, North Carolina, 27709, USA

Stephanie J. London

Ophthalmology, Massachusetts Eye and Ear, 243 Charles Street, Boston, 02114, Massachusetts, USA

Stephanie J. Loomis

Department of Statistics, University of Auckland, 303.325 Science Centre, Private Bag 92019, Auckland, 1142, New Zealand

Thomas Lumley

Department of Health, Functional Capacity and Welfare, National Institute for Health and Welfare, P.O. Box 30, Helsinki, FI-00271, Finland

Annamari Lundqvist, Harri Rissanen & Paul Knekt

Department of Internal Medicine, University Hospital, Rue du Bugnon 44, Lausanne, 1011, Switzerland

Pedro Marques-Vidal & Peter Vollenweider

Human Genetics, Wellcome Trust Sanger Institute, Hinxton, Cambridge, CB10 1HH, UK

Angela Matchan, Nicole Soranzo, Lorraine Southam & Eleftheria Zeggini

Division of Allergy and Clinical Immunology, Department of Medicine, The Johns Hopkins University School of Medicine, Baltimore, 21224, Maryland, USA

Rasika A. Mathias

Laboratory of Molecular Medicine, Human Genome Center, Institute of Medical Science, The University of Tokyo, 4-6-1 Shirokanedai, Minato-ku, Tokyo, 108-8639, Japan

Koichi Matsuda

Division of General Internal Medicine, Massachusetts General Hospital, 50 Staniford St, Boston, 02114, Massachusetts, USA

James B. Meigs

Institute of Human Genetics, Helmholtz Zentrum München, German Research Center for Environmental Health, Ingolstädter Landstr. 1, Neuherberg, 85764, Germany

Thomas Meitinger

Institute of Human Genetics, Klinikum rechts der Isar, Technische Universität München, Ismaninger Str. 22, München, 81675, Germany

Thomas Meitinger

Molecular Epidemiology, QIMR Berghofer Medical Research Institute, 300 Herston Rd, Herston, Brisbane, 4006, Queensland, Australia

Grant W. Montgomery

Genome Science Institute, Boston University School of Medicine, 72 East Concord Street, E-304, Boston, 02118, Massachusetts, USA

Richard H. Myers

HUCH Heart and Lung center, Helsinki University Central Hospital, P.O. Box 340, Helsinki, FI-00029, Finland

Markku S. Nieminen & Juha Sinisalo

Pulmonary Center and Department of Medicine, Boston University School of Medicine, 72 E Concord St, Boston, 02118, Massachusetts, USA

George T. O'Connor

Department of Medicine, University of Ibadan, Ibadan, Nigeria

Adesola Ogunniyi & Babatunde Salako

ICAMS, University of Glasgow, 126 University Way, Glasgow, G12 8TA, UK

Sandosh Padmanabhan

Division of Epidemiology and Community Health, University of Minnesota, 1300 S 2nd Street, Minneapolis, 55454, Minnesota, USA

James S. Pankow

Centre for Global Health and Department of Public Health, School of Medicine, University of Split, Soltanska 2, Split, 21000, Croatia

Inga Patarcic & Ozren Polašek

Obesity Research Unit, Research Programs Unit, Diabetes and Obesity, University of Helsinki, P.O.Box 63, Haartmaninkatu 8, Helsinki, FI-00014, Finland

Kirsi Pietilainen

International Centre for Circulatory Health, Imperial College London, London, W2 1LA, UK

Neil Poulter & Peter Sever

Department of Genomics of Common Disease, School of Public Health, Imperial College London, London, SW7 2AZ, UK

Inga Prokopenko & Philippe Froguel

Department of Cardiology and Cardio thoracic Surgery Hero DMC Heart Institute, Civil Lines, Ludhiana, 141001, India

Sarju Ralhan

Department Public Health Sciences, University of Virginia School of Medicine, 3232 West Complex, Charlottesville, 22908, Virginia, USA

Stephen S. Rich

Department of Psychological & Brain Sciences, Indiana University Bloomington, 1101 E. 10th Street, Bloomington, 47405, Indiana, USA

Richard Rose

Institute of Molecular Biology and Biochemistry, Medical University Graz, Harrachgasse 21, Graz, A-8010, Austria

Helena Schmidt & Anna Maria Töglhofer

Science for Life Laboratory, Karolinska Institutet, Stockholm, SE-17121, Sweden

Bengt Sennblad

University of Dundee, Kirsty Semple Way, Dundee, DD2 4DB, UK

Blair H. Smith

Division of Cardiology, Cardiovascular Health Research Unit, University of Washington, 1730 Minor Ave, Suite 1360, Seattle, 98101, Washington, USA

Nona Sotoodehnia

Molecular and Cellular Therapeutics, Royal College of Surgeons in Ireland, St. Stephen's Green, Dublin 2, Ireland

Alice V. Stanton

UMR INSERM U1122,

Maria G. Stathopoulou

IGE-PCV "Interactions Gène-Environnement en Physiopathologie Cardio-Vasculaire", INSERM, University of Lorraine, 30 Rue Lionnois, Nancy, 54000, France

Maria G. Stathopoulou

Institute of Medical Informatics, Biometry and Epidemiology, Chair of Genetic Epidemiology, Ludwig-Maximilians-Universität, Munich, 81377, Germany

Konstantin Strauch

Department of Endocrinology, All India Institute of Medical Sciences, Ansari Nagar East, New Delhi, 110029, India

Nikhil Tandon

National Heart and Lung Institute, Imperial College London, Du Cane Road, London, W12 0NN, UK

Sian-Tsun Tang & Jaspal S. Kooner

Department of Public Health Sciences, Stritch School of Medicine, Loyola University Chicago, Maywood, 60153, Illinois, USA

Bamidele O. Tayo & Richard S. Cooper

NIHR Leicester Cardiovascular Biomedical Research Unit, University of Leicester, Glenfield Hospital, Groby Road, Leicester, LE3 9QP, UK

Maciej Tomaszewski & Nilesh J. Samani

Institute of Molecular and Cell Biology, University of Tartu, Riia 23, Tartu, 51010, Estonia

Natalia Tšernikova & Andres Metspalu

Centre for Vascular Prevention, Danube-University Krems, Krems, 3500, Austria

Jaakko Tuomilehto

Diabetes Research Group, King Abdulaziz University, Jeddah, 21589, Saudi Arabia

Jaakko Tuomilehto

Department of Internal Medicine, Erasmus Medical Center, PO Box 2040, Rotterdam, 3000, CA, The Netherlands

Andre G. Uitterlinden

Department of Epidemiology, Johns Hopkins Bloomberg School of Public Health, Baltimore, 21205, Maryland, USA

Dhananjay Vaidya

Finnish Lung Health Association, Sibeliuksenkatu 11 A 1, Helsinki, FI-00250, Finland

Tuula Vasankari

Genetic Epidemiology, QIMR Berghofer Medical Research Institute, 300 Herston Rd, Herston, Brisbane, 4006, Queensland, Australia

John B. Whitfield & Nicholas G. Martin

Diabetes Unit, KEM Hospital and Research Centre, Rasta Peth, Pune, 411011, India.,

Chittaranjan S. Yajnik

Department of Medicine, Renal Unit, University of Verona, Piazzale A. Stefani 1, Verona, 37124, Italy

Gianluigi Zaza

Department of Epidemiology and Biostatistics, Case Western Reserve University, Cleveland, 44106, Ohio, USA

Xiaofeng Zhu

Department of Medicine, Stanford University, 300 Pasteur Drive, Stanford, 94305, California, USA

Mads Melbye

Department of Pediatrics, Perelman School of Medicine, The University of Pennsylvania, 3615 Civic Center Boulevard, Philadelphia, 19104, Pennsylvania, USA

Struan F.A. Grant & Hakon Hakonarson

Translational Gerontology Branch, National institute on Aging, Baltimore, 21225, Maryland, USA

Luigi Ferrucci

Usher Institute for Population Health Sciences and Informatics, University of Edinburgh, No. 9 Edinburgh Bioquarter, 9 Little France Road, Edinburgh, EH16 4UX, UK

Andrew D. Morris

Centre for Pharmacogenetics and Pharmacogenomics, Medical Research Institute, University of Dundee, Ninewells Hospital and School of Medicine, Dundee, DD1 9SY, UK

Colin N. A. Palmer

Princess Al-Jawhara Al-Brahim Centre of Excellence in Research of Hereditary Disorders (PACER-HD), King Abdulaziz University, Jeddah, 21589, Saudi Arabia

Panos Deloukas

Faculty of Medicine, Imperial College London, Charing Cross Campus, St Dunstan's Road, London, W6 8RP, UK

Lars Bertram

Department of Medicine, University of Leipzig, Leipzig, 04103, Germany

Anke Tönjes

Institute of Preventive Medicine, Bispebjerg and Frederiksberg Hospital, The Capital Region, Copenhagen, 2000, Denmark

Thorkild I. A. Sørensen

Department of Epidemiology, University of Alabama at Birmingham, 1665 University Boulevard, Birmingham, 35294, Alabama, USA

Donna K. Arnett

Department of Psychiatry, University Medical Center Groningen, University of Groningen, P.O. Box 30.001, Groningen, 9700 RB, The Netherlands

Albertine J. Oldehinkel

Epidemiology of diabetes, obesity and chronic kidney disease over the lifecourse, Inserm, CESP Center for Research in Epidemiology and Population Health U1018, 16 Avenue Paul Vaillant Couturier, 94807 Villejuif, France

Beverley Balkau

Dipartimento di Scienze Mediche, Catholic University of the Sacred Heart, Via G. Moscati 31/34, Roma, 00168, Italy

Giovanni Gambaro

Department of Biostatistics, University of Liverpool, Duncan Building, Daulby Stree, Liverpool, L69 3GA, UK

Andrew P. Morris

Department of General Practice and Primary Health Care, University of Helsinki, P.O. Box 20, University of Helsinki, Helsinki, FI-00014, Finland

Johan G. Eriksson

Vasa Central Hospital, Sandviksgatan 2-4, Vasa, FI-65130, Finland

Johan G. Eriksson

Folkhälsan Reasearch Centre, PB 63, University of Helsinki, Helsinki, FI-00014, Finland

Johan G. Eriksson

Unit of General Practice, Helsinki University Central Hospital, Haartmaninkatu 4, Helsinki, FI-00290, Finland

Johan G. Eriksson

Neuro-Imaging Genetics, QIMR Berghofer Medical Research Institute, 300 Herston Rd, Herston, Brisbane, 4006, Queensland, Australia

Margie J. Wright

Cardiovascular Genetics Division, University of Utah, 420 Chipeta Way, Room 1160, Salt Lake City, 84117, Utah, USA

Steven C. Hunt

Alzheimer Scotland Research Centre, University of Edinburgh, 7 George Square, Edinburgh, EH8 9JZ, UK

John M. Starr

Department of Psychiatry, Erasmus Medical Center, PO Box 2040, Rotterdam, 3000, CA, The Netherlands

Henning Tiemeier

National Institute for Health and Welfare (THL), P.O.Box 30, Mannerheimintie 166, Helsinki, FI-00271, Finland

Jaakko Kaprio

Department of Kinesiology, Laval University, 2300 rue de la Terrasse, Quebec, G1V 0A6, Canada

Louis Pérusse

Department of Physiology and Biophysics, University of Mississippi Medical Center, 2500 N. State Street, Jackson, 39216, Mississippi, USA

James G. Wilson

Department of Clinical Physiology and Nuclear Medicine, University of Turku and Turku University Hospital, Turku, FI-20521, Finland

Olli Raitakari

Research Center of Applied and Preventive Cardiovascular medicine, University of Turku, Turku, FI-20521, Finland

Olli Raitakari

Department of Genetics, University of Groningen, University Medical Center Groningen, Hanzeplein 1, Groningen, 9700 RB, The Netherlands

Pim van der Harst

Department of Economics, Stockholm School of Economics, Box 6501, Stockholm, SE-113 83, Sweden

Magnus Johannesson

Department of Medical Epidemiology and Biostatistics, Karolinska Institutet, Box 281, Stockholm, SE-171 77, Sweden

Patrik K. E. Magnusson

Department of Genetics and Biostatistics, Washington University School of Medicine, 4444 Forest Park Boulevard, Saint Louis, 63108, Missouri, USA

Ingrid B. Borecki

Department of Health Policy and Management, Johns Hopkins Bloomberg School of Public Health, Baltimore, 21205, Maryland, USA

Diane M. Becker

Department of Pediatrics, University of Oklahoma Health Sciences Center, 940 Stanton Young Boulevard, Oklahoma City, 73104, Oklahoma, USA

Dharambir K. Sanghera

Department of Pharmaceutical Sciences, University of Oklahoma Health Sciences Center, Oklahoma City, 73104, Oklahoma, USA

Dharambir K. Sanghera

Sidra Medical and Research Centre, Doha, Qatar

Paolo Gasparini

The Mindich Child Health and Development Institute, Icahn School of Medicine at Mount Sinai, One Gustave L. Levy Place, New York, 10029, New York, USA

Ruth J. F. Loos

Genome Institute of Singapore, 60 Biopolis Street, #02-01 Genome, 138672, Singapore, Singapore

Giriraj R. Chandak

Department of Medicine, Program for Personalised and Genomic Medicine, University of Maryland School of Medicine, 685 Baltimore St. MSTF, Baltimore, 21201, Maryland, USA

Alan R. Shuldiner

Geriatric Research and Education Clinical Center, Veterans Administration Medical Center, 685 W Baltimore MSTF, Baltimore, 21201, Maryland, USA

Alan R. Shuldiner

BHF Glasgow Cardiovascular Research Centre, University of Glasgow, 126 University Place, Glasgow, G12 8TA, UK

Naveed Sattar

Carolina Center for Genome Sciences, University of North Carolina at Chapel Hill, 137 E. Franklin Street, Suite 306, Chapel Hill, 27599, North Carolina, USA

Kari E. North

Departments of Medicine, Cardiovascular Health Research Unit, Epidemiology and Health Services, University of Washington, 1730 Minor Ave, Suite 1360, Seattle, 98101, Washington, USA

Bruce M. Psaty

Group Health Research Institute, Group Health Cooperative, 1730 Minor Ave, Suite 1360, Seattle, 98101, Washington, USA

Bruce M. Psaty

Imperial College Healthcare NHS Trust, Imperial College London, Praed Street, London, W2 1NY, UK

John C. Chambers & Jaspal S. Kooner

Population Health Research Institute, St George's, University of London, Cranmer Terrace, London, SW17 0RE, UK

David P. Strachan

Steno Diabetes Centre, Niels Steensens Vej 2, Gentofte, 2820, Denmark

Tarunveer S. Ahluwalia

Translational Laboratory in Genetic Medicine (TLGM), Agency for Science, Technology and Research (A*STAR), 8A Biomedical Grove, 138648, Singapore

Marie Loh

Centre for Population Health Sciences, Usher Institute for Population Health Sciences and Informatics, University of Edinburgh, Teviot Place, Edinburgh, EH8 9AG, UK

Sarah Wild

Institutes for Neurogenetics and Integrative & Experimental Genomics, University of Lübeck, Lübeck, 23562, Germany

Lars Bertram

School of Biotechnology, Jawaharlal Nehru University, New Delhi, 110067, India

Dwaipayan Bharadwaj
Authors
Peter K. Joshi

Tonu Esko

Hannele Mattsson

Niina Eklund

Ilaria Gandin

Teresa Nutile

Anne U. Jackson

Claudia Schurmann

Albert V. Smith

Weihua Zhang

Yukinori Okada

Alena Stančáková

Jessica D. Faul

Wei Zhao

Traci M. Bartz

Maria Pina Concas

Nora Franceschini

Stefan Enroth

Veronique Vitart

Stella Trompet

Xiuqing Guo

Daniel I. Chasman

Jeffrey R. O'Connel

Tanguy Corre

Suraj S. Nongmaithem

Yuning Chen

Massimo Mangino

Daniela Ruggiero

Michela Traglia

Aliki-Eleni Farmaki

Tim Kacprowski

Andrew Bjonnes

Ashley van der Spek

Ying Wu

Anil K. Giri

Lisa R. Yanek

Lihua Wang

Edith Hofer

Cornelius A. Rietveld

Olga McLeod

Marilyn C. Cornelis

Cristian Pattaro

Niek Verweij

Clemens Baumbach

Abdel Abdellaoui

Helen R. Warren

Dragana Vuckovic

Hao Mei

Claude Bouchard

John R. B. Perry

Stefania Cappellani

Saira S. Mirza

Miles C. Benton

Ulrich Broeckel

Sarah E. Medland

Penelope A. Lind

Giovanni Malerba

Alexander Drong

Loic Yengo

Lawrence F. Bielak

Degui Zhi

Peter J. van der Most

Daniel Shriner

Reedik Mägi

Gibran Hemani

Tugce Karaderi

Zhaoming Wang

Tian Liu

Ilja Demuth

Jing Hua Zhao

Weihua Meng

Lazaros Lataniotis

Sander W. van der Laan

Jonathan P. Bradfield

Andrew R. Wood

Amelie Bonnefond

Tarunveer S. Ahluwalia

Leanne M. Hall

Erika Salvi

Seyhan Yazar

Lisbeth Carstensen

Hugoline G. de Haan

Mark Abney

Uzma Afzal

Matthew A. Allison

Najaf Amin

Folkert W. Asselbergs

Stephan J. L. Bakker

R. Graham Barr

Sebastian E. Baumeister

Daniel J. Benjamin

Sven Bergmann

Eric Boerwinkle

Erwin P. Bottinger

Archie Campbell

Aravinda Chakravarti

Yingleong Chan

Stephen J. Chanock

Constance Chen

Y.-D. Ida Chen

Francis S. Collins

John Connell

Adolfo Correa

L. Adrienne Cupples

George Davey Smith

Gail Davies

Marcus Dörr

Georg Ehret

Stephen B. Ellis

Bjarke Feenstra

Mary F. Feitosa

Ian Ford

Caroline S. Fox

Timothy M. Frayling

Nele Friedrich

Frank Geller

Generation Scotland

Irina Gillham-Nasenya

Omri Gottesman

Misa Graff

Francine Grodstein

Charles Gu

Chris Haley

Christopher J. Hammond

Sarah E. Harris

Tamara B. Harris

Nicholas D. Hastie

Nancy L. Heard-Costa

Kauko Heikkilä

Lynne J. Hocking

Georg Homuth

Jouke-Jan Hottenga

Jinyan Huang

Jennifer E. Huffman

Pirro G. Hysi

M. Arfan Ikram

Erik Ingelsson

Anni Joensuu

Åsa Johansson

Pekka Jousilahti

J. Wouter Jukema

Mika Kähönen

Yoichiro Kamatani

Stavroula Kanoni

Shona M. Kerr

Nazir M. Khan

Philipp Koellinger

Heikki A. Koistinen

Manraj K. Kooner

Michiaki Kubo

Johanna Kuusisto

Jari Lahti

Lenore J. Launer

Rodney A. Lea

Benjamin Lehne

Terho Lehtimäki

David C.M. Liewald

Lars Lind

Marie Loh

Marja-Liisa Lokki

Stephanie J. London

Stephanie J. Loomis

Anu Loukola

Yingchang Lu

Thomas Lumley

Annamari Lundqvist

Satu Männistö

Pedro Marques-Vidal

Corrado Masciullo

Angela Matchan

Rasika A. Mathias

Koichi Matsuda

James B. Meigs

Christa Meisinger

Thomas Meitinger

Cristina Menni

Frank D. Mentch

Evelin Mihailov

Lili Milani

May E. Montasser

Grant W. Montgomery

Alanna Morrison

Richard H. Myers

Rajiv Nadukuru

Pau Navarro

Mari Nelis

Markku S. Nieminen

Ilja M. Nolte

George T. O'Connor

Adesola Ogunniyi

Sandosh Padmanabhan

Walter R. Palmas

James S. Pankow

Inga Patarcic

Francesca Pavani

Patricia A. Peyser

Kirsi Pietilainen

Neil Poulter

Inga Prokopenko

Sarju Ralhan

Paul Redmond

Stephen S. Rich

Harri Rissanen

Antonietta Robino

Lynda M. Rose

Richard Rose

Cinzia Sala

Babatunde Salako

Veikko Salomaa

Antti-Pekka Sarin

Richa Saxena

Helena Schmidt

Laura J. Scott

William R. Scott

Bengt Sennblad

Sudha Seshadri

Peter Sever

Smeeta Shrestha

Blair H. Smith

Jennifer A. Smith

Nicole Soranzo

Nona Sotoodehnia

Lorraine Southam

Alice V. Stanton

Maria G. Stathopoulou

Konstantin Strauch

Rona J. Strawbridge

Matthew J. Suderman

Nikhil Tandon

Sian-Tsun Tang

Kent D. Taylor

Bamidele O. Tayo

Anna Maria Töglhofer

Maciej Tomaszewski

Natalia Tšernikova

Jaakko Tuomilehto

Andre G. Uitterlinden

Dhananjay Vaidya

Astrid van Hylckama Vlieg

Jessica van Setten

Tuula Vasankari

Sailaja Vedantam

Efthymia Vlachopoulou

Diego Vozzi

Eero Vuoksimaa

Melanie Waldenberger

Erin B. Ware

William Wentworth-Shields

John B. Whitfield

Sarah Wild

Gonneke Willemsen

Chittaranjan S. Yajnik

Jie Yao

Gianluigi Zaza

Xiaofeng Zhu

Rany M. Salem

Mads Melbye

Hans Bisgaard

Nilesh J. Samani

Daniele Cusi

David A. Mackey

Richard S. Cooper

Philippe Froguel

Gerard Pasterkamp

Struan F.A. Grant

Hakon Hakonarson

Luigi Ferrucci

Robert A. Scott

Andrew D. Morris

Colin N. A. Palmer

George Dedoussis

Panos Deloukas

Lars Bertram

Ulman Lindenberger

Sonja I. Berndt

Cecilia M. Lindgren

Nicholas J. Timpson

Anke Tönjes

Patricia B. Munroe

Thorkild I. A. Sørensen

Charles N. Rotimi

You can also search for this author in PubMed