Abstract
Mitochondria are involved in a variety of cellular functions, including ATP production, amino acid and lipid biogenesis and breakdown, signalling and apoptosis1,2,3. Mitochondrial dysfunction has been linked to neurodegenerative diseases, cancer and ageing4. Although transcriptional mechanisms that regulate mitochondrial abundance are known5, comparatively little is known about how mitochondrial function is regulated. Here we identify the metabolite stearic acid (C18:0) and human transferrin receptor 1 (TFR1; also known as TFRC) as mitochondrial regulators. We elucidate a signalling pathway whereby C18:0 stearoylates TFR1, thereby inhibiting its activation of JNK signalling. This leads to reduced ubiquitination of mitofusin via HUWE1, thereby promoting mitochondrial fusion and function. We find that animal cells are poised to respond to both increases and decreases in C18:0 levels, with increased C18:0 dietary intake boosting mitochondrial fusion in vivo. Intriguingly, dietary C18:0 supplementation can counteract the mitochondrial dysfunction caused by genetic defects such as loss of the Parkinson's disease genes Pink or Parkin in Drosophila. This work identifies the metabolite C18:0 as a signalling molecule regulating mitochondrial function in response to diet.
Relevant articles
Open Access articles citing this article.
Tianyi Liu

,

Hui Feng

…

Xiangyang Miao

Scientific Reports Open Access 01 July 2022

Hana Nůsková

,

Marina V. Serebryakova

…

Aurelio A. Teleman

Nature Communications Open Access 28 July 2021

Takeshi Fujino

,

Susumu Goyama

…

Toshio Kitamura

Nature Communications Open Access 23 March 2021
Access options
Subscribe to Journal
Get full journal access for 1 year
$199.00
only $3.90 per issue
All prices are NET prices.
VAT will be added later in the checkout.
Tax calculation will be finalised during checkout.
Buy article
Get time limited or full article access on ReadCube.
$32.00
All prices are NET prices.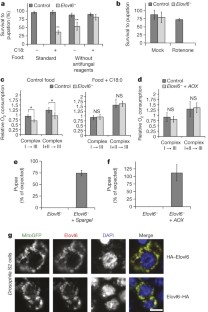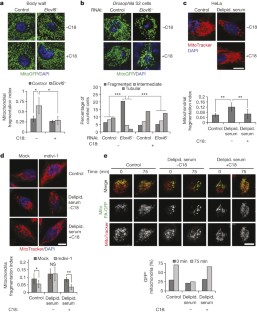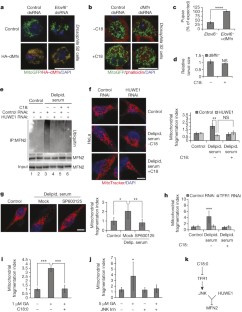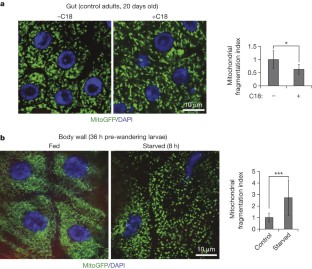 References
McBride, H. M., Neuspiel, M. & Wasiak, S. Mitochondria: more than just a powerhouse. Curr. Biol. 16, R551–R560 (2006)

Vafai, S. B. & Mootha, V. K. Mitochondrial disorders as windows into an ancient organelle. Nature 491, 374–383 (2012)

Suen, D. F., Norris, K. L. & Youle, R. J. Mitochondrial dynamics and apoptosis. Genes Dev. 22, 1577–1590 (2008)

Nunnari, J. & Suomalainen, A. Mitochondria: in sickness and in health. Cell 148, 1145–1159 (2012)

Jornayvaz, F. R. & Shulman, G. I. Regulation of mitochondrial biogenesis. Essays Biochem. 47, 69–84 (2010)

Moon, Y. A., Ochoa, C. R., Mitsche, M. A., Hammer, R. E. & Horton, J. D. Deletion of ELOVL6 blocks the synthesis of oleic acid but does not prevent the development of fatty liver or insulin resistance. J. Lipid Res. 55, 2597–2605 (2014)

Matsuzaka, T. et al. Elovl6 promotes nonalcoholic steatohepatitis. Hepatology 56, 2199–2208 (2012)

Jung, A., Hollmann, M. & Schafer, M. A. The fatty acid elongase NOA is necessary for viability and has a somatic role in Drosophila sperm development. J. Cell Sci. 120, 2924–2934 (2007)

Fernandez-Ayala, D. J. et al. Expression of the Ciona intestinalis alternative oxidase (AOX) in Drosophila complements defects in mitochondrial oxidative phosphorylation. Cell Metab. 9, 449–460 (2009)

Friedman, J. R. & Nunnari, J. Mitochondrial form and function. Nature 505, 335–343 (2014)

Okamoto, K. & Shaw, J. M. Mitochondrial morphology and dynamics in yeast and multicellular eukaryotes. Annu. Rev. Genet. 39, 503–536 (2005)

Cassidy-Stone, A. et al. Chemical inhibition of the mitochondrial division dynamin reveals its role in Bax/Bak-dependent mitochondrial outer membrane permeabilization. Dev. Cell 14, 193–204 (2008)

Twig, G. et al. Tagging and tracking individual networks within a complex mitochondrial web with photoactivatable GFP. Am. J. Physiol. Cell Physiol. 291, C176–C184 (2006)

Campello, S. & Scorrano, L. Mitochondrial shape changes: orchestrating cell pathophysiology. EMBO Rep. 11, 678–684 (2010)

Liesa, M., Palacin, M. & Zorzano, A. Mitochondrial dynamics in mammalian health and disease. Physiol. Rev. 89, 799–845 (2009)

Escobar-Henriques, M. & Langer, T. Dynamic survey of mitochondria by ubiquitin. EMBO Rep. 15, 231–243 (2014)

Livnat-Levanon, N. & Glickman, M. H. Ubiquitin–proteasome system and mitochondria—reciprocity. Biochim. Biophys. Acta 1809, 80–87 (2011)

Ziviani, E., Tao, R. N. & Whitworth, A. J. Drosophila Parkin requires PINK1 for mitochondrial translocation and ubiquitinates Mitofusin. Proc. Natl Acad. Sci. USA 107, 5018–5023 (2010)

Leboucher, G. P. et al. Stress-induced phosphorylation and proteasomal degradation of mitofusin 2 facilitates mitochondrial fragmentation and apoptosis. Mol. Cell 47, 547–557 (2012)

de Groot, R. E. et al. Huwe1-mediated ubiquitylation of Dishevelled defines a negative feedback loop in the Wnt signaling pathway. Sci. Signal. 7, ra26 (2014)

Lee, S. et al. Mitofusin 2 is necessary for striatal axonal projections of midbrain dopamine neurons. Hum. Mol. Genet. 21, 4827–4835 (2012)

de Brito, O. M. & Scorrano, L. Mitofusin 2 tethers endoplasmic reticulum to mitochondria. Nature 456, 605–610 (2008)

Ozcan, U. et al. Chemical chaperones reduce ER stress and restore glucose homeostasis in a mouse model of type 2 diabetes. Science 313, 1137–1140 (2006)

Jian, J., Yang, Q. & Huang, X. Src regulates Tyr20 phosphorylation of transferrin receptor-1 and potentiates breast cancer cell survival. J. Biol. Chem. 286, 35708–35715 (2011)

Whitworth, A. J., Wes, P. D. & Pallanck, L. J. Drosophila models pioneer a new approach to drug discovery for Parkinson's disease. Drug Discov. Today 11, 119–126 (2006)

Greene, J. C. et al. Mitochondrial pathology and apoptotic muscle degeneration in Drosophila parkin mutants. Proc. Natl Acad. Sci. USA 100, 4078–4083 (2003)

Park, J. et al. Mitochondrial dysfunction in Drosophila PINK1 mutants is complemented by parkin . Nature 441, 1157–1161 (2006)

Park, J., Kim, Y. & Chung, J. Mitochondrial dysfunction and Parkinson's disease genes: insights from Drosophila . Dis. Model. Mech. 2, 336–340 (2009)

Guo, M. Drosophila as a model to study mitochondrial dysfunction in Parkinson's disease. Cold Spring Harb. Perspect. Med. 2, a009944 (2012)

Jump, D. B. Mammalian fatty acid elongases. Methods Mol. Biol. 579, 375–389 (2009)
Acknowledgements
We thank A. Zorzano and J. Seco for photo-activatable mitoGFP, A. Zorzano and J. Pablot for Myc-tagged MFN2, H. Jacobs for UAS-AOX flies, C. Frei for UAS-Spargel flies, P. Verstreken for Parkinson's flies, A. Whitworth for anti-dMfn, J. Chung for anti-dPorin, R. Lill for anti-IBA57, J. Sagalés for help with respirometry on the dMfn-knockout animals, F. Melchior for advice on detecting ubiquitination, K. Richter and the DKFZ EM Core Facility for help with electron microscopy, the DKFZ Light Microscopy Core Facility for help with live-cell imaging, M. Schnölzer and the DKFZ Proteomics Core Facility for mass spectrometry analysis of proteins, and M. del Sol for technical support. This work was supported in part by Deutsche Forschungsgemeinschaft (DFG), SFB1118, Helmholtz Portfolio Topic 'Metabolic Dysfunction', and European Research Council Starting Grants (#260602) to A.A.T., and Biotechnology and Biological Sciences Research Council, Medical Research Council programme and British Heart Foundation grants to A.V.-P.
Ethics declarations
Competing interests
The authors declare no competing financial interests.
Extended data figures and tables
Supplementary information
This file contains a Supplementary Discussion, Supplementary Methods, Supplementary References and uncropped western blot images. (PDF 14269 kb)
About this article
Cite this article
Senyilmaz, D., Virtue, S., Xu, X. et al. Regulation of mitochondrial morphology and function by stearoylation of TFR1. Nature 525, 124–128 (2015). https://doi.org/10.1038/nature14601
Received:

Accepted:

Published:

Issue Date:

DOI: https://doi.org/10.1038/nature14601
Comments
By submitting a comment you agree to abide by our Terms and Community Guidelines. If you find something abusive or that does not comply with our terms or guidelines please flag it as inappropriate.