Abstract
Although the adult mammalian heart is incapable of meaningful functional recovery following substantial cardiomyocyte loss, it is now clear that modest cardiomyocyte turnover occurs in adult mouse and human hearts1,2, mediated primarily by proliferation of pre-existing cardiomyocytes3,4,5. However, fate mapping of these cycling cardiomyocytes has not been possible thus far owing to the lack of identifiable genetic markers6. In several organs, stem or progenitor cells reside in relatively hypoxic microenvironments where the stabilization of the hypoxia-inducible factor 1 alpha (Hif-1α) subunit is critical for their maintenance and function7,8,9,10. Here we report fate mapping of hypoxic cells and their progenies by generating a transgenic mouse expressing a chimaeric protein in which the oxygen-dependent degradation (ODD) domain of Hif-1α is fused to the tamoxifen-inducible CreERT2 recombinase. In mice bearing the creERT2-ODD transgene driven by either the ubiquitous CAG promoter or the cardiomyocyte-specific α myosin heavy chain promoter, we identify a rare population of hypoxic cardiomyocytes that display characteristics of proliferative neonatal cardiomyocytes, such as smaller size, mononucleation and lower oxidative DNA damage. Notably, these hypoxic cardiomyocytes contributed widely to new cardiomyocyte formation in the adult heart. These results indicate that hypoxia signalling is an important hallmark of cycling cardiomyocytes, and suggest that hypoxia fate mapping can be a powerful tool for identifying cycling cells in adult mammals.
Your institute does not have access to this article
Relevant articles
Open Access articles citing this article.
Siman Shen

,

Keyu Liu

…

Liangqing Zhang

Cell Death Discovery Open Access 20 July 2022

Alessia Costa

,

Sarah Cushman

…

Christian Bär

Basic Research in Cardiology Open Access 03 May 2022

Hannelore Ehrenreich

,

Laura Fernandez Garcia-Agudo

…

Umer Javed Butt

Molecular Psychiatry Open Access 12 April 2022
Access options
Subscribe to Journal
Get full journal access for 1 year
$199.00
only $3.90 per issue
All prices are NET prices.
VAT will be added later in the checkout.
Tax calculation will be finalised during checkout.
Buy article
Get time limited or full article access on ReadCube.
$32.00
All prices are NET prices.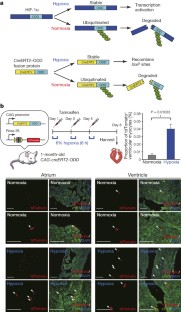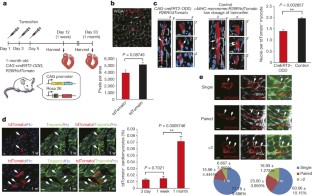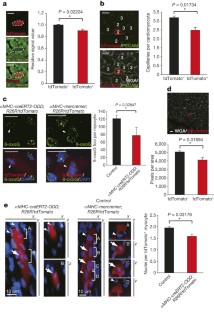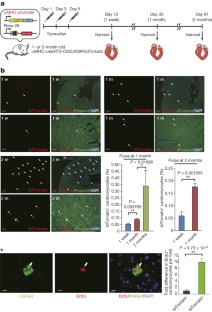 References
Bergmann, O. et al. Evidence for cardiomyocyte renewal in humans. Science 324, 98–102 (2009)

Malliaras, K. et al. Cardiomyocyte proliferation and progenitor cell recruitment underlie therapeutic regeneration after myocardial infarction in the adult mouse heart. EMBO Mol. Med. 5, 191–209 (2013)

Senyo, S. E. et al. Mammalian heart renewal by pre-existing cardiomyocytes. Nature 493, 433–436 (2013)

Bersell, K., Arab, S., Haring, B. & Kuhn, B. Neuregulin1/ErbB4 signaling induces cardiomyocyte proliferation and repair of heart injury. Cell 138, 257–270 (2009)

Ali, S. R. et al. Existing cardiomyocytes generate cardiomyocytes at a low rate after birth in mice. Proc. Natl Acad. Sci. USA 111, 8850–8855 (2014)

Parmacek, M. S. & Epstein, J. A. Cardiomyocyte renewal. N. Engl. J. Med. 361, 86–88 (2009)

Mazumdar, J. et al. O2 regulates stem cells through Wnt/β-catenin signalling. Nature Cell Biol. 12, 1007–1013 (2010)

Takubo, K. et al. Regulation of the HIF-1α level is essential for hematopoietic stem cells. Cell Stem Cell 7, 391–402 (2010)

Culver, J. C., Vadakkan, T. J. & Dickinson, M. E. A specialized microvascular domain in the mouse neural stem cell niche. PLoS ONE 8, e53546 (2013)

Parmar, K., Mauch, P., Vergilio, J. A., Sackstein, R. & Down, J. D. Distribution of hematopoietic stem cells in the bone marrow according to regional hypoxia. Proc. Natl Acad. Sci. USA 104, 5431–5436 (2007)

Puente, B. N. et al. The oxygen-rich postnatal environment induces cardiomyocyte cell-cycle arrest through DNA damage response. Cell 157, 565–579 (2014)

Semenza, G. L. Oxygen homeostasis. Wiley Interdiscip. Rev. Syst. Biol. Med. 2, 336–361 (2010)

Tang, Y. L. et al. A hypoxia-inducible vigilant vector system for activating therapeutic genes in ischemia. Gene Ther. 12, 1163–1170 (2005)

Ivan, M. et al. HIFα targeted for VHL-mediated destruction by proline hydroxylation: implications for O2 sensing. Science 292, 464–468 (2001)

Jaakkola, P. et al. Targeting of HIF-α to the von Hippel–Lindau ubiquitylation complex by O2-regulated prolyl hydroxylation. Science 292, 468–472 (2001)

Sato, Y. et al. Cellular hypoxia of pancreatic β-cells due to high levels of oxygen consumption for insulin secretion in vitro. J. Biol. Chem. 286, 12524–12532 (2011)

Sanada, F. et al. c-Kit-positive cardiac stem cells nested in hypoxic niches are activated by stem cell factor reversing the aging myopathy. Circ. Res. 114, 41–55 (2014)

van Berlo, J. H. et al. c-kit+ cells minimally contribute cardiomyocytes to the heart. Nature 509, 337–341 (2014)

Uchida, S. et al. Sca1-derived cells are a source of myocardial renewal in the murine adult heart. Stem Cell Rep. 1, 397–410 (2013)

Tian, Y. M. et al. Differential sensitivity of hypoxia inducible factor hydroxylation sites to hypoxia and hydroxylase inhibitors. J. Biol. Chem. 286, 13041–13051 (2011)

Soonpaa, M. H., Kim, K. K., Pajak, L., Franklin, M. & Field, L. J. Cardiomyocyte DNA synthesis and binucleation during murine development. Am. J. Physiol. 271, H2183–H2189 (1996)

Ito, K. & Suda, T. Metabolic requirements for the maintenance of self-renewing stem cells. Nature Rev. Mol. Cell Biol. 15, 243–256 (2014)

Zhang, C. C. & Sadek, H. A. Hypoxia and metabolic properties of hematopoietic stem cells. Antioxid. Redox Signal. 20, 1891–1901 (2014)

Jopling, C., Sune, G., Faucherre, A., Fabregat, C. & Izpisua Belmonte, J. C. Hypoxia induces myocardial regeneration in zebrafish. Circulation 126, 3017–3027 (2012)

Safran, M. et al. Mouse model for noninvasive imaging of HIF prolyl hydroxylase activity: assessment of an oral agent that stimulates erythropoietin production. Proc. Natl Acad. Sci. USA 103, 105–110 (2006)

Tang, F. et al. RNA-seq analysis to capture the transcriptome landscape of a single cell. Nature Protocols 5, 516–535 (2010)

Trapnell, C., Pachter, L. & Salzberg, S. L. TopHat: discovering splice junctions with RNA-seq. Bioinformatics 25, 1105–1111 (2009)

Robinson, M. D., McCarthy, D. J. & Smyth, G. K. edgeR: a Bioconductor package for differential expression analysis of digital gene expression data. Bioinformatics 26, 139–140 (2010)

Johansson, B., Morner, S., Waldenstrom, A. & Stal, P. Myocardial capillary supply is limited in hypertrophic cardiomyopathy: a morphological analysis. Int. J. Cardiol. 126, 252–257 (2008)
Acknowledgements
We thank W. Kaelin and M. Safran for providing the ODD plasmid, K. Luby-Phelps and A. Budge for help with confocal microscopy. We thank E. Olson and J. McAnally as well as R. Hammer and the UT Southwestern transgenic core facility for microinjections. We also thank the McDermott Center Sequencing and Bioinformatics Cores for sequencing and analysis.
Ethics declarations
Competing interests
The authors declare no competing financial interests.
Extended data figures and tables
About this article
Cite this article
Kimura, W., Xiao, F., Canseco, D. et al. Hypoxia fate mapping identifies cycling cardiomyocytes in the adult heart. Nature 523, 226–230 (2015). https://doi.org/10.1038/nature14582
Received:

Accepted:

Published:

Issue Date:

DOI: https://doi.org/10.1038/nature14582
Comments
By submitting a comment you agree to abide by our Terms and Community Guidelines. If you find something abusive or that does not comply with our terms or guidelines please flag it as inappropriate.