Abstract
Haematopoietic stem and progenitor cell (HSPC) transplant is a widely used treatment for life-threatening conditions such as leukaemia; however, the molecular mechanisms regulating HSPC engraftment of the recipient niche remain incompletely understood. Here we develop a competitive HSPC transplant method in adult zebrafish, using in vivo imaging as a non-invasive readout. We use this system to conduct a chemical screen, and identify epoxyeicosatrienoic acids (EETs) as a family of lipids1,2 that enhance HSPC engraftment. The pro-haematopoietic effects of EETs were conserved in the developing zebrafish embryo, where 11,12-EET promoted HSPC specification by activating a unique activator protein 1 (AP-1) and runx1 transcription program autonomous to the haemogenic endothelium. This effect required the activation of the phosphatidylinositol-3-OH kinase (PI(3)K) pathway, specifically PI(3)Kγ. In adult HSPCs, 11,12-EET induced transcriptional programs, including AP-1 activation, which modulate several cellular processes, such as migration, to promote engraftment. Furthermore, we demonstrate that the EET effects on enhancing HSPC homing and engraftment are conserved in mammals. Our study establishes a new method to explore the molecular mechanisms of HSPC engraftment, and discovers a previously unrecognized, evolutionarily conserved pathway regulating multiple haematopoietic generation and regeneration processes. EETs may have clinical application in marrow or cord blood transplantation.
Relevant articles
Open Access articles citing this article.
Paulina D. Horton

,

Sandeep P. Dumbali

…

Pamela L. Wenzel

Current Tissue Microenvironment Reports Open Access 26 January 2021

Li-Xing Tian

,

Xin Tang

…

Hua-Ping Liang

Cell Communication and Signaling Open Access 04 May 2020

Isao Kobayashi

,

Mao Kondo

…

David Traver

Scientific Reports Open Access 02 October 2019
Access options
Subscribe to this journal
Receive 51 print issues and online access
$199.00 per year
only $3.90 per issue
Rent or buy this article
Prices vary by article type
from$1.95
to$39.95
Prices may be subject to local taxes which are calculated during checkout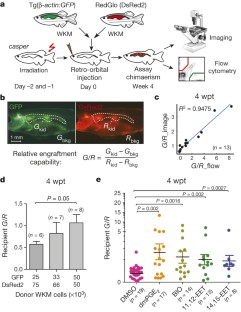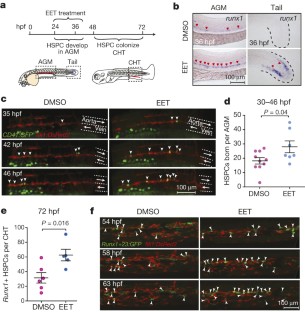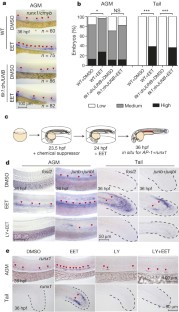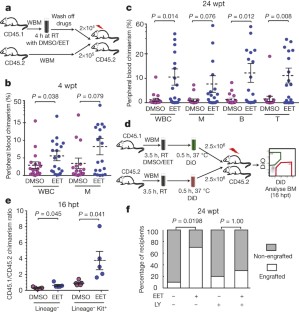 References
Spector, A. A. & Kim, H.-Y. Y. Cytochrome P450 epoxygenase pathway of polyunsaturated fatty acid metabolism. Biochim. Biophys. Acta 1851, 356–365 (2015)

Node, K. et al. Anti-inflammatory properties of cytochrome P450 epoxygenase-derived eicosanoids. Science 285, 1276–1279 (1999)

White, R. M. et al. Transparent adult zebrafish as a tool for in vivo transplantation analysis. Cell Stem Cell 2, 183–189 (2008)

North, T. E. et al. Prostaglandin E2 regulates vertebrate haematopoietic stem cell homeostasis. Nature 447, 1007–1011 (2007)

Goessling, W. et al. Genetic interaction of PGE2 and Wnt signaling regulates developmental specification of stem cells and regeneration. Cell 136, 1136–1147 (2009)

Forsberg, E. C. et al. Molecular signatures of quiescent, mobilized and leukemia-initiating hematopoietic stem cells. PLoS ONE 5, e8785 (2010)

Panigrahy, D., Greene, E. R., Pozzi, A., Wang, D. W. & Zeldin, D. C. EET signaling in cancer. Cancer Metastasis Rev. 30, 525–540 (2011)

Pfister, S. L., Gauthier, K. M. & Campbell, W. B. Vascular pharmacology of epoxyeicosatrienoic acids. Adv. Pharmacol. 60, 27–59 (2010)

Wang, Y. et al. Arachidonic acid epoxygenase metabolites stimulate endothelial cell growth and angiogenesis via mitogen-activated protein kinase and phosphatidylinositol 3-kinase/Akt signaling pathways. J. Pharmacol. Exp. Ther. 314, 522–532 (2005)

Lam, E. Y., Hall, C. J., Crosier, P. S., Crosier, K. E. & Flores, M. V. Live imaging of Runx1 expression in the dorsal aorta tracks the emergence of blood progenitors from endothelial cells. Blood 116, 909–914 (2010)

Bertrand, J. Y. et al. Haematopoietic stem cells derive directly from aortic endothelium during development. Nature 464, 108–111 (2010)

Kissa, K. & Herbomel, P. Blood stem cells emerge from aortic endothelium by a novel type of cell transition. Nature 464, 112–115 (2010)

Boisset, J. C. et al. In vivo imaging of haematopoietic cells emerging from the mouse aortic endothelium. Nature 464, 116–120 (2010)

Murayama, E. et al. Tracing hematopoietic precursor migration to successive hematopoietic organs during zebrafish development. Immunity 25, 963–975 (2006)

Tamplin, O. J. et al. Hematopoietic stem cell arrival triggers dynamic remodeling of the perivascular niche. Cell 160, 241–252 (2015)

Renaud, S. J., Kubota, K., Rumi, M. A. & Soares, M. J. The FOS transcription factor family differentially controls trophoblast migration and invasion. J. Biol. Chem. 289, 5025–5039 (2014)

Gilan, O. et al. PR55α-containing protein phosphatase 2A complexes promote cancer cell migration and invasion through regulation of AP-1 transcriptional activity. Oncogene 34, 1333–1339 (2015)

Chen, M. J., Yokomizo, T., Zeigler, B. M., Dzierzak, E. & Speck, N. A. Runx1 is required for the endothelial to haematopoietic cell transition but not thereafter. Nature 457, 887–891 (2009)

Chen, Y., Falck, J. R., Manthati, V. L., Jat, J. L. & Campbell, W. B. 20-Iodo-14,15-epoxyeicosa-8(Z)-enoyl-3-azidophenylsulfonamide: photoaffinity labeling of a 14,15-epoxyeicosatrienoic acid receptor. Biochemistry 50, 3840–3848 (2011)

Yang, W. et al. Characterization of epoxyeicosatrienoic acid binding site in U937 membranes using a novel radiolabeled agonist, 20–125i-14,15-epoxyeicosa-8(Z)-enoic acid. J. Pharmacol. Exp. Ther. 324, 1019–1027 (2008)

Lappano, R. & Maggiolini, M. G protein-coupled receptors: novel targets for drug discovery in cancer. Nature Rev. Drug Discov. 10, 47–60 (2011)

Frömel, T. et al. Soluble epoxide hydrolase regulates hematopoietic progenitor cell function via generation of fatty acid diols. Proc. Natl Acad. Sci. USA 109, 9995–10000 (2012)

Traver, D. et al. Transplantation and in vivo imaging of multilineage engraftment in zebrafish bloodless mutants. Nature Immunol. 4, 1238–1246 (2003)

Blake, A., Crockett, R., Essner, J., Hackett, P. & Nasevicius, A. Recombinant constructs and transgenic fluorescent ornamental fish therefrom. US patent US7,700,825 B2. (2010)

Kikuchi, K. et al. Retinoic acid production by endocardium and epicardium is an injury response essential for zebrafish heart regeneration. Dev. Cell 20, 397–404 (2011)

Ma, D., Zhang, J., Lin, H. F., Italiano, J. & Handin, R. I. The identification and characterization of zebrafish hematopoietic stem cells. Blood 118, 289–297 (2011)

Bee, T. et al. The mouse Runx1 +23 hematopoietic stem cell enhancer confers hematopoietic specificity to both Runx1 promoters. Blood 113, 5121–5124 (2009)

Ikebe, D., Wang, B., Suzuki, H. & Kato, M. Suppression of keratinocyte stratification by a dominant negative JunB mutant without blocking cell proliferation. Genes Cells 12, 197–207 (2007)

Pugach, E. K., Li, P., White, R. & Zon, L. Retro-orbital injection in adult zebrafish. J. Vis. Exp. 34, 1645 (2009)

Slusarski, D. C., Corces, V. G. & Moon, R. T. Interaction of Wnt and a Frizzled homologue triggers G-protein-linked phosphatidylinositol signalling. Nature 390, 410–413 (1997)

Sundstrom, C. & Nilsson, K. Establishment and characterization of a human histiocytic lymphoma cell line (U-937). Int. J. Cancer 17, 565–577 (1976)

Lam, B. S., Cunningham, C. & Adams, G. B. Pharmacologic modulation of the calcium-sensing receptor enhances hematopoietic stem cell lodgment in the adult bone marrow. Blood 117, 1167–1175 (2011)

Challen, G. A., Boles, N., Lin, K. K. & Goodell, M. A. Mouse hematopoietic stem cell identification and analysis. Cytometry A 75, 14–24 (2009)

Choe, S. E., Boutros, M., Michelson, A. M., Church, G. M. & Halfon, M. S. Preferred analysis methods for Affymetrix GeneChips revealed by a wholly defined control dataset. Genome Biol. 6, R16 (2005)

Martin, M. Cutadapt removes adapter sequences from high-throughput sequencing reads. EMBnet J. 17, 1 (2011)

Trapnell, C., Pachter, L. & Salzberg, S. L. TopHat: discovering splice junctions with RNA-Seq. Bioinformatics 25, 1105–1111 (2009)

Trapnell, C. et al. Transcript assembly and quantification by RNA-Seq reveals unannotated transcripts and isoform switching during cell differentiation. Nature Biotechnol. 28, 511–515 (2010)

Lee, C. R. et al. Endothelial expression of human cytochrome P450 epoxygenases lowers blood pressure and attenuates hypertension-induced renal injury in mice. FASEB J. 24, 3770–3781 (2010)
Acknowledgements
We thank C. R. Lee, M. L. Edin and N. Gray for providing reagents; Y. Zhou, A. Dibiase, S. Yang, S. Datta, P. Manos, R. Mathieu and M. Ammerman for technical assistance; H. Huang for providing graphic illustration; R. M. White, T. E. North and C. Mosimann for discussion. Microarray studies were performed by the Molecular Genetics Core Facility at Boston Children's Hospital, supported by NIH-P50-NS40828 and NIH-P30-HD18655. S. Li in Y. Zhang's laboratory at the Longwood HHMI joint core facility helped with RNA-seq. L.I.Z. and G.Q.D. are Howard Hughes Medical Institute (HHMI) investigators. This work was supported by HHMI and National Institutes of Health (NIH) grants R01 HL04880, P015PO1HL32262-32, 5P30 DK49216, 5R01 DK53298, 5U01 HL10001-05, R24 DK092760, and 1R01HL097794-04 (to L.I.Z.). This work was also funded, in part, by the Intramural Research Program of the NIH, National Institute of Environmental Health Sciences (Z01 ES025034 to D.C.Z.), the National Cancer Institute grant ROCA148633-01A5 (D.P.), and DFG and Care-for-Rare Foundation (V.B.).
Ethics declarations
Competing interests
L.I.Z. is a founder and stockholder of Fate, Inc. and a founder and stockholder of Scholar Rock. G.Q.D. is a member of the Scientific Advisory Boards of MPM Capital, Inc., Ocata Therapeutics, Raze Therapeutics, Solasia KK and consults to Epizyme, Verastem, and True North.
Extended data figures and tables
Supplementary information
About this article
Cite this article
Li, P., Lahvic, J., Binder, V. et al. Epoxyeicosatrienoic acids enhance embryonic haematopoiesis and adult marrow engraftment. Nature 523, 468–471 (2015). https://doi.org/10.1038/nature14569
Received:

Accepted:

Published:

Issue Date:

DOI: https://doi.org/10.1038/nature14569
Comments
By submitting a comment you agree to abide by our Terms and Community Guidelines. If you find something abusive or that does not comply with our terms or guidelines please flag it as inappropriate.