Abstract
During fertilization, an egg and a sperm fuse to form a new embryo. Eggs develop from oocytes in a process called meiosis. Meiosis in human oocytes is highly error-prone1,2, and defective eggs are the leading cause of pregnancy loss and several genetic disorders such as Down's syndrome3,4,5. Which genes safeguard accurate progression through meiosis is largely unclear. Here we develop high-content phenotypic screening methods for the systematic identification of mammalian meiotic genes. We targeted 774 genes by RNA interference within follicle-enclosed mouse oocytes to block protein expression from an early stage of oocyte development onwards. We then analysed the function of several genes simultaneously by high-resolution imaging of chromosomes and microtubules in live oocytes and scored each oocyte quantitatively for 50 phenotypes, generating a comprehensive resource of meiotic gene function. The screen generated an unprecedented annotated data set of meiotic progression in 2,241 mammalian oocytes, which allowed us to analyse systematically which defects are linked to abnormal chromosome segregation during meiosis, identifying progression into anaphase with misaligned chromosomes as well as defects in spindle organization as risk factors. This study demonstrates how high-content screens can be performed in oocytes, and allows systematic studies of meiosis in mammals.
Relevant articles
Open Access articles citing this article.
Asuka Okunomiya

,

Akihito Horie

…

Masaki Mandai

Scientific Reports Open Access 10 May 2021

Elias ElInati

,

Agata P. Zielinska

…

James M. A. Turner

Nature Communications Open Access 25 May 2020

Minying Zhao

,

Fan Feng

…

Lin Li

Journal of Ovarian Research Open Access 06 December 2019
Access options
Subscribe to Journal
Get full journal access for 1 year
$199.00
only $3.90 per issue
All prices are NET prices.
VAT will be added later in the checkout.
Tax calculation will be finalised during checkout.
Buy article
Get time limited or full article access on ReadCube.
$32.00
All prices are NET prices.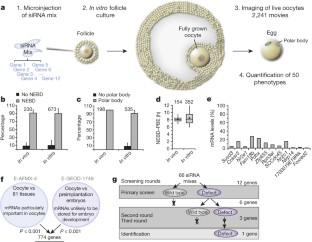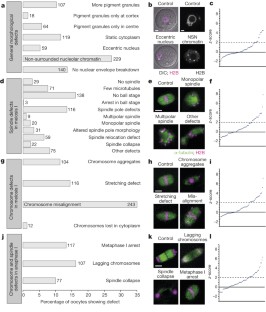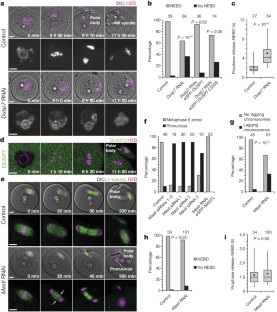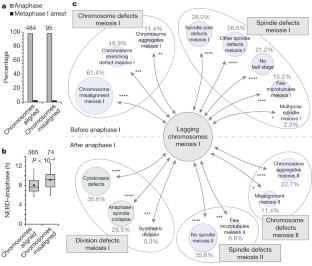 References
Kuliev, A., Zlatopolsky, Z., Kirillova, I., Spivakova, J. & Cieslak Janzen, J. Meiosis errors in over 20,000 oocytes studied in the practice of preimplantation aneuploidy testing. Reprod. Biomed. Online 22, 2–8 (2011)

Fragouli, E. et al. The cytogenetics of polar bodies: insights into female meiosis and the diagnosis of aneuploidy. Mol. Hum. Reprod. 17, 286–295 (2011)

Brar, G. A. & Amon, A. Emerging roles for centromeres in meiosis I chromosome segregation. Nature Rev. Genet. 9, 899–910 (2008)

Nagaoka, S. I., Hassold, T. J. & Hunt, P. A. Human aneuploidy: mechanisms and new insights into an age-old problem. Nature Rev. Genet. 13, 493–504 (2012)

Jones, K. T. & Lane, S. I. Molecular causes of aneuploidy in mammalian eggs. Development 140, 3719–3730 (2013)

Clift, D. & Schuh, M. Restarting life: fertilization and the transition from meiosis to mitosis. Nature Rev. Mol. Cell Biol. 14, 549–562 (2013)

Jaffe, L. A., Norris, R. P., Freudzon, M., Ratzan, W. J. & Mehlmann, L. M. Microinjection of follicle-enclosed mouse oocytes. Methods Mol. Biol. 518, 157–173 (2009)

Eppig, J. J. & Schroeder, A. C. Capacity of mouse oocytes from preantral follicles to undergo embryogenesis and development to live young after growth, maturation, and fertilization in vitro . Biol. Reprod. 41, 268–276 (1989)

Mehlmann, L. M. Oocyte-specific expression of Gpr3 is required for the maintenance of meiotic arrest in mouse oocytes. Dev. Biol. 288, 397–404 (2005)

Su, A. I. et al. A gene atlas of the mouse and human protein-encoding transcriptomes. Proc Natl Acad Sci USA 101, 6062–6067 (2004)

Zeng, F., Baldwin, D. A. & Schultz, R. M. Transcript profiling during preimplantation mouse development. Dev. Biol. 272, 483–496 (2004)

Bleil, J. D. & Wassarman, P. M. Synthesis of zona pellucida proteins by denuded and follicle-enclosed mouse oocytes during culture in vitro . Proc. Natl Acad. Sci. USA 77, 1029–1033 (1980)

Kasippillai, T. et al. Mutations in eIF4ENIF1 are associated with primary ovarian insufficiency. J. Clin. Endocrinol. Metab. 98, E1534–E1539 (2013)

Xu, X. L. et al. The microtubule-associated protein ASPM regulates spindle assembly and meiotic progression in mouse oocytes. PLoS ONE 7, e49303 (2012)

Jiang, Z. Z. et al. Survivin is essential for fertile egg production and female fertility in mice. Cell Death Dis. 5, e1154 (2014)

Hached, K. et al. Mps1 at kinetochores is essential for female mouse meiosis I. Development 138, 2261–2271 (2011)

Adhikari, D. et al. Mastl is required for timely activation of APC/C in meiosis I and Cdk1 reactivation in meiosis II. J. Cell Biol. 206, 843–853 (2014)

Salmon, E. D., Cimini, D., Cameron, L. A. & DeLuca, J. G. Merotelic kinetochores in mammalian tissue cells. Phil. Trans. R. Soc. B 360, 553–568 (2005)

Cimini, D. Merotelic kinetochore orientation, aneuploidy, and cancer. Biochim. Biophys. Acta 1786, 32–40 (2008)

Voets, E. & Wolthuis, R. M. MASTL is the human orthologue of Greatwall kinase that facilitates mitotic entry, anaphase and cytokinesis. Cell Cycle 9, 3591–3601 (2010)

Mora-Bermudez, F., Gerlich, D. & Ellenberg, J. Maximal chromosome compaction occurs by axial shortening in anaphase and depends on Aurora kinase. Nature Cell Biol. 9, 822–831 (2007)

Schuh, M. & Ellenberg, J. Self-organization of MTOCs replaces centrosome function during acentrosomal spindle assembly in live mouse oocytes. Cell 130, 484–498 (2007)

Lenart, P. et al. Nuclear envelope breakdown in starfish oocytes proceeds by partial NPC disassembly followed by a rapidly spreading fenestration of nuclear membranes. J. Cell Biol. 160, 1055–1068 (2003)

Echeverri, C. J. & Perrimon, N. High-throughput RNAi screening in cultured cells: a user's guide. Nature Rev. Genet. 7, 373–384 (2006)

Parsons, B. D., Schindler, A., Evans, D. H. & Foley, E. A direct phenotypic comparison of siRNA pools and multiple individual duplexes in a functional assay. PLoS ONE 4, e8471 (2009)

Griffin, J., Emery, B. R., Huang, I., Peterson, C. M. & Carrell, D. T. Comparative analysis of follicle morphology and oocyte diameter in four mammalian species (mouse, hamster, pig, and human). J. Exp. Clin. Assist. Reprod. 3, 2 (2006)

Ge, L. et al. Factors affecting the in vitro action of cumulus cells on the maturing mouse oocytes. Mol. Reprod. Dev. 75, 136–142 (2008)

Zhou, P. et al. Mouse cumulus-denuded oocytes restore developmental capacity completely when matured with optimal supplementation of cysteamine, cystine, and cumulus cells. Biol. Reprod. 82, 759–768 (2010)

Alvarez-Fernandez, M. et al. Greatwall is essential to prevent mitotic collapse after nuclear envelope breakdown in mammals. Proc. Natl Acad. Sci. USA 110, 17374–17379 (2013)

Wang, P. et al. Cell cycle regulation of Greatwall kinase nuclear localization facilitates mitotic progression. J. Cell Biol. 202, 277–293 (2013)
Acknowledgements
We thank the staff of the MRC Laboratory of Molecular Biology's Animal and Microscopy Facilities for technical assistance; J. Ellenberg, L. Jaffe and M. Freudzon for technical advice on culturing siRNA-injected follicles in vitro; J. Ellenberg and M. Madan Babu for discussions; G. Chalancon for help with data analyses; E. Voets for the Mastl construct; and members of the Schuh laboratory and S. Munro for comments on the manuscript. S.P. and M.P. received PhD fellowships from Boehringer-Ingelheim Fonds. T.T. is supported by an EMBO Long Term Fellowship (ALTF700-2014). The research leading to these results has received financial support from the European Research Council under grant agreement no. 337415 and the European Community's Seventh Framework Programme (FP7/2007-2013) under grant agreement no. 241548.
Ethics declarations
Competing interests
The authors declare no competing financial interests.
Extended data figures and tables
Supplementary information
About this article
Cite this article
Pfender, S., Kuznetsov, V., Pasternak, M. et al. Live imaging RNAi screen reveals genes essential for meiosis in mammalian oocytes. Nature 524, 239–242 (2015). https://doi.org/10.1038/nature14568
Received:

Accepted:

Published:

Issue Date:

DOI: https://doi.org/10.1038/nature14568
Comments
By submitting a comment you agree to abide by our Terms and Community Guidelines. If you find something abusive or that does not comply with our terms or guidelines please flag it as inappropriate.