Abstract
Synapse formation is a process tightly controlled in space and time. How gene regulatory mechanisms specify spatial and temporal aspects of synapse formation is not well understood. In the nematode Caenorhabditis elegans, two subtypes of the D-type inhibitory motor neuron (MN) classes, the dorsal D (DD) and ventral D (VD) neurons, extend axons along both the dorsal and ventral nerve cords1. The embryonically generated DD motor neurons initially innervate ventral muscles in the first (L1) larval stage and receive their synaptic input from cholinergic motor neurons in the dorsal cord. They rewire by the end of the L1 moult to innervate dorsal muscles and to be innervated by newly formed ventral cholinergic motor neurons1. VD motor neurons develop after the L1 moult; they take over the innervation of ventral muscles and receive their synaptic input from dorsal cholinergic motor neurons. We show here that the spatiotemporal control of synaptic wiring of the D-type neurons is controlled by an intersectional transcriptional strategy in which the UNC-30 Pitx-type homeodomain transcription factor acts together, in embryonic and early larval stages, with the temporally controlled LIN-14 transcription factor to prevent premature synapse rewiring of the DD motor neurons and, together with the UNC-55 nuclear hormone receptor, to prevent aberrant VD synaptic wiring in later larval and adult stages. A key effector of this intersectional transcription factor combination is a novel synaptic organizer molecule, the single immunoglobulin domain protein OIG-1. OIG-1 is perisynaptically localized along the synaptic outputs of the D-type motor neurons in a temporally controlled manner and is required for appropriate selection of both pre- and post-synaptic partners.
Access options
Subscribe to Journal
Get full journal access for 1 year
$199.00
only $3.90 per issue
All prices are NET prices.
VAT will be added later in the checkout.
Rent or Buy article
Get time limited or full article access on ReadCube.
from$8.99
All prices are NET prices.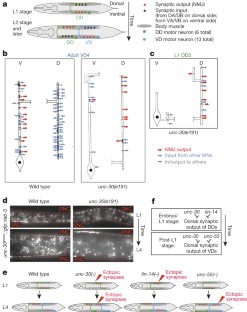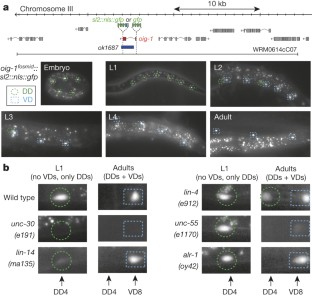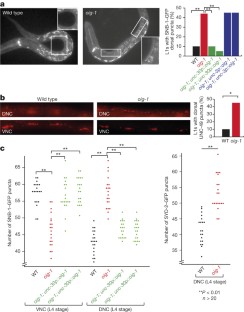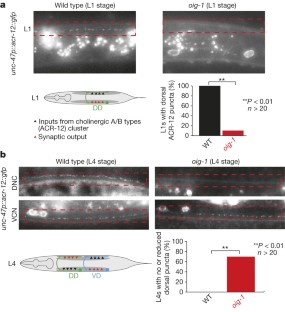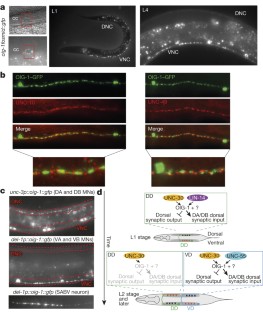 References
1

White, J. G., Albertson, D. G. & Anness, M. A. Connectivity changes in a class of motoneurone during the development of a nematode. Nature 271, 764–766 (1978)

2

Eastman, C., Horvitz, H. R. & Jin, Y. Coordinated transcriptional regulation of the unc-25 glutamic acid decarboxylase and the unc-47 GABA vesicular transporter by the Caenorhabditis elegans UNC-30 homeodomain protein. J. Neurosci. 19, 6225–6234 (1999)

3

Jin, Y., Hoskins, R. & Horvitz, H. R. Control of type-D GABAergic neuron differentiation by C. elegans UNC-30 homeodomain protein. Nature 372, 780–783 (1994)

4

Hallam, S. J. & Jin, Y. lin-14 regulates the timing of synaptic remodelling in Caenorhabditis elegans. Nature 395, 78–82 (1998)

5

Ruvkun, G. & Giusto, J. The Caenorhabditis elegans heterochronic gene lin-14 encodes a nuclear protein that forms a temporal developmental switch. Nature 338, 313–319 (1989)

6

Walthall, W. W. & Plunkett, J. A. Genetic transformation of the synaptic pattern of a motoneuron class in Caenorhabditis elegans. J. Neurosci. 15, 1035–1043 (1995)

7

Hedgecock, E. M., Culotti, J. G., Hall, D. H. & Stern, B. D. Genetics of cell and axon migrations in Caenorhabditis elegans. Development 100, 365–382 (1987)

8

Aurelio, O., Hall, D. H. & Hobert, O. Immunoglobulin-domain proteins required for maintenance of ventral nerve cord organization. Science 295, 686–690 (2002)

9

Wightman, B., Ha, I. & Ruvkun, G. Posttranscriptional regulation of the heterochronic gene lin-14 by lin-4 mediates temporal pattern formation in C. elegans. Cell 75, 855–862 (1993)

10

Zhou, H. M. & Walthall, W. W. UNC-55, an orphan nuclear hormone receptor, orchestrates synaptic specificity among two classes of motor neurons in Caenorhabditis elegans. J. Neurosci. 18, 10438–10444 (1998)

11

Shan, G., Kim, K., Li, C. & Walthall, W. W. Convergent genetic programs regulate similarities and differences between related motor neuron classes in Caenorhabditis elegans. Dev. Biol. 280, 494–503 (2005)

12

Araya, C. L. et al. Regulatory analysis of the C. elegans genome with spatiotemporal resolution. Nature 512, 400–405 (2014)

13

Petersen, S. C. et al. A transcriptional program promotes remodeling of GABAergic synapses in Caenorhabditis elegans. J. Neurosci. 31, 15362–15375 (2011)

14

Cinar, H., Keles, S. & Jin, Y. Expression profiling of GABAergic motor neurons in Caenorhabditis elegans. Curr. Biol. 15, 340–346 (2005)

15

Miller, K. G. et al. A genetic selection for Caenorhabditis elegans synaptic transmission mutants. Proc. Natl Acad. Sci. USA 93, 12593–12598 (1996)

16

Bamber, B. A., Beg, A. A., Twyman, R. E. & Jorgensen, E. M. The Caenorhabditis elegans unc-49 locus encodes multiple subunits of a heteromultimeric GABA receptor. J. Neurosci. 19, 5348–5359 (1999)

17

Petrash, H. A., Philbrook, A., Haburcak, M., Barbagallo, B. & Francis, M. M. ACR-12 ionotropic acetylcholine receptor complexes regulate inhibitory motor neuron activity in Caenorhabditis elegans. J. Neurosci. 33, 5524–5532 (2013)

18

Crump, J. G., Zhen, M., Jin, Y. & Bargmann, C. I. The SAD-1 kinase regulates presynaptic vesicle clustering and axon termination. Neuron 29, 115–129 (2001)

19

Kim, J. S., Hung, W. & Zhen, M. The long and the short of SAD-1 kinase. Commun. Integr. Biol. 3, 251–255 (2010)

20

Kim, J. S., Hung, W., Narbonne, P., Roy, R. & Zhen, M. C. elegans STRADα and SAD cooperatively regulate neuronal polarity and synaptic organization. Development 137, 93–102 (2010)

21

Hobert, O. The neuronal genome of Caenorhabditis elegans. WormBook http://dx.doi.org/10.1895/wormbook.1.161.1 (2013)

22

Letunic, I., Doerks, T. & Bork, P. SMART 7: recent updates to the protein domain annotation resource. Nucleic Acids Res. 40, D302–D305 (2012)

23

Hong, Y., Lee, R. C. & Ambros, V. Structure and function analysis of LIN-14, a temporal regulator of postembryonic developmental events in Caenorhabditis elegans. Mol. Cell. Biol. 20, 2285–2295 (2000)

24

Melkman, T. & Sengupta, P. Regulation of chemosensory and GABAergic motor neuron development by the C. elegans Aristaless/Arx homolog alr-1. Development 132, 1935–1949 (2005)

25

Rapti, G., Richmond, J. & Bessereau, J. L. A single immunoglobulin-domain protein required for clustering acetylcholine receptors in C. elegans. EMBO J. 30, 706–718 (2011)

26

Yeh, E., Kawano, T., Weimer, R. M., Bessereau, J. L. & Zhen, M. Identification of genes involved in synaptogenesis using a fluorescent active zone marker in Caenorhabditis elegans. J. Neurosci. 25, 3833–3841 (2005)

27

Tursun, B., Cochella, L., Carrera, I. & Hobert, O. A toolkit and robust pipeline for the generation of fosmid-based reporter genes in C. elegans. PLoS ONE 4, e4625 (2009)

28

Yemini, E., Jucikas, T., Grundy, L. J., Brown, A. E. & Schafer, W. R. A database of Caenorhabditis elegans behavioral phenotypes. Nature Methods 10, 877–879 (2013)

29

Gendrel, M., Rapti, G., Richmond, J. E. & Bessereau, J. L. A secreted complement-control-related protein ensures acetylcholine receptor clustering. Nature 461, 992–996 (2009)

30

Duerr, J. S., Han, H. P., Fields, S. D. & Rand, J. B. Identification of major classes of cholinergic neurons in the nematode Caenorhabditis elegans. J. Comp. Neurol. 506, 398–408 (2008)

31

White, J. G., Southgate, E., Thomson, J. N. & Brenner, S. The structure of the nervous system of the nematode Caenorhabditis elegans. Phil. Trans. R. Soc. Lond. B 314, 1–340 (1986)

32

Li, J. & Greenwald, I. LIN-14 inhibition of LIN-12 contributes to precision and timing of C. elegans vulval fate patterning. Curr. Biol. 20, 1875–1879 (2010)

33

Mahoney Luo, T. R. S. & Nonet, M. L. Analysis of synaptic transmission in Caenorhabditis elegans using an aldicarb-sensitivity assay. Nature Protocols 1, 1772–1777 (2006)

34

Gally, C. & Bessereau, J. L. GABA is dispensable for the formation of junctional GABA receptor clusters in Caenorhabditis elegans. J Neurosci. 23, 2591–2599 (2003)
Acknowledgements
We thank the TransgeneOme project, the CGC, J. L. Bessereau, M. Gendrel, S. Y. Kerk for reagents, Q. Chen for microinjection, E. Southgate and N. Thomson for electron microscopy analyses, S. Brenner for first noting the neural defects of unc-30(e191), E. Yemini for assistance with worm tracking, and D. Miller, S. He, I. Greenwald and members of the Hobert laboratory for comments on this manuscript. This work was funded by the National Institutes of Health (R01NS039996-05 and R01NS050266-03), the Howard Hughes Medical Institute and the UK Medical Research Council.
Ethics declarations
Competing interests
The authors declare no competing financial interests.
Extended data figures and tables
About this article
Cite this article
Howell, K., White, J. & Hobert, O. Spatiotemporal control of a novel synaptic organizer molecule. Nature 523, 83–87 (2015). https://doi.org/10.1038/nature14545
Received:

Accepted:

Published:

Issue Date:
Comments
By submitting a comment you agree to abide by our Terms and Community Guidelines. If you find something abusive or that does not comply with our terms or guidelines please flag it as inappropriate.