Abstract
Fusion and fission drive all vesicular transport. Although topologically opposite, these reactions pass through the same hemi-fusion/fission intermediate1,2, characterized by a 'stalk' in which only the outer membrane monolayers of the two compartments have merged to form a localized non-bilayer connection1,2,3. Formation of the hemi-fission intermediate requires energy input from proteins catalysing membrane remodelling; however, the relationship between protein conformational rearrangements and hemi-fusion/fission remains obscure. Here we analysed how the GTPase cycle of human dynamin 1, the prototypical membrane fission catalyst4,5,6, is directly coupled to membrane remodelling. We used intramolecular chemical crosslinking to stabilize dynamin in its GDP·AlF4−-bound transition state. In the absence of GTP this conformer produced stable hemi-fission, but failed to progress to complete fission, even in the presence of GTP. Further analysis revealed that the pleckstrin homology domain (PHD) locked in its membrane-inserted state facilitated hemi-fission. A second mode of dynamin activity, fuelled by GTP hydrolysis, couples dynamin disassembly with cooperative diminishing of the PHD wedging, thus destabilizing the hemi-fission intermediate to complete fission. Molecular simulations corroborate the bimodal character of dynamin action and indicate radial and axial forces as dominant, although not independent, drivers of hemi-fission and fission transformations, respectively. Mirrored in the fusion reaction7,8, the force bimodality might constitute a general paradigm for leakage-free membrane remodelling.
Relevant articles
Open Access articles citing this article.
Y. G. Smirnova

&

M. Müller

European Biophysics Journal Open Access 06 February 2021

Gonen Golani

,

Evgenia Leikina

…

Leonid V. Chernomordik

Nature Communications Open Access 21 January 2021

Javier Espadas

,

Diana Pendin

…

Andrea Daga

Nature Communications Open Access 22 November 2019
Access options
Subscribe to this journal
Receive 51 print issues and online access
$199.00 per year
only $3.90 per issue
Rent or buy this article
Prices vary by article type
from$1.95
to$39.95
Prices may be subject to local taxes which are calculated during checkout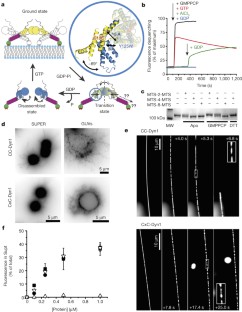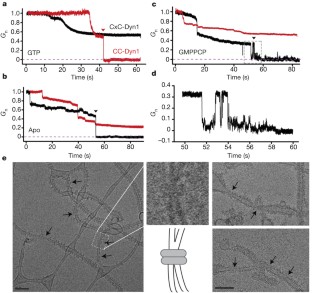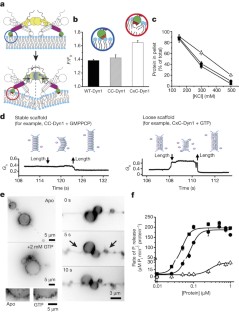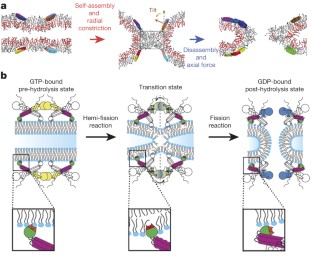 References
Chernomordik, L. V. & Kozlov, M. M. Mechanics of membrane fusion. Nature Struct. Mol. Biol. 15, 675–683 (2008)

Kozlov, M. M., McMahon, H. T. & Chernomordik, L. V. Protein-driven membrane stresses in fusion and fission. Trends Biochem. Sci. 35, 699–706 (2010)

Frolov, V. A. & Zimmerberg, J. Cooperative elastic stresses, the hydrophobic effect, and lipid tilt in membrane remodeling. FEBS Lett. 584, 1824–1829 (2010)

Schmid, S. L. & Frolov, V. A. Dynamin: functional design of a membrane fission catalyst. Annu. Rev. Cell Dev. Biol. 27, 79–105 (2011)

Ferguson, S. M. & De Camilli, P. Dynamin, a membrane-remodelling GTPase. Nature Rev. Mol. Cell Biol. 13, 75–88 (2012)

Morlot, S. & Roux, A. Mechanics of dynamin-mediated membrane fission. Annu. Rev. Biophys. 42, 629–649 (2013)

Cohen, F. S. & Melikyan, G. B. The energetics of membrane fusion from binding, through hemifusion, pore formation, and pore enlargement. J. Membr. Biol. 199, 1–14 (2004)

Lee, J. Y. & Schick, M. Calculation of free energy barriers to the fusion of small vesicles. Biophys. J. 94, 1699–1706 (2008)

Kozlovsky, Y. & Kozlov, M. M. Membrane fission: model for intermediate structures. Biophys. J. 85, 85–96 (2003)

Frolov, V. A., Escalada, A., Akimov, S. A. & Shnyrova, A. V. Geometry of membrane fission. Chem. Phys. Lipids 185, 129–140 (2015)

Chappie, J. S., Acharya, S., Leonard, M., Schmid, S. L. & Dyda, F. G. Domain dimerization controls dynamin's assembly-stimulated GTPase activity. Nature 465, 435–440 (2010)

Chappie, J. S. et al. A pseudoatomic model of the dynamin polymer identifies a hydrolysis-dependent powerstroke. Cell 147, 209–222 (2011)

Gennerich, A. & Vale, R. D. Walking the walk: how kinesin and dynein coordinate their steps. Curr. Opin. Cell Biol. 21, 59–67 (2009)

Ramachandran, R. & Schmid, S. L. Real-time detection reveals that effectors couple dynamin's GTP-dependent conformational changes to the membrane. EMBO J. 27, 27–37 (2008)

Doose, S., Neuweiler, H. & Sauer, M. Fluorescence quenching by photoinduced electron transfer: a reporter for conformational dynamics of macromolecules. ChemPhysChem 10, 1389–1398 (2009)

Mansoor, S. E., Dewitt, M. A. & Farrens, D. L. Distance mapping in proteins using fluorescence spectroscopy: the tryptophan-induced quenching (TrIQ) method. Biochemistry 49, 9722–9731 (2010)

Faelber, K. et al. Crystal structure of nucleotide-free dynamin. Nature 477, 556–560 (2011)

Ford, M. G., Jenni, S. & Nunnari, J. The crystal structure of dynamin. Nature 477, 561–566 (2011)

Pucadyil, T. J. & Schmid, S. L. Real-time visualization of dynamin-catalyzed membrane fission and vesicle release. Cell 135, 1263–1275 (2008)

Bashkirov, P. V. et al. GTPase cycle of dynamin is coupled to membrane squeeze and release, leading to spontaneous fission. Cell 135, 1276–1286 (2008)

Shnyrova, A. V. et al. Geometric catalysis of membrane fission driven by flexible dynamin rings. Science 339, 1433–1436 (2013)

Sundborger, A. C. et al. A dynamin mutant defines a superconstricted prefission state. Cell Rep. 8, 734–742 (2014)

Mehrotra, N., Nichols, J. & Ramachandran, R. Alternate pleckstrin homology domain orientations regulate dynamin-catalyzed membrane fission. Mol. Biol. Cell 25, 879–890 (2014)

Grafmüller, A., Shillcock, J. & Lipowsky, R. Pathway of membrane fusion with two tension-dependent energy barriers. Phys. Rev. Lett. 98, 218101 (2007)

Risselada, H. J., Bubnis, G. & Grubmüller, H. Expansion of the fusion stalk and its implication for biological membrane fusion. Proc. Natl Acad. Sci. USA 111, 11043–11048 (2014)

Fuhrmans, M. & Müller, M. Coarse-grained simulation of dynamin-mediated fission. Soft Matter 11, 1464–1480 (2015)

Morlot, S. et al. Membrane shape at the edge of the dynamin helix sets location and duration of the fission reaction. Cell 151, 619–629 (2012)

Stowell, M. H., Marks, B., Wigge, P. & McMahon, H. T. Nucleotide-dependent conformational changes in dynamin: evidence for a mechanochemical molecular spring. Nature Cell Biol. 1, 27–32 (1999)

Loo, T. W. & Clarke, D. M. Determining the dimensions of the drug-binding domain of human P-glycoprotein using thiol cross-linking compounds as molecular rulers. J. Biol. Chem. 276, 36877–36880 (2001)

Leonard, M., Song, B. D., Ramachandran, R. & Schmid, S. L. Robust colorimetric assays for dynamin's basal and stimulated GTPase activities. Methods Enzymol. 404, 490–503 (2005)

Neumann, S., Pucadyil, T. J. & Schmid, S. L. Analyzing membrane remodeling and fission using supported bilayers with excess membrane reservoir. Nature Protocols 8, 213–222 (2013)

Edelstein, A., Amodaj, N., Hoover, K., Vale, R. & Stuurman, N. Computer control of microscopes using microManager. Curr. Protoc. Mol. Biol. Chapter 14, Unit 14.20 (2010).

Hömberg, M. & Müller, M. Main phase transition in lipid bilayers: phase coexistence and line tension in a soft, solvent-free, coarse-grained model. J. Chem. Phys. 132, 155104 (2010)

Fuhrmans, M. & Müller, M. Mechanisms of vesicle spreading on surfaces: coarse-grained simulations. Langmuir 29, 4335–4349 (2013)

Español, P. & Warren, P. Statistical mechanics of dissipative particle dynamics. EPL 30, 191 (1995)

Trofimov, S. Y., Nies, E. L. & Michels, M. A. Constant-pressure simulations with dissipative particle dynamics. J. Chem. Phys. 123, 144102 (2005)

Daoulas, K. C. & Müller, M. Comparison of simulations of lipid membranes with membranes of block copolymers. Adv. Polym. Sci. 224, 197–233 (2010)

Hömberg, M. & Müller, M. The role of inertia and coarse-graining on the transverse modes of lipid bilayers. EPL 97, 68010 (2012)

Carr, J. F. & Hinshaw, J. E. Dynamin assembles into spirals under physiological salt conditions upon addition of GDP and gamma phosphate analogues. J. Biol. Chem. 272, 28030–28035 (1997)
Acknowledgements
We thank J. Chappie for helpful discussions, A. Mohanakrishnan and D. Reed for technical assistance. S.L.S. was supported by National Institutes of Health grant R01-GM42455 and the Welch Foundation Grant I-1823. V.A.F. was supported by grants from the Spanish Ministry of Economy and Competitiveness BFU2012-34885, the Basque Government Program Etortek IE12-332 and European FEDER funds. J.E.H. was supported by the National Institute of Diabetes and Digestive and Kidney Diseases Intramural Research Program. M.F. and M.M. were supported by the Volkswagen foundation and the DFG-CRC803 "Functionality controlled by organization in and between membranes" (B03). Simulations were performed at the Jülich Supercomputing Center and the North-German Supercomputer Alliance Hannover/Berlin. J.-P.M. was supported by a postdoctoral research grant from the Academy of Finland.
Ethics declarations
Competing interests
The authors declare no competing financial interests.
Extended data figures and tables
Supplementary information
CxC-Dyn1 assembles onto and constricts the membranes, seen as dark patches, but is unable to mediate membrane fission. Representative of 5 independent experiments. (AVI 4196 kb)
CC-Dyn1 assembles onto and constricts the membranes, seen as dark patches, and subsequently catalyzes membrane fission causing the tether to break and retract. Representative of 5 independent experiments. (AVI 1483 kb)
The tubes remain constricted but collapse back in the reservoir indicating GTPase-dependent loosening of the CxC-Dyn1 scaffold. Representative of 3 independent experiments. (AVI 2371 kb)
About this article
Cite this article
Mattila, JP., Shnyrova, A., Sundborger, A. et al. A hemi-fission intermediate links two mechanistically distinct stages of membrane fission. Nature 524, 109–113 (2015). https://doi.org/10.1038/nature14509
Received:

Accepted:

Published:

Issue Date:

DOI: https://doi.org/10.1038/nature14509
Comments
By submitting a comment you agree to abide by our Terms and Community Guidelines. If you find something abusive or that does not comply with our terms or guidelines please flag it as inappropriate.